IKAMESHI is a delicious dish made with squid and rice that is local to Hokkaido 北海道, Japan. (Northern Japan) It is a simmered food seasoned with soy sauce, sugar, Japanese style broth and so on.
IKAMESHI (Squid Rice) いかめし・イカ飯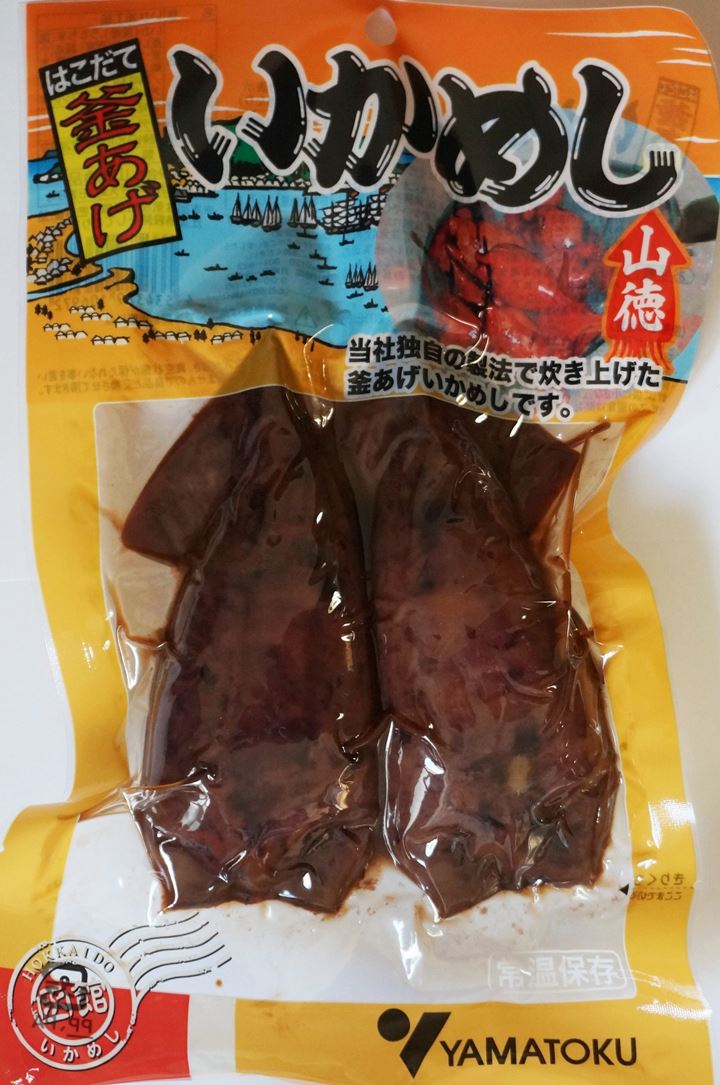 This squid dish is well known among Japanese people. Unfortunately, restaurants that offer this food are very rare. However, you may be able to find it in vacuum packaging at Japanese supermarkets.
Many supermarkets throughout Japan sell this food, but they usually have only a few packs in stock and are often sold out.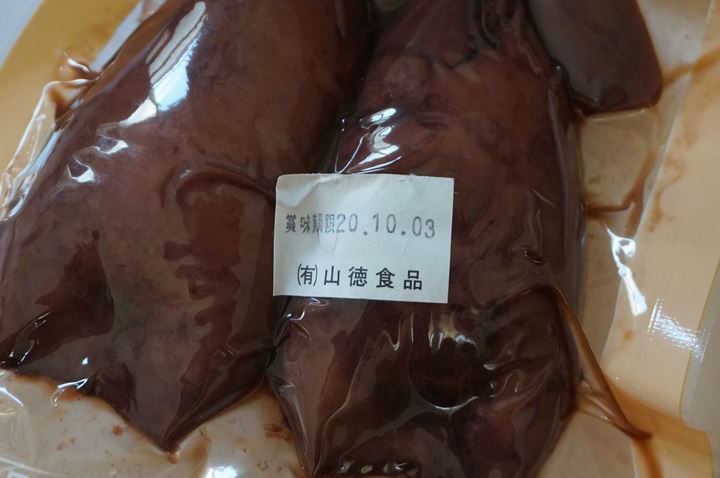 賞味期限 20.10.03
Best by October 3 2020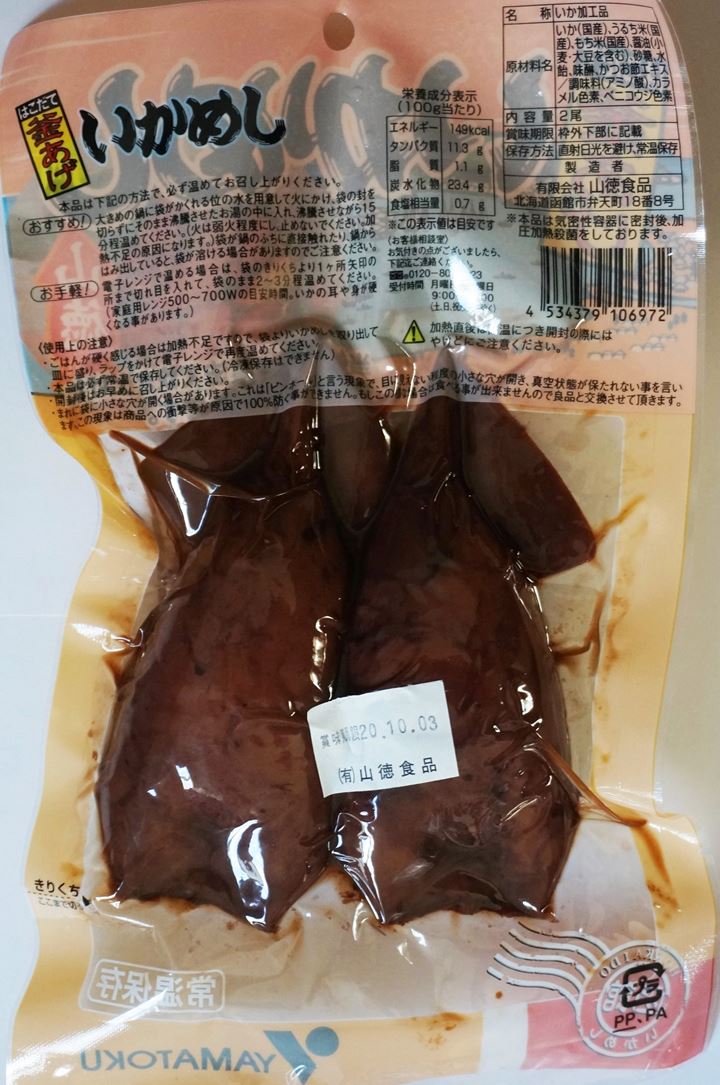 It is used domestically produced squid and sticky / glutinous rice.
On the package, the word for rice is written below.
うるち米
or
もち米(餅米)

When I bought this at a supermarket in Tokyo, it was 498 yen + 8% tax.
How to heat
Recommend Directions:
Put the unopened pack into boiling water and heat for 15 minutes, maintaining a boil on low heat.
Make sure that the pack does not touch the pot and do not keep the pack as far from an open flame as possible, as the pack might melt.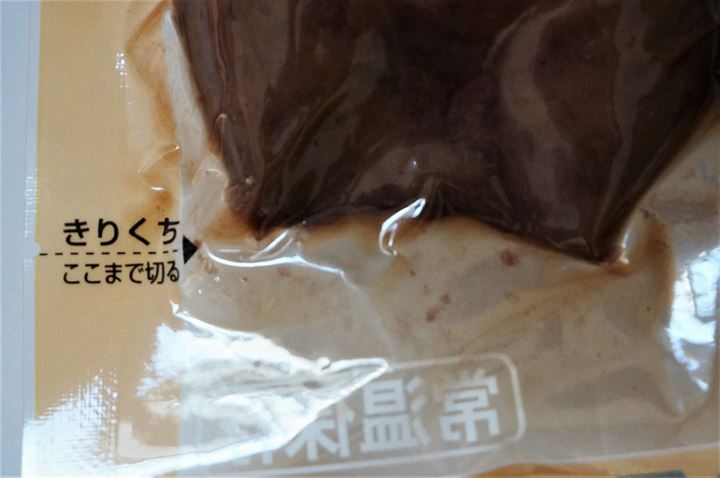 Easy Directions:
Make a cut in the pack at the marked location...
きりくち
- - - - - - - - - ->
ここまで切る
but don't take out the food.
Then, heat the pack in a microwave (500-700W) for 2-3 minutes. The squid may get tough if you use a microwave.
Photos of Sliced IKAMESHI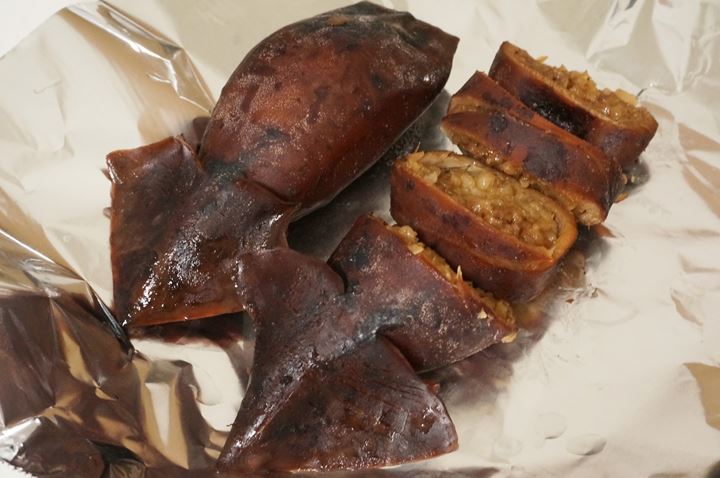 Originally, the dish is made by simmering both the squid and sticky (glutinous) rice together.
There is another version of this dish where the cooked rice is stuffed after the squid is simmered.
Both ways are tasty, but I recommend the original method for a more integrated squid flavor.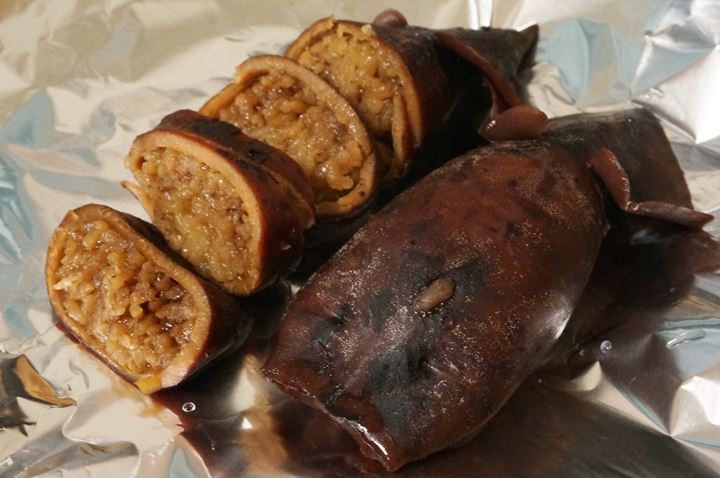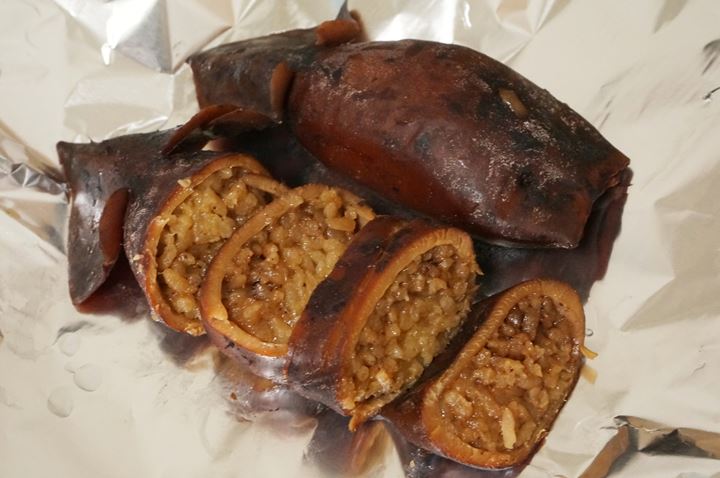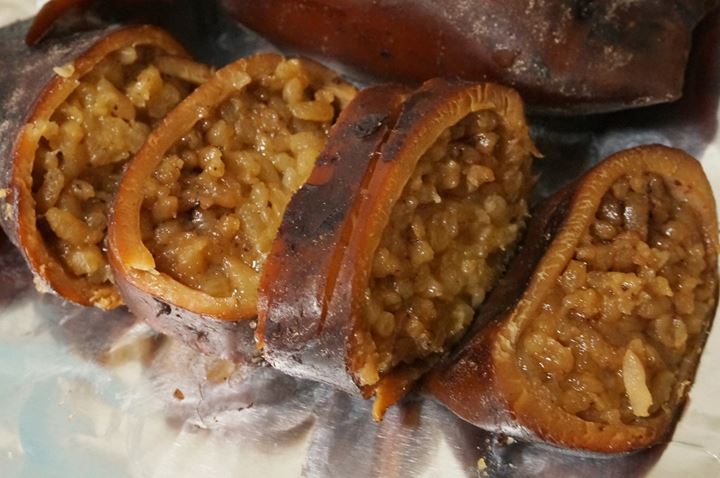 This squid dish in vacuum packaging tasted great!
Memo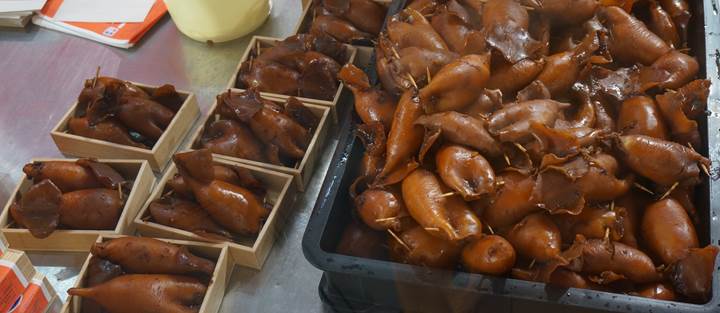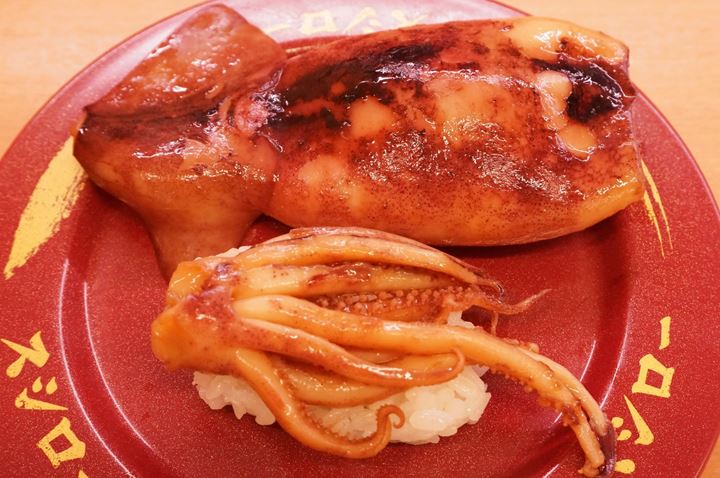 In 2019, a sushi restaurant I visited offered Ikameshi. They used sushi rice (vinegared rice) instead of sticky rice.
(It was limited time item. 1 dish was 150 yen + 10% tax)
11 - 29 November of 2020, it is available again, until sold-out
at a sushi chain SUSHIRO スシロー in Japan.
丸ごとイカ寿司 Marugoto-ika-sushi 150 yen
It might stop selling before the last day, if stocks run out.
Get the special item as soon as possible!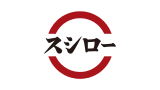 キャンペーン一覧 | 回転寿司 スシロー
スシローの最新フェア・キャンペーン情報についてご紹介します。「スシロー」は寿司(すし)・回転寿司のチェーン店です。店舗情報から最新のメニュー、会社概要などをご紹介します。回転すしを食べに行くなら、スシローにご来店ください。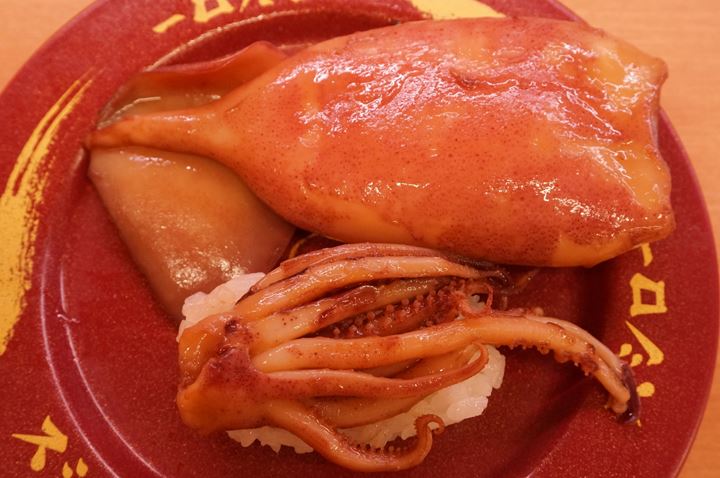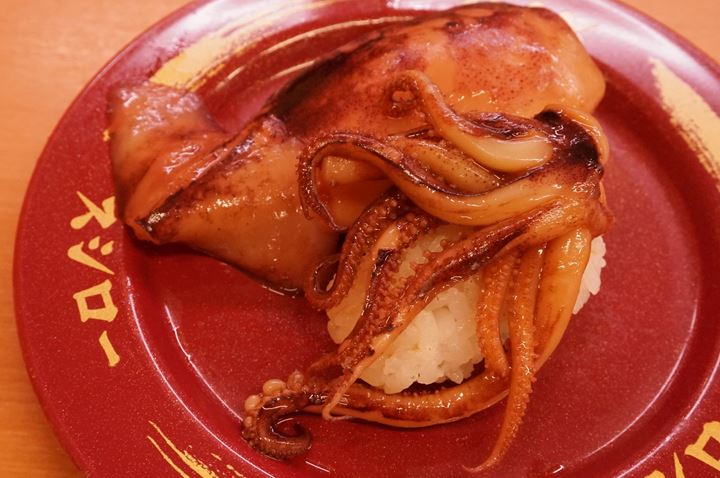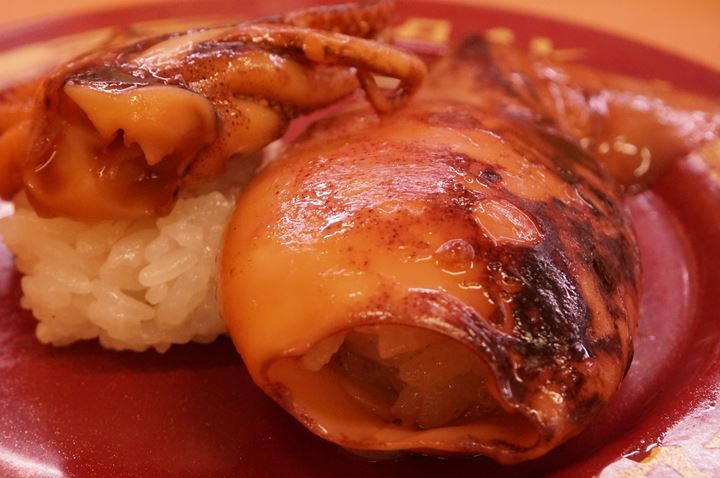 In this version, the sushi rice was stuffed after the squid was cooked. It was yummy, too.
---
Other squid dishes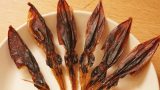 Firefly Squid ホタルイカ at Japanese Restaurants / Bars
Firefly squid is a common food at Japanese eating places such as Japanese sushi / restaurants / bars (called IZAKAYA). It is known as the sparking squid in the ocean.I sometimes eat it. It is called ホタルイカ(ほたるいか)Hotaruika in Japanese.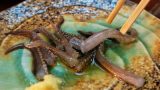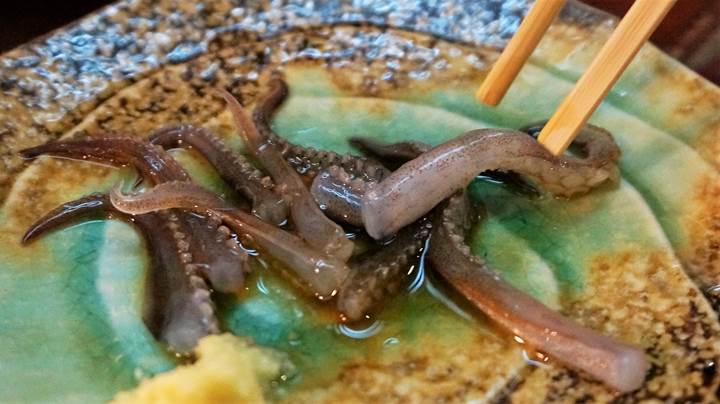 Eat the Moving Squid Arms at a Bar Restaurant IKA CENTER イカセンター in Tokyo - Calamari 烏賊
A Japanese bar restaurant IKA CENTER イカセンター specializes in fresh squid sashimi. (Squid is called IKAin Japanese.)Some squids are kept alive in the fish tank of the restaurant.Immediately after the customer orders, it is sliced as sashimi.I have been to 2 r...
I also recommend this food below.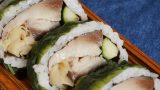 My Best Mackerel Sushi is "Mackerel with Leaf Mustard Sushi さば高菜巻 Saba-takana-maki". 鯖寿司・サバ鮨
I will rank the different kinds of mackerel sushi you can inexpensively get in and around Tokyo. This mackerel is usually marinated in vinegar, and tasty.