Yakiniku is Japanese style barbecue. This restaurant is a Yakiniku chain and their seating system is quite unique. Seats are separated by individual mini-sized grills for one person and partitions to enable customers to come here alone and concentrate on their Yakiniku privately.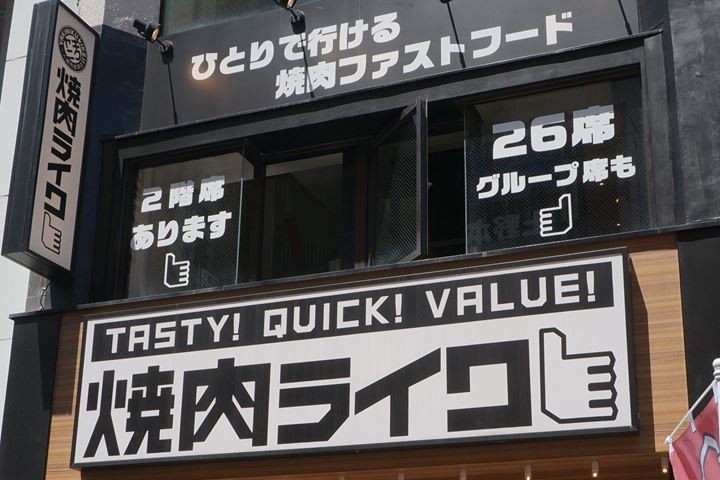 Introduction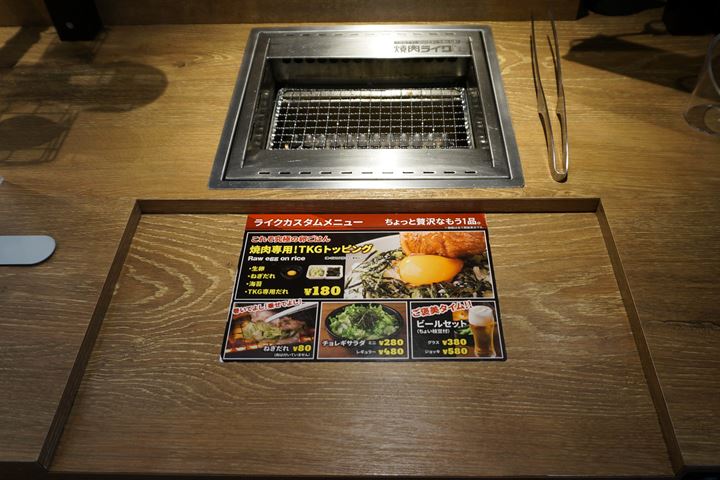 This restaurant's counter has built-in grills for each person.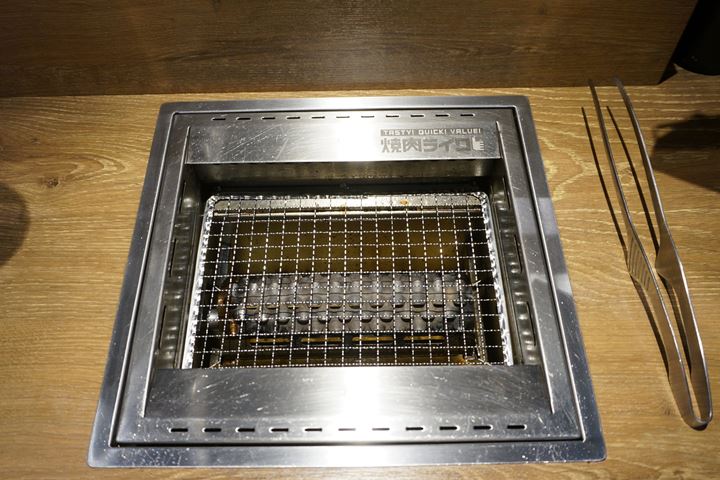 It is a mini-sized grill for one person.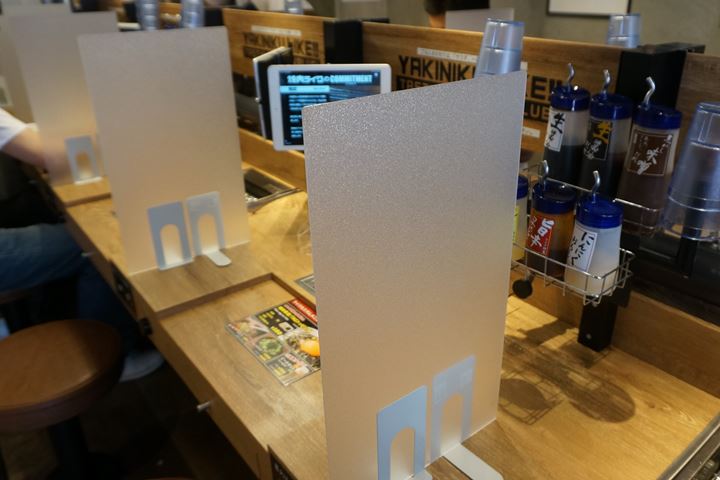 Most of the seats are separated by individual partitions. This restaurant is nice for one person.
There is a basket under the counter. You can put your bag in it. This basket is not trash box.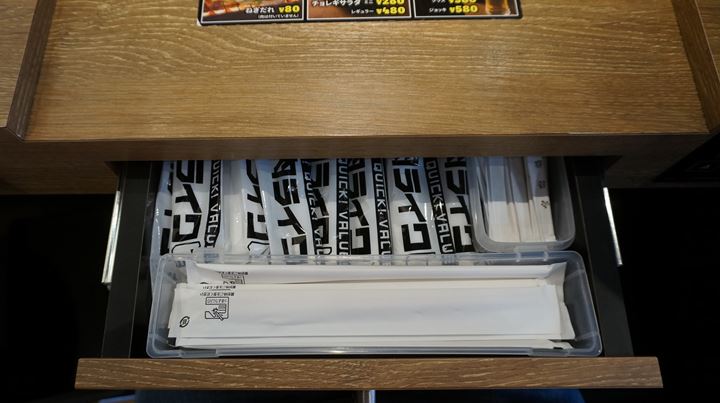 Open the drawer in the picture above. There are disposable chopsticks, hand wipes and toothpicks.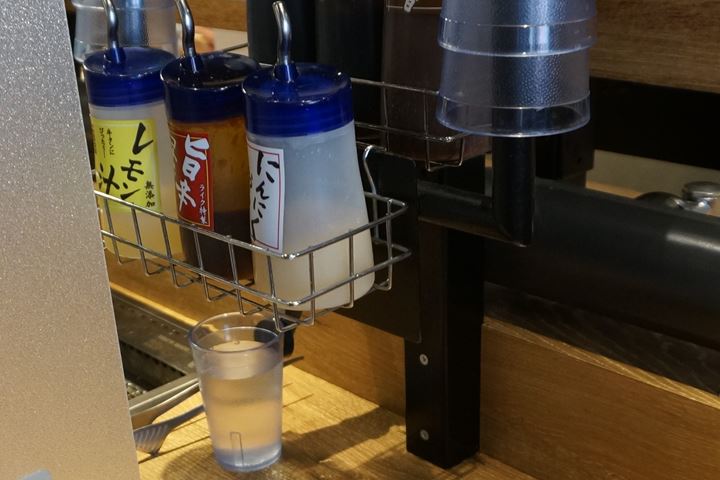 Water is supplied on the counter as it would be at a conveyor-belt sushi restaurant. The water is served at room-temperature (or a little bit cold) and is available for self-service. Conveyor-belt sushi restaurants use the same system to serve water, but instead they usually offer hot water for customers to make green tea by themselves.
Touch screen menu is also available for each person.

紙エプロンご利用の方はスタッフまでお申し付けください。
If you want a disposable apron free of charge, Please ask the staff or order it with the touch screen. It is good for customers who don't want their clothes to get dirty with splattering.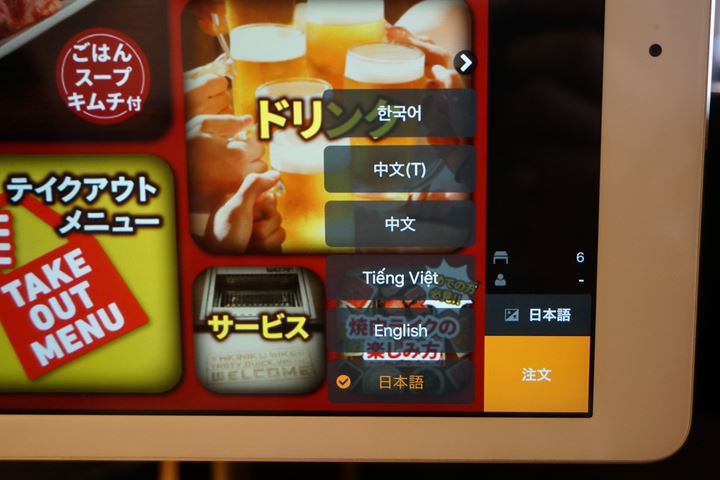 You can change the language of the touch screen from Japanese to English. (First, tap 日本語 to change the language.)
Short Plate Combo バラカルビセット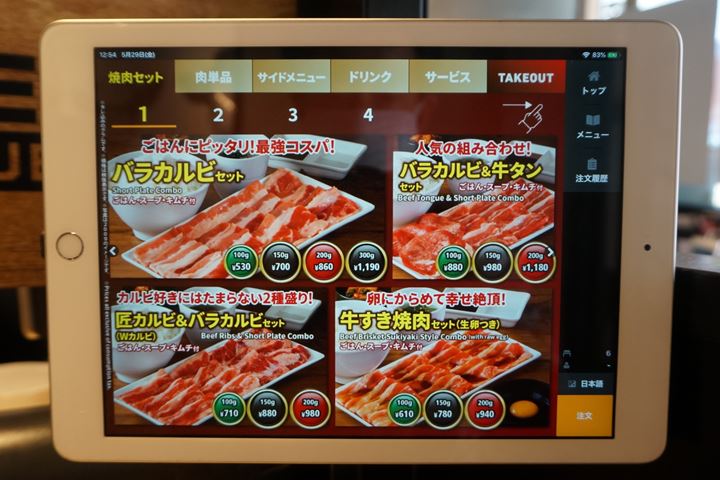 The most inexpensive set (beef) meal is...
Short Plate Combo
バラカルビセット (It is also named バラカルプレート)
100g (3.53oz) 650 yen (as pictured)
150g 850 yen
200g 1050 yen
300g 1450 yen
(including 10% tax)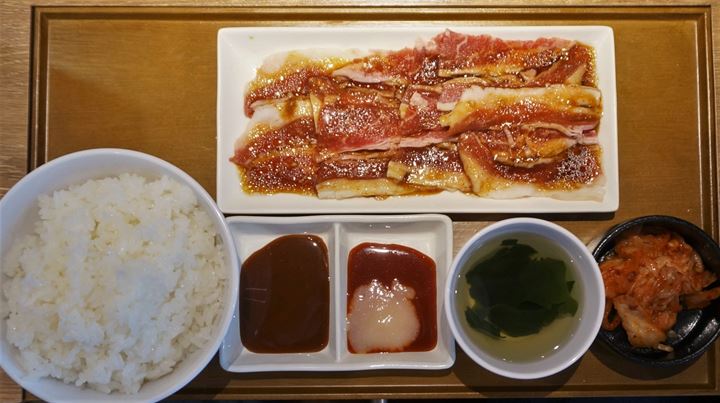 This set meal includes beef, rice, soup and kimchi. Wakame sea vegetable is in the soup.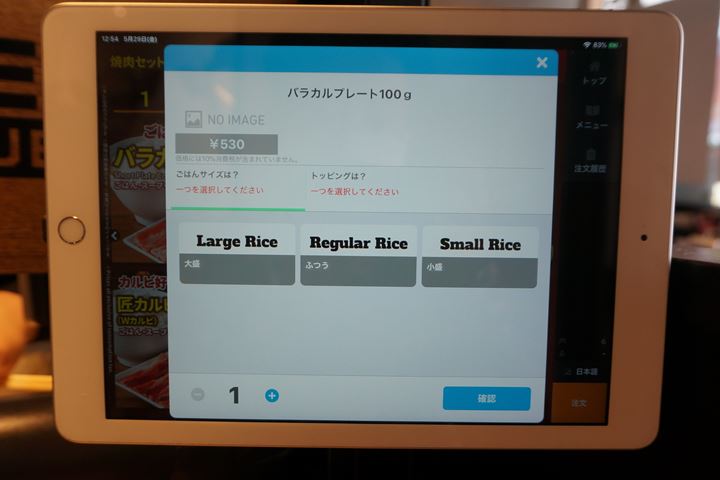 Choose the size of rice from large, regular or small. The prices of the set meal is not changed.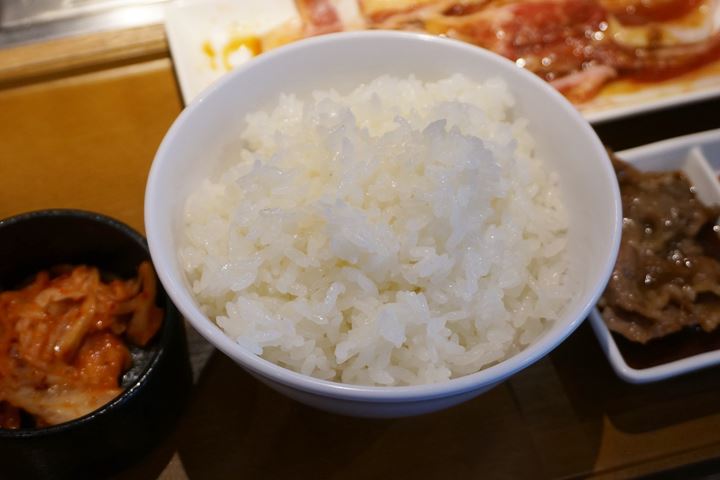 This rice is large size. They use tasty rice.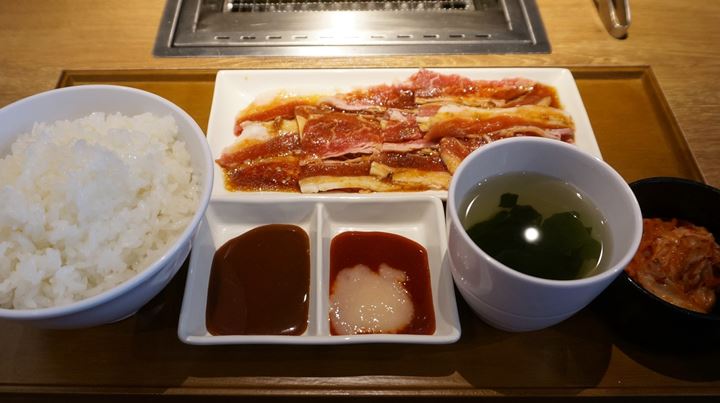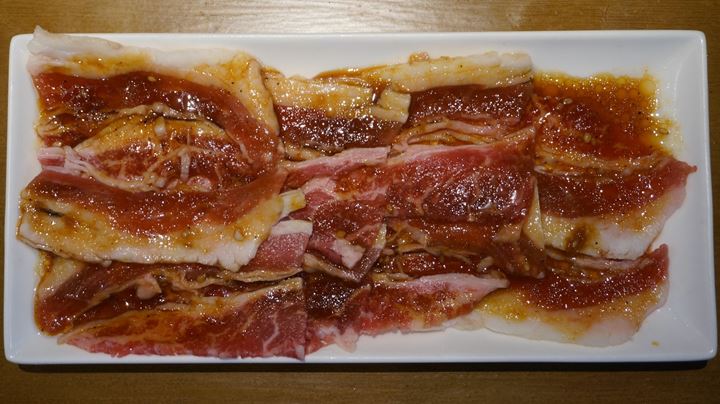 Short Plate of Beef 100g (3.53oz)
バラカルビ Bara-karubi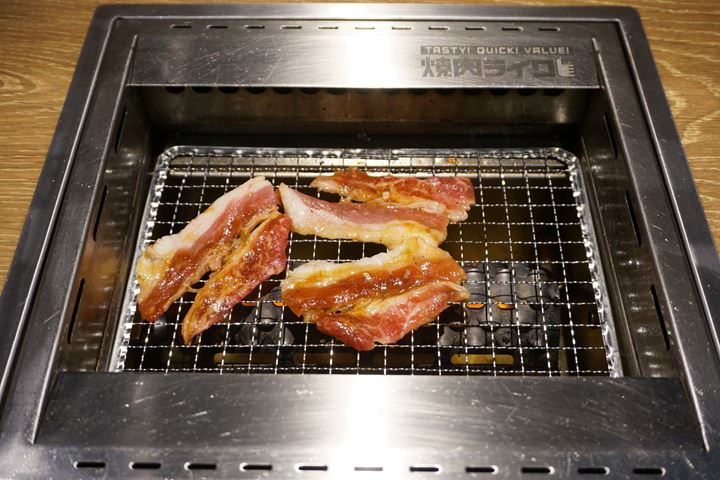 You need to grill the meat yourself.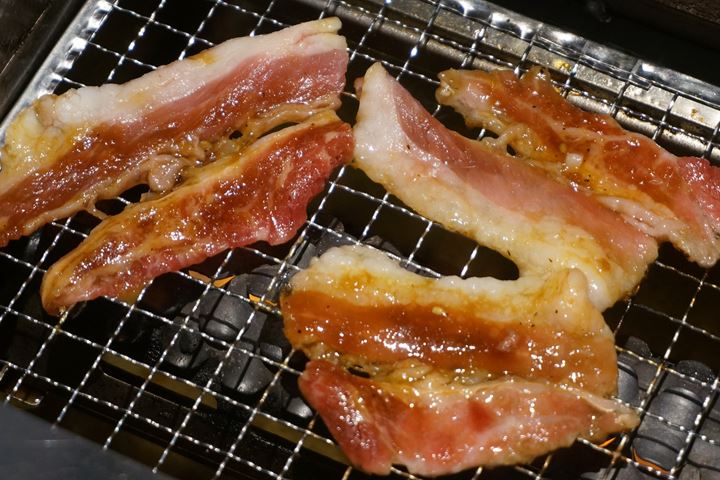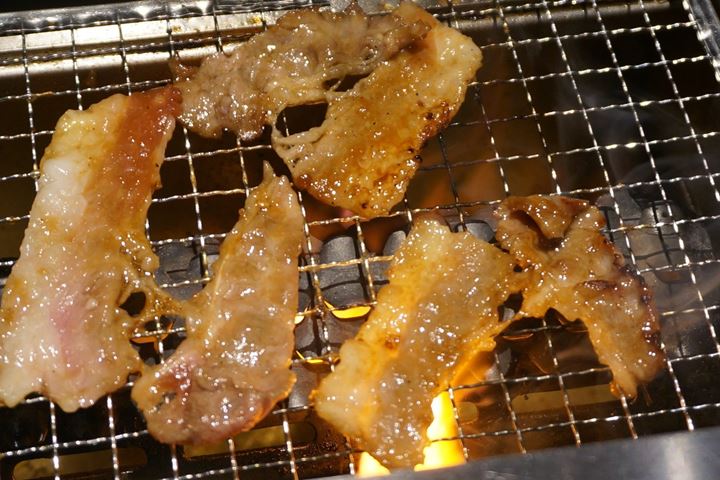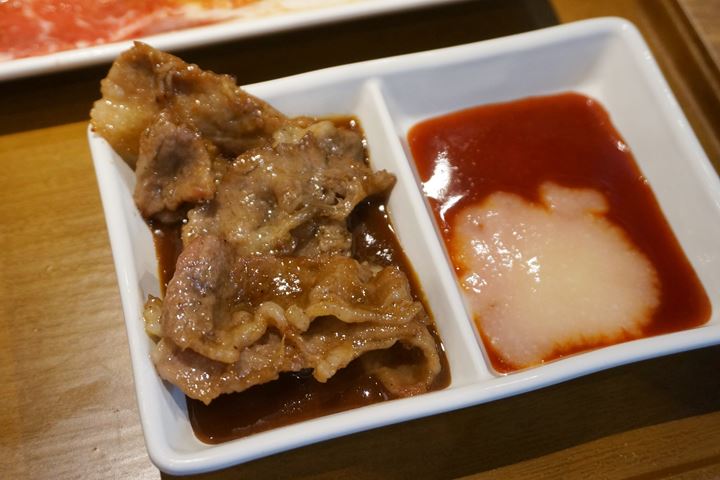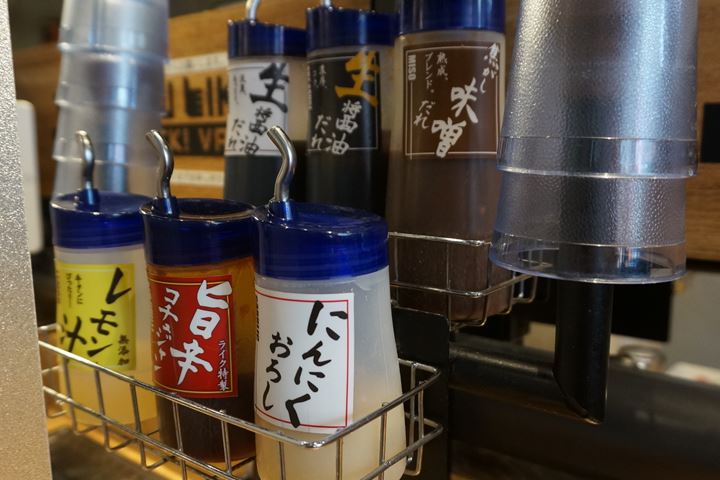 Barbecue Sauce
生醤油だれ(あっさり)
Smooth Soy Sauce Flavor
生醤油だれ(濃厚)
Thick Soy Sauce Flavor
焦がし味噌だれ
Miso Sauce
レモン汁
Lemon Juice
旨辛コチュジャン
Gochujang (Korean Red Chili Paste)
にんにくおろし
Garlic Paste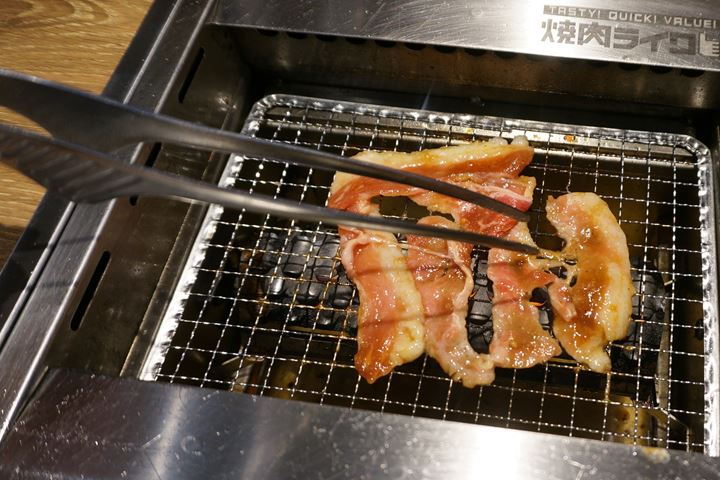 Please use tongs when you grill the meat, because the chopsticks would be rendered unsanitary by the raw meat.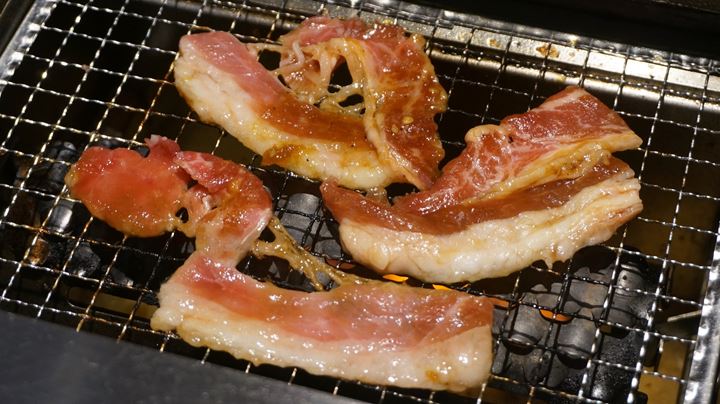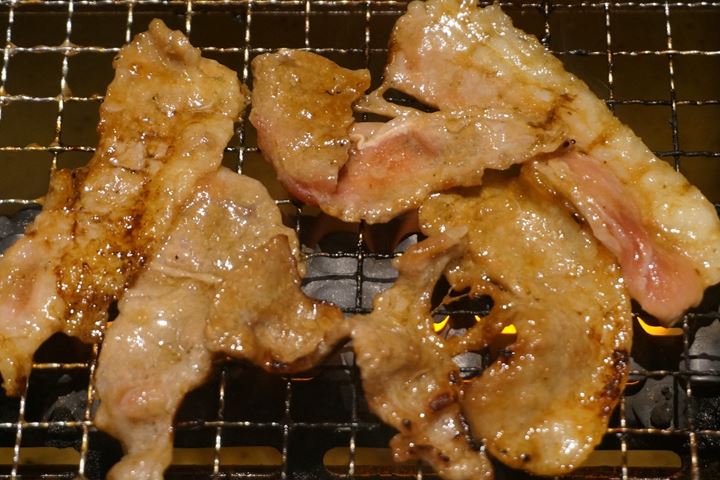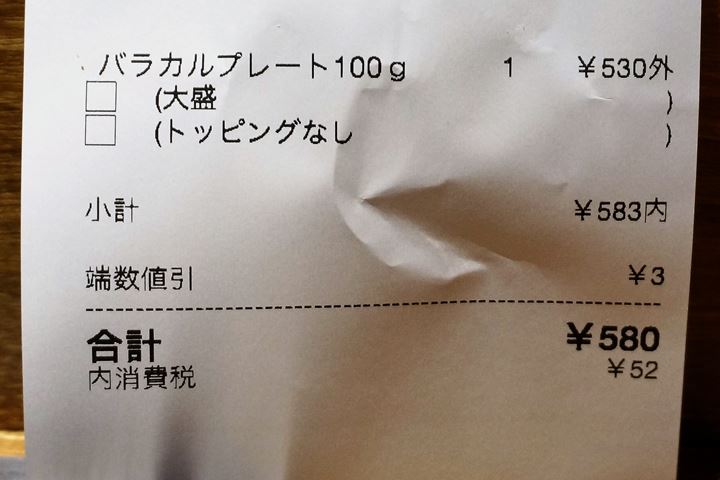 端数値引
In Japan, some restaurants and bars round the bill to the nearest 10 or 100 yen above or below.
For example, this is a receipt I had at Yakiniku Like:
530 × 1.1 - 3 = 580 yen
The 10% tax is added on, and then it rounds to the nearest 10 yen below.
(But when I went to a bar in Tokyo, they rounded to the nearest 100 yen above.)
Rice Refill for Free 11:00 am - 5:00 pm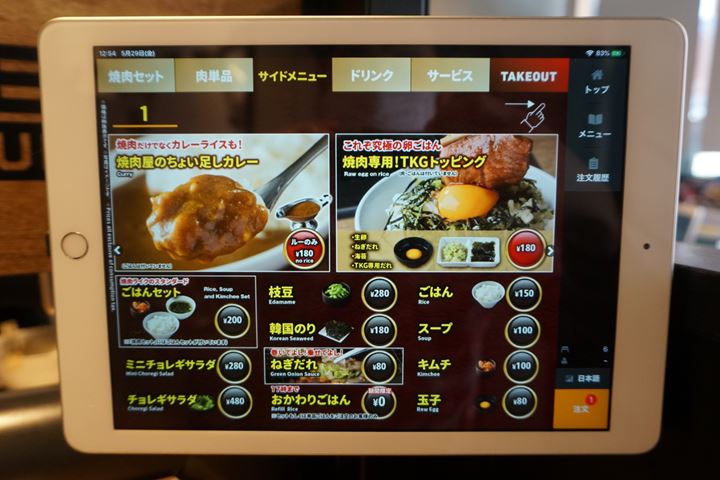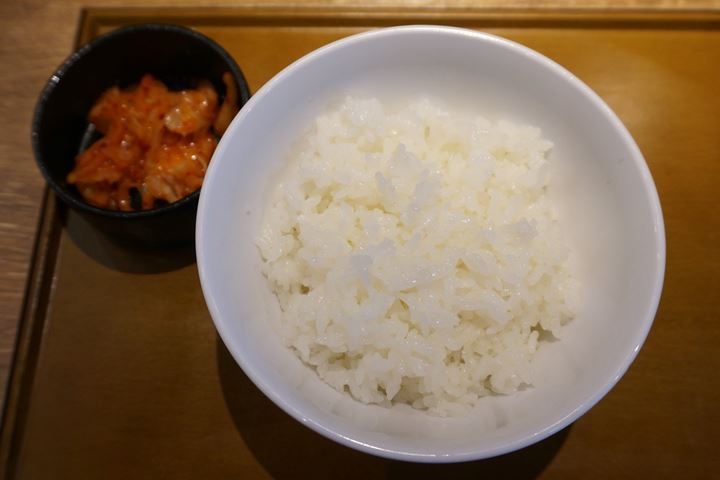 This rice is regular size.
Black Wagyu Beef 黒毛和牛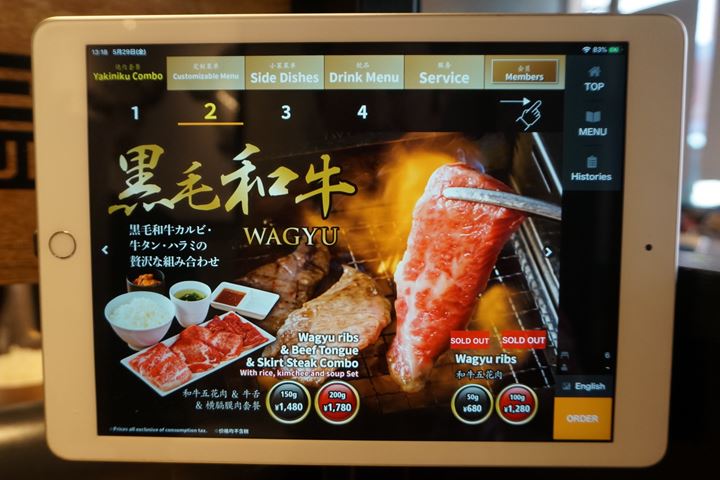 Wagyu Ribs (Black Wagyu Beef)
黒毛和牛カルビ Kuroge-wagyu-karubi
50g 740 yen
100g 1480 yen

When I went there, they offered only one kind of Japanese wagyu beef above. The other meat items on the menu were not wagyu.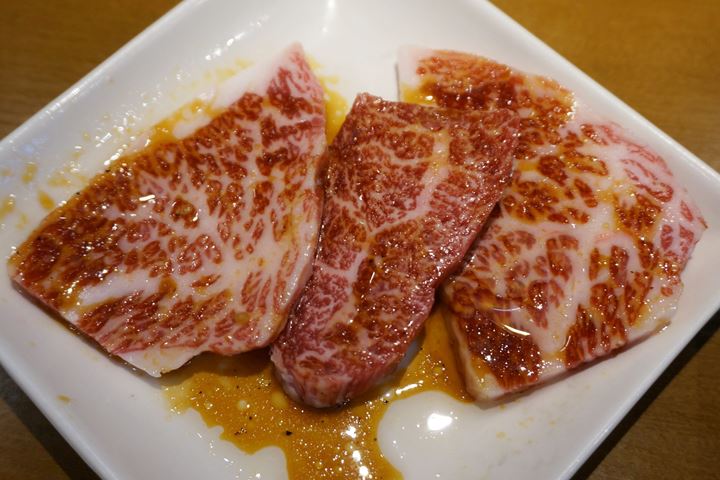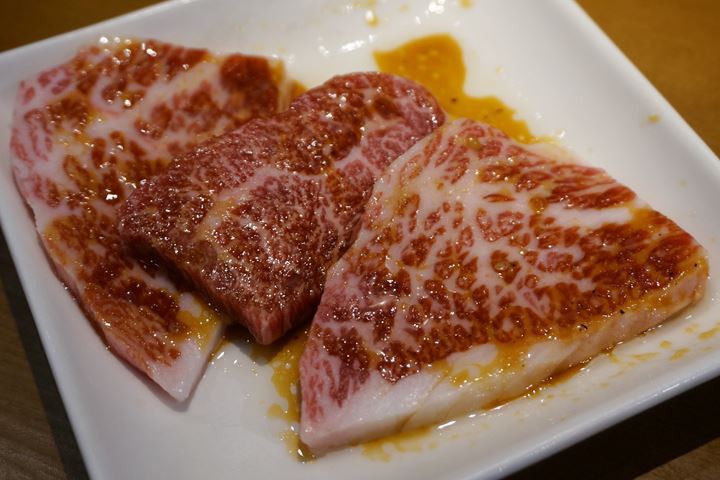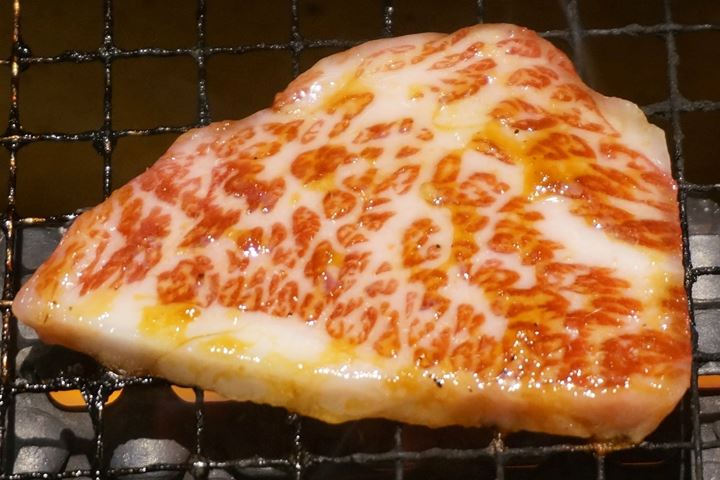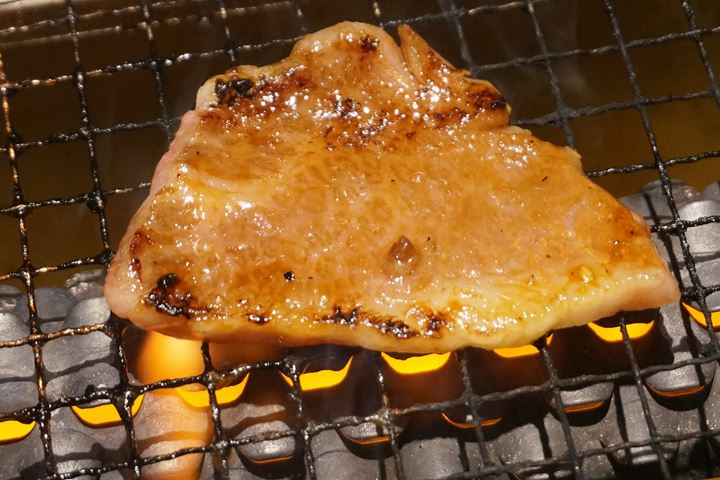 This marbled meat was tender and juicy. I felt a delightful flavor.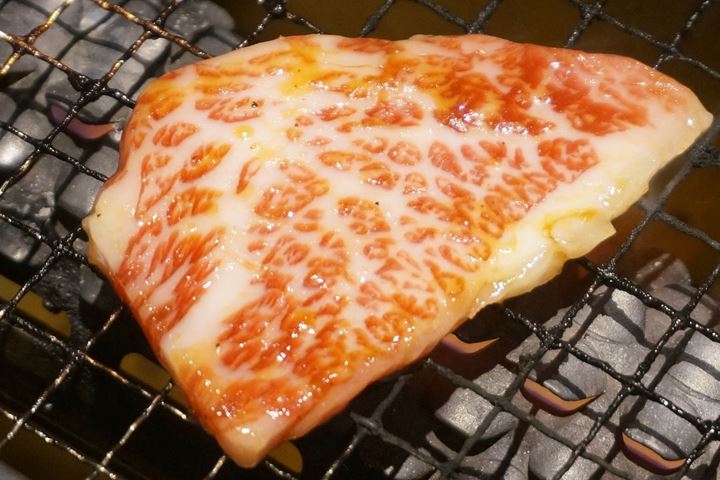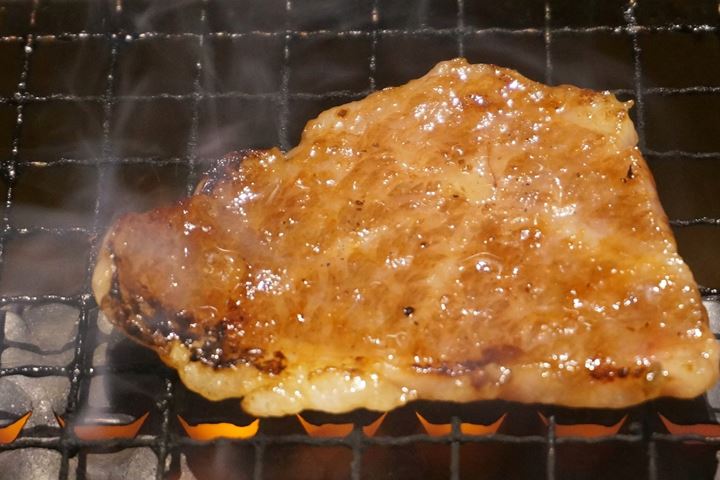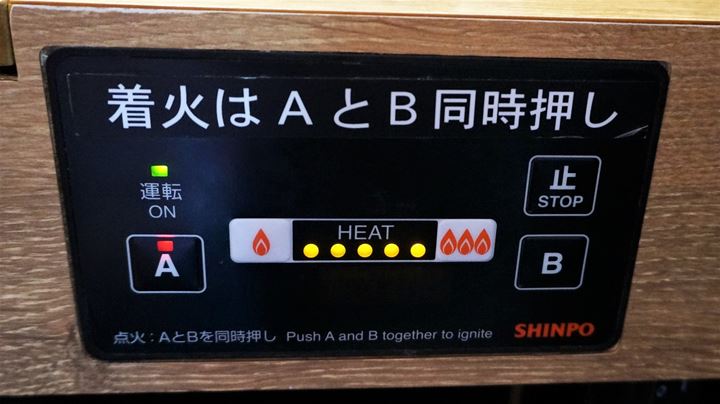 When you finish your meal, turn off the grill yourself, the switch is easily accessible.
Special Promotion
I highly recommend you go to the restaurant on the 29th, because every 29th day of the month, they offer some kind of discount.

When I went there on May 29th, the two items below were HALF PRICE!

Wagyu Ribs (Black Wagyu Beef)
黒毛和牛カルビ Kuroge-wagyu-karubi
50g 740 yen → 370 yen
100g 1480 yen → 740 yen
*It is acceptable to order only one of the two items, and available until this wagyu is sold out. (You can order it only once.)

The details of the discount might change every month, but in the last few months, the promotion has been the same.

The information of the promotion (in Japanese)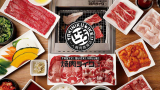 【Official Site】焼肉ライク | 1人1台の無煙ロースターで好きなだけ楽しめる一人焼肉店 焼肉ライク
焼肉ライクは、焼肉のファーストフード店をコンセプトに1人1台の無煙ロースターで好きなだけ一人焼肉が楽しめる新感覚の焼肉ファーストフード店です。ぱっと焼肉を食べたい時に、1人で行きにくいのが焼肉屋。焼肉ライクは、1人で気軽にいける焼肉店。自分のペースで、自分の好きな焼き加減で。無煙ロースターなのでにおいがつかない煙の気に...
Happy Hour
Get a discount on your first order from their selected drinks!
2:00 pm - 6:00 pm on weekdays (except Saturday, Sunday and holiday)
Only 3 kinds of drinks are discounted at happy hour. (The other drinks are normal prices.)
It is valid not only once, you can order another one at the same price.
Draft Beer 生ビール
Mag, Glass
Highball ハイボール
Oolong Tea High ウーロンハイ
Lemon Sour レモンサワー
Instead of this happy hour, some of the restaurant offer all-you-can-drink.
Information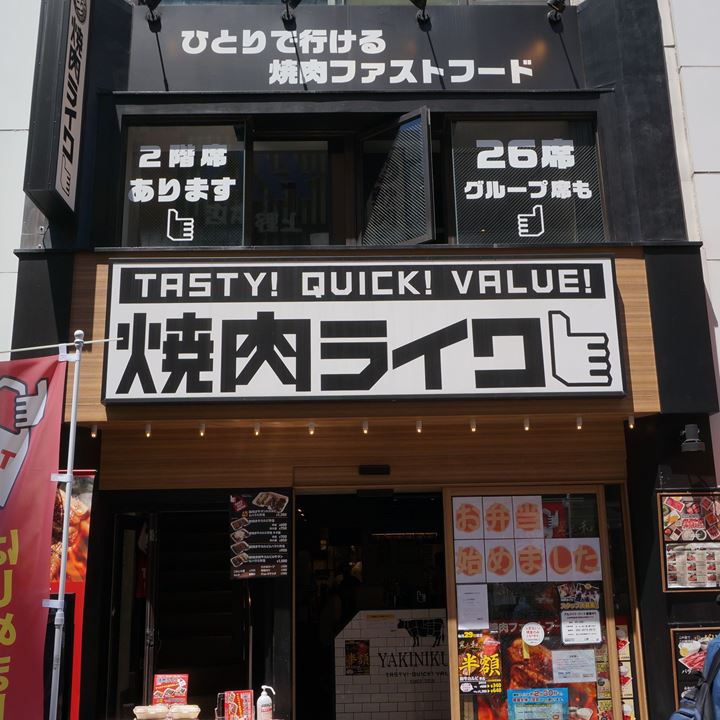 Restaurant Name
YAKINIKU LIKE
焼肉ライク

Website (in Japanese)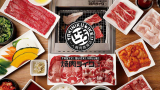 【Official Site】焼肉ライク | 1人1台の無煙ロースターで好きなだけ楽しめる一人焼肉店 焼肉ライク
焼肉ライクは、焼肉のファーストフード店をコンセプトに1人1台の無煙ロースターで好きなだけ一人焼肉が楽しめる新感覚の焼肉ファーストフード店です。ぱっと焼肉を食べたい時に、1人で行きにくいのが焼肉屋。焼肉ライクは、1人で気軽にいける焼肉店。自分のペースで、自分の好きな焼き加減で。無煙ロースターなのでにおいがつかない煙の気に...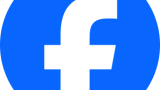 Facebookにログイン | Facebook
Facebookにログインして、友達や家族と写真や近況をシェアしましょう。
Prices Include 10% Tax
No Service Fee / No Cover Charge
English Picture Menu Available
Cash Only
No Smoking
Use the hand sanitizer at the entrance when you get into the restaurant.
You can also order to go.
Tweets by like_yakiniku
Several branches are located around main stations in downtown Tokyo.

Ueno 上野

Ikebukuro 池袋

Shinjuku 新宿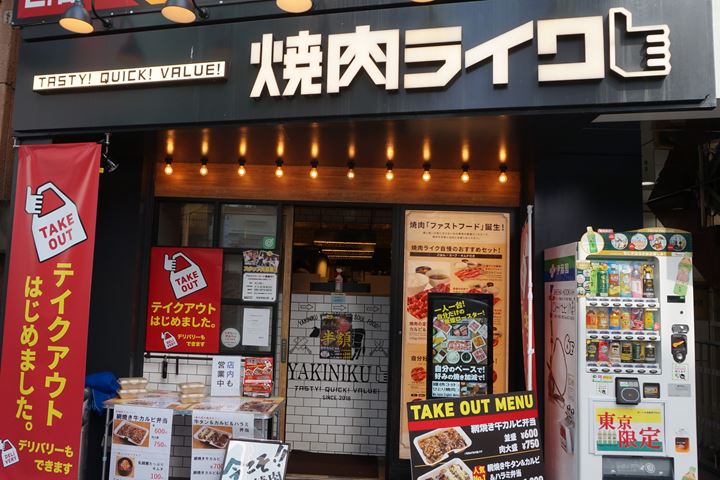 Shibuya 渋谷

Meguro 目黒

Shinbashi 新橋

Akihabara 秋葉原

Ochanomizu 御茶ノ水(お茶の水)
Most of the photos on this page are as of May 2020 at Ueno 上野 branch of Yakiniku Like. Prices are updated as of June 2022.
---
If you want to enjoy Yakiniku with a group, I recommend another Yakiniku chain below.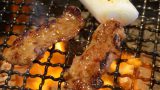 Japanese Style Barbecue at Yakiniku ANRAKUTEI 焼肉 安楽亭 - Kuroge (Black) Wagyu Beef 黒毛和牛 - All You Can Eat
Anrakutei offers many kinds of reasonable beef dishes and some kinds of pork and chicken. The best choice is Japanese Kuroge (Black) wagyu beef. The other kinds of beef is also good taste. However, low priced meat of this restaurant is usually imported fro...
If you want to try many kinds of wagyu beef produced across Japan, I recommend a Yakiniku bar.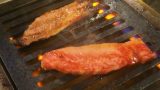 Enjoy Japanese Wagyu Beef 和牛 at Standing Bar in Tokyo! - YAKINIKU Barbecue at JIROUMARU 立喰い焼肉 治郎丸
Do you want to try Japanese Wagyu beef inexpensively?You can enjoy eating many kinds of domestically produced Japanese beef at a standing barbecue chain.