With more than 300 locations across Japan, Dohtonbori Okonomiyaki is one of the largest Okonomiyaki chains in the country. Okonomiyaki is often referred to as "Japanese pizza."
Lunch Special Menu 超お得ランチメニュー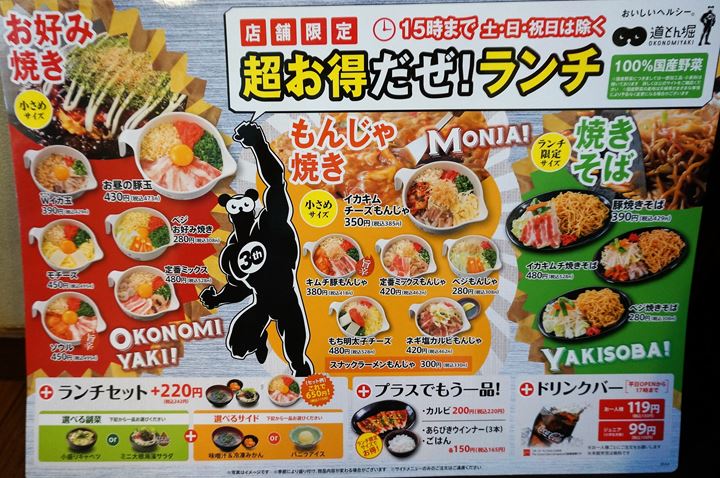 Classic Mix Okonomiyaki 定番ミックスお好み焼き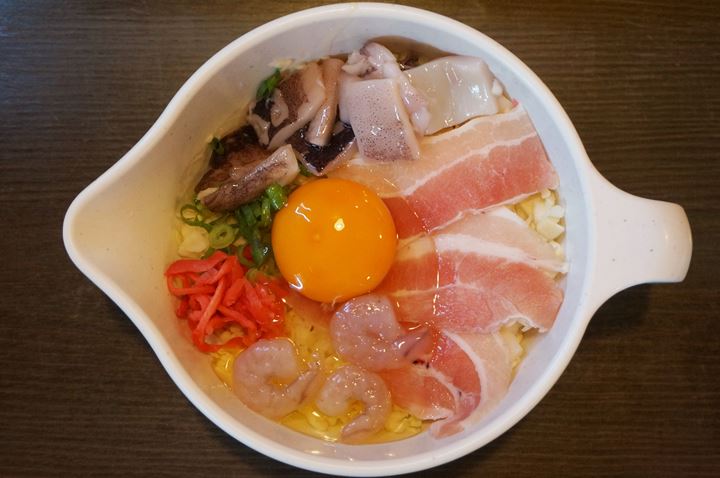 Cost: ¥480 (¥528 Including 10% Tax)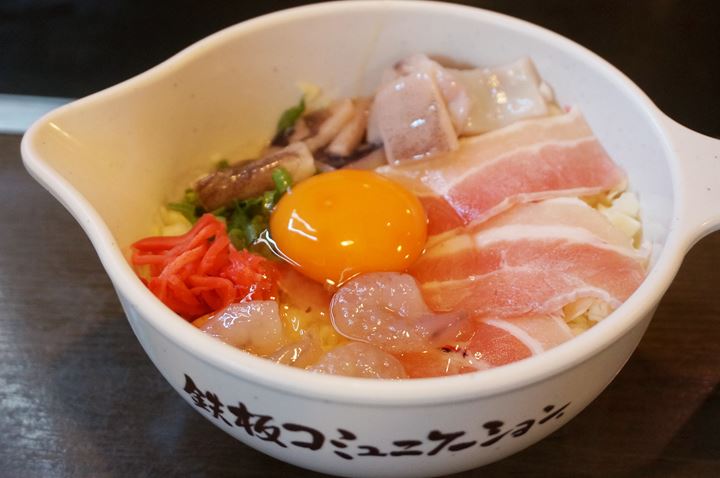 It includes pork, squid, shrimp, green onion, red pickled ginger, egg, cabbage, original Okonomiyaki dough and more.
This restaurant's unique appeal may be to due to it's secret ingredient - the dough.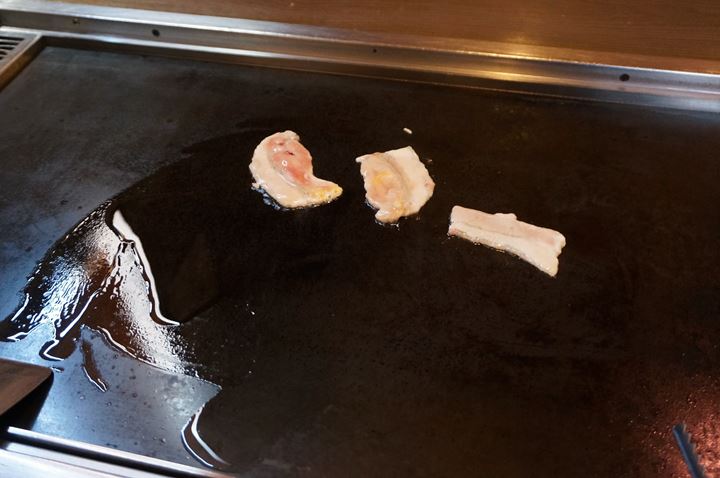 Put some oil and pork slices on the grill. Please use tongs when you cook the meat, because the chopsticks melt easily and would be rendered unsanitary by the raw meat.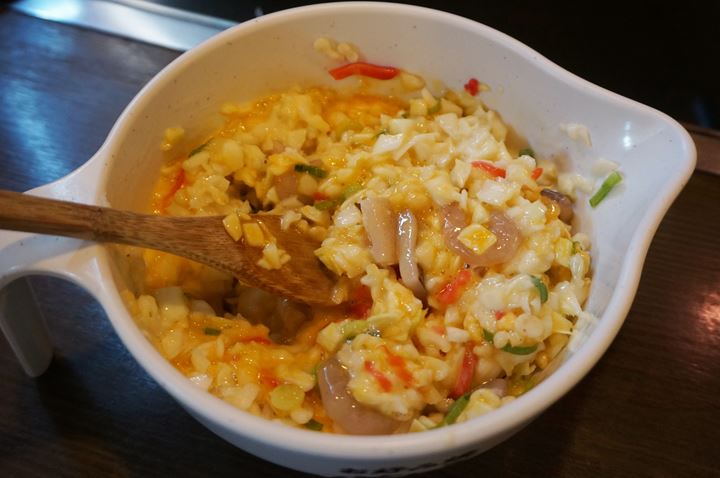 Next, mix the remaining ingredients and put them on the grill.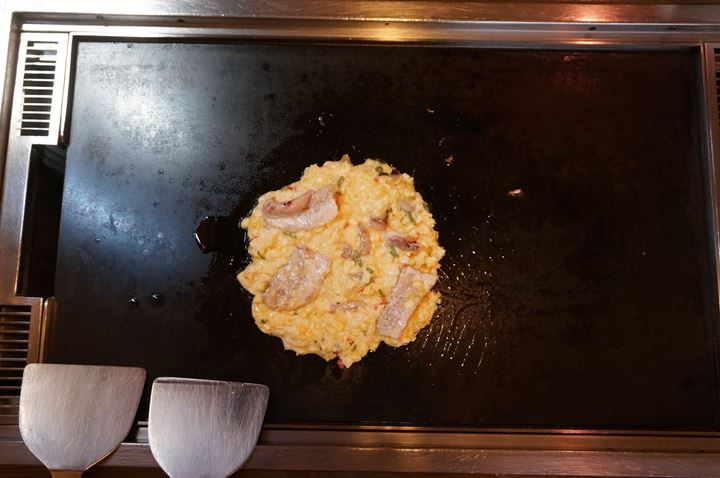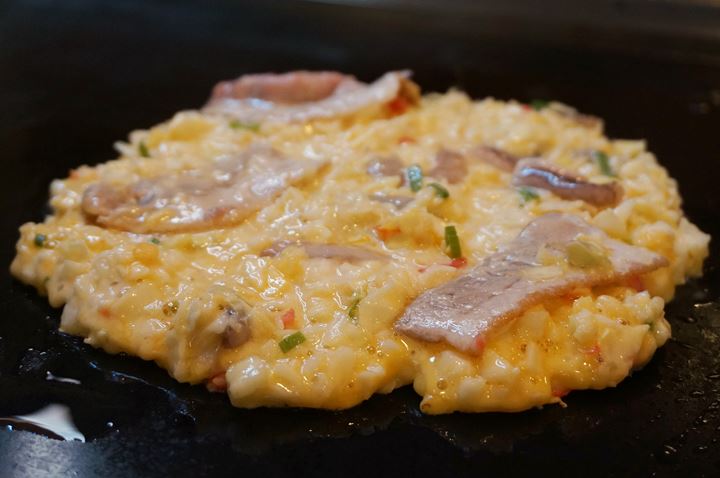 Now turn it over.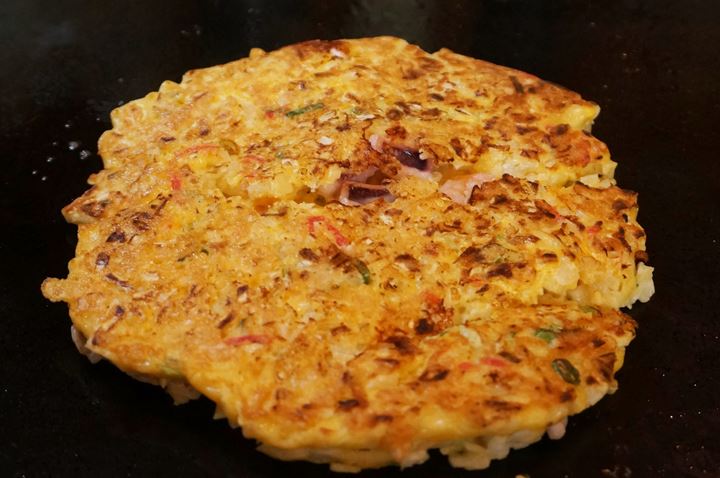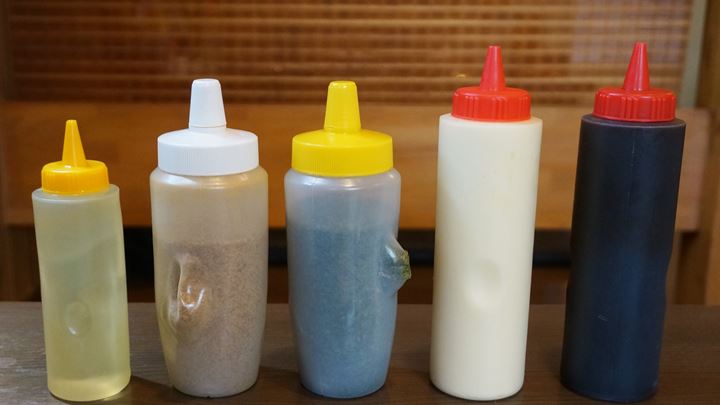 Oil
Dried Fish Powder
Nori (Dried Seaweed Powder)
Mayonnaise
Okonomiyaki Sauce
Finally, you can top it with your favorite seasonings (except oil).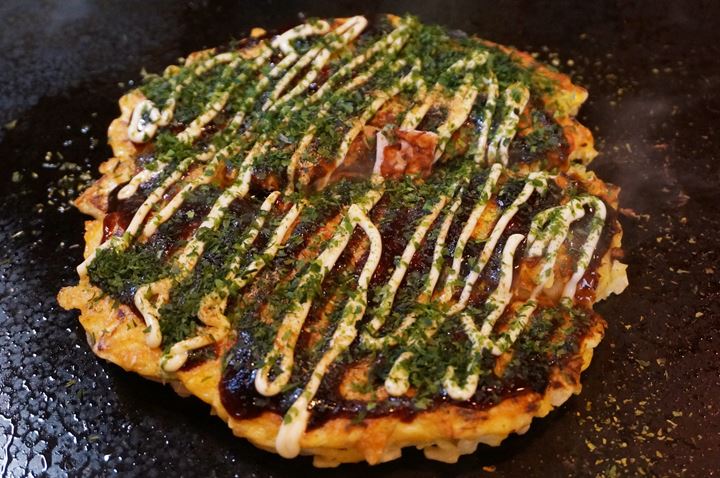 Ready to eat!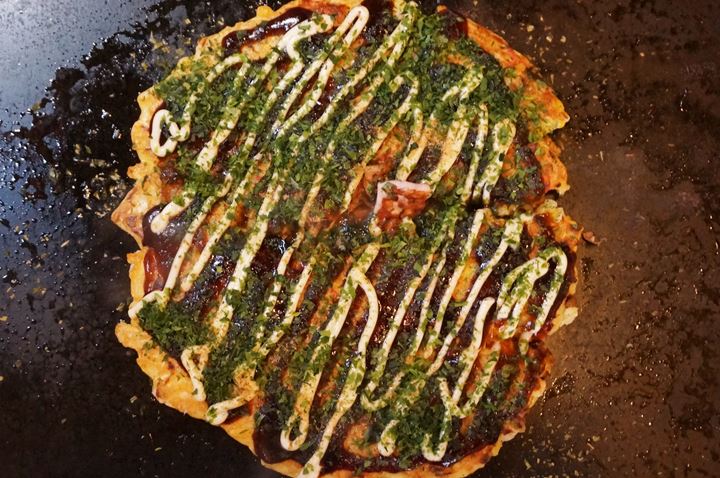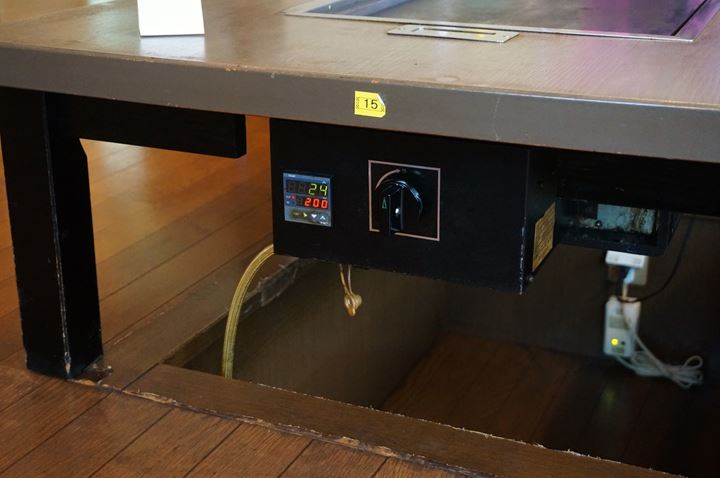 If you'd like to turn off the grill yourself, the switch is easily accessible.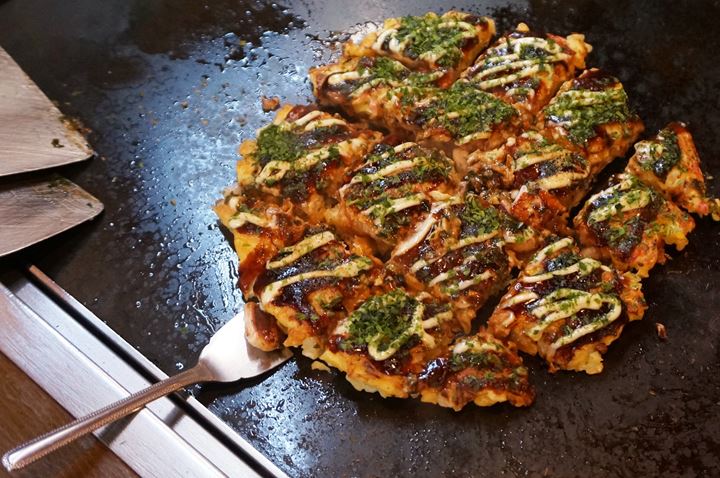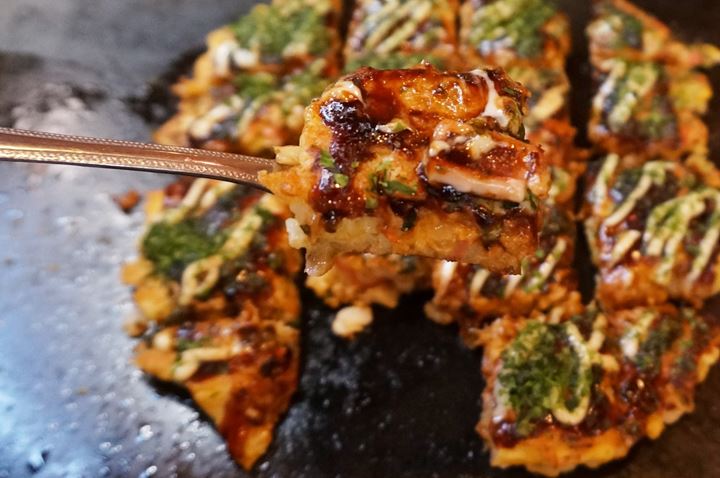 Looks delicious!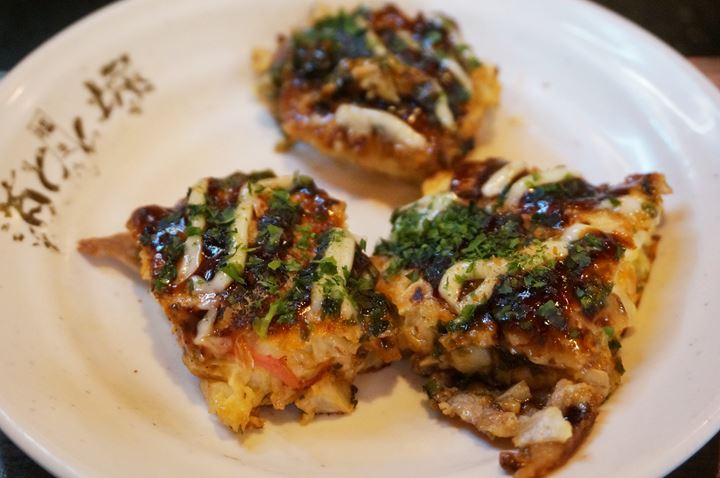 Mochi and Spicy Cod Roe with Cheese Monjayaki もち明太子チーズもんじゃ焼き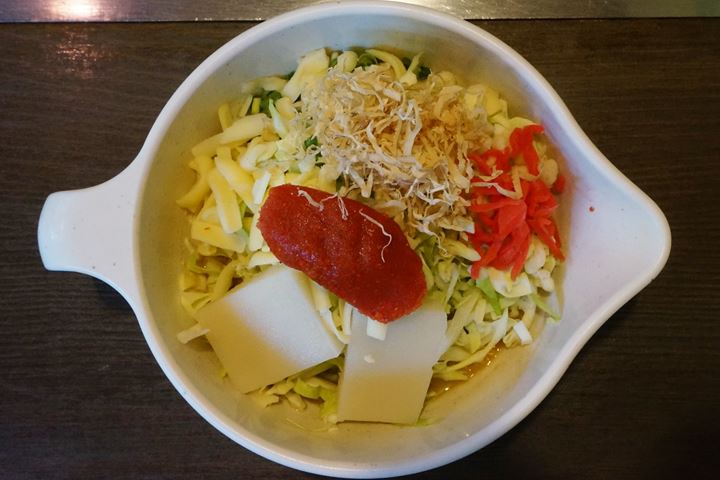 Monja もんじゃ is very soft and moist in texture. Monja is also called monjayaki もんじゃ焼き.
For example, pancake batter is what I imagine would be similar.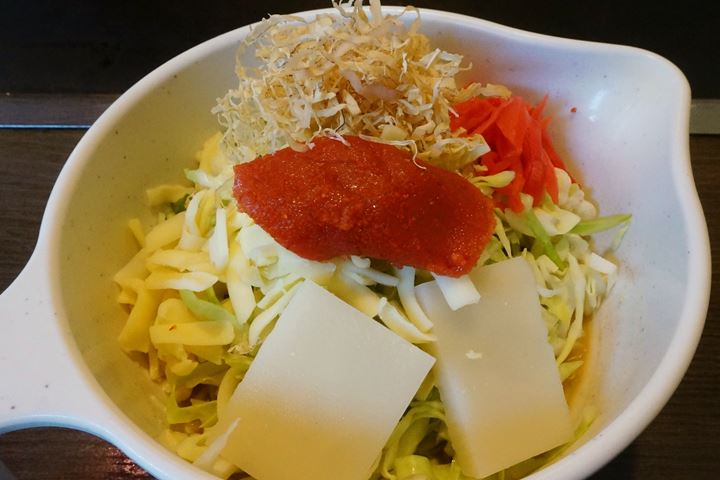 Mochi and Spicy Cod Roe with Cheese Monjayaki
もち明太子チーズもんじゃ焼き Mochi Mentaiko Cheese Monjayaki
Cost: ¥480 (¥528 Including 10% Tax)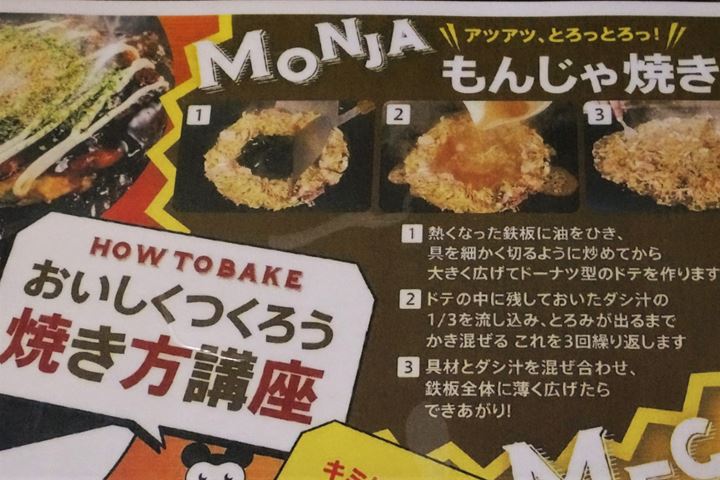 How to cook Monja:
Add some oil to the grill.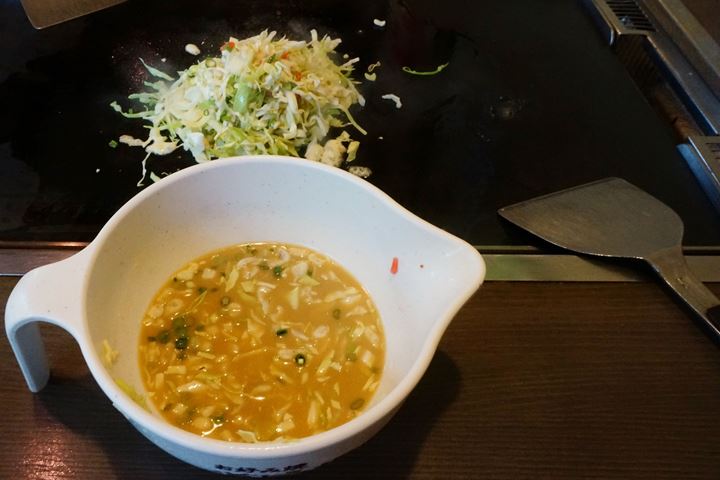 There is a lot of monja soup on the bottom of the bowl.
To begin, put only the solid ingredients on the grill - Leave the soup for
later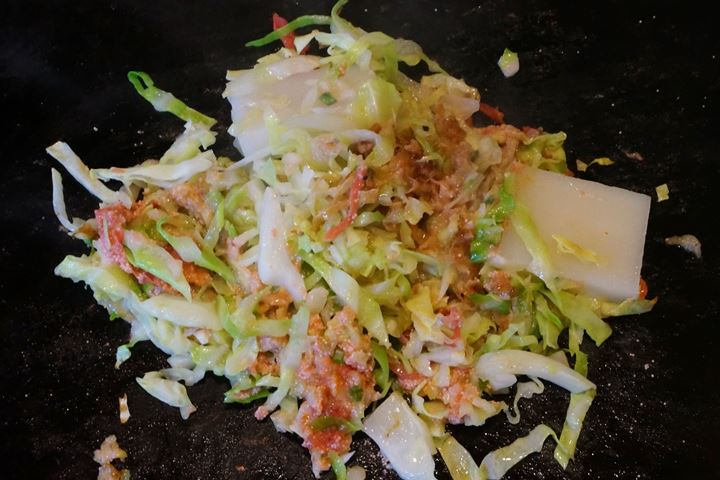 Next, stir-fry the ingredients, cutting them finely.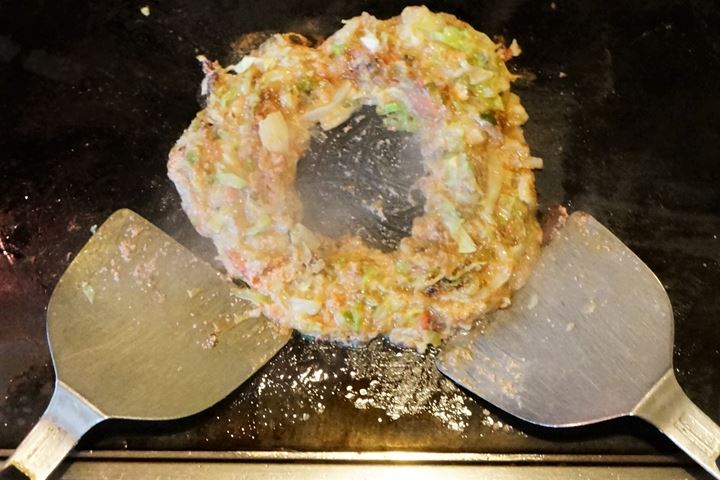 Make a hole like a doughnut as pictured above.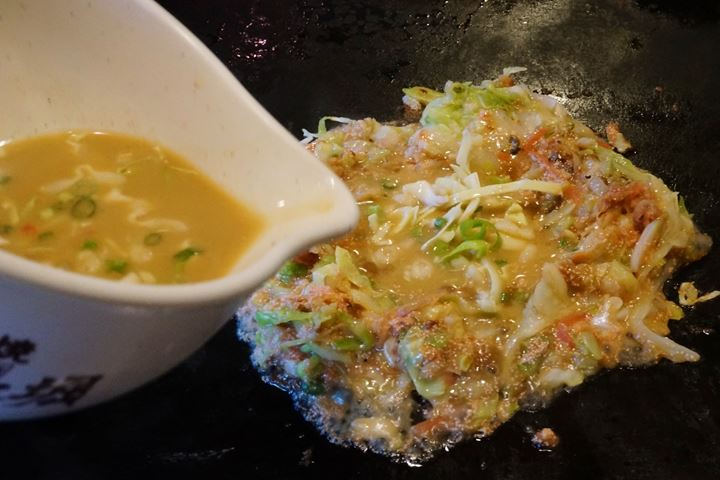 Pour 1 / 3 of the soup in the hole.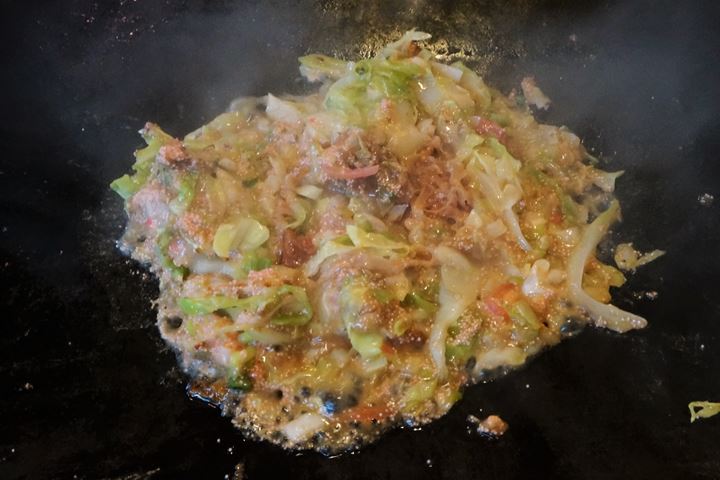 Wait for a while until the soup reduces.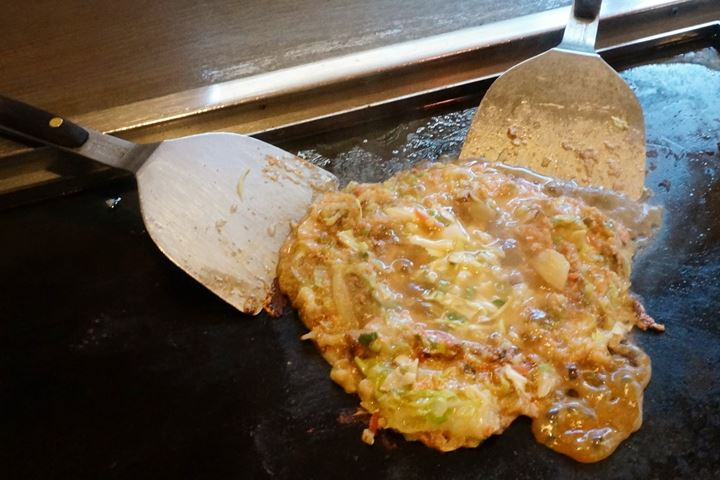 Then, mix them together.
Repeat the directions above 3 times for every serving of monja. It will not
be complete if you only follow them once.

Although this restaurant recommends repeating the directions 3 times, I have often seen most people at other restaurants quickly cook monja by completing the directions once.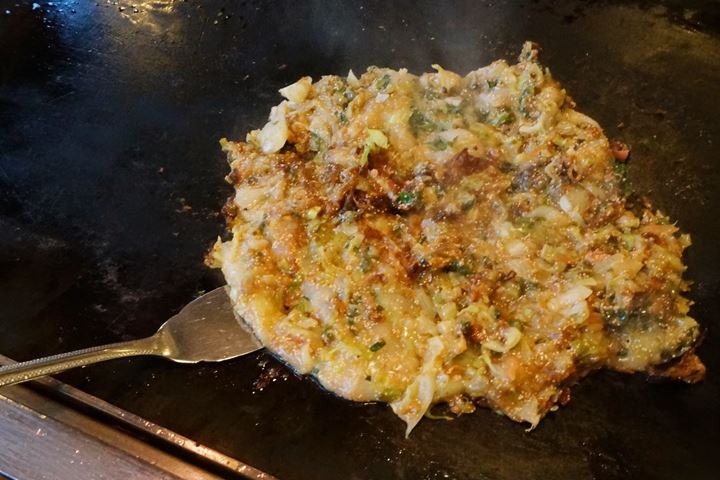 Finally, it's ready to eat!
Usually people who like monja cook it thinner than mine in the pictures above - I was afraid of burning it.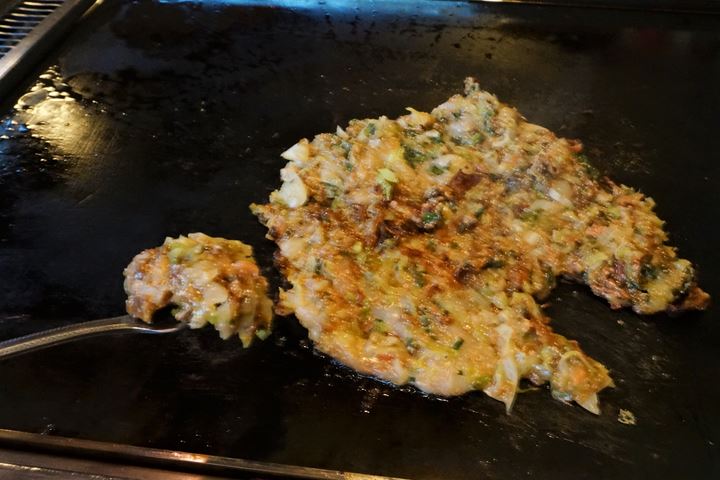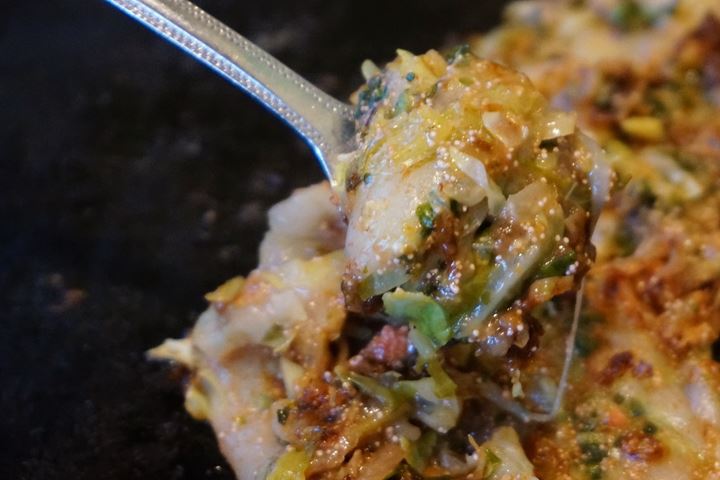 Main Menu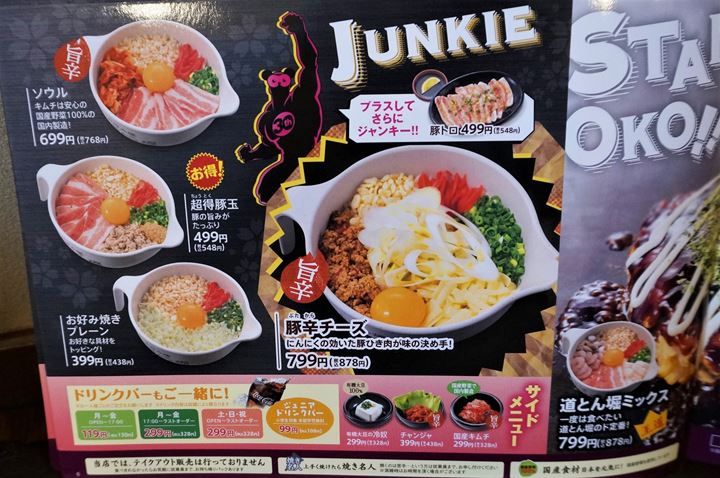 During lunch hours, the main menu is also available. This photo is just a sample. They offer many kinds of foods such as Okonomiyaki, Monja (paste type okonomiyaki) and Yakisoba (fried noodles).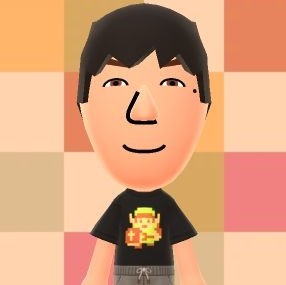 To be honest, between okonomiyaki and monja, I much prefer okonomiyaki.
I just ordered monja for writing this blog about the restaurant.
Information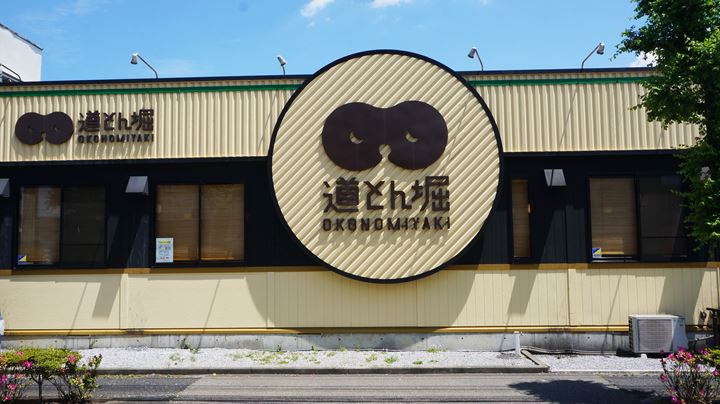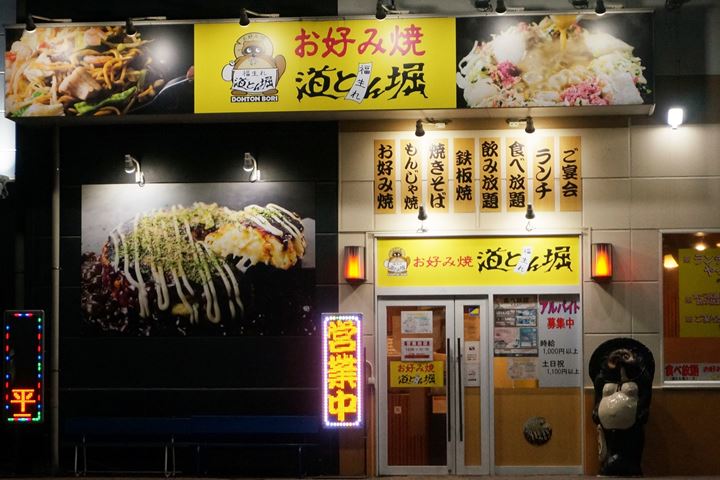 Restaurant Name:
DOHTONBORI OKONOMIYAKI
お好み焼き 道とん堀

Specialty:
This shop specializes in OKONOMIYAKI and also offers MONJA and YAKISOBA.

Website: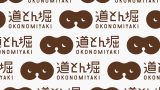 Okonomiyaki Dohtonbori
Whenever you want to eat okonomiyaki, you can find the nearest "Dohtonbori" store to you just by accessing the website.
English Menu Available
No Service Fee/Cover Charge
Cash Only
Prices Do Not Include 10% Tax
No Smoking
Water Free Of Charge, Self Service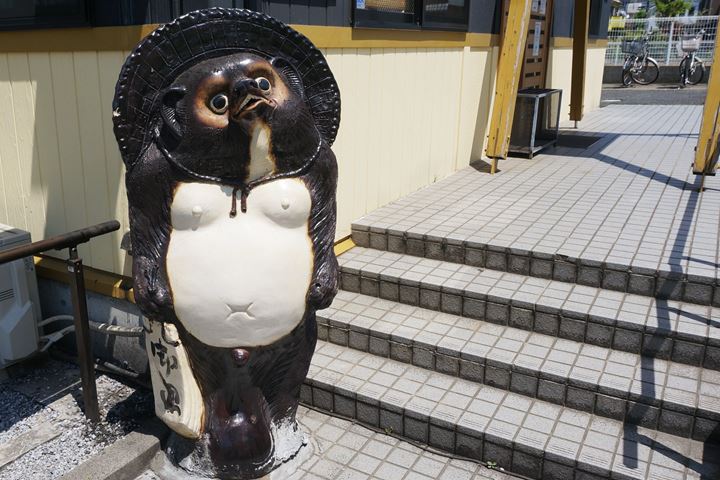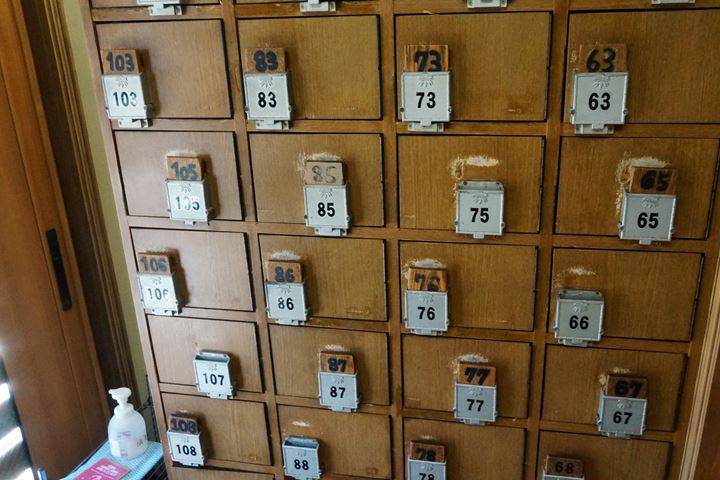 The shoe locker key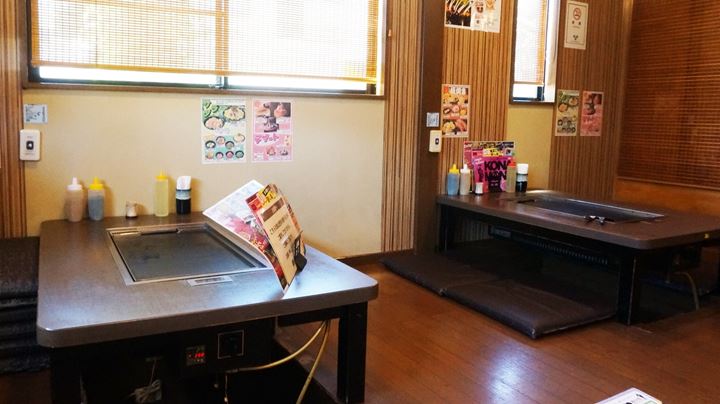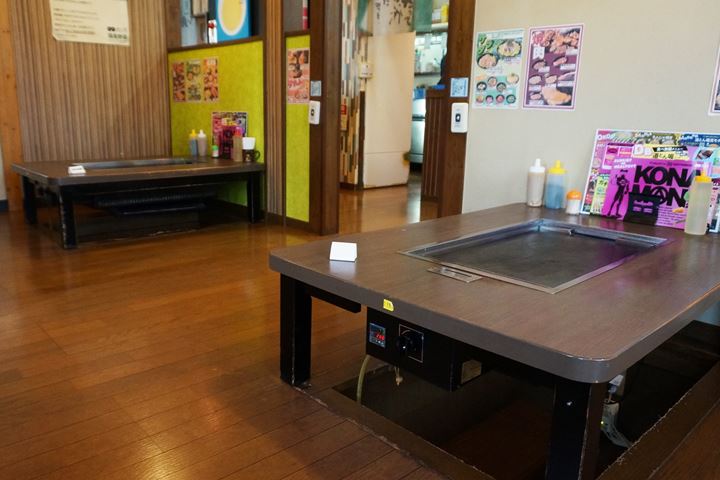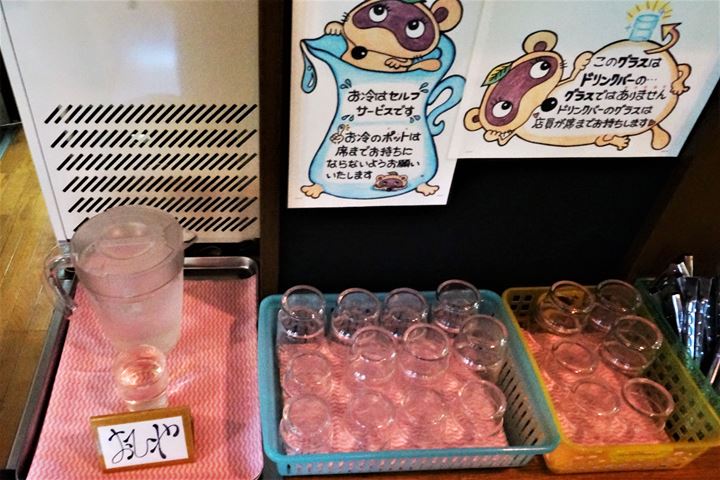 お冷はセルフサービスです。
Cold water is free and self-service.
お冷のポットは席までお持ちにならないようお願いいたします
Please do not take the pitcher to your table.
このグラスはドリンクバーのグラスではありません
These glasses are not for the optional all-you-can-drink menu item. (Extra charge)
ドリンクバーのグラスは店員が席までお持ちします
Our staff will bring a glass to you for the all-you-can-drink.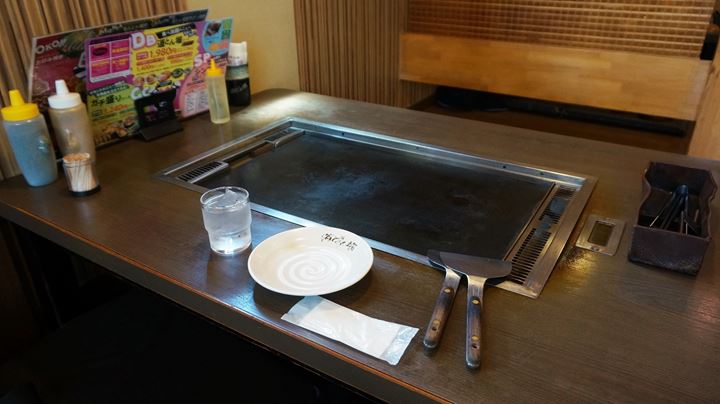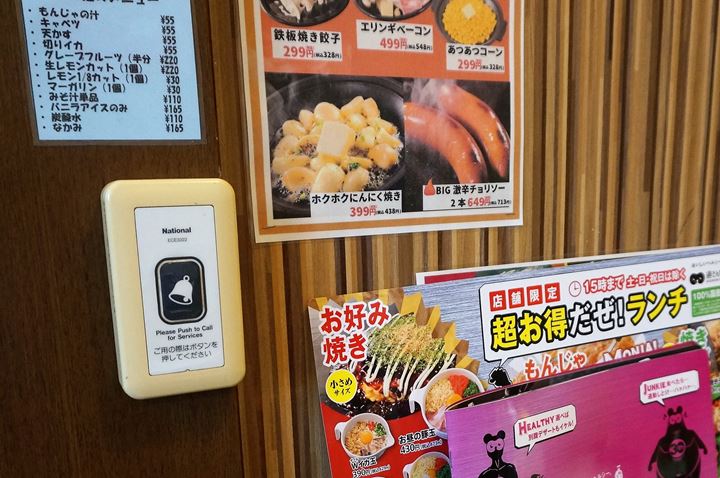 When you're ready to order, press the call button for assistance.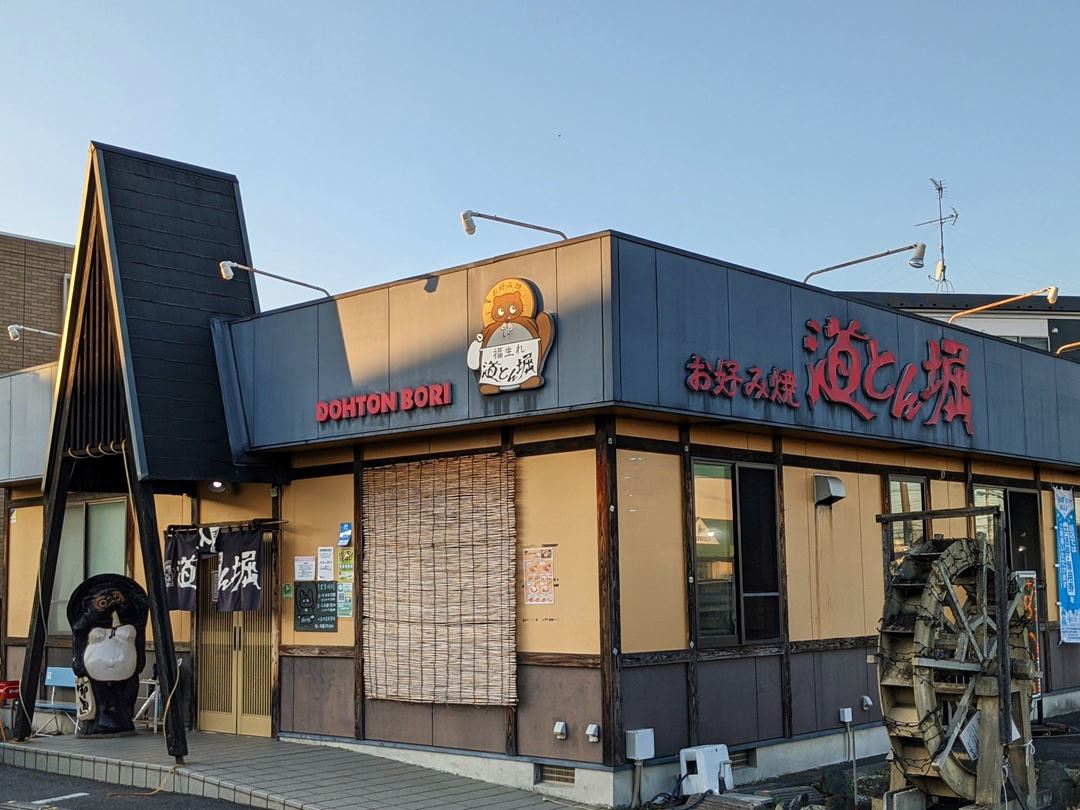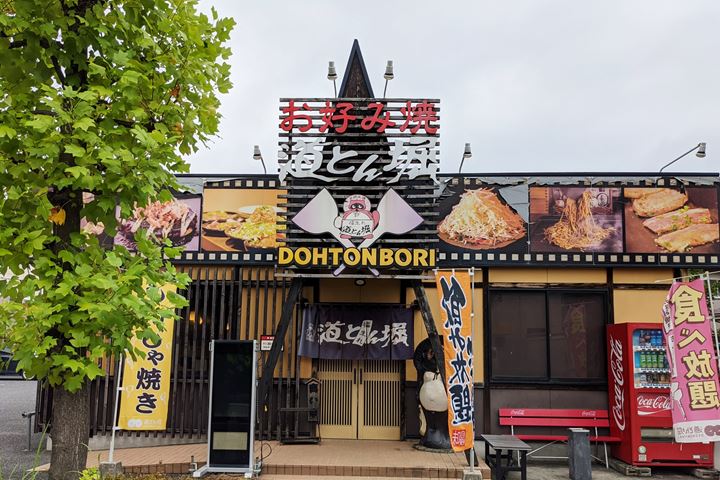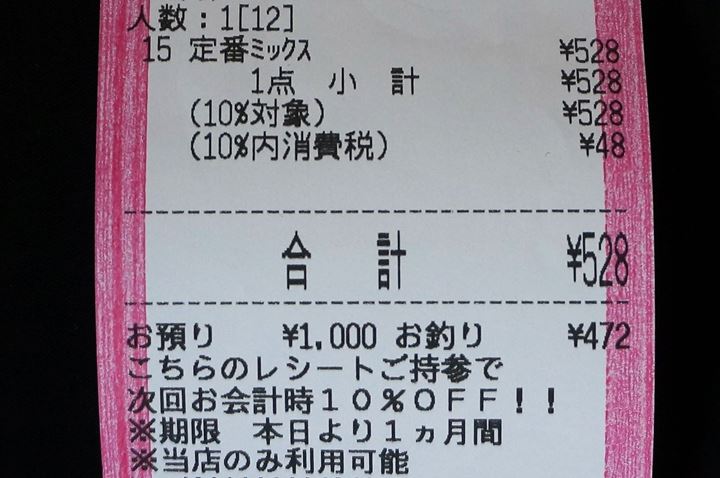 ---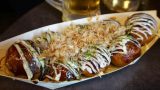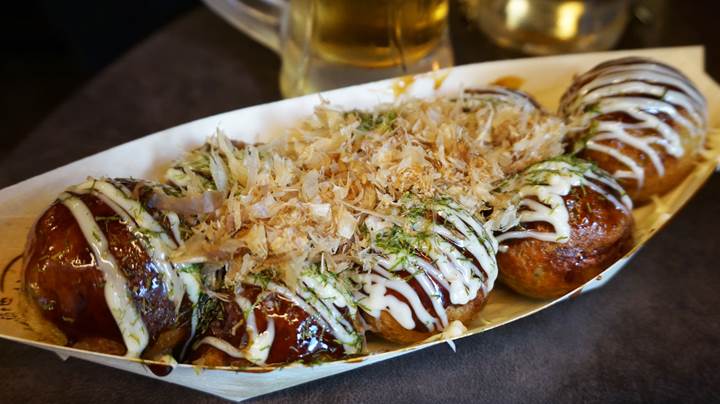 Octopus Dumplings TAKOYAKI たこ焼き
Takoyaki is octopus dumplings and it is a popular snak like a junk food but tasty.