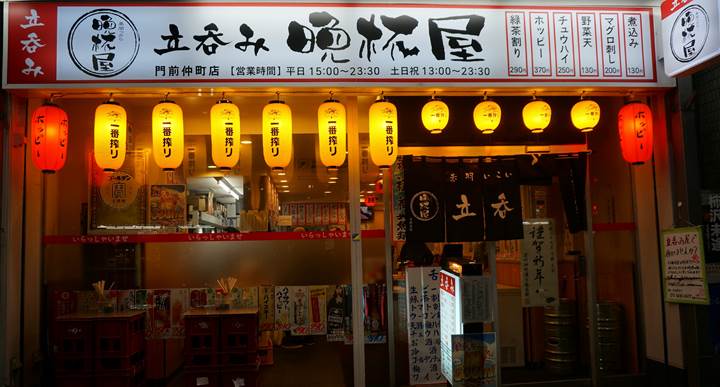 Standing Bar BANPAIYA 晩杯屋 in Tokyo
This bar is still unknown spot for international tourists. BANPAIYA 晩杯屋 is really popular with local people.
Most of the dishes cost between 130 and 310 yen. Only a few kinds of dishes are 490 yen.

About BANPAIYA 晩杯屋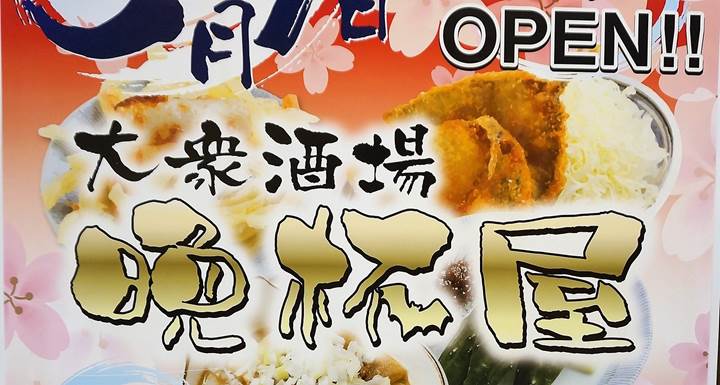 It is a bar restaurant chain, and most branches are standing bar style. They are mainly located in Tokyo. Actually, some branches are not standing bar but the menu and the prices are similar to the standing branches.

There is a lot of food variety in this bar. There is about 50 kinds of dishes available and all of them are inexpensive.

This bar's food is inexpensive and actually delicious compared to the prices. Another good point of this bar is the food is served faster than you would expect. The bar room is bright with good atmosphere.

The pronunciation of this name (晩杯屋 BANPAIYA) is similar to "vampire".😈
Specialty of the bar
Their food selection often changes. When I've gone to the restaurant a few times a year and their food menu was always changed to match seasons and the food was inexpensive . Of course, several dishes are regularly served.
I think this restaurant is good for a regular customer who wants to eat seasonal and fresh food.
First, I will introduce the regularly served foods on below.
I always see these foods below on the menu. Probably these are regularly served.
Regularly served foods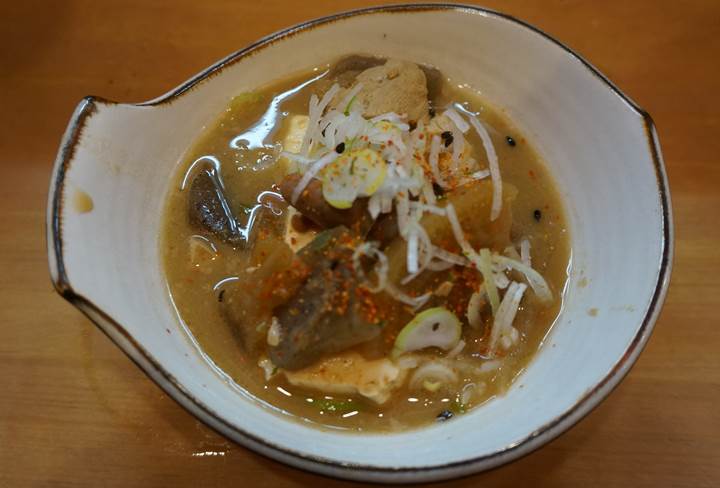 Japanese-style stew 煮込み Nikomi
Stewed tofu, vegetables, meat in a Japanese-style broth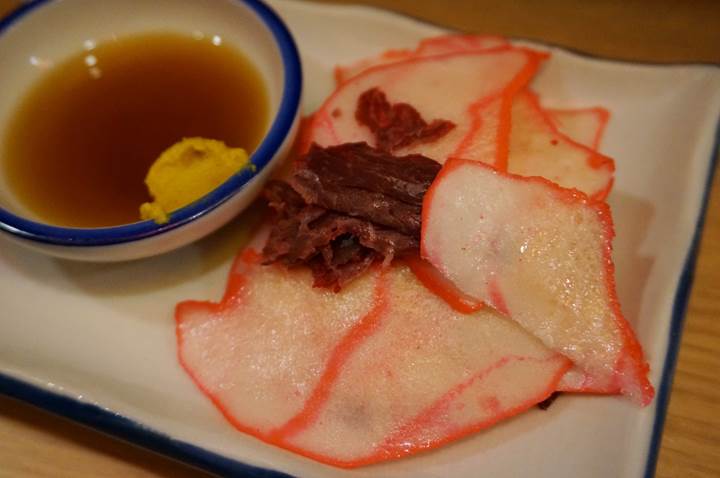 Whale bacon くじらベーコン Kujira bacon 490 yen
This is Japanese traditional food.
They sometimes offer whale sashimi (raw meat) and deep fried whale.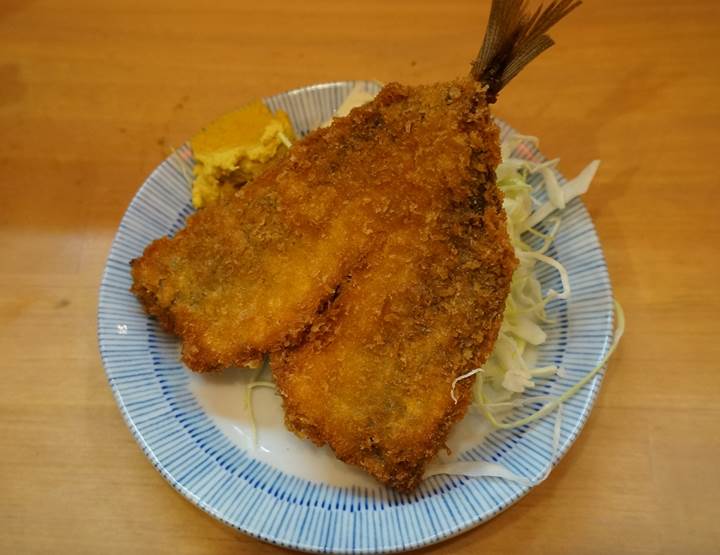 Deep fried horse mackerel アジフライ Ajifurai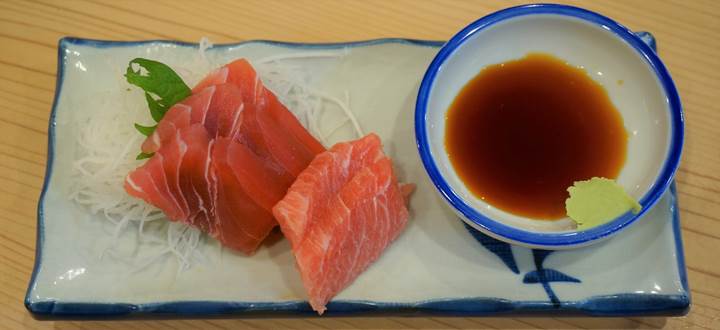 Tuna sashimi マグロ刺し Maguro sashi
or
Tuna sashimi topped with grated sticky yama-imo マグロ山かけ
* Yama-imo / Naga-imo is mountain yam.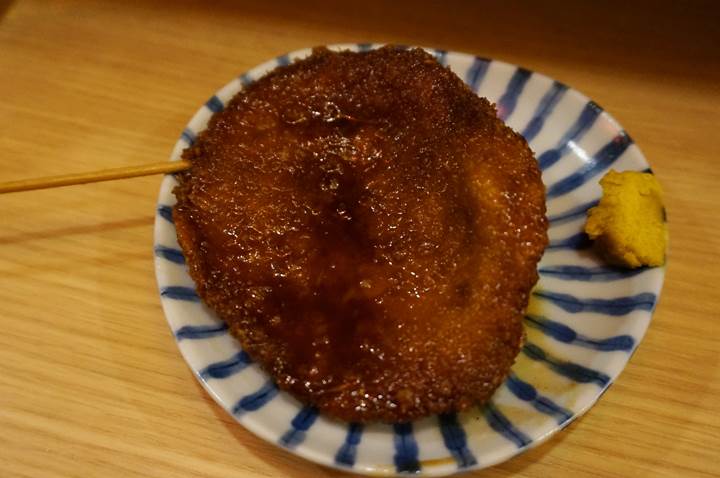 Deep fried breaded liver レバフライ Rebafurai
I recommend you put sauce on this food.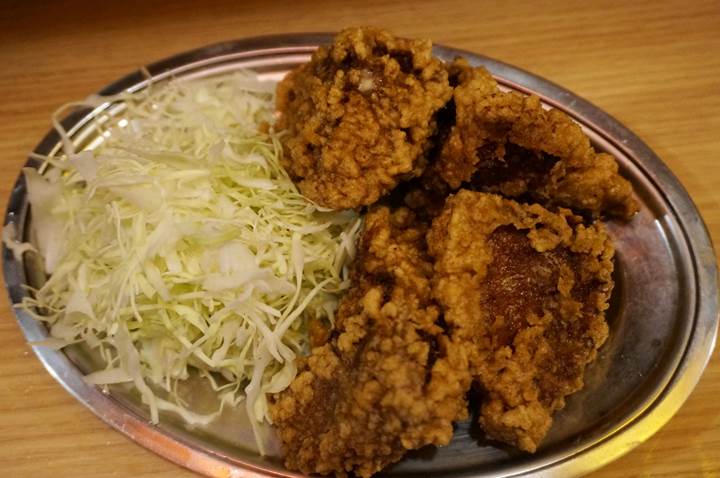 Large size of deep fried liver 大盛レバホルモン Oomori rebahorumon
I got full quickly. This large portion was too much for me because I was there alone.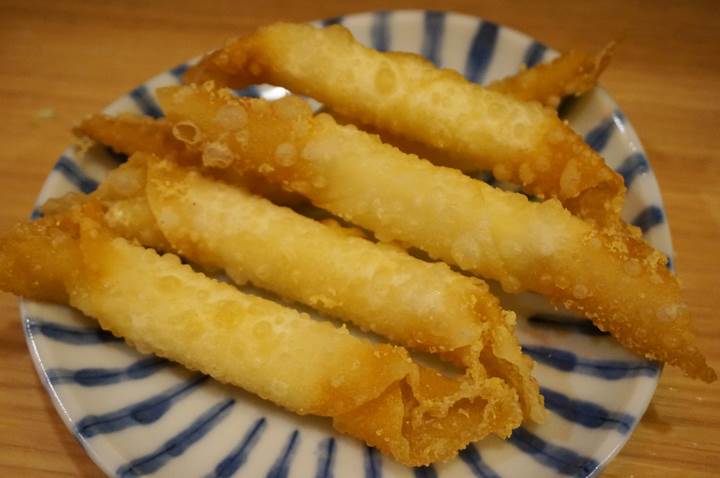 Crispy deep fried cheese チーズカリカリ Cheese Karikari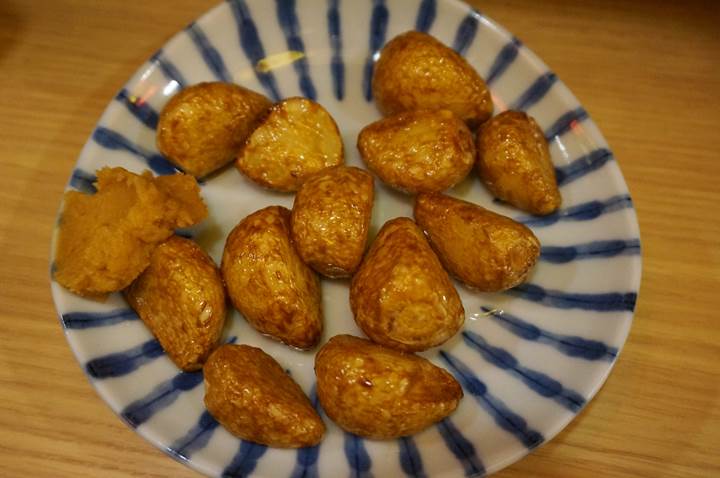 Deep fried garlic 揚げにんにく Ageninniku
Seasonal foods
These dishes on this chapter depend on the season and when purchasing from a food market. They might be not available when you go to the bar.

Their food menu is changed more than 20 times a month.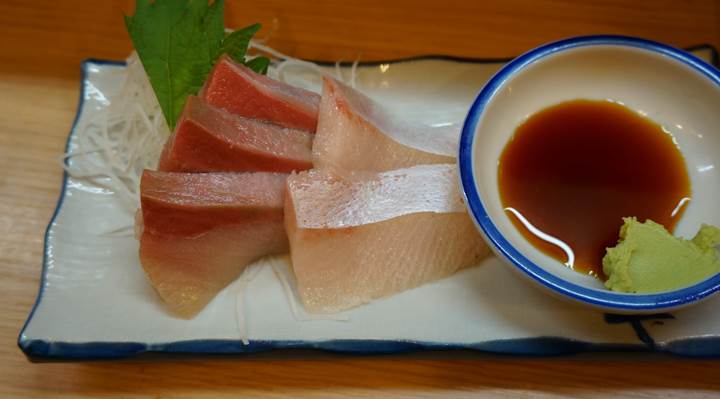 Yellowtail sashimi ぶり刺し Burisashi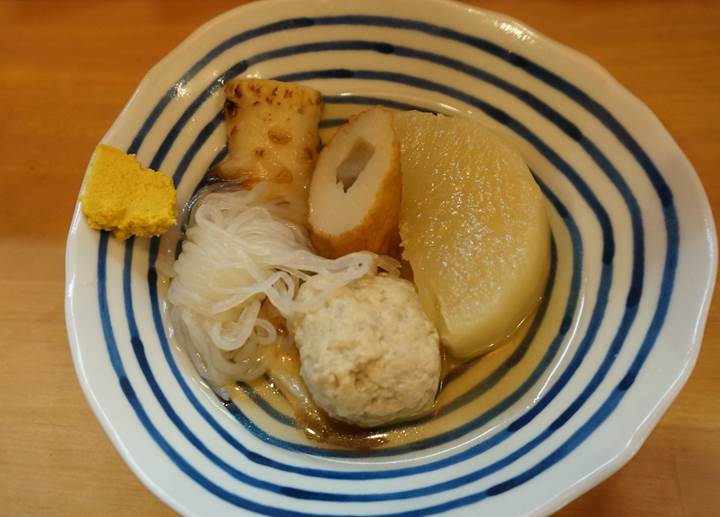 Oden おでん is a type of Japanese hot pod / boiled cuisine.
5 kinds of Oden (It is a type of Japanese hot pod / boiled cuisine in a Dashi broth.)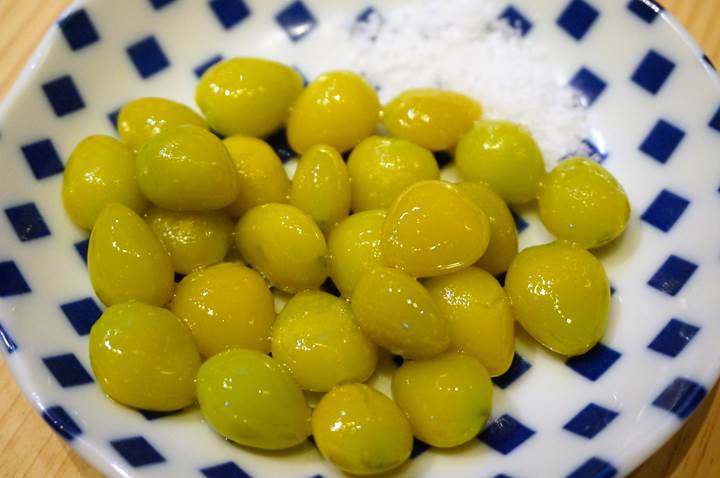 Deep Fried Ginkgo Nuts with Salt 揚げ塩ぎんなん Ageshio ginnan
I like this! Yummy!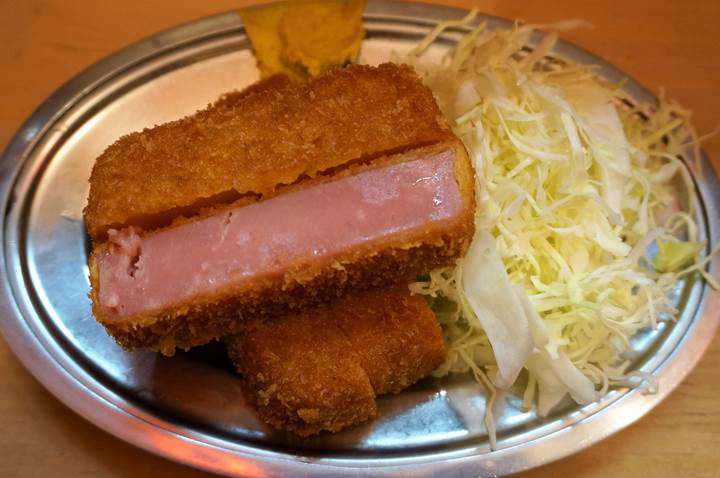 Deep fried breaded thick ham 極厚ハムカツ Hamukatsu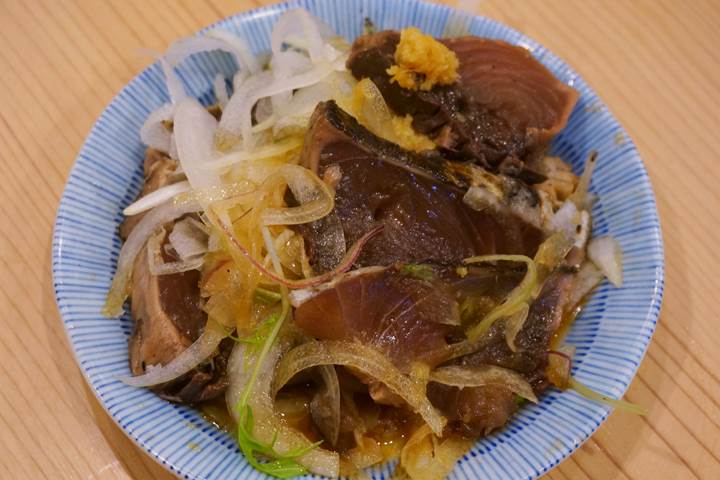 Flash-seared bonito かつおたたき Katsuo tataki
This bonito is seared briefly on the outside and served sliced. I recommend you put citrus-flavored soy sauce. Please find a sauce bottle that has the name label ポン酢 or 味ぽん on the table.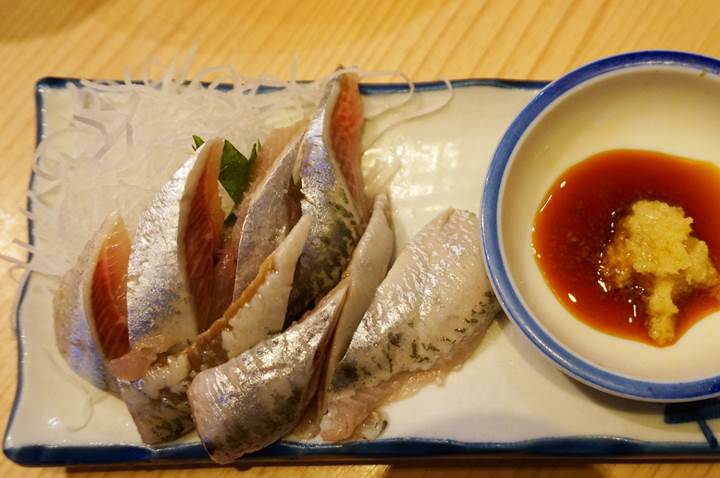 Sardine sashimi いわし刺し Iwashi sashi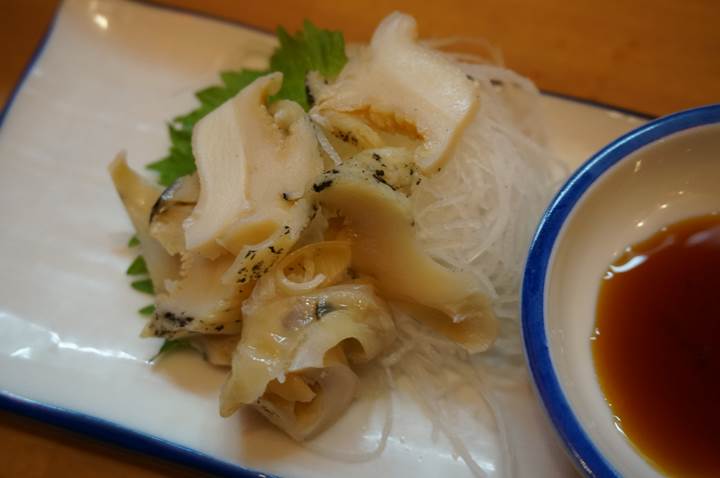 Whelk sashimi つぶ貝刺し Tsubugai sashi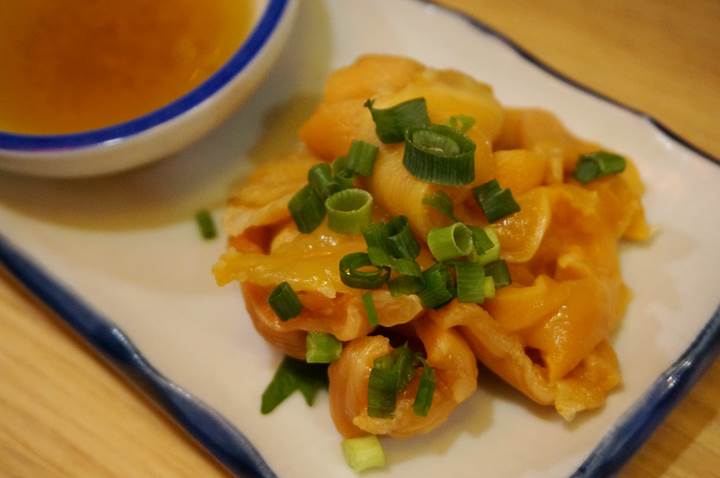 Sliced giant clam sashimi 黒ミル貝 Kuromirugai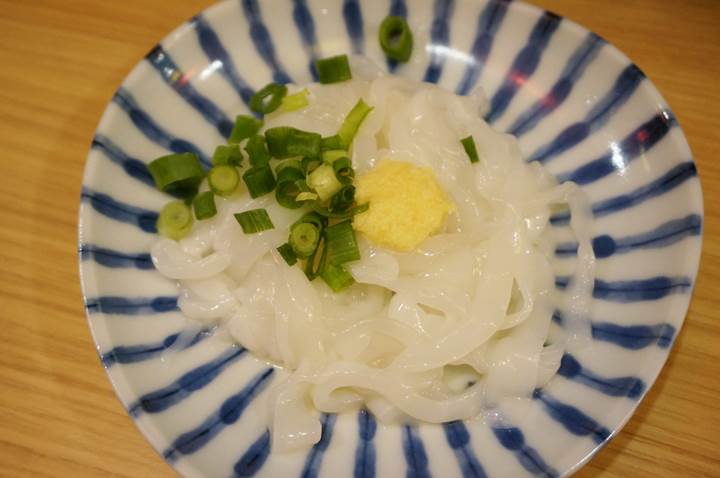 Thinly sliced Squid sashimi イカそうめん Ika soumen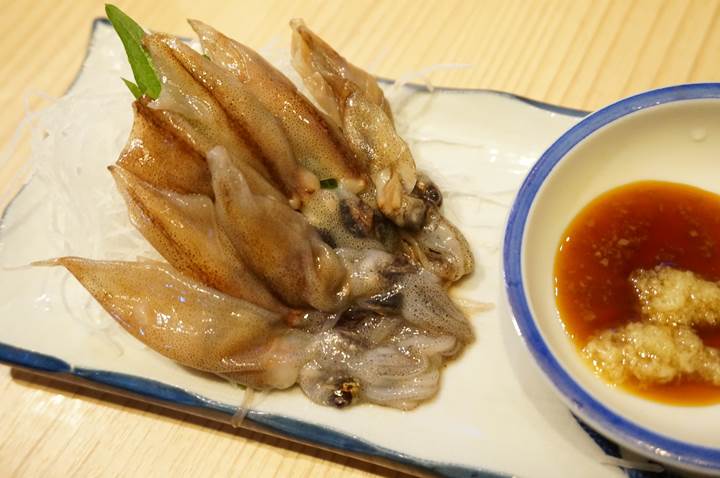 Firefly squid sashimi ホタルイカ刺し Hotaruika sashi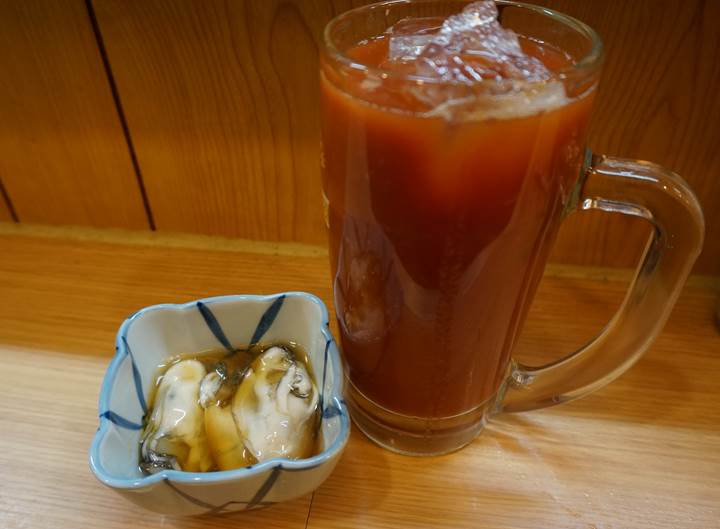 Vinegared fresh oyster カキ酢 Kaki-su
This is popular and often sold out quickly. I recommend this. Tasty!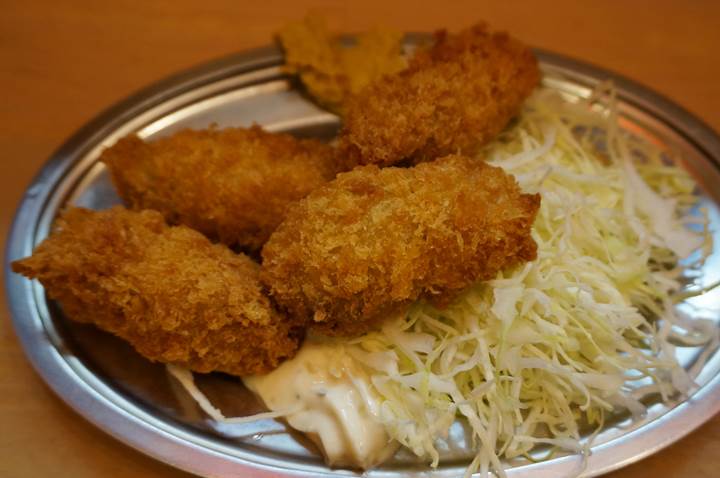 Deep fried oyster カキフライ Kakifurai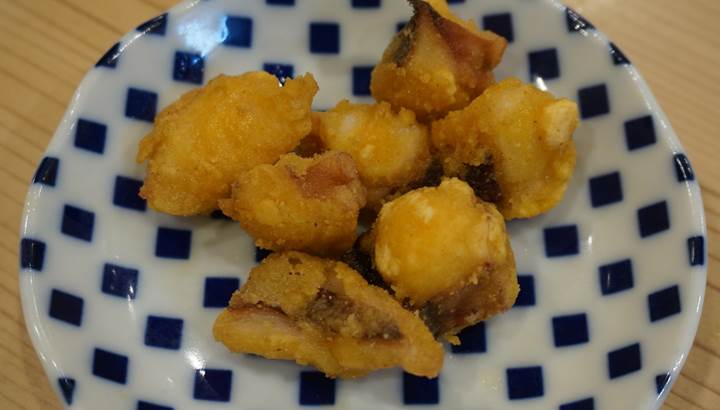 Deep fried octopus タコのから揚げ Tako no karaage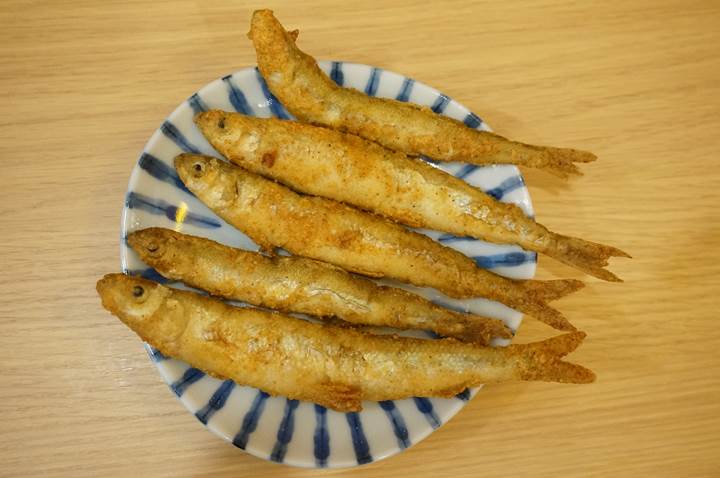 Deep fried lake smelt わかさぎの唐揚げ Wakasagi no karaage
The entire fish is edible. In Japan, we eat this dish head, tail and bones.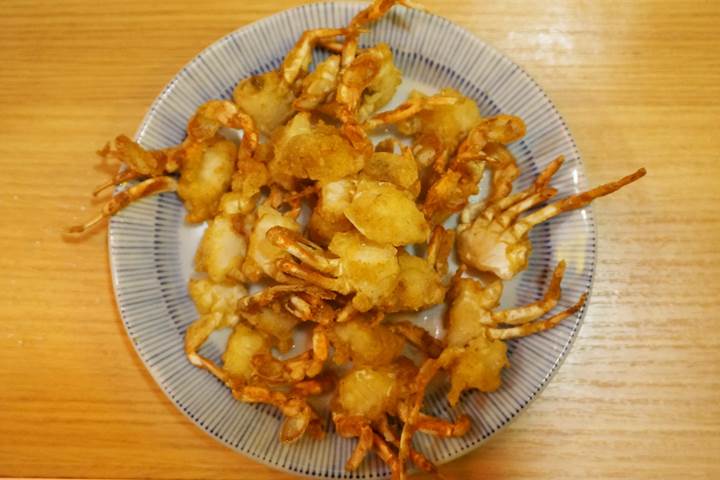 Deep fried small crab 姫ヒラ爪蟹(ひめひらつめがに)の唐揚げ
Hime hiratume gani no karaake
The entire crab is edible.
It is crispy and savory like shrimp.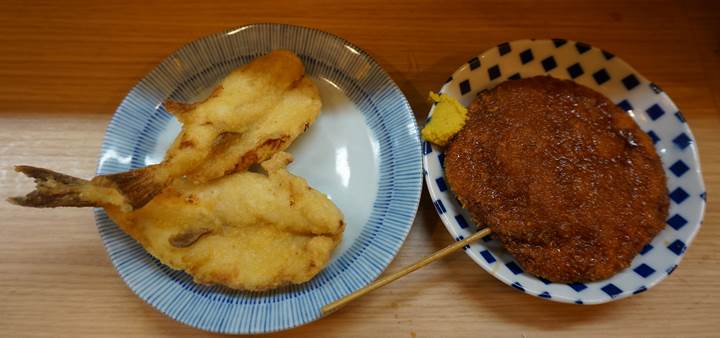 On the left:
Deep fried blow (puffer) fish ふぐから揚げ Fugu karaage
It has some tiny bones but the fried bones are also edible.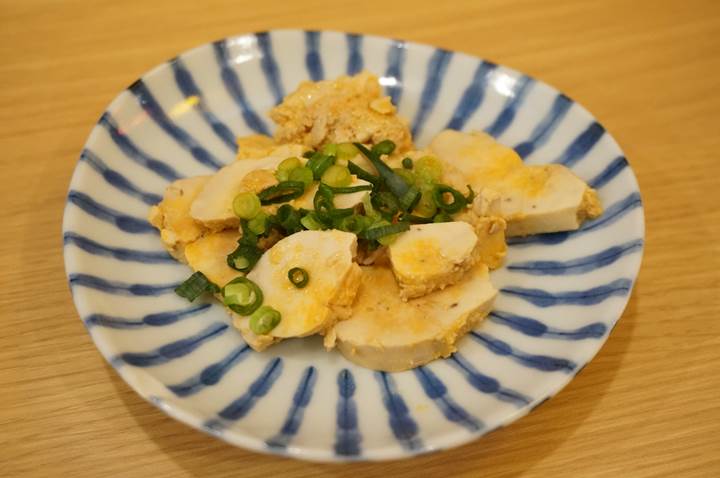 Foie gras of the sea (Monkfish liver) with citrus flavored soy sauce あん肝ポン酢
Ankimo ponzu
The citrus flavored soy sauce is prepared on the bar counter. Maybe, the label of the sauce bottle is 味ぽん.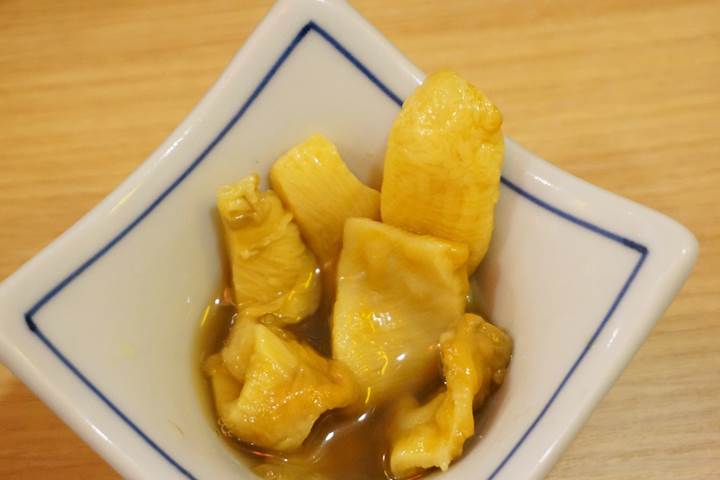 Sea Squirt ほや Hoya
* Hoya is one of the Japanese delicacies.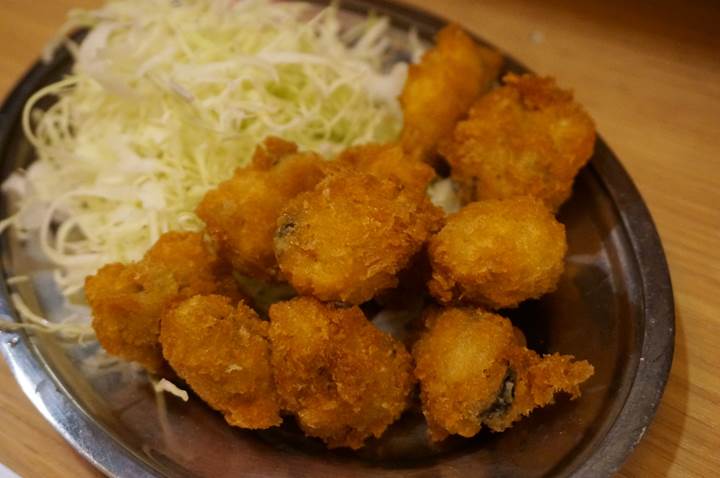 Deep fried breaded mussel ムールフライ
Muurufrai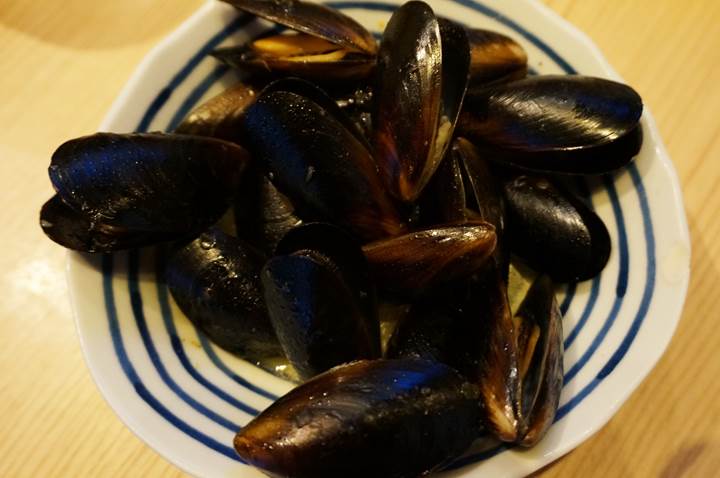 Mussel ムール貝 Muurugai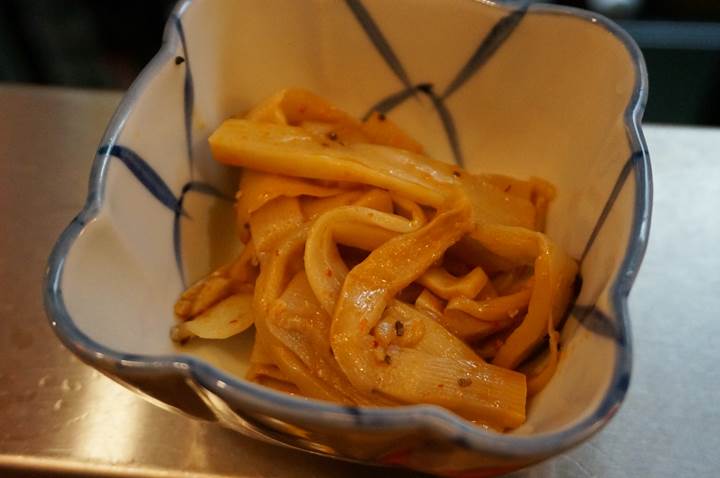 Black pepper bamboo shoots 黒コショウメンマ
Kuro kosho menma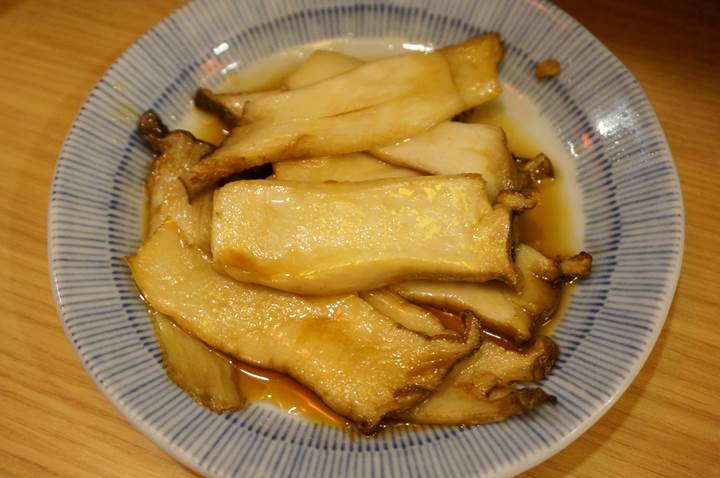 Eringi (Trumpet) mushroom with citrus-flavored soy sauce エリンギポン酢
Eringi ponzu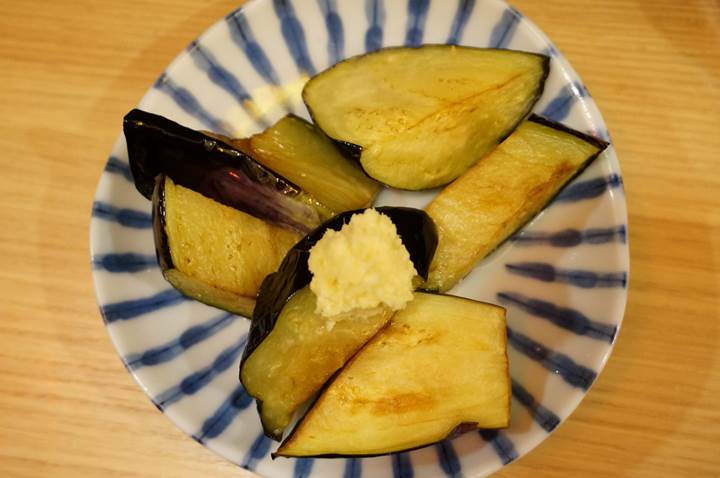 Deep fried eggplant with grated ginger なすしょうが
Nasu shouga
Alcoholic beverages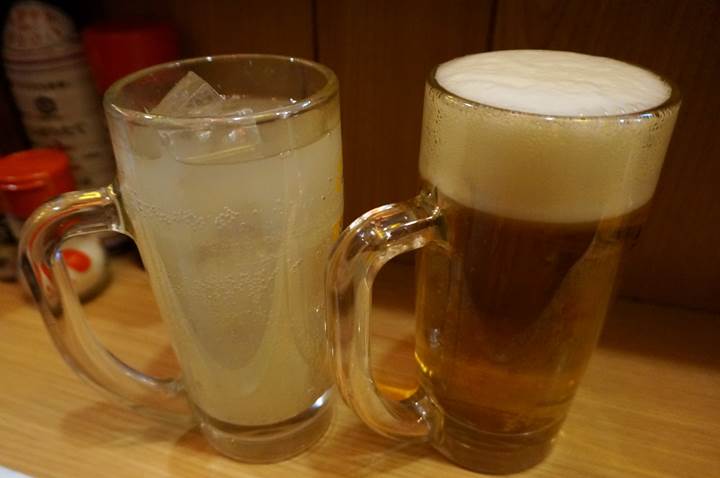 Draft Beer 生ビール Nama-biru
Yuzu citron mixed with shochu 生ゆずハイ Nama-yuzu-hai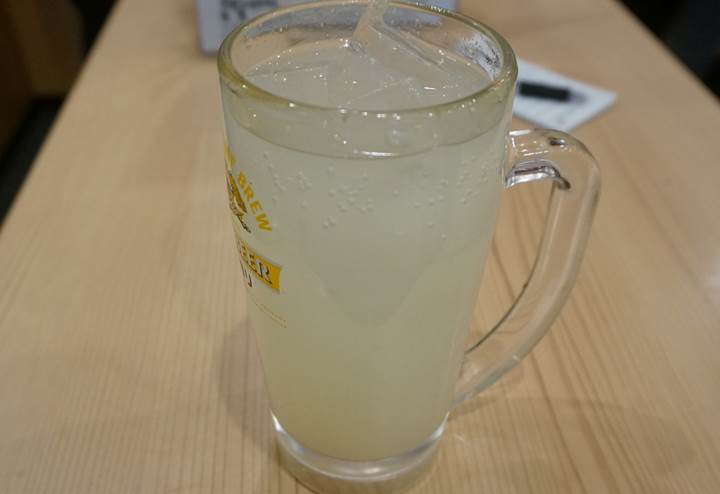 Yuzu citron mixed with shochu 生ゆずハイ Nama-yuzu-hai
Yuzu is a Japanese citrus fruit and has a refreshing flavor. Give it a try!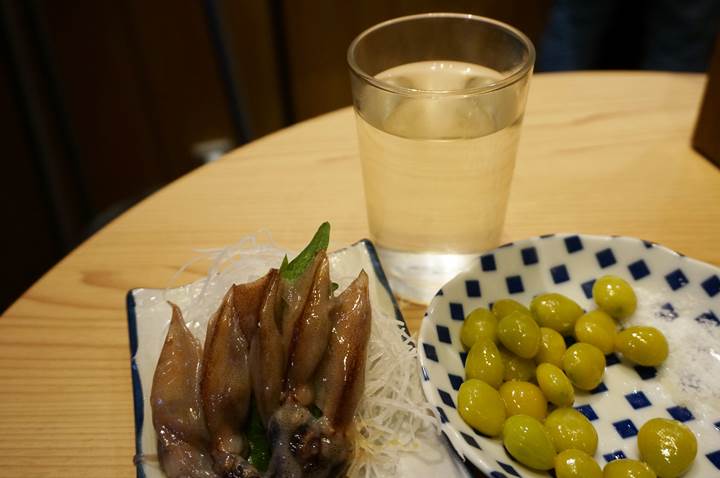 Cold sake 冷酒 Reishu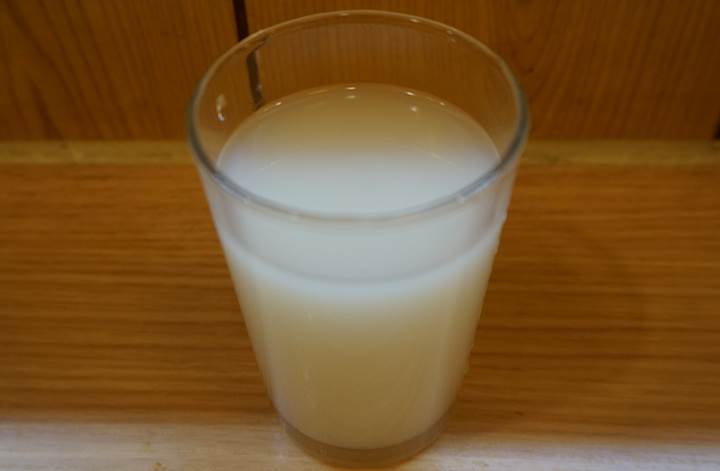 Unfiltered sake (Cloudy sake) にごり酒 Nigorizake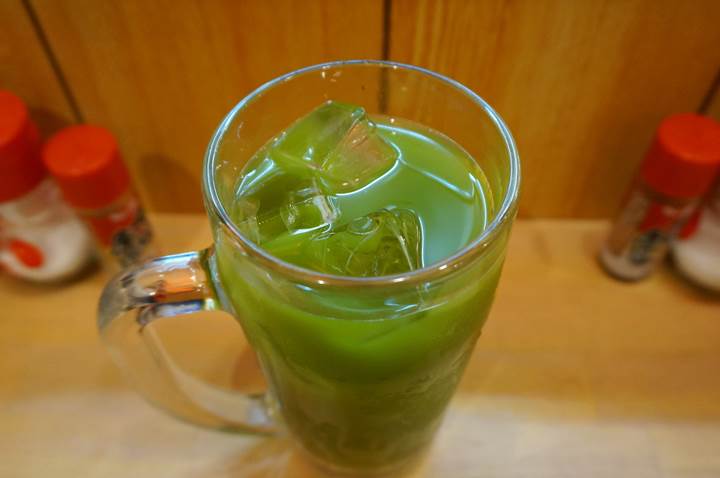 Green tea mixed with shochu 緑茶割り Ryakucha-wari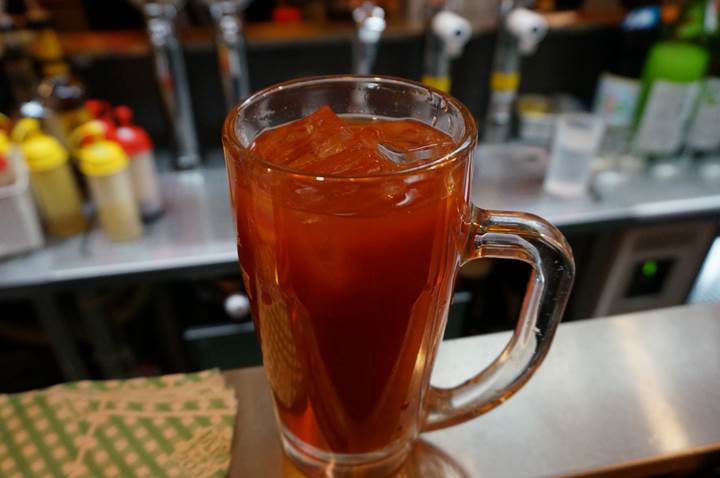 Tomato mixed with shochu トマト割りTomato-wari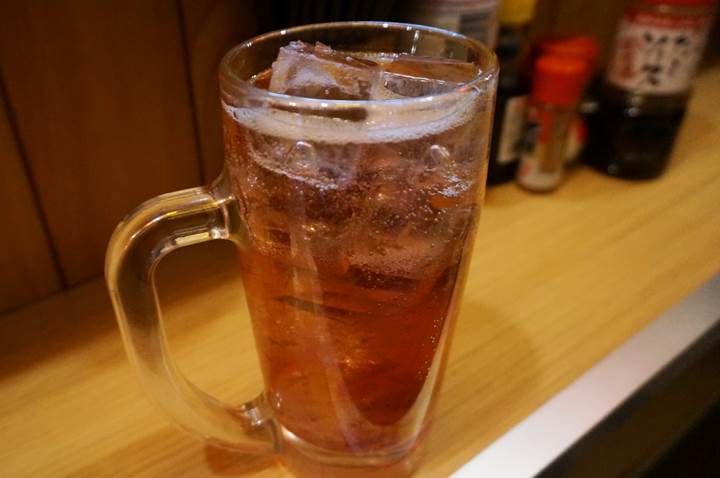 Ume (Plum) mixed with shochu 男梅チューハイ Otoko-ume-chuhai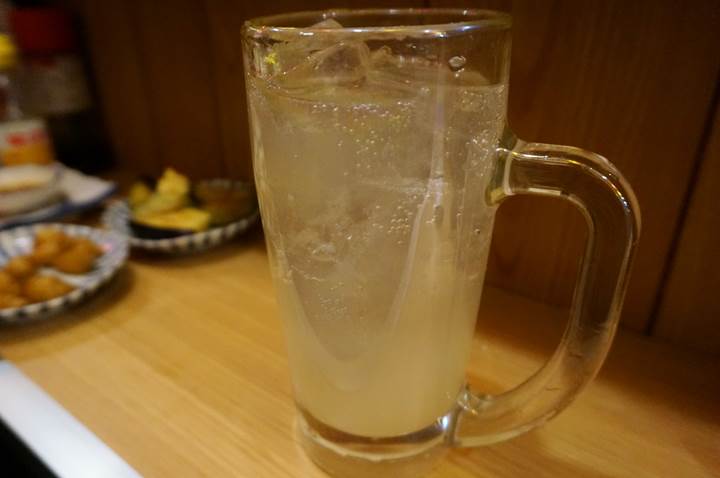 Sudachi citron mixed with shochu 生すだちハイ Nama-sudachi-hai
It tastes like lime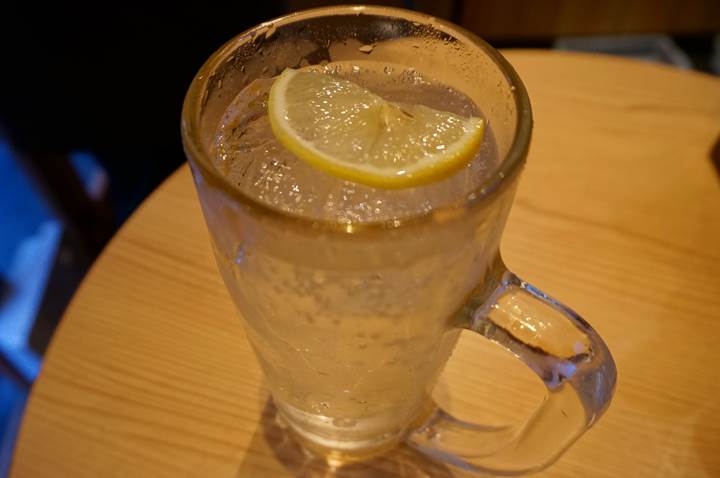 Shoshu soda チューハイ Chu-hai
This is simple and standard drink.
Tips
How to order
When you get into the bar, please tell the staff how many people are with you. (This place is nice for one or two persons.)
When a person goes to a bar alone, the staff usually leads the customer to the counter bar instead of a table. They don't offer a complementary hand towel. Instead, you can buy a disposable hand towel (called おしぼり Oshibori) for 70 yen if you want.
This bar has unique ordering system. On the first order, you should orally order your drink.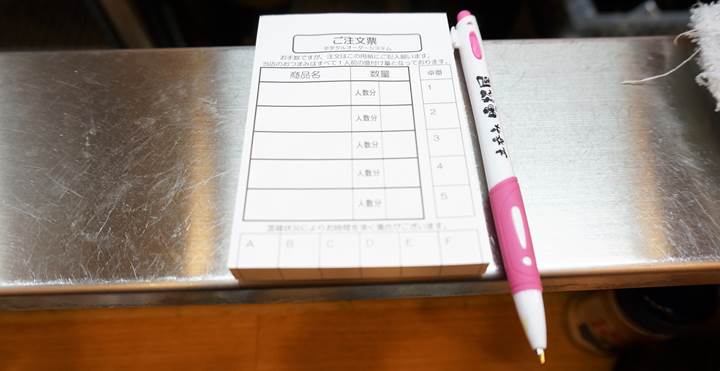 When the first drink is served, you can then order food. At that time, you have to write the food or drink name and quantity on the order slip by yourself and pass it to the staff.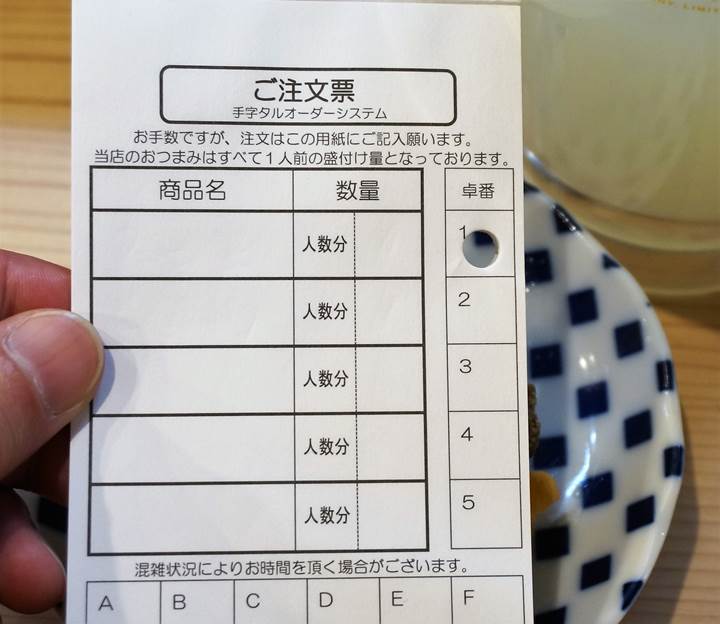 商品名 Food/Drink Name
数量 Quantity
Self-service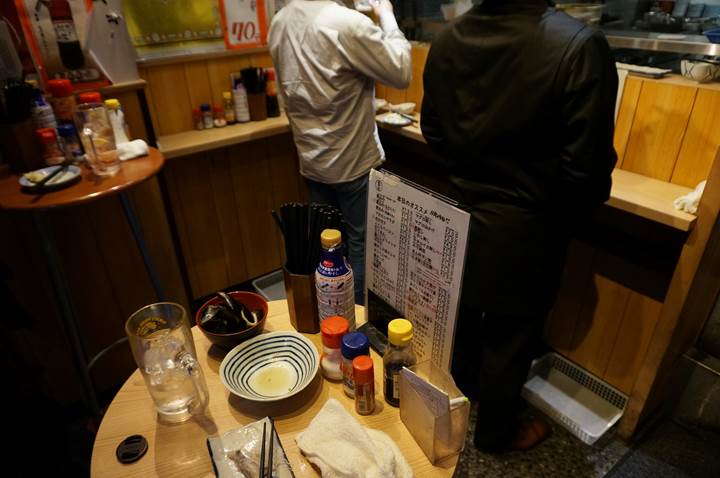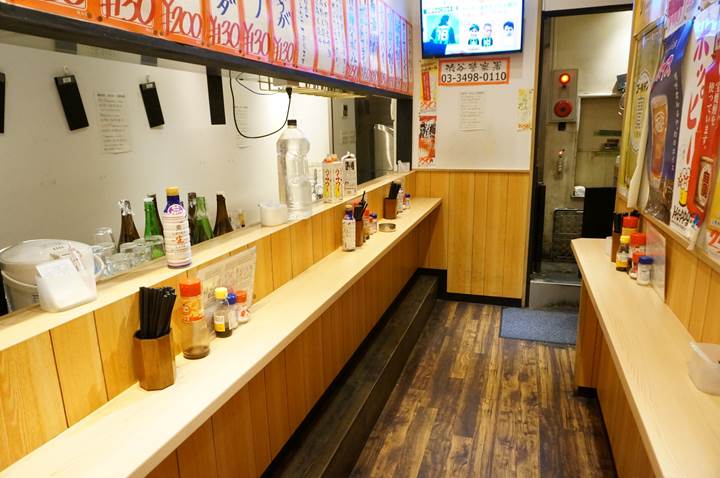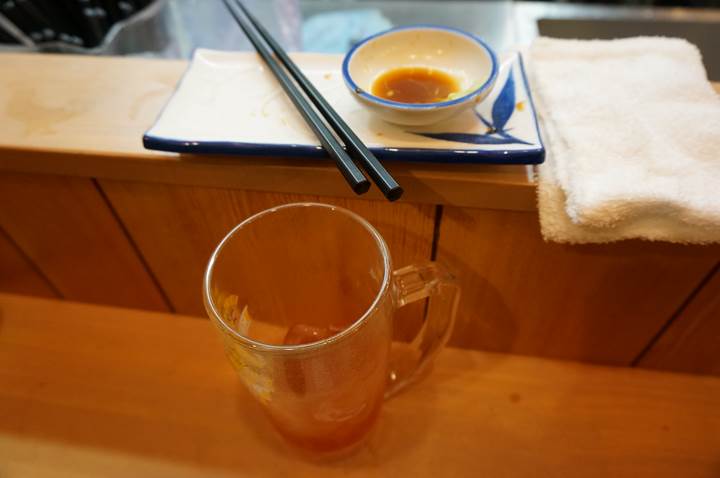 After finishing your meal, you pay the bill. (Cash only)
You need to say "Kaikei onegaishimasu . 会計、お願いします。" to the staff. It means "May I have the bill, please."
Information
Bar restaurant name
BANPAIYA 晩杯屋

Website (in Japanese)
晩杯屋|株式会社アクティブソース
立呑み晩杯屋を運営する株式会社アクティブソースのホームページです
No cover charge (except seating style branches)
BANPAIYA 晩杯屋 is standing bar chain, but some branches have table seats.


When you have the table seats you are charged 70 yen (or 200 yen) including disposable hand towel / person

as the cover charge.
No service fee
Prices on the menu are included 10% tax.
Smoking is accepted. (except Shibuya 渋谷 branch)
Picture and English menu is not available.
Credit cards are not accepted.
I introduce some restaurants around popular sightseeing places in downtown Tokyo.
Check out Google Maps below!
Ueno 上野
* Open 3:00 pm (1:00 pm on Saturday, Sunday and holiday)
* It is not standing bar. Table seats style
* Cover charge is 70 yen / person.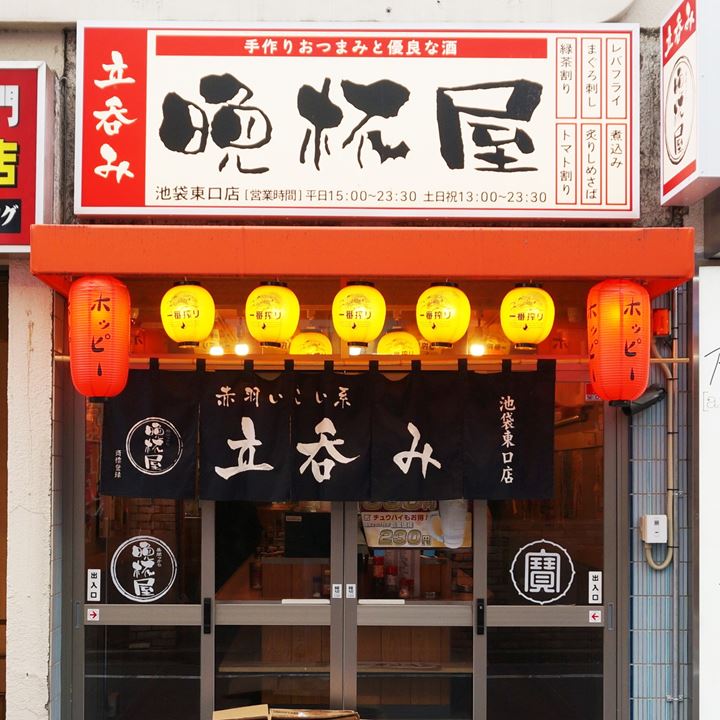 Ikebukuro 池袋
* Open 3:00 pm (1:00 pm on Saturday, Sunday and holiday)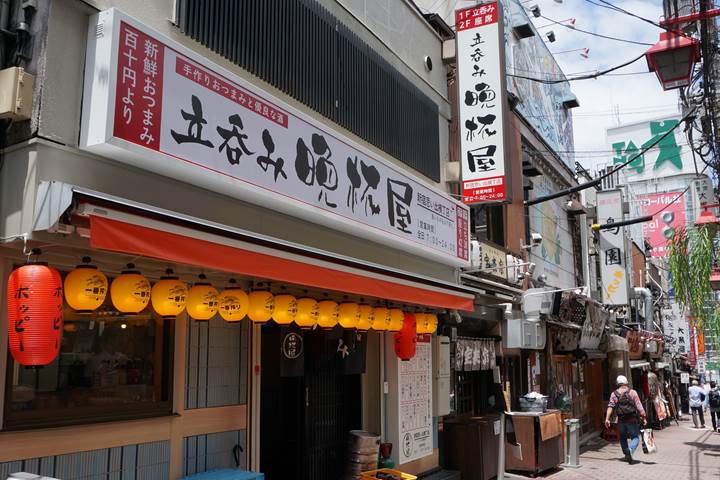 Shinjuku 新宿
* Open 7:00 am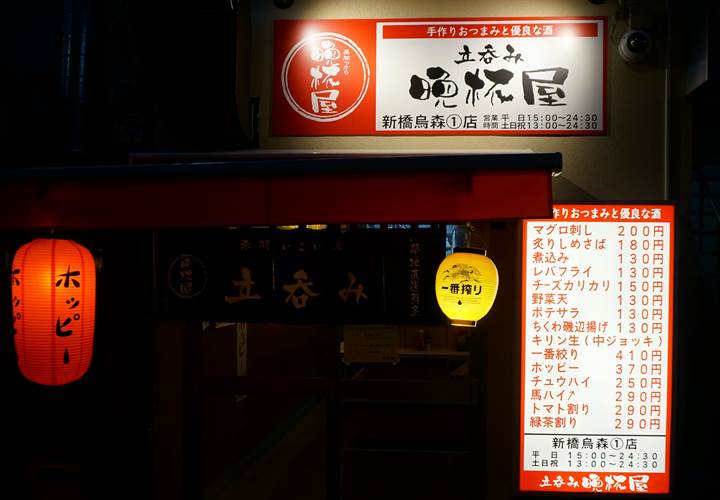 Shinbashi 新橋
* There are 2 bars near the station. They open from 3:00 pm, 1:30 pm or 1:00 pm.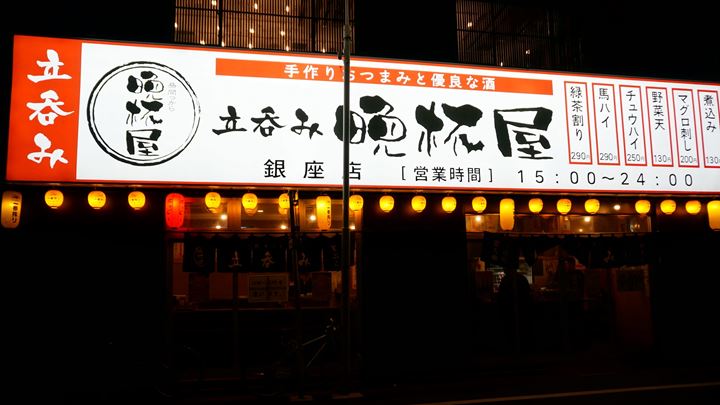 Ginza 銀座
* Open 3:00 pm
* It is standing bar, and there are also table seats. The 1F is standing room only with no cover charge. The 2F has seating for a 70-yen cover charge.
Akihabara 秋葉原
* Open 3:00 pm (1:00 pm on Saturday, Sunday and holiday)
* It is not standing bar. Table seats style
* Cover charge is 70 yen / person.
* When you order you need to use tablet device instead of using the order slip. English information and picture menu are not available on the tablet.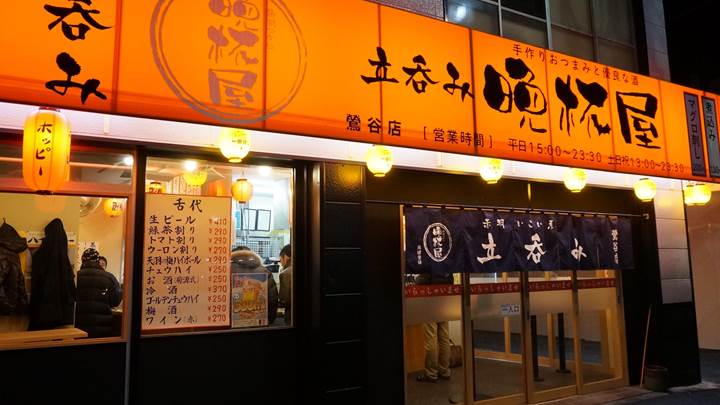 Uguisudani 鶯谷
* Open 3:00 pm (1:00 pm on Saturday, Sunday and holiday)
* GUEST HOUSE toco is near this bar. 

Monzennakacho 門前仲町
* Open 3:00 pm
---
Other recommended standing bars in Tokyo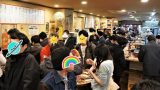 Standing Bar: Tachinomi-Takioka 立飲み-たきおか in Ueno 上野 Tokyo
I went to a standing bar with a friend in Ueno 上野 Tokyo. We had a good time and spent only 4100 yen for the both of us. l will write about the food and drinks that we had in this blog below.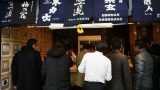 Standing Sake Bar / Pub KURI in Shinbashi 新橋 Tokyo - 庫裏 日本酒
KURI 庫裏 is sake bar chain in Tokyo. They specializes in sake. 2 of theirbars are reasonable standing bar style and located in Shinbashi 新橋 Tokyo.