This event is held once a year in Tokyo.
More than 20 different kinds of Nabe (hot pod) from all over Japan are available during the festival.
You can also enjoy other various foods such as barbecue, deep fried food, sake, beer and much more.
Photos in 2016
Every year, this festival is held outdoors in Hibiya Park 日比谷公園 in Tokyo, and it would be a great idea if you'd take a walk around the park, and witness the beautiful scenery of Japan.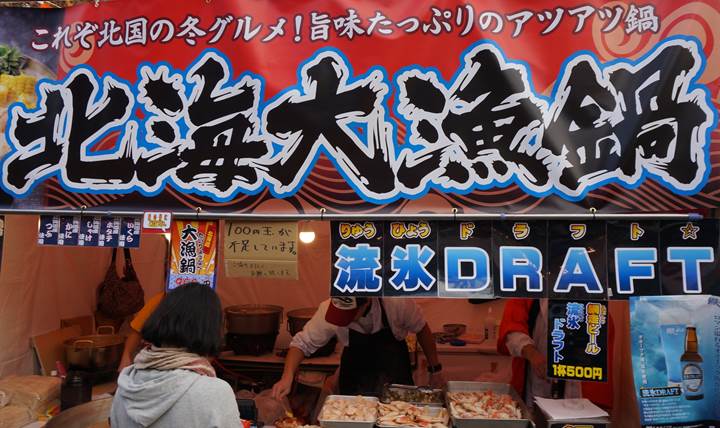 北海大漁鍋
This is my favorite seafood Nabe from Hokkaido 北海道.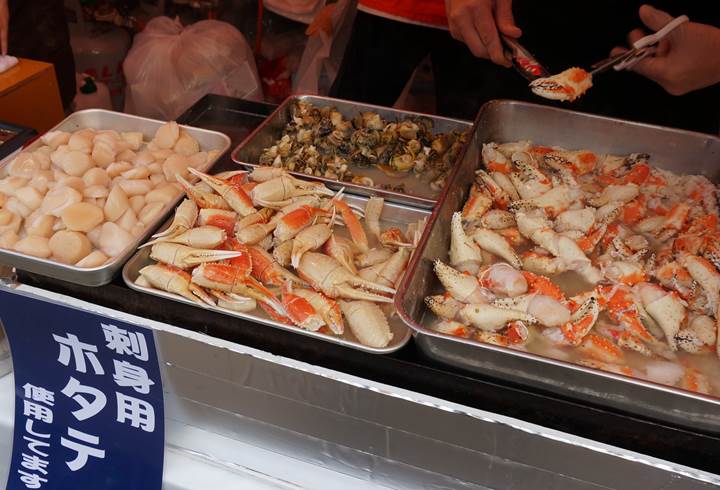 刺身用ホタテ means that this one uses really fresh scallop that are edible for row.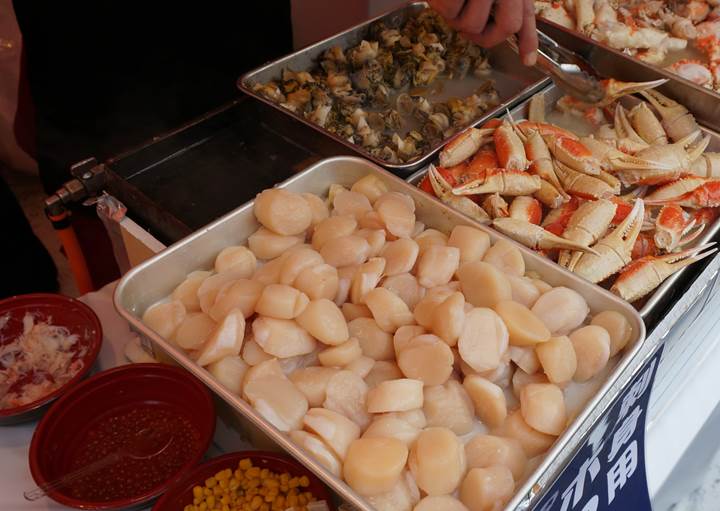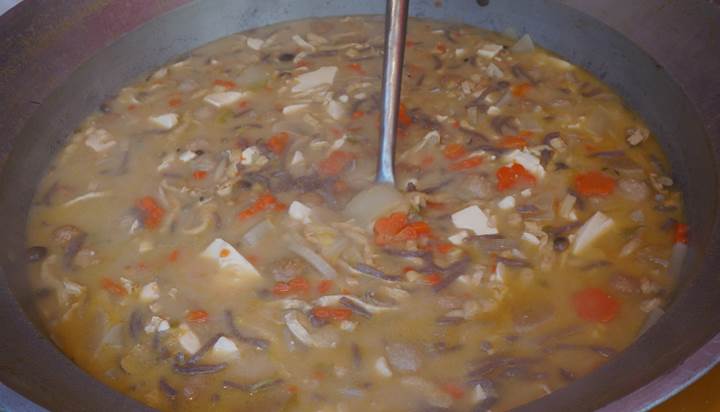 Tofu and vegetables mixed with miso soup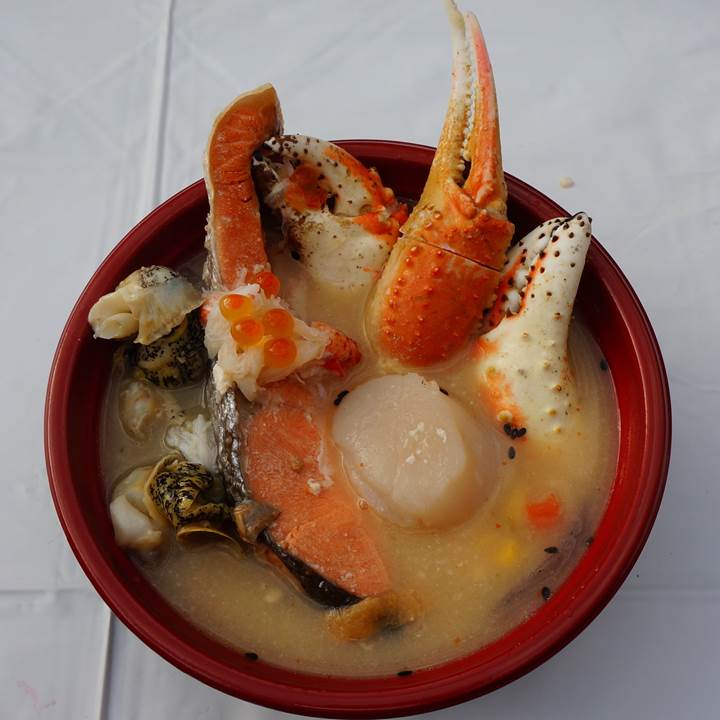 Scallop, Shellfish, Snow crab, King crab, Salmon roe, Corn, etc.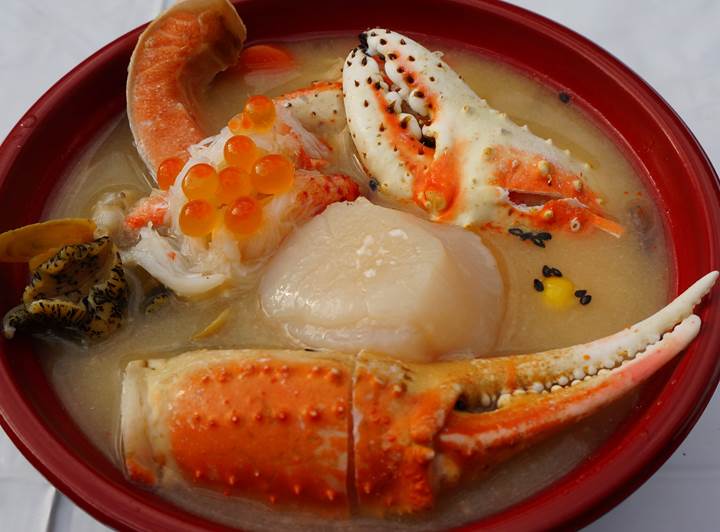 It costs 900 yen for 1 person. Delicious!
This event is usually held for a few days in winter. Except this event, I know a standing seafood bar in Ueno 上野 Tokyo. They offer inexpensive and fresh Japanese seafood. Take a look below.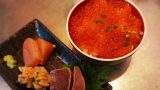 Salmon Roe Bowl Costs Only 500 yen at a Seafood Shop UOKUSA in Ueno Tokyo 東京 上野 魚草のいくら丼 500円
I will definitely repeat this standing bar. Oyster and crab are also inexpensive.
---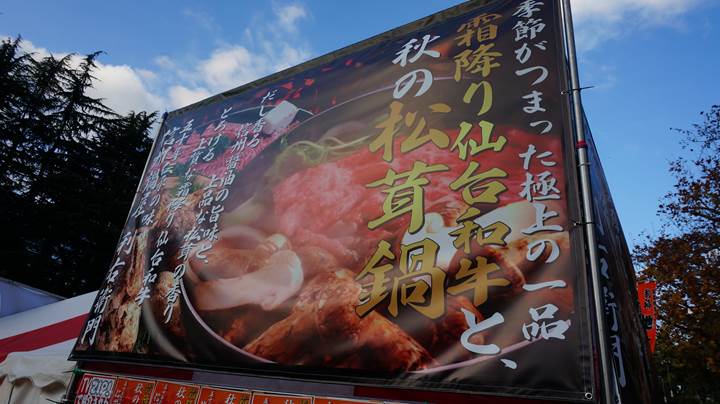 霜降り仙台和牛と、秋の松茸鍋
This Nabe is Matsutake pine mushroom and Marbled meat of Wagyu beef from 仙台 Sendai City.

Sliced Wagyu Beef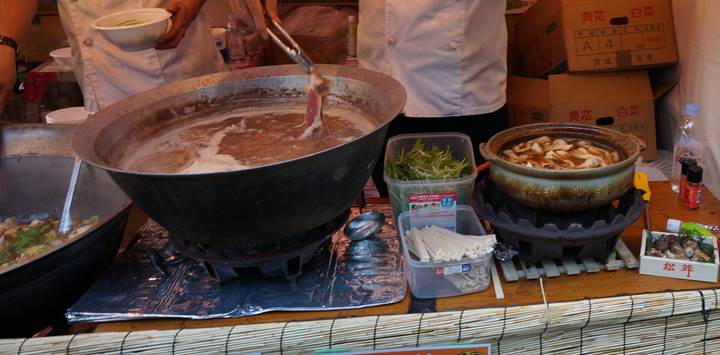 They separately cook with a vegetable pod, a beef pod and a 松茸 Matsutake pine mushroom pod.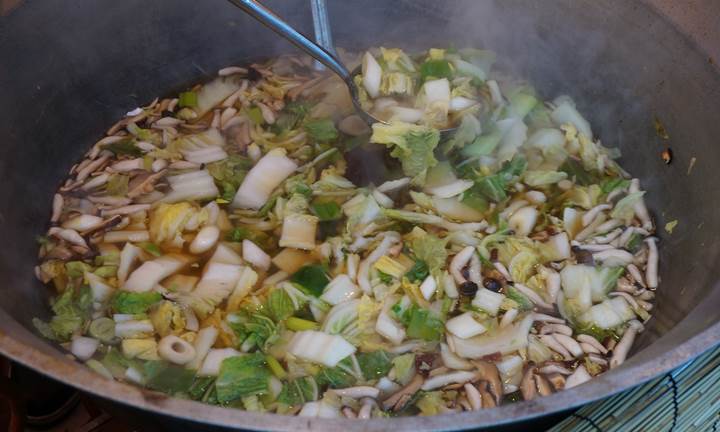 Vegetable pod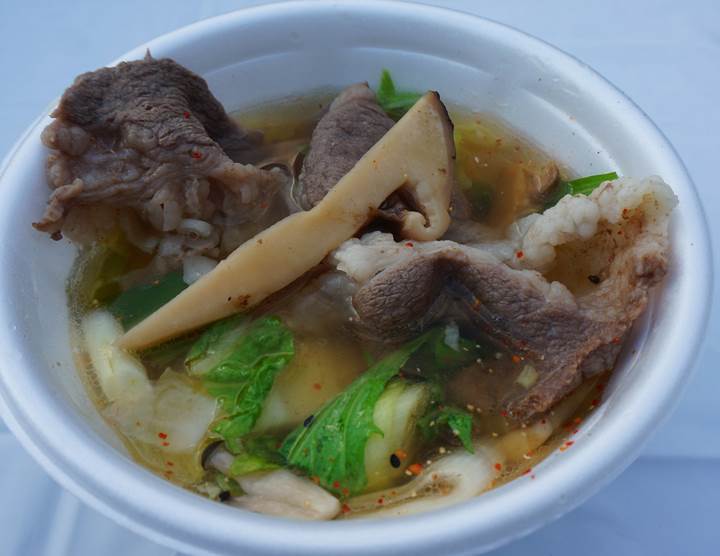 松茸 Matsutake pine mushroom is usually expensive. It has really good flavor.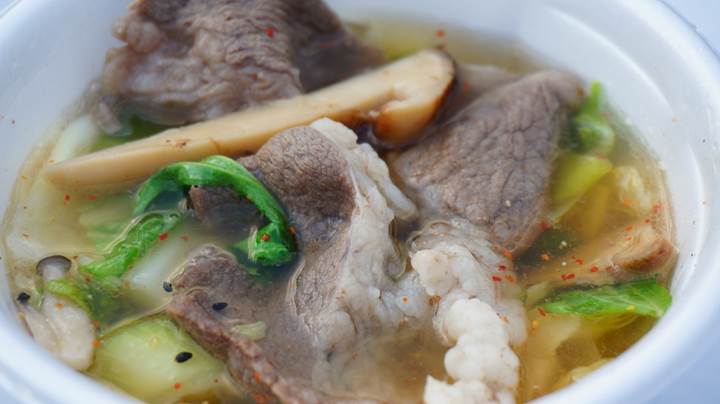 800 yen for 1 person.
I think this is really reasonable and great taste because expensive Matsutake and wagyu beef are in the soup.
Except this event, are you looking for Wagyu beef restaurant? Check it out below.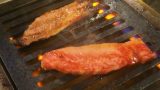 Enjoy Japanese Wagyu Beef 和牛 at Standing Bar in Tokyo! - YAKINIKU Barbecue at JIROUMARU 立喰い焼肉 治郎丸
Do you want to try Japanese Wagyu beef inexpensively?You can enjoy eating many kinds of domestically produced Japanese beef at a standing barbecue chain.
---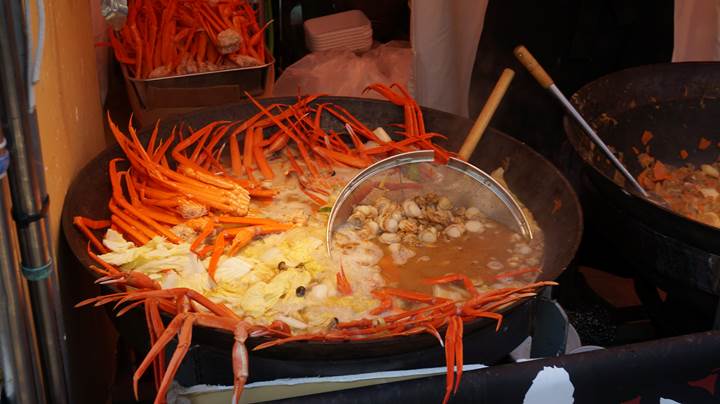 Local sake is available. A cup of sake costs from 500 yen to more.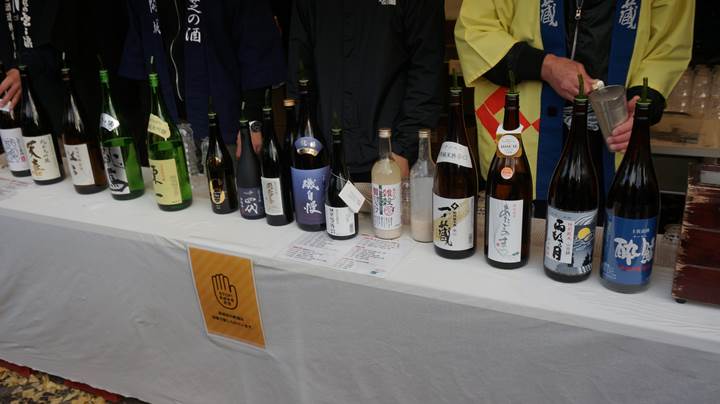 You can buy their new bottles for to go when you find your favorite one.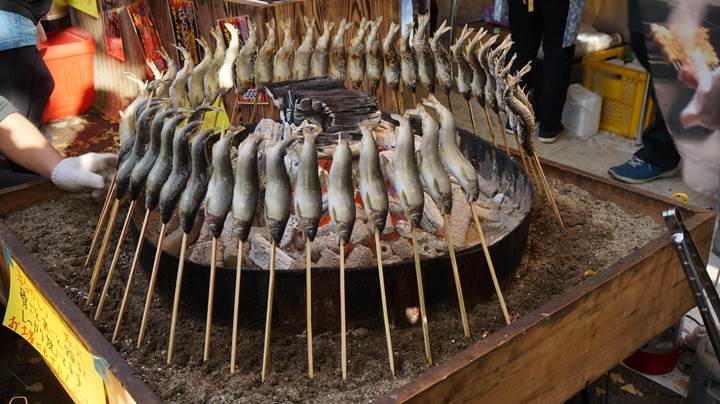 Char-grilled fish is good for drinking sake or beer.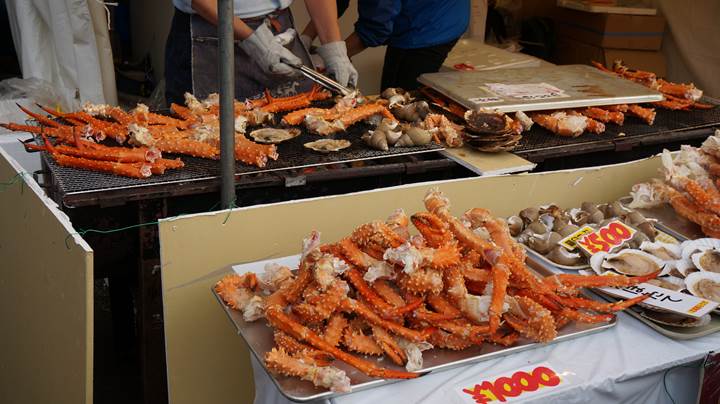 Crab barbecue
Actually, the prices of nabe and seafood at this festival is cheaper than usual in restaurants.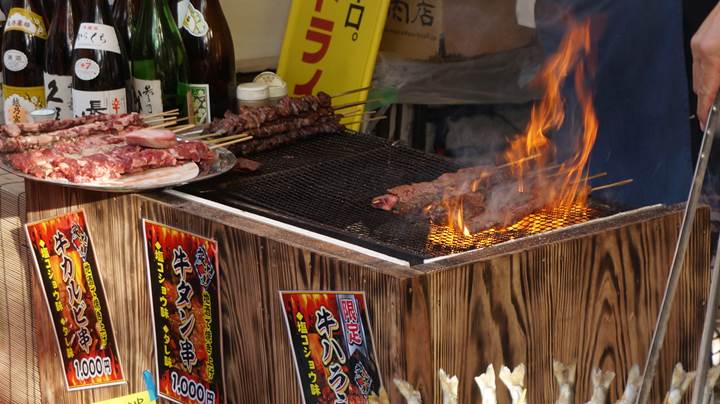 Beef barbecue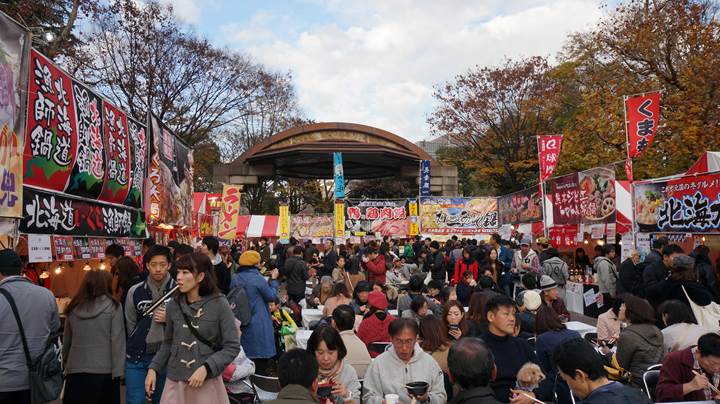 Eat-in place is available, however there are too many people.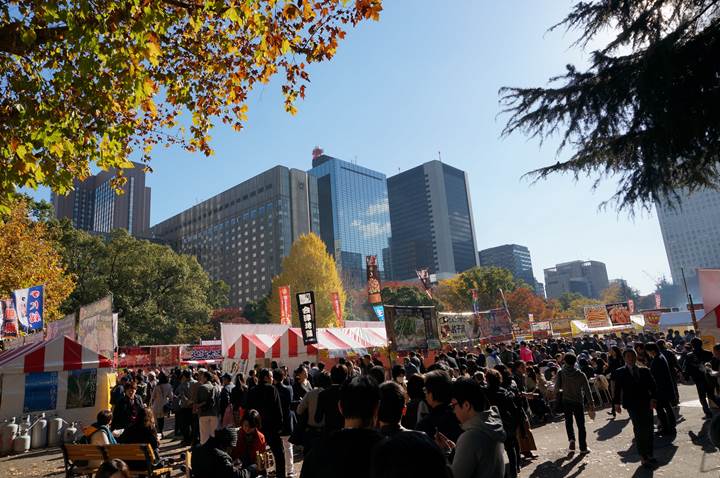 Photos in 2017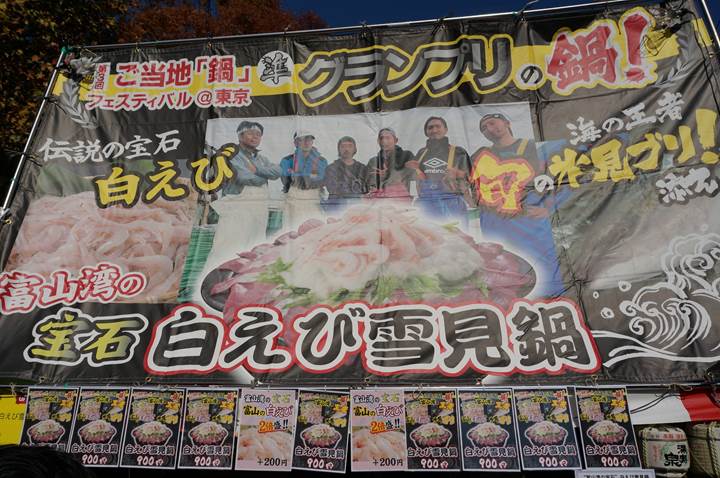 白えび雪見鍋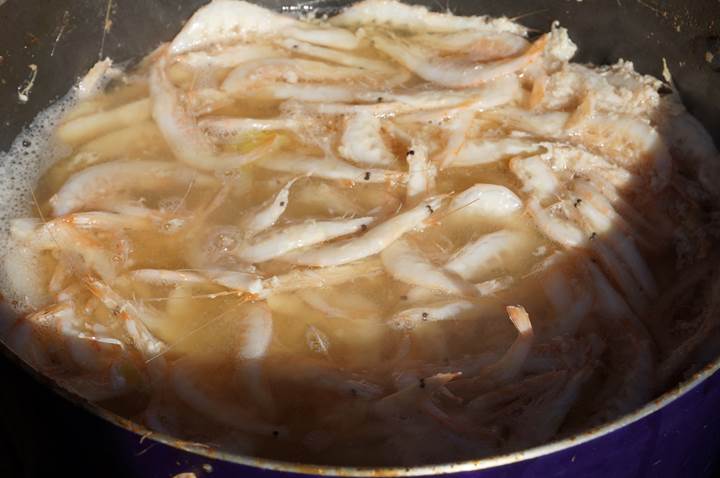 White shrimp and yellowtail
White shrimp is a local food in Toyama 富山.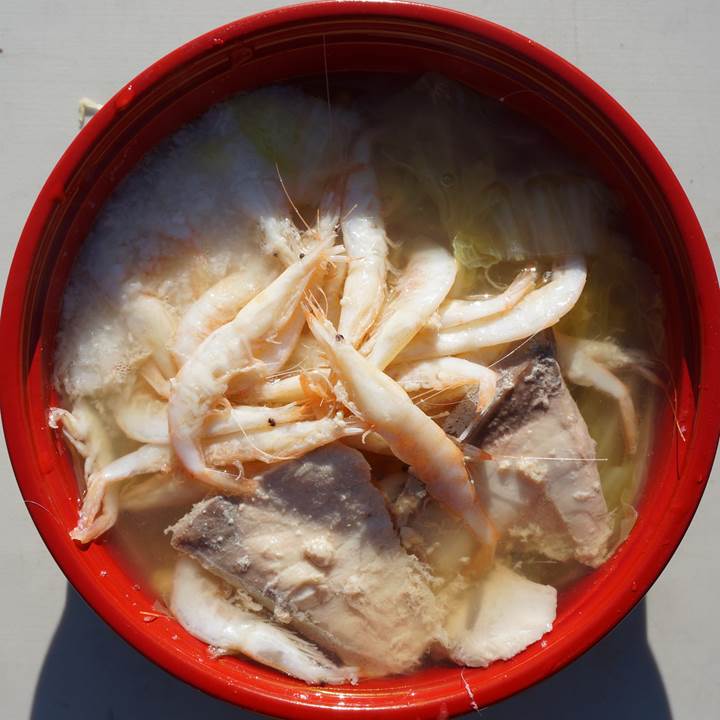 Maybe some people do not really like this shrimp that simply boiled with the soup. When you are eating it, the soft shell, barb and legs of the shrimp kept their original raw texture, and felt rough in mouth. If you like shrimp, this is worth trying.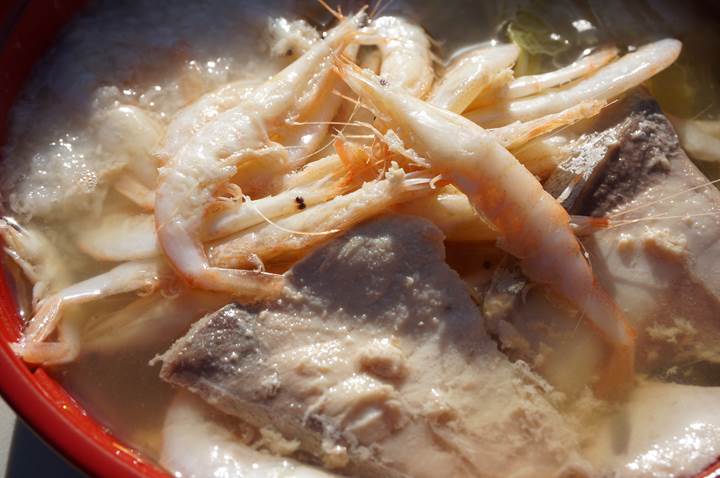 Regular: 900 yen
Double topping of shrimp: +200 yen
The quantity of the other toppings and the stew are the same as the regular one.
The pictures show "Double topping one".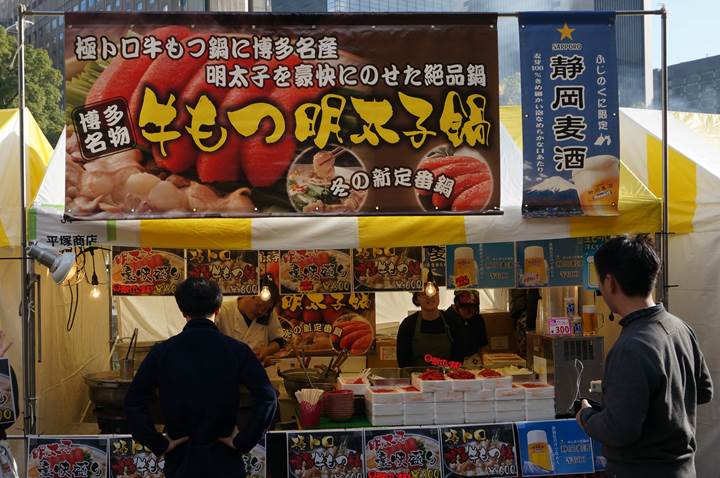 牛もつ明太子鍋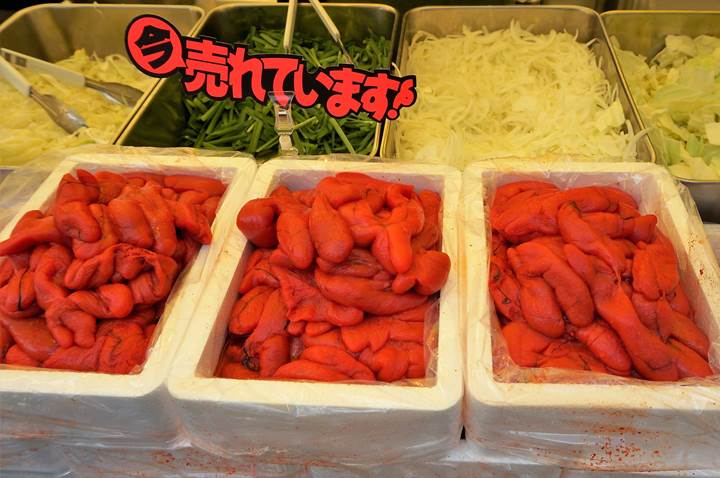 明太子 Mentaiko
It is seasoned spicy cod (pollack) roe and popular local food in Hakata 博多 City Fukuoka 福岡.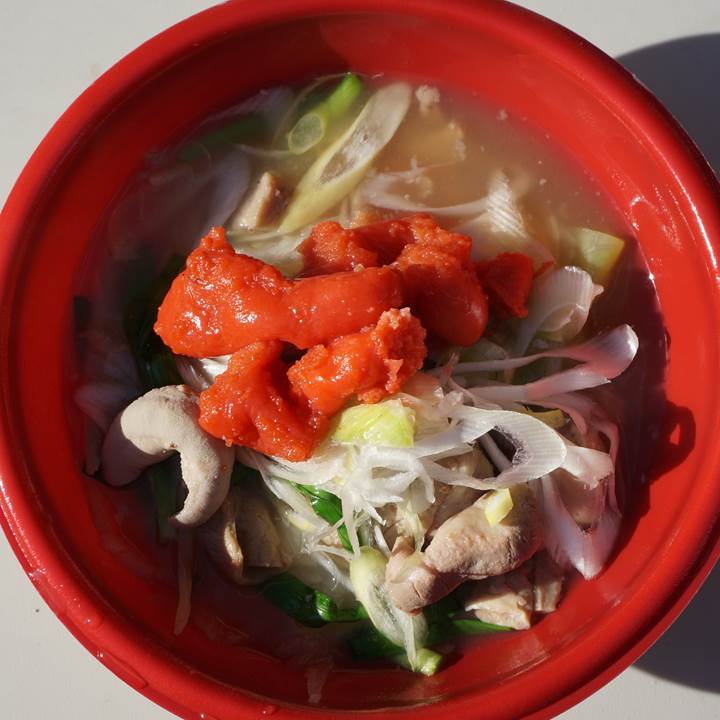 Mentaiko is topped on Motsu-nabe which is stewed beef organ meats and vegetables. Motsu-nabe is also known as a local food in Hakata 博多 City Fukuoka 福岡.
It was delicious. I wanna eat this again!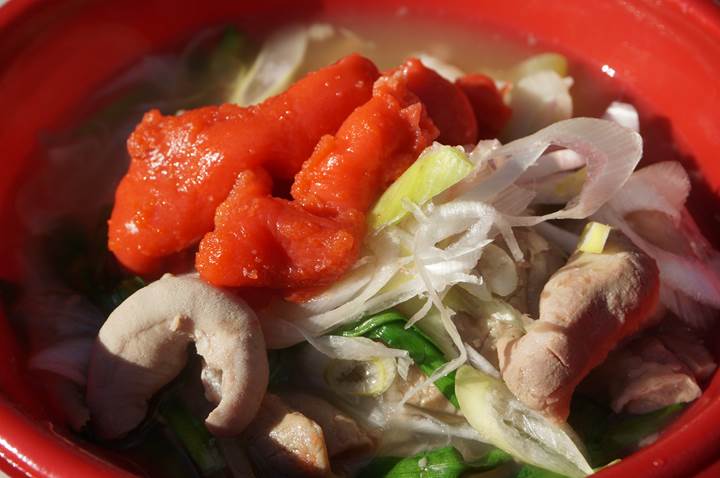 明太子あり Mentaiko-ari 800 yen (with mentaiko)
明太子なし Mentaiko-nashi 600 yen (without mentaiko)
You can enjoy this food anytime you want. I recommend this restaurant in Tokyo.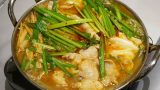 MOTSU-NABE もつ鍋 is a Japanese hotpot that is local food of Hakata 博多 City Fukuoka 福岡 Precture Kyushu 九州 - A Restaurant HAKATA-GEKIJO 博多劇場
A bar restaurant chain HAKATA-GEKIJO 博多劇場 offers low priced beef Motsu-nabe. 牛もつ鍋Their restaurants are mainly located in and around Tokyo.
All you can eat Mentaiko (cod roe)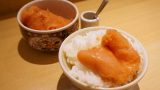 All-You-Can-Eat MENTAIKO (Cod Roe) at a Restaurant SACHIFUKUYA さち福や in Saitama and Tokyo - 明太子 食べ放題
Do you like seasoned cod roe?It is called Mentaiko 明太子 in Japanese.When you want to eat a lot of Mentaiko you should go to the restaurant.
About fish egg dishes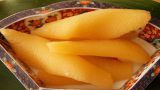 Fish Egg and Soft Roe (Milt) of Japanese Food - Cod, Salmon, Herring しらこ・いくら・たらこ・かずのこ
In Japan, fish eggs (roes) and milt of salmon, cod and other fish are popular. Of course, different people have different tastes, though.I sometimes meet foreign tourists who don't want to eat them. However, there are several ways of cooking and eating the...
---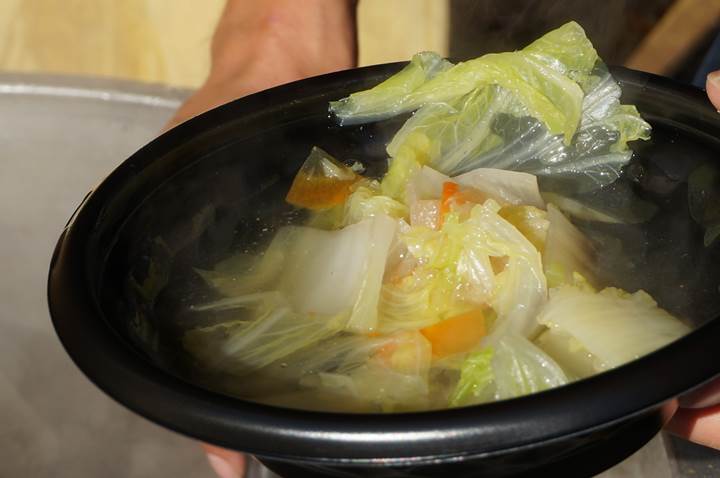 Many other kinds of nabe are available.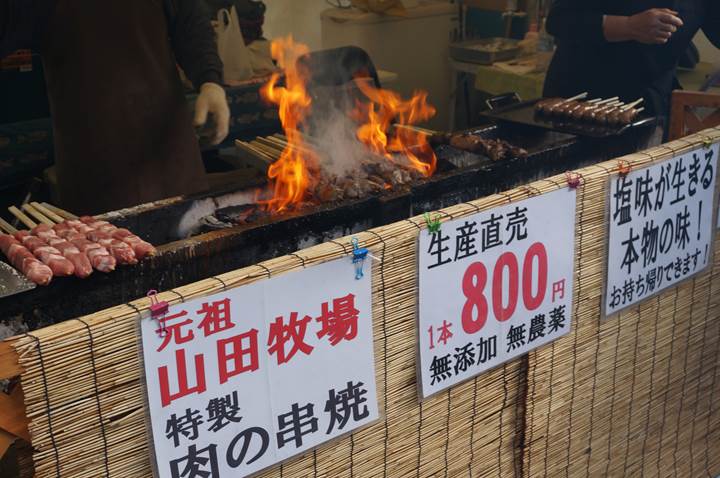 Domestically produced beef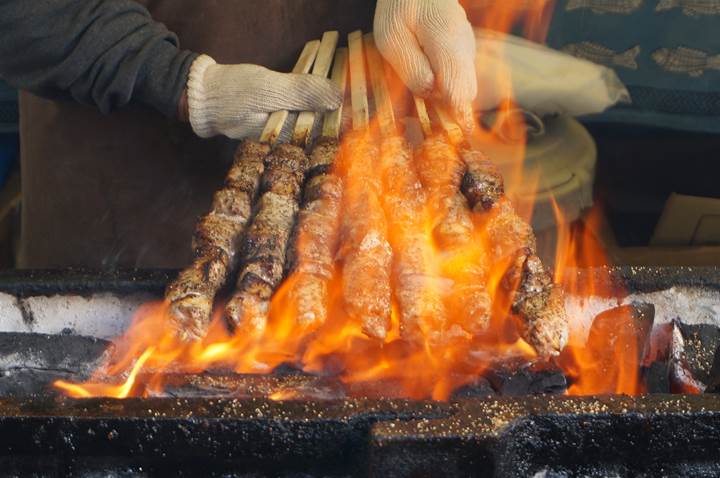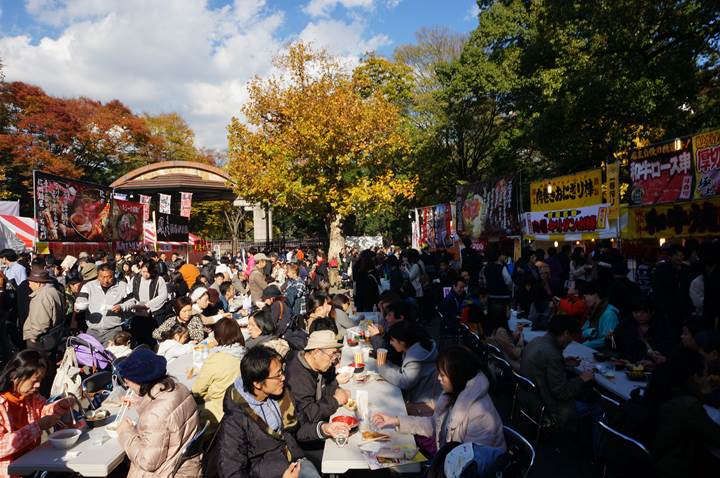 Information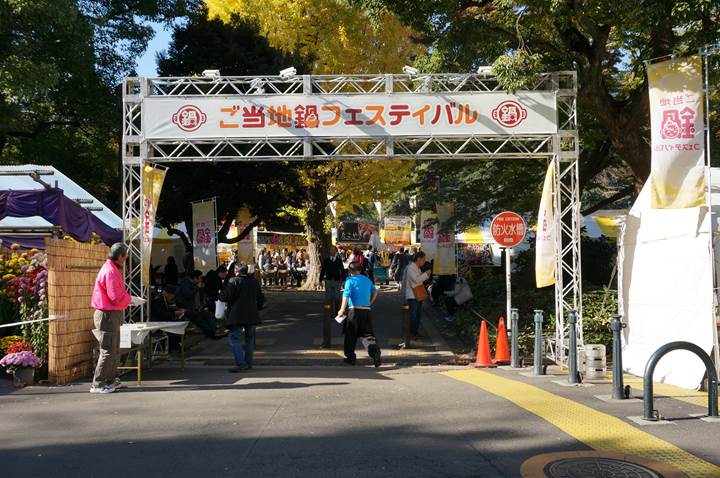 Event name
Gotochi Nabe Festival ご当地鍋フェスティバル
It is an event Local Nabe (hot pot / stew) Festival.

Schedule (in Tokyo)
November 27 -29, 2020

Place
Hibiya Park 日比谷公園 in Tokyo
Admission free
Prices are including tax.
It is held outdoors (open-air).
Table seats are available.
Cash only
Drinking alcoholic beverages in the park is accepted.
Website (in Japanese)
ご当地鍋フェスティバル
全国の「鍋」料理が集まりました。全国各地の郷土の味をお腹いっぱい楽しもう!
Photos and prices are as of in 2016 and 2017.