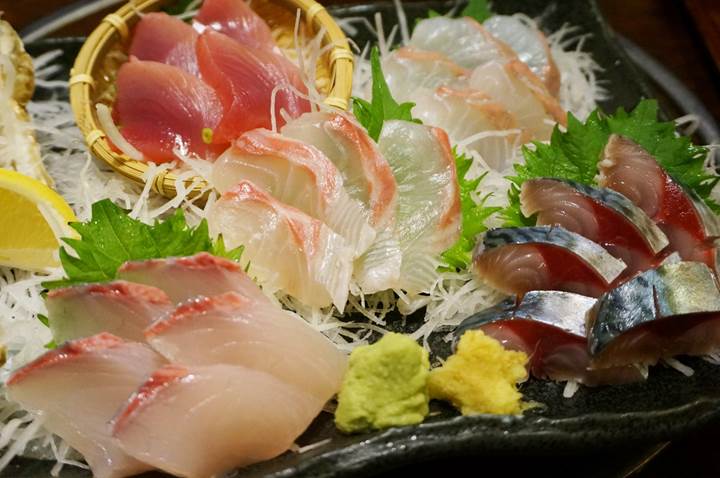 These days, sashimi is a Japanese food that is becoming more popular around the world, and it is usually comprised of thinly-sliced raw seafood. Actually, sashimi is not always made with raw seafood.

This blog post will introduce some other types of sashimi, such as boiled, raw meat, and vegetable.
Sashimi Konnyaku さしみこんにゃく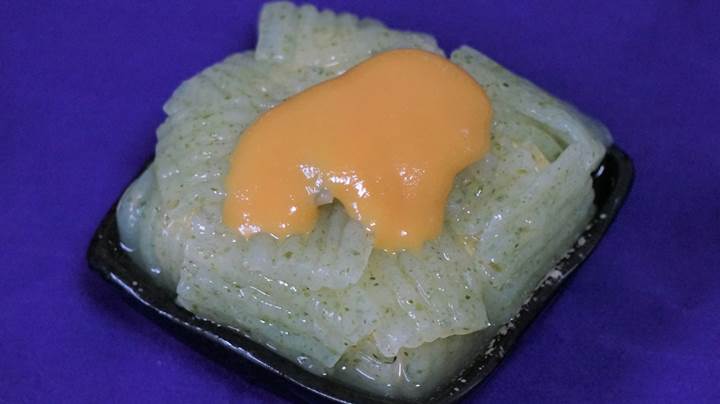 This food is sashimi konnyaku さしみこんにゃく.
Konnyaku is a traditional food and made from the root of a plant of Araceae family such as taro.
It has unique in texture like a hard type of jelly.
Sashimi konnyaku is a kind of konnyaku, but it is made softer than normal konnyaku and usually seasoned with nori.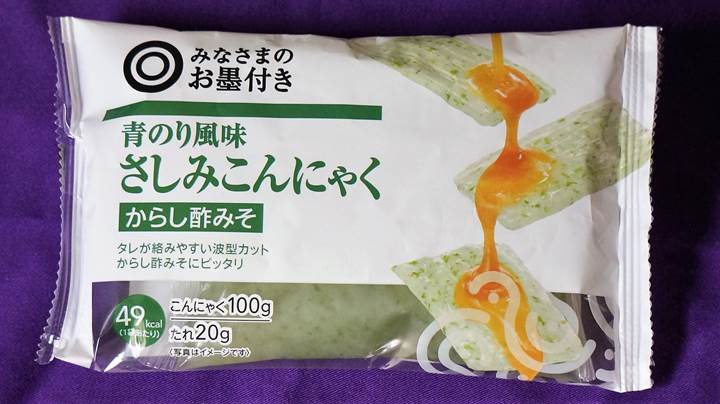 Sashimi konnyaku 刺身こんにゃく、さしみこんにゃくis about 100 yen at supermarkets in Japan.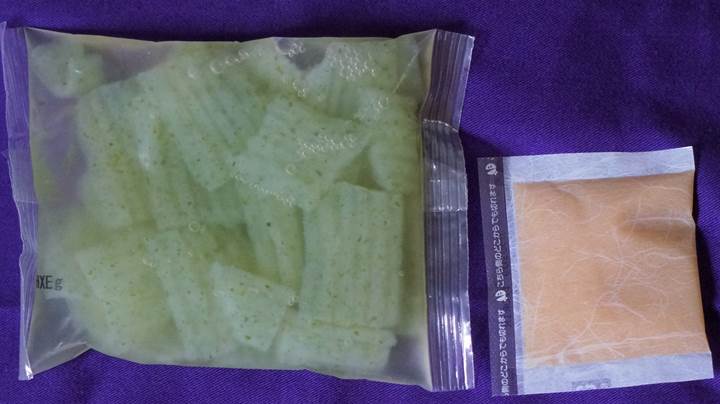 When you open the pack, first wash sashimi konnyaku with iced water.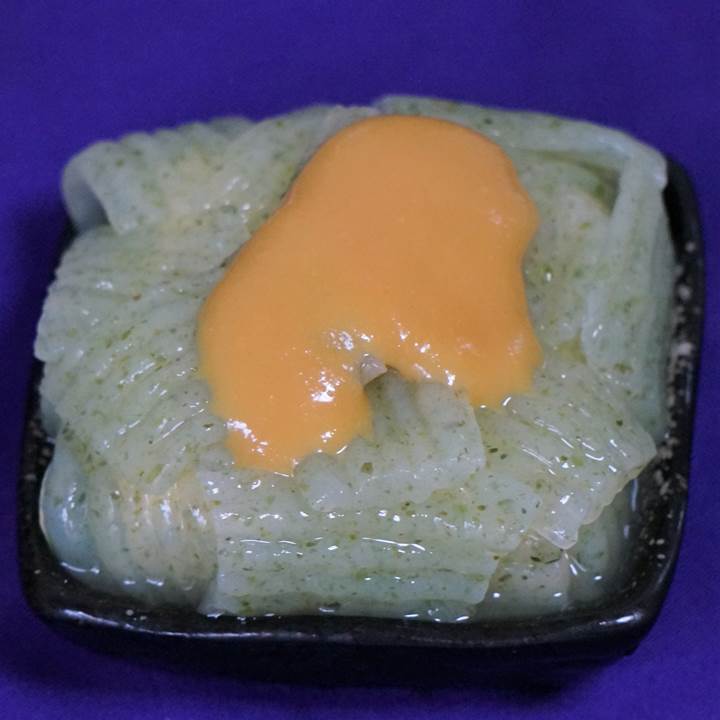 Next, drain off the water from it.
Then, put the sauce on it.
At a supermarket in Japan, I recommend finding sashimi konnyaku. It includes a pack of sauce called Karashi-su-miso からし酢みそ. This sauce and sashimi konnyaku matches very well. It is made from miso, mustard, vinegar and sugar. You could also put a little bit of wasabi and soy sauce on it instead of Karashi-su-miso.
Note
You can probably buy Sashimi konnyaku in supermarkets in Japan, but please make sure you should find the name 刺身こんにゃく or さしみこんにゃく, because normal konnyaku こんにゃく usually requires boiling while
Sahimi konnyaku doesn't require boiling.
Eating normal konnyaku without boiling and seasonings is not tasty.
However, konnyaku is already boiled in the manufacturing process.
Sashimi means sliced raw seafood or meat.
But sashimi konnyaku is not made from those foods and isn't raw, but it is like sashimi in texture.
It is good for vegetarians.
Horse Sashimi 馬刺し
It is called Basashi 馬刺し in Japanese.
Horse meat is a traditional Japanese food. It is used in dishes such as horse meat sashimi and broiled horse meat.
Many Japanese restaurants offer these foods in Japan.
Horse meat is a healthy food, because it is richer nutritious, and has fewer calories than beef and pork.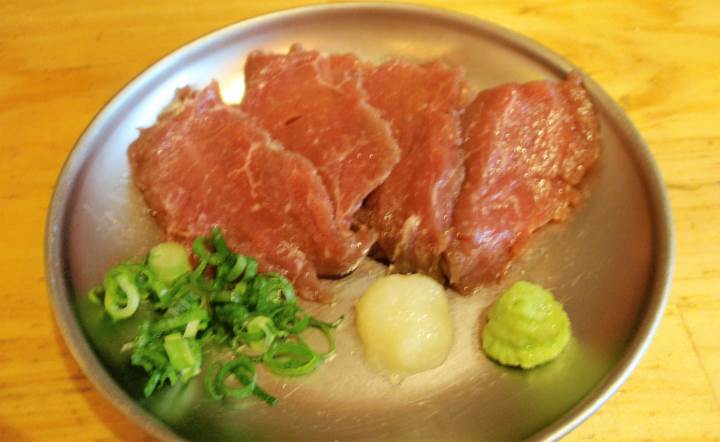 This photo above is sliced raw horse meat, called Basashi 馬刺し.
It tastes like soft beef that's raw or cooked rare.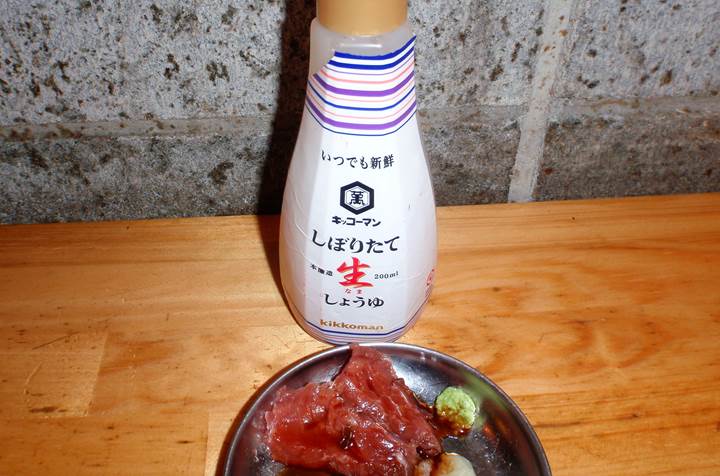 Soy sauce is good for horse meat sashimi. Please put some wasabi, garlic and chopped green onion on it.
This Basashi 馬刺し costs 290 yen at a restaurant in Tokyo.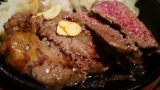 BEEF KITCHEN STAND ビーフキッチンスタンド Akihabara 秋葉原, Shinjuku 新宿, Shinbashi 新橋 in Tokyo
Thisrestaurantoffersmanydifferentkindsofamazinglylowpricedfoodsforbetween100and380yen.(Theyaresmallsizethough.)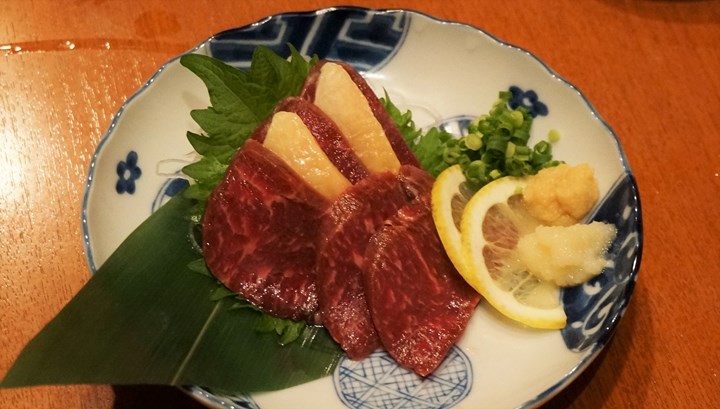 It has been known as a stamina food since the Edo (Samurai) Period.
(The Edo Period took place from 1603 to 1868.)
This menu includes several cuts of horse meat including fatty meat, lean meat and so on. Each cut has a different taste.
Horse meat sashimi is better to eat while drinking beer than eating it as a main dish. It also pairs well with drinking sake.
Recommended restaurant
SYOYA 庄や

Website (in Japanese)
庄や|大庄グループ 大庄ホームページ
くつろぎの里「庄や」ふる里のぬくもりを感じる手作り料理をご提供。新鮮な旬の魚をメインとした、ボリュームあるお料理をお出ししています。
The prices are not including 10% tax.
Cover charge is 350 yen per person at dinner time.
No service fee
Their "Horse Meat Sashimi (680 yen)" has two kinds of horse meat on a dish.
Some restaurants located around Ueno 上野 Station in Tokyo
When you go there, please refer to 店舗詳細 (Details)> 地図 (Map) on this website.
Chicken Meat Sashimi / Tataki 鶏の刺身、たたき
Restaurants that offer raw or rare cooked chicken uses Japanese brand of high quality chicken.
This domestically produced chicken is rigorously inspected and cleaned to provide that it is fresh and safe to eat.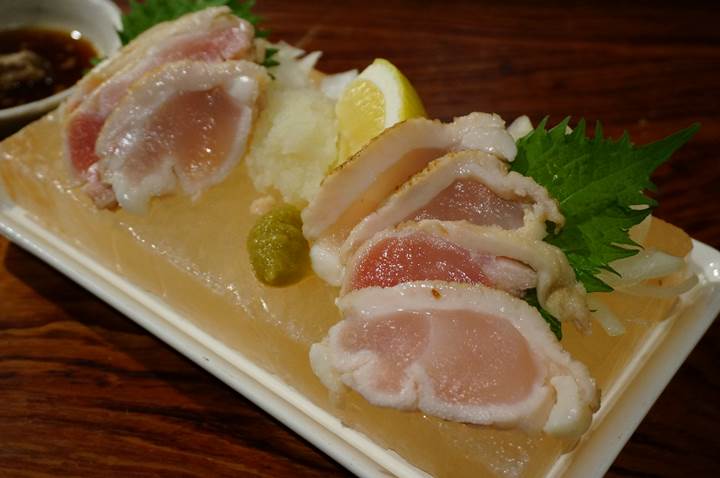 This is lightly seared raw chicken, cooked rare at a restaurant below.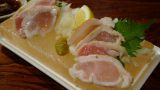 Chicken on a Skewer (YAKITORI), Lightly Seared Chicken, Crunchy Chicken mixed with Japanese Ume Plum Paste 焼き鳥、鶏肉のたたき、梅水晶 - TORITETSU とり鉄
HaveyoueatensomethingveryJapanese?Iwouldintroduce3differenttypesofJapaneselocalfoodstotouristsfromforeigncountries.Ithinksomepeoplemightdislikethembecauseoftheuniquenessintexture.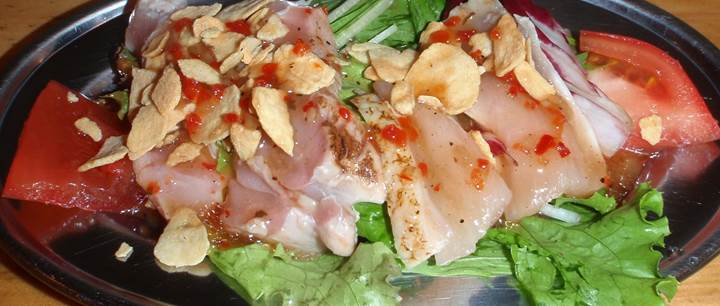 In Japan, some restaurants offer lightly seared or roasted chicken carpaccio that's cooked almost rare. It tastes like chicken meat sashimi.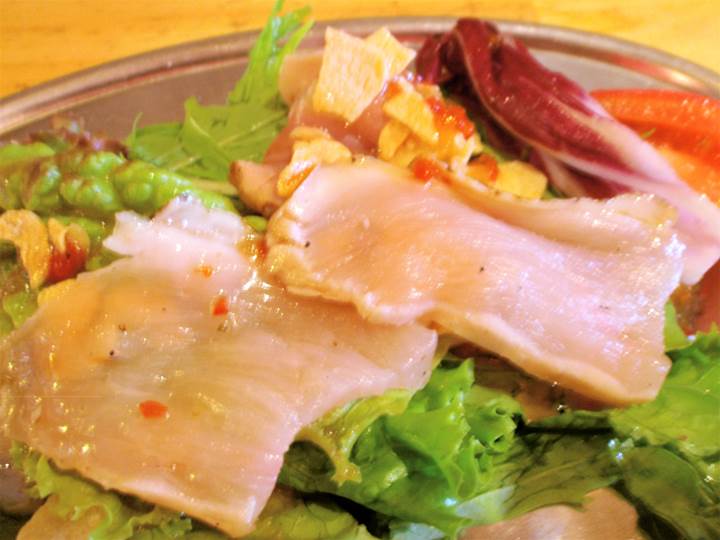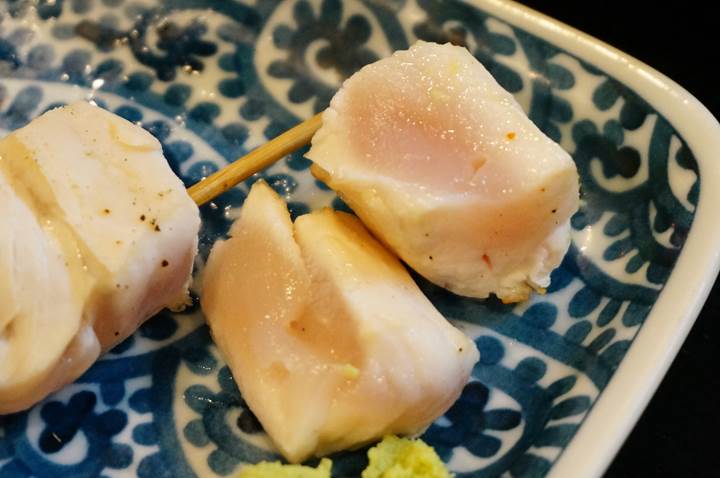 Chicken Breast: It is not chicken sashimi, but is cooked rare-done.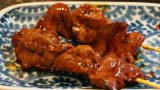 Grilled minced chicken skewer at TORINO-OUSAMA つくね専門 鳥の王様 in Nishiarai 西新井 Tokyo 東京 - Yakitori Izakaya 焼き鳥 居酒屋
ThisJapanesebarrestaurant(Izakaya)specializesingrilledchickenmincepattyonaskewer.Thereareovertendifferentvarietiesofgrilledmincedchickenskewerssuchasgarlic,cheese,fruit,basil,mayonnaiseandmanymore.(Theyare90yentomore.)Nama-tsukune生つくね90yen(Thephotoabove)is...
Whale Sashimi / Tataki 鯨の刺身、たたき
One of the food cultures in Japan is whale meat.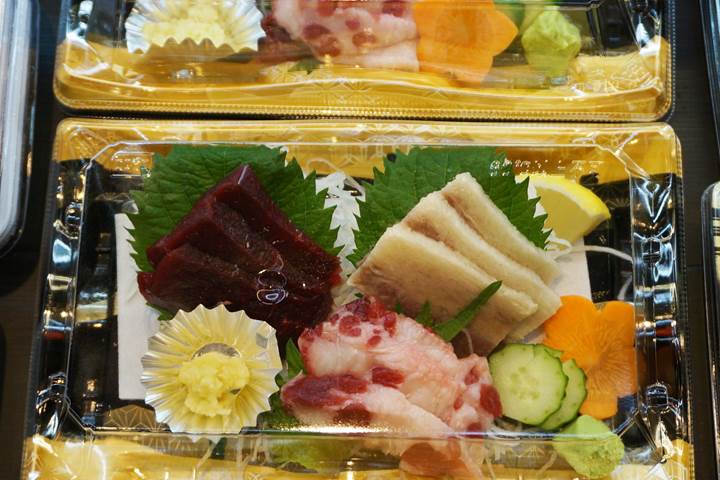 Whale sashimi (3 kinds)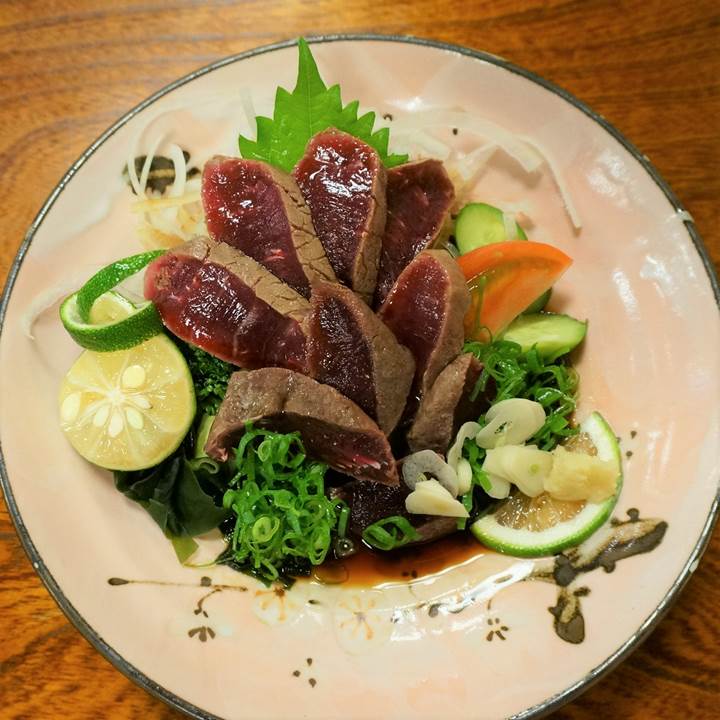 Whale Tataki
鯨のたたき Kujira-no-tataki
It is lightly roasted whale (raw) meat sashimi. This one is on some vegetables with Ponzu (citrus-flavored soy sauce). Sliced garlic / grained ginger and whale sashimi match very well.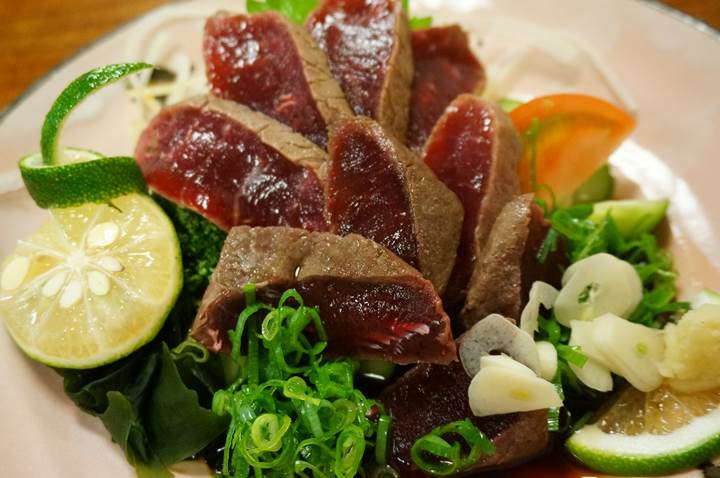 Boiled or Steamed
Moray eel tataki ウツボ たたき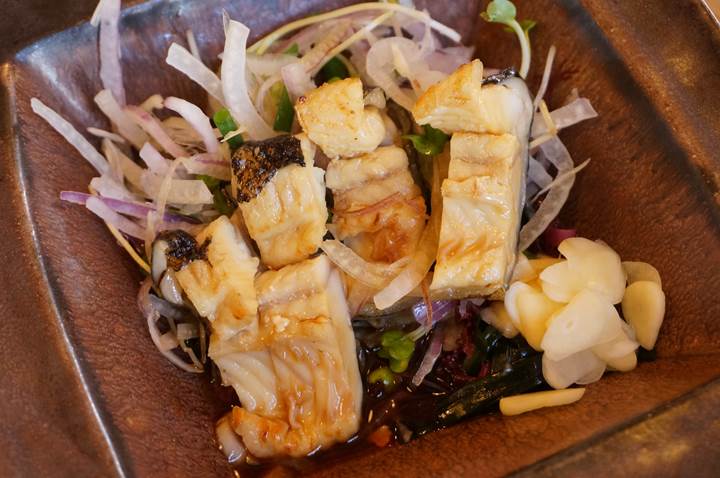 It is a type of sashimi but is boiled or steamed.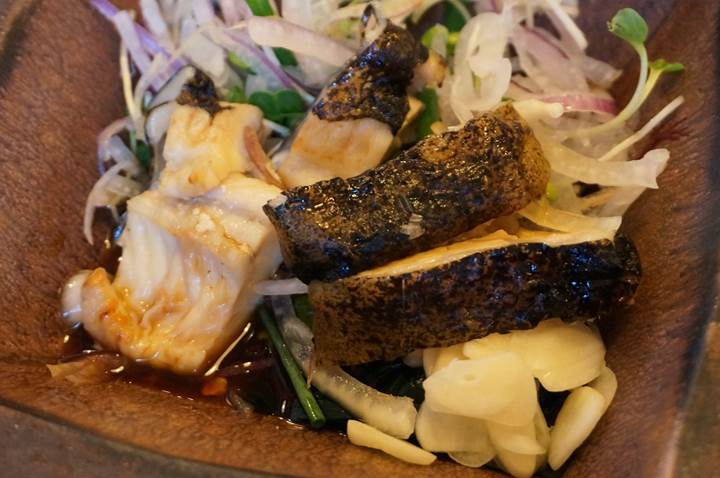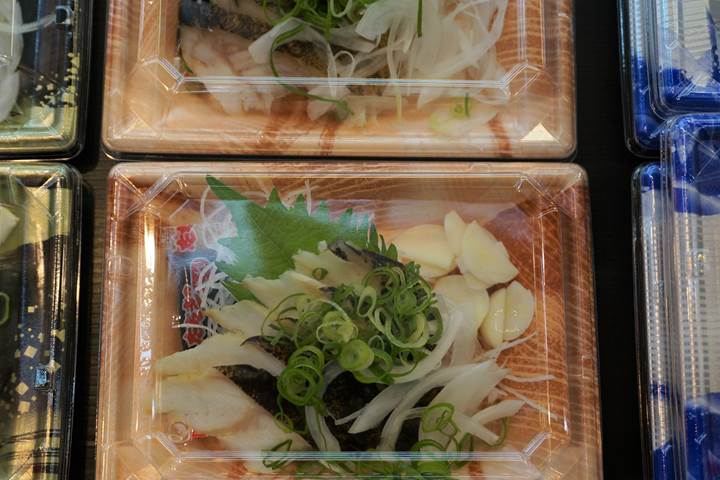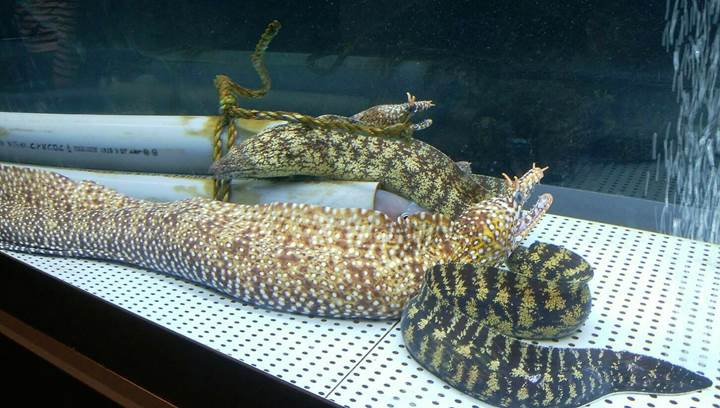 Moray
Beef Omasum センマイ刺し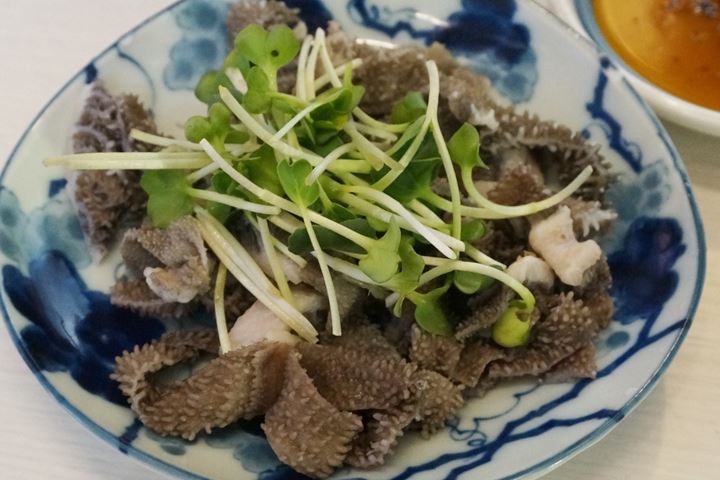 This meat is not raw. A restaurant offers the omasum dish which is well prepared and boiled.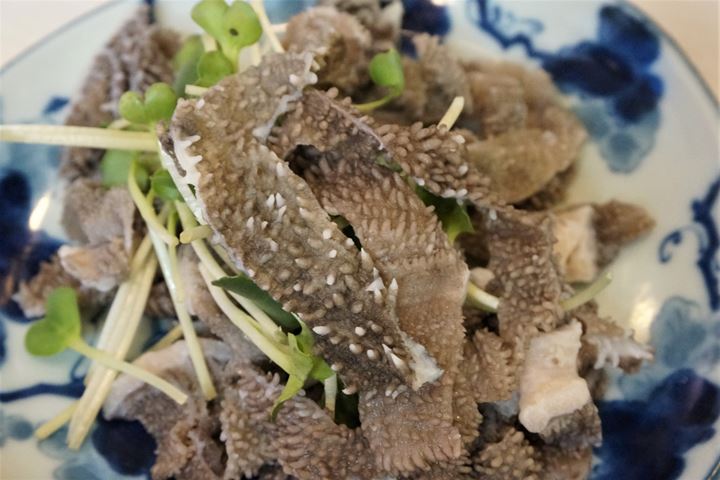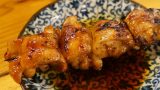 Grilled Organ Meat on a Skewer of a Restaurant KUSHIYA-YOKOCHO in Tokyo 串屋横丁 もつ焼きセンター
AbarrestaurantchaininJapanspecializesinavarietyoforganmeatsofmainlyporkwhichisverycheapandchewy.Buttheyusefreshandtastyones.Theyalsoofferafewkindsofchickenandbeef.
Sea Cucumber なまこ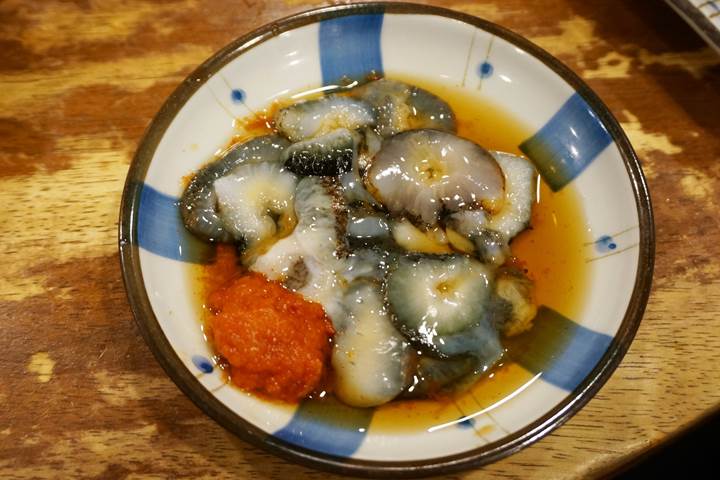 This is raw.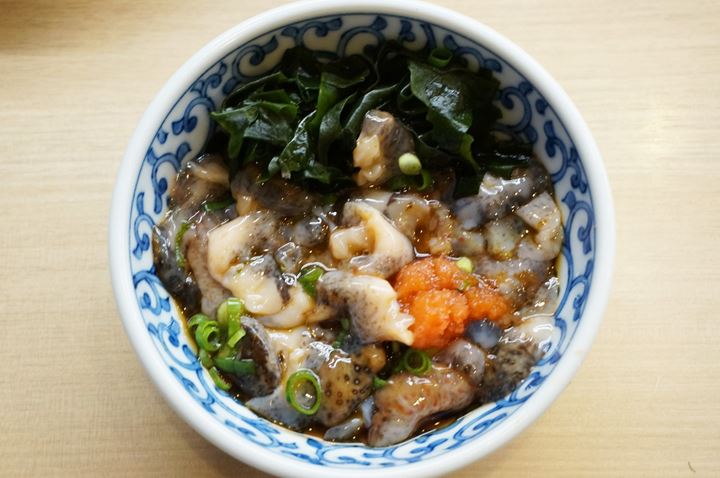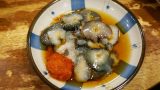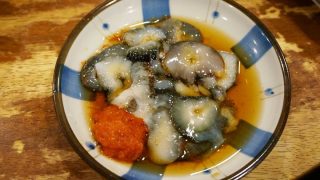 Sea Cucumber is Common Food at Sushi Restaurant and Izakaya (Japanese Style Bar) in Japan なまこ
SeacucumberiscalledNamakoなまこ/ナマコinJapanese.Thinlyslicedfresh(raw)seacucumberisusedforakindofJapanesevinegaredfood.Itisusuallyservedwithponzusauce(citrus-flavoredsoysauce).
Vegetable Sashimi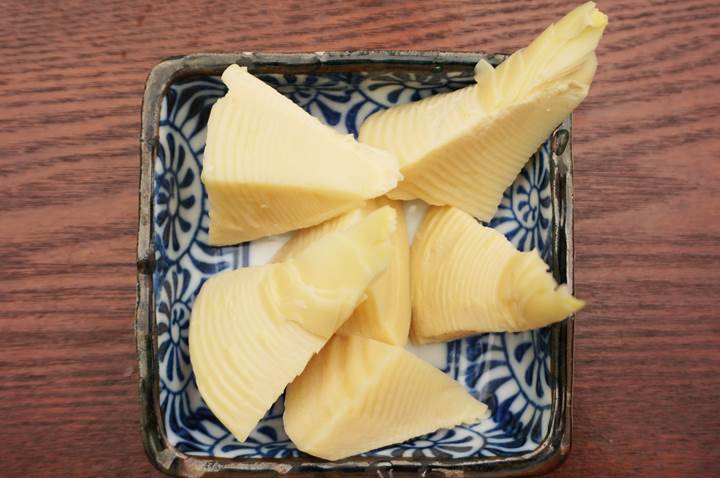 Boiled Bamboo Shoot たけのこの刺身
When you get really fresh one, you can eat it raw.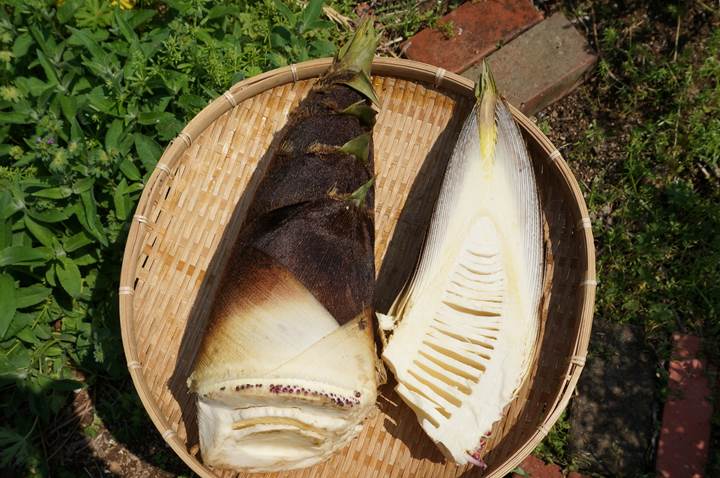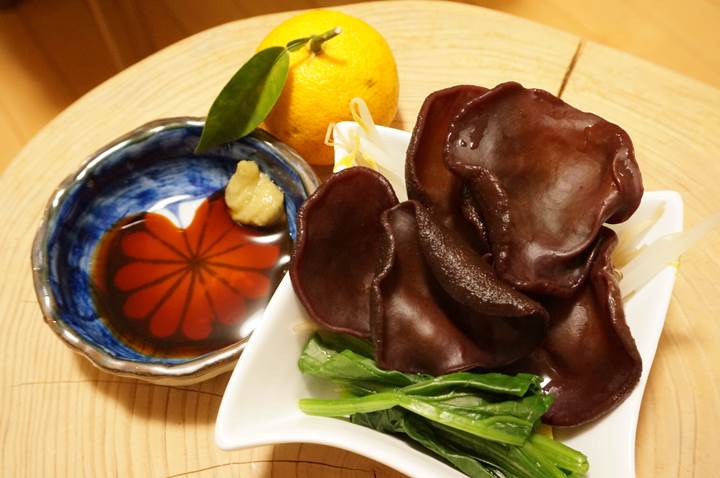 Boiled Wood Ear Mushrooms きくらげの刺身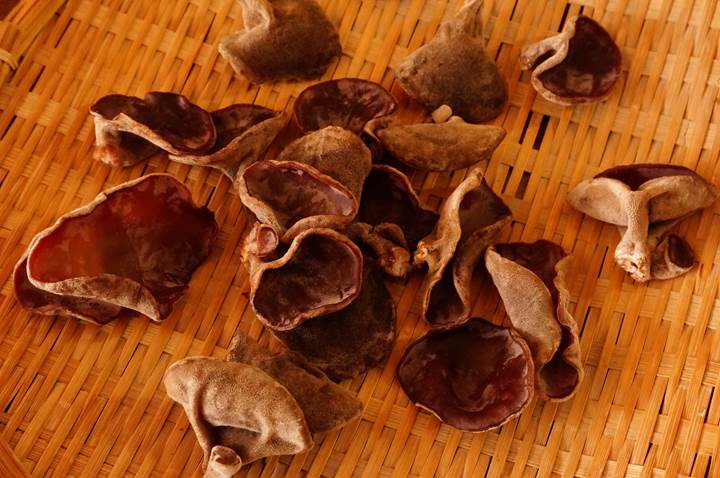 You should buy fresh wood ear mushrooms for sashimi. Dried one is not good for sashimi.
However, it is difficult to find domestically produced fresh wood war mushrooms.
Fresh Tofu Milk Skin 生ゆば
生ゆば Nama-yuba
Yuba is made of soy milk. Nama-yuba is fresh one, not dried yuba.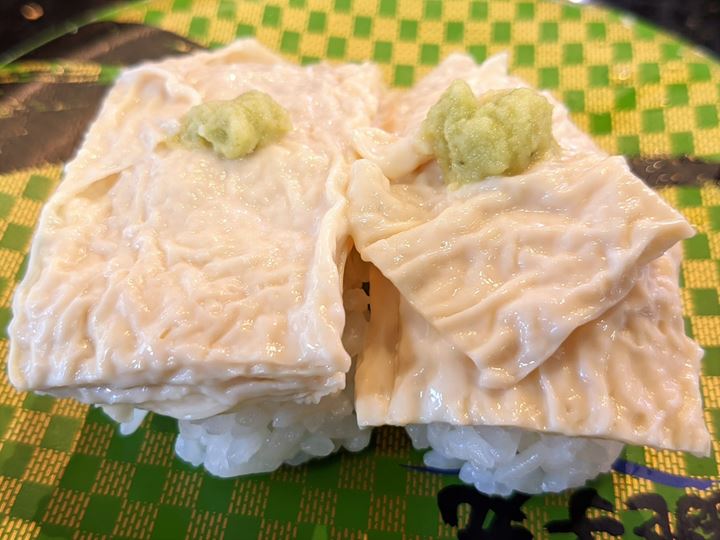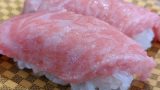 Sushi Go Round CHOUSHIMARU in and around Tokyo 回転寿司 すし銚子丸
Atlunchtimeuntil2:00pmonweekdays,theirfishmisosoupisfree,Youcanalsogetfreerefills.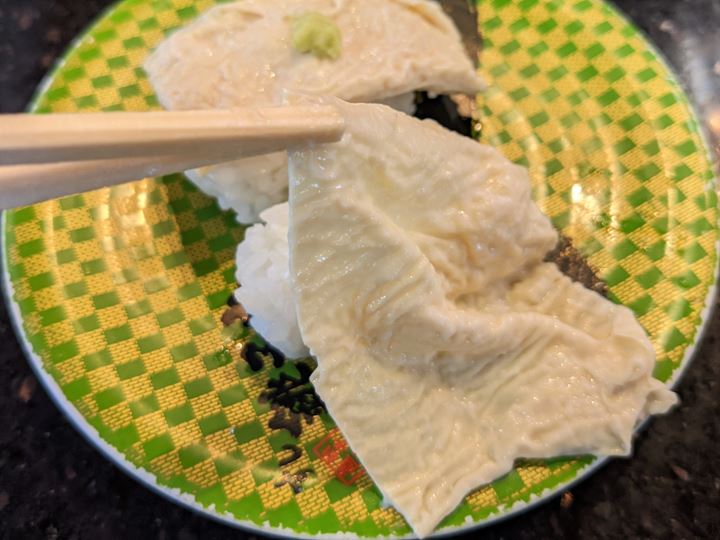 It like a film or sheet. It has a delicate and subtle flavor of soy milk.
豆厨(まめくりや)ゆばせい
千葉県東金市にある豆厨ゆばせいです。国産大豆100%の特濃豆乳を使用したこだわりの味をどうぞ。濃厚なこだわりが楽しめます。
Information of sashimi restaurants in Japan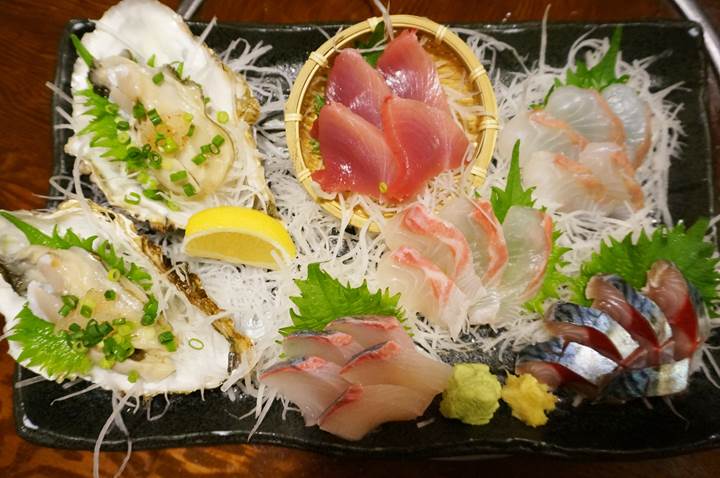 Sashimi
Articles of "Sashimi".