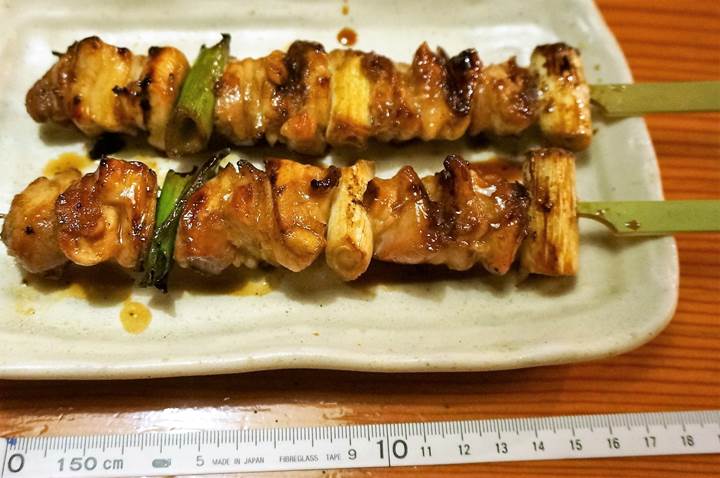 A 298-yen bar restaurant chain TORIKIZOKU 鳥貴族 offers all food items and beverages for 298 yen (327 yen including 10% tax). They use domestically produced chicken, vegetables and so on.
This chain has more than 600 branches in Japan. There are many branches in and around Tokyo 東京 and Osaka 大阪.
1st Momo Kizoku Yaki (Tare) もも貴族焼(たれ)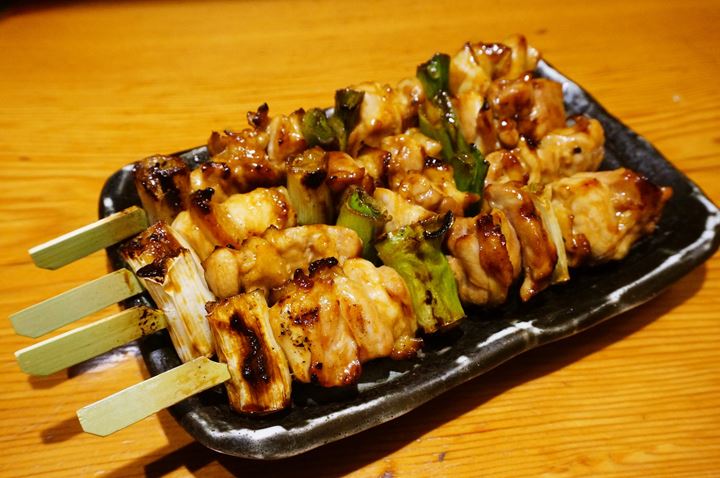 Grilled Chicken Thigh and White Leek (Barbecue Sauce)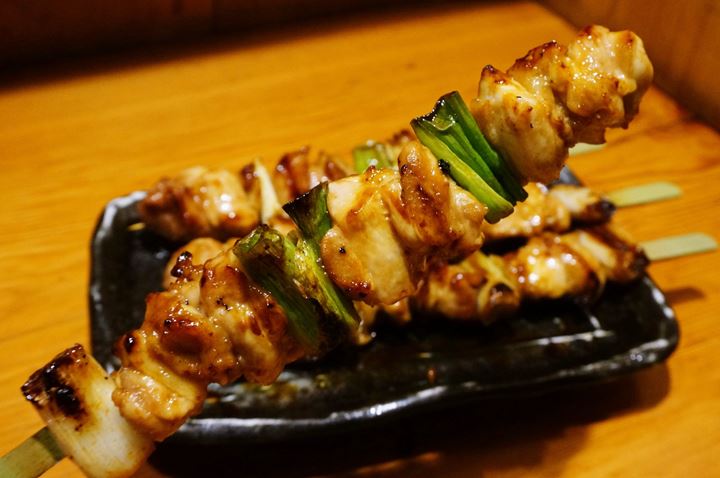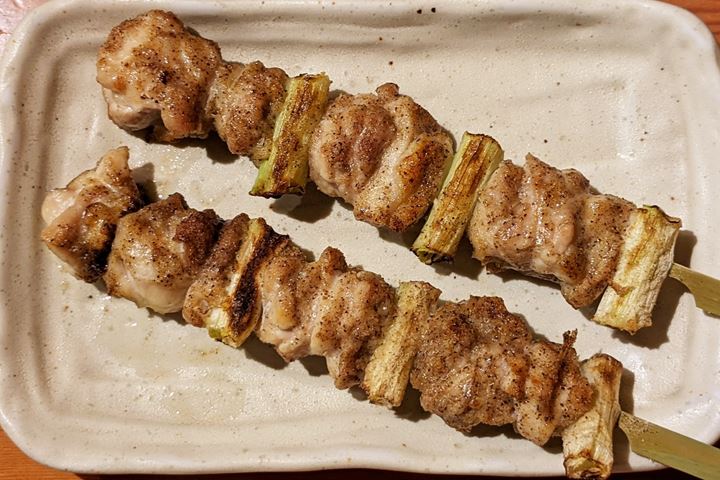 Momo Kizoku Yaki-Spice もも貴族焼(スパイス)
I prefer sauce than spice.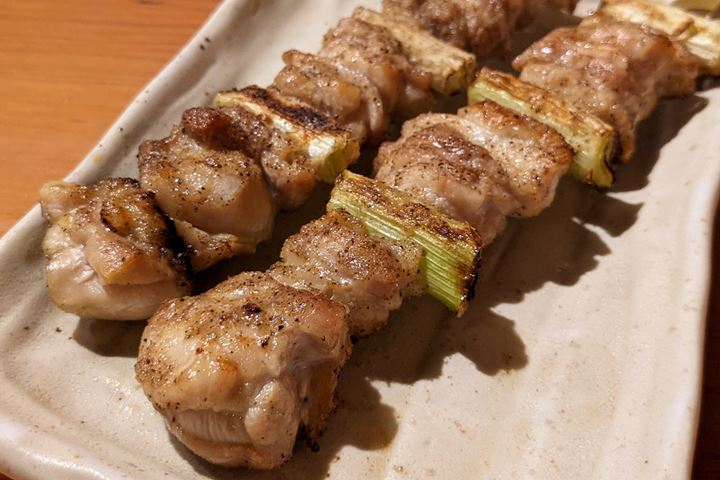 Grilled Chicken Thigh Sprinkled Spice
2nd Yakitori Don 焼とり丼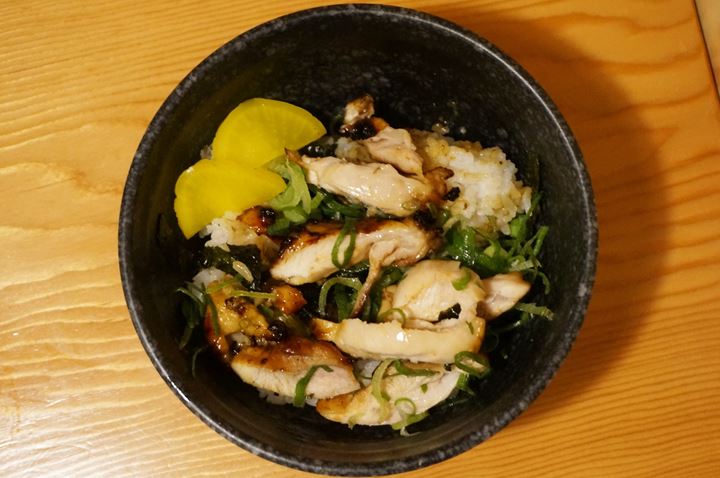 Chicken Bowl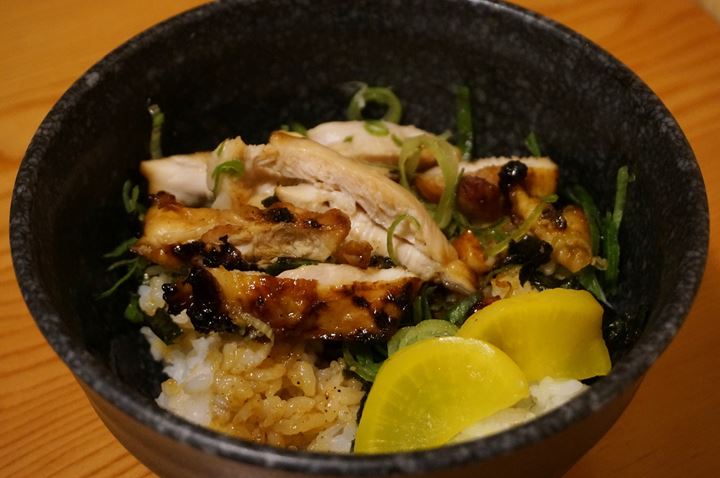 Grilled Chicken Thigh on Rice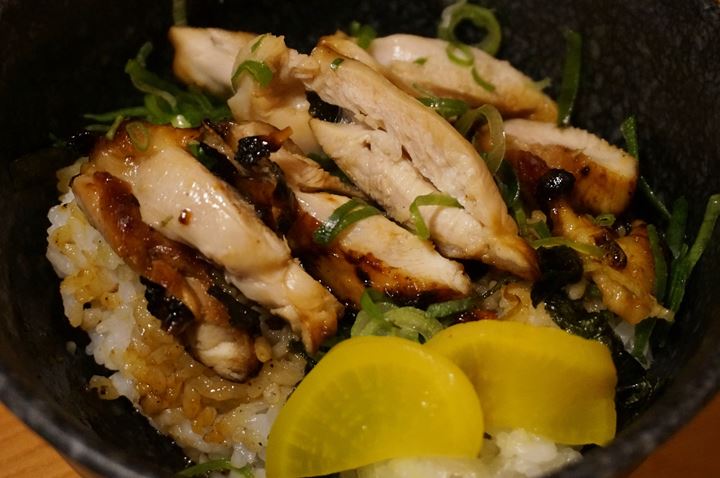 Rice Types Dishes
Torikizoku offers 4 types of rice dishes at the same price, such as grilled chicken bowl, simple white rice, seasoned rice and porridge of rice.

The simple white rice dish is a small amount, so I recommend the other rice dishes, which also have small amounts of rice, but contain many other ingredients, and cost effective!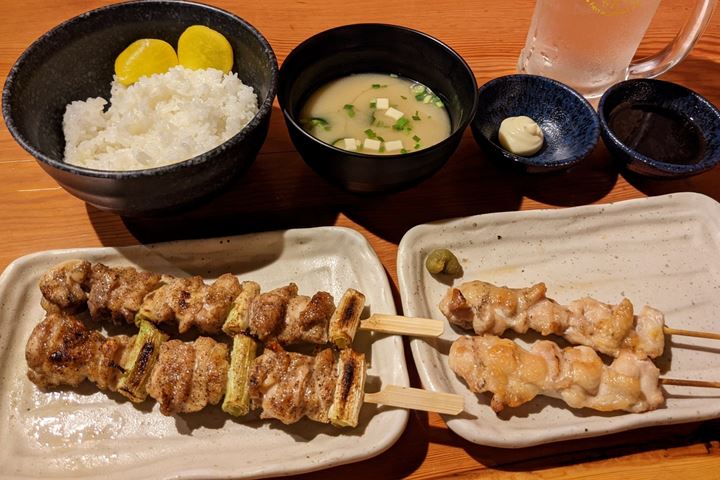 3rd Mi-tare (Momo) みたれ(もも肉)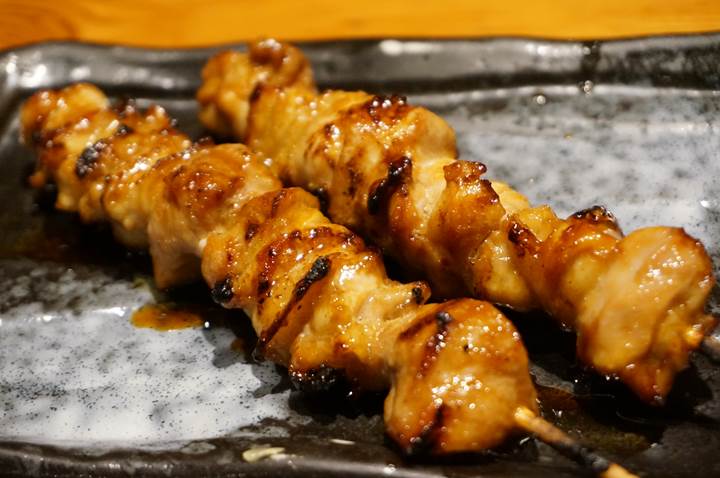 Grilled Chicken Thigh - Barbecue Sauce
* If you don't need the white leek, this one is better.
This is also my favorite one.
4th Tori Ten Served with Plum Sauce とり天 梅肉ソース添え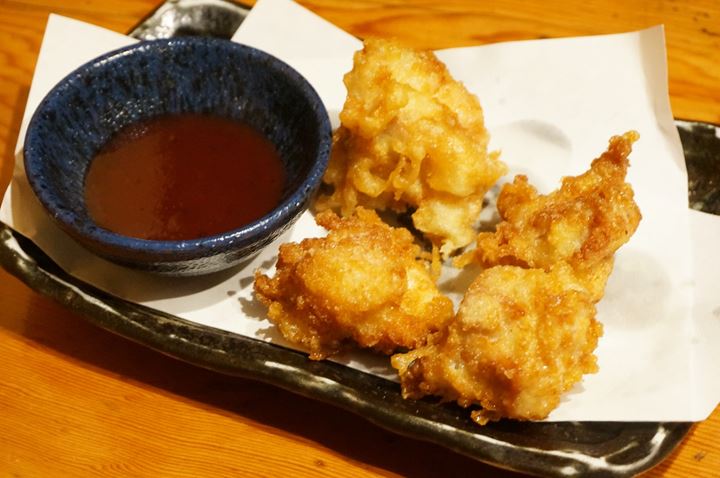 Chicken Tempura Served with Sweet Plum Sauce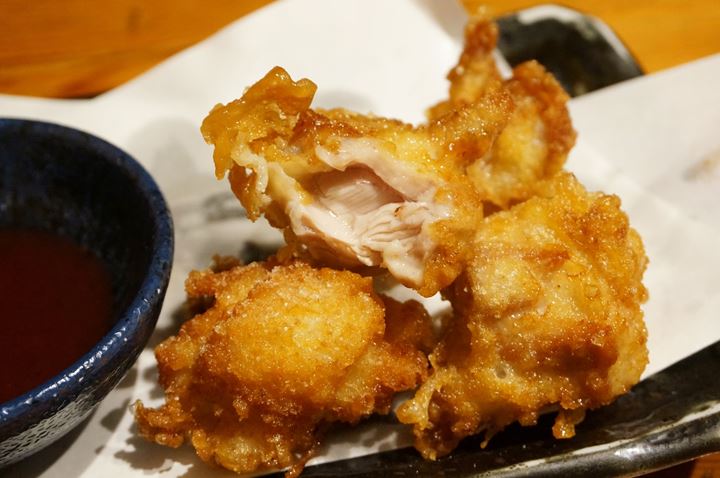 I sometimes order this. I like it.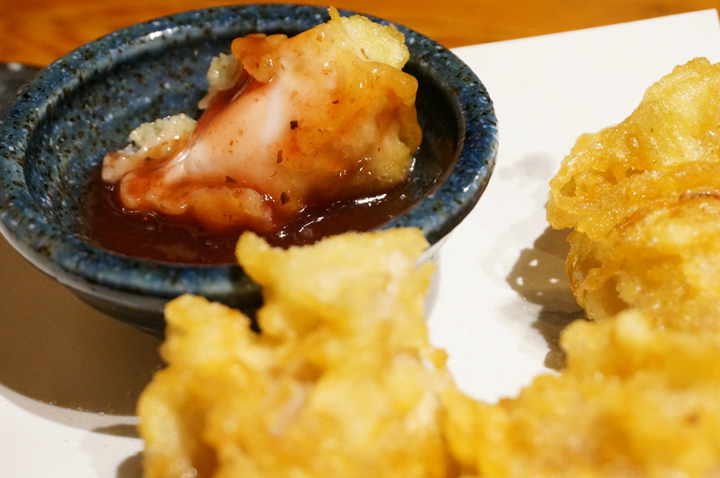 5th Seseri (Shio) せせり (塩)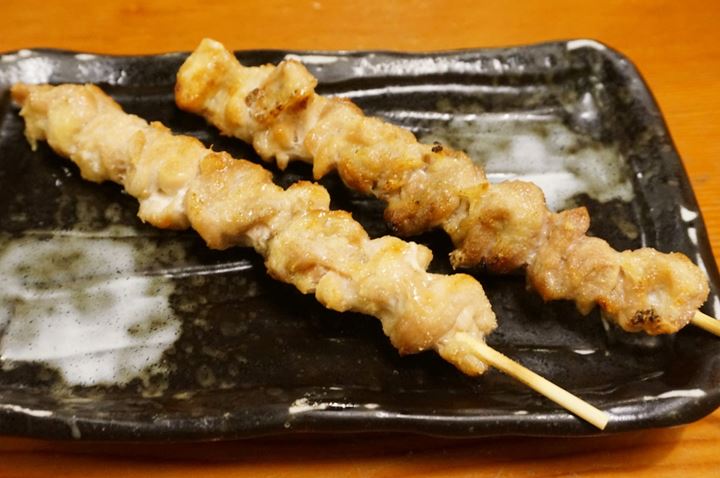 Grilled Chicken Neck (Salt)
Neck meat is a bit chewier than thigh, but richer taste. It is seasoned with garlic and salt.
6th Chicken Heart ハートたれ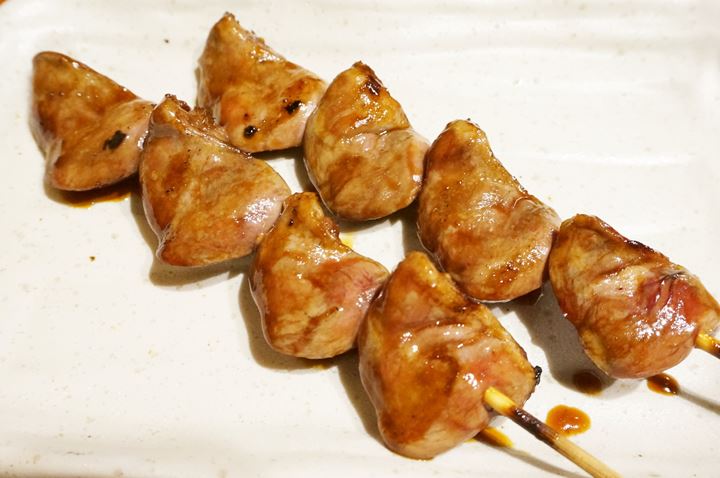 The texture is a little bit tougher than chicken breast. I think that It is similar to mini beef steak in texture.
7th Chicken Meatballs with Cheese つくねチーズ焼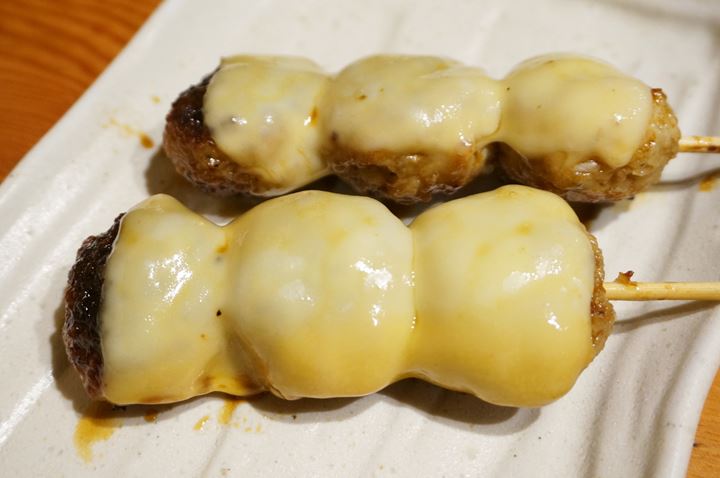 It is like mini cheese hamburgers. Taste good!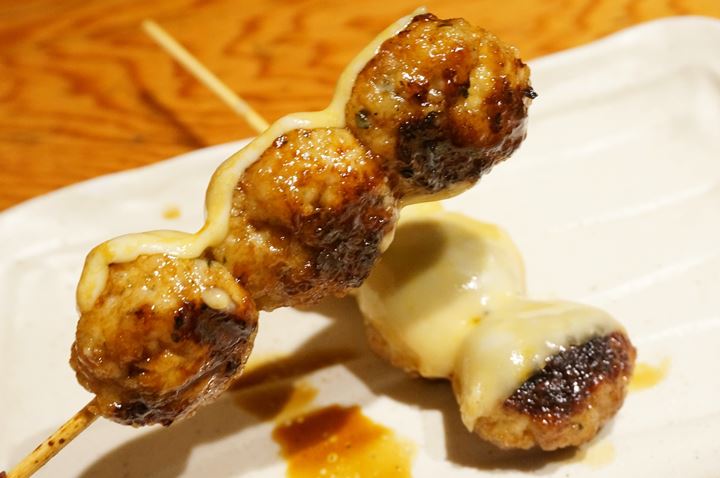 8th Chicken Namban チキン南蛮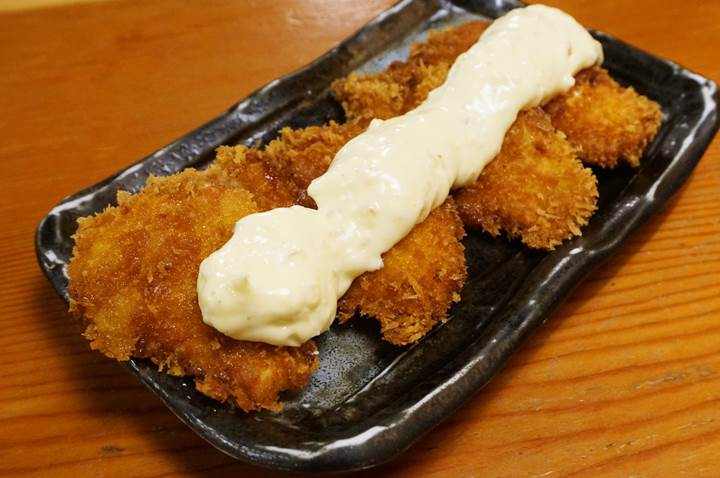 I think this is not typical chicken namban.
Actually, this is deep-fried breaded chicken cutlet topped with tartar sauce, and it is put sweet vinegar sauce on it only a little bit, so the batter stays crispy.
This restaurant has a new chicken namban recipe from October 2019. Instead of being crispy, the outside texture is softer like tempura. Some vegetables are added in the topping sauce.
Next time, I will take the photo of new one.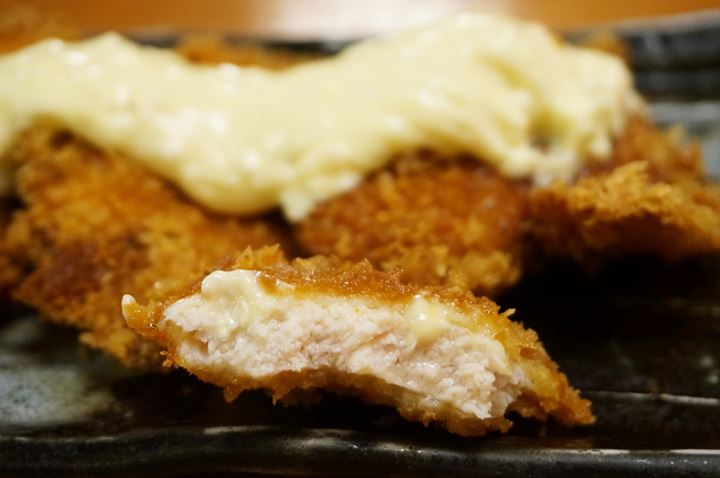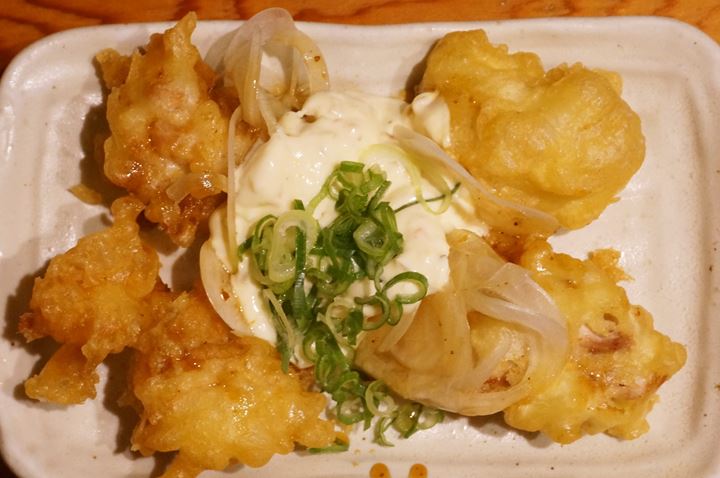 I took photos of new chicken namban.
Before, it was chicken cutlet, but now, it is chicken thigh tempura topped with tartar sauce, sliced onion, chopped leek and sweet vinegar sauce.

I think tasty chicken namban should be soaked in vinegar sauce for several seconds, but this one is put a bit of vinegar sauce. However, it tastes much better than before.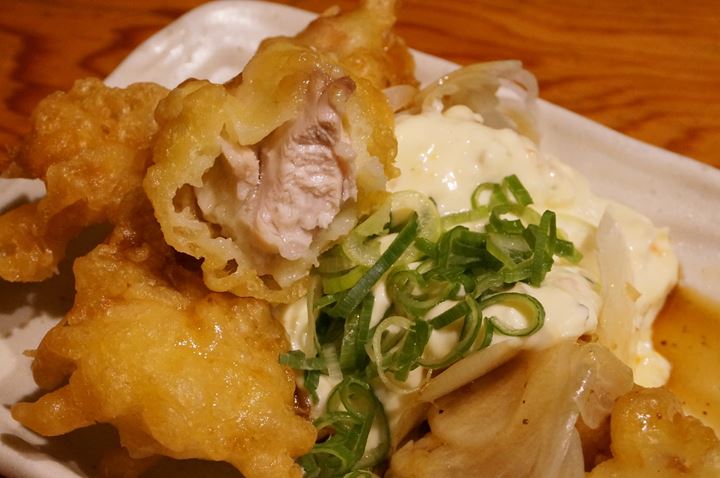 About typical chicken namban: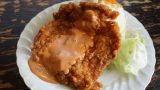 Do you know Chicken Namban? チキン南蛮・チキンナンバン - Torishin 鳥心(高知)、Torisyo 鶏笑、Yayoiken やよい軒
ChickenNambanisdeep-friedchickenthatisthensoakedforseveralseconds(orslightlyboiled)inaspecialsauceafterfrying,madewithsugar,soysauce,vinegarandsoon.Itisusuallyservedwithtartarsauceor,insomerestaurants,withketchupmixedwithmayonnaise.
9th Oyadori Aburi Yaki (Shio Ponzu Taste) 親鶏炙り焼(塩ポン酢味)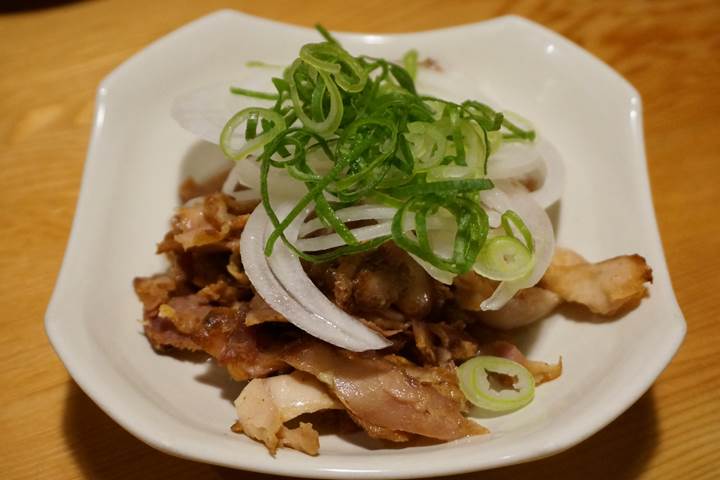 Grilled and Sliced Adult Chicken (Salt and Citrus-flavored Soy Sauce)
Adult chickens usually have tough meat, but it has a stronger / better taste than younger chicken meat.
This restaurant grills and thinly slices the meat to soften it, and then adds salt and citrus-flavored soy sauce instead of strong-tasting barbecue sauce. Good!
10th Tori Kamameshi とり釜飯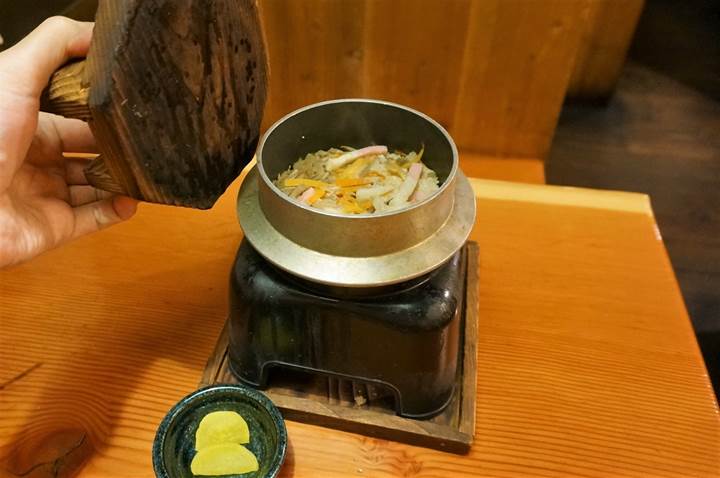 This dish has rice, a bit of chicken and other things. It is cooked in a small traditional pot. It will be served with a portable stove with a piece of solid fuel, while it's still boiling.
Looking at the flame of the solid fuel and steam from the pod on my table is fun!

It will take 30 minutes, do not open the lid during this process.
After the solid fuel runs out, then steam it for a few minutes and finally you can eat it.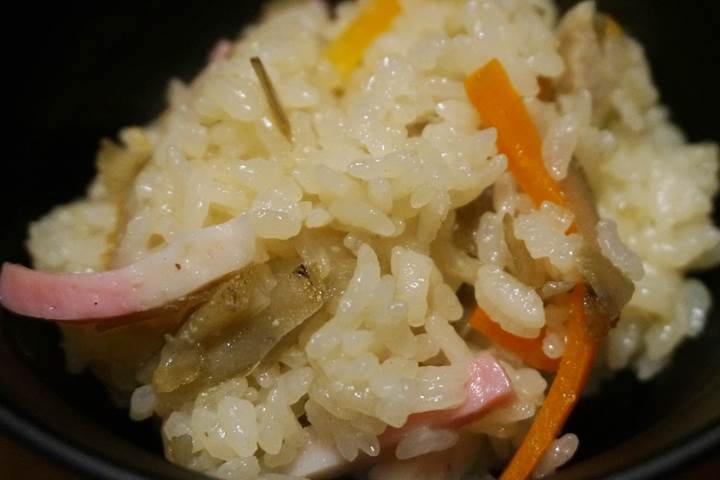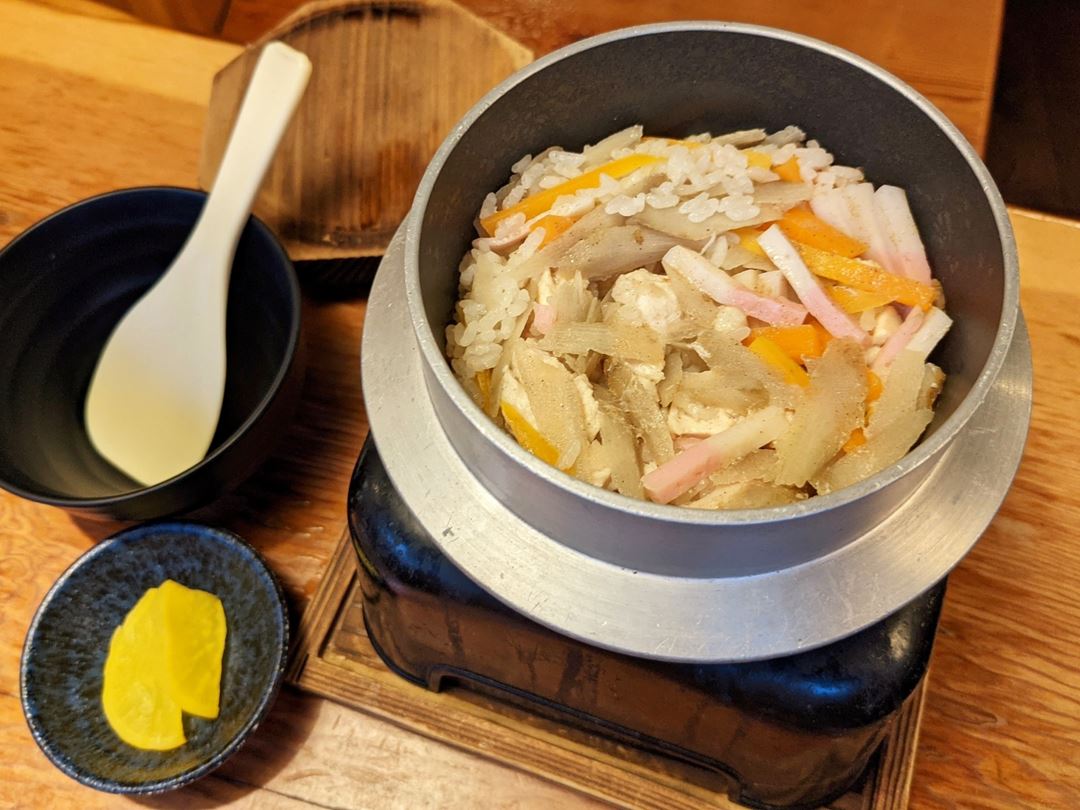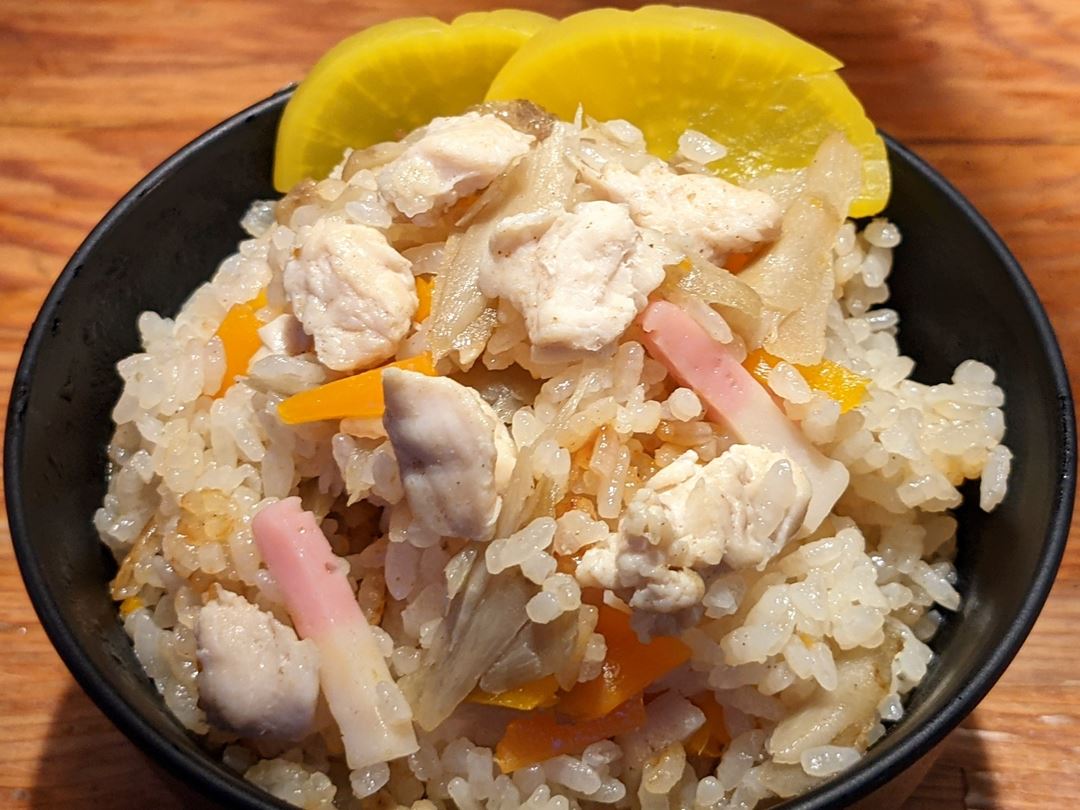 Others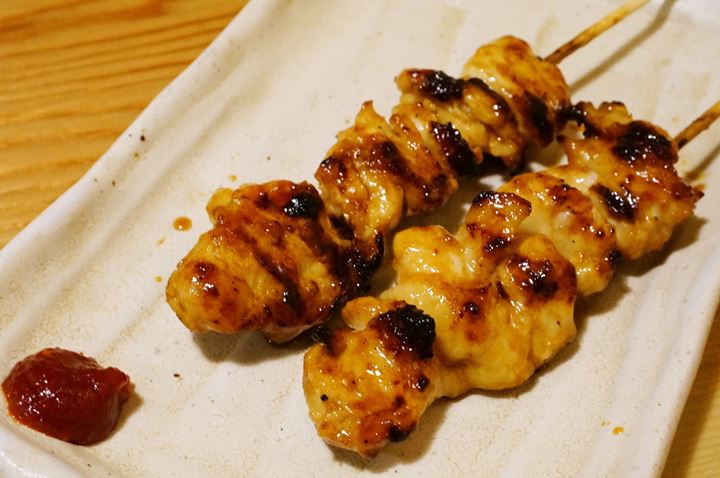 Chikara Kobu-Tare ちからこぶ たれ
Boneless Chicken Drum - Barbecue Sauce and Spicy Miso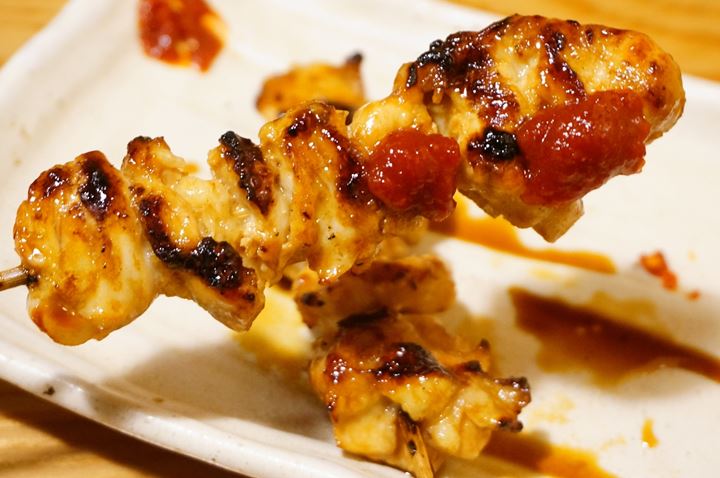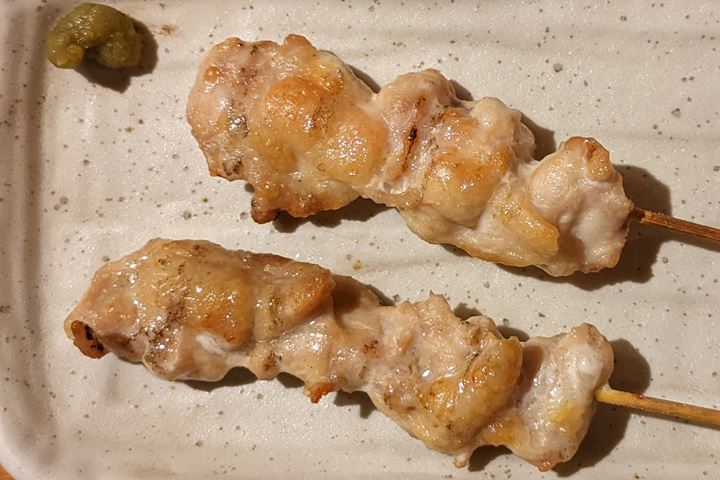 Chikara Kobu-Shio ちからこぶ塩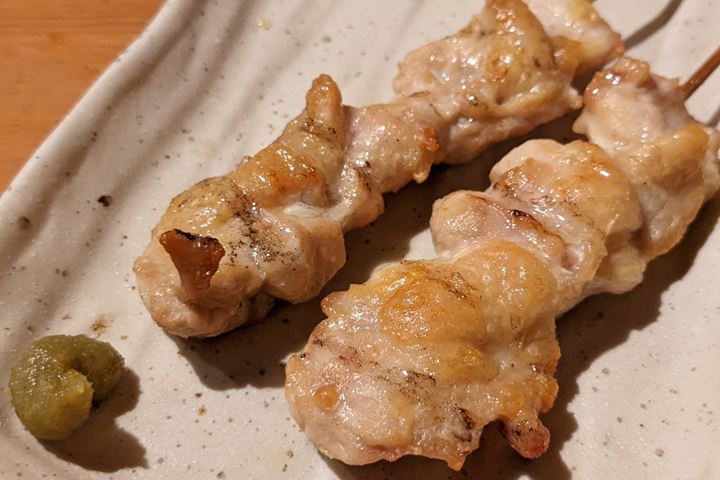 Boneless Chicken Drum - Salt and Yuzu Citron Pepper (paste)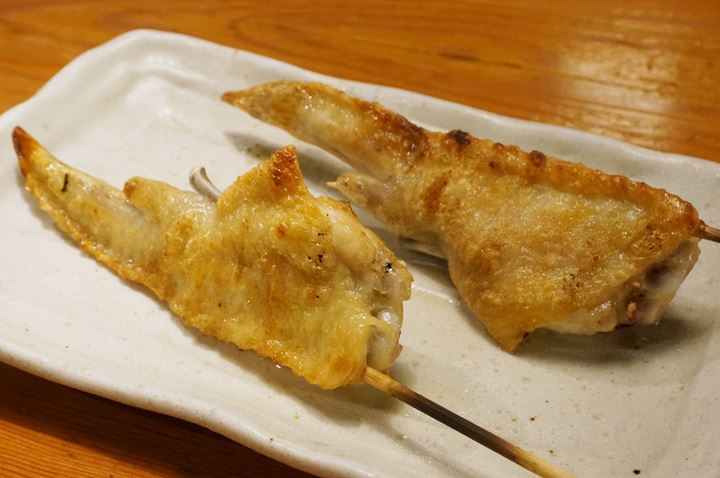 Tebasaki-Shio 手羽先
Chicken Wing with Salt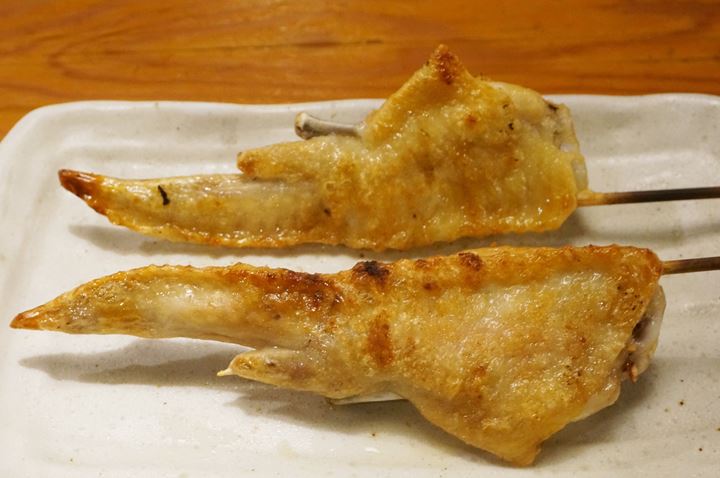 These were larger size than I expected. Good taste!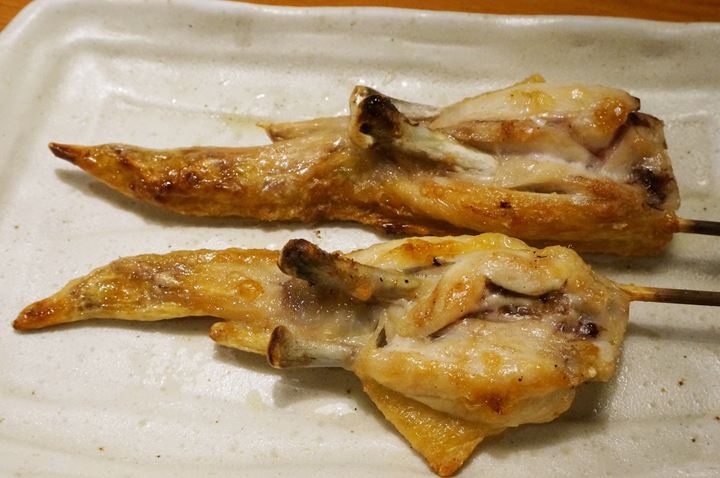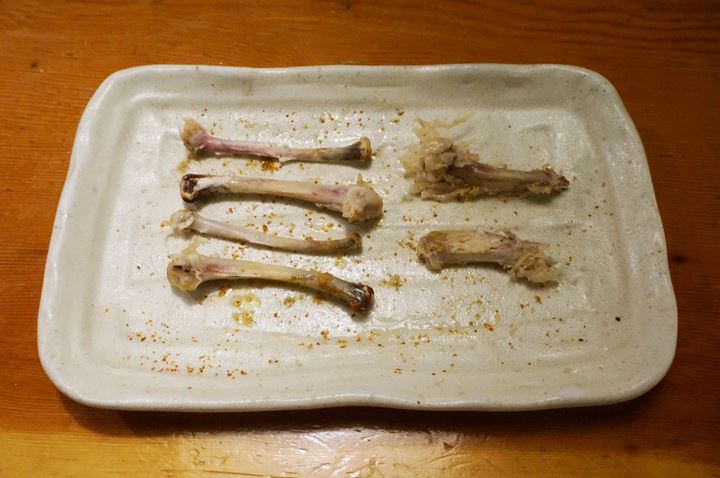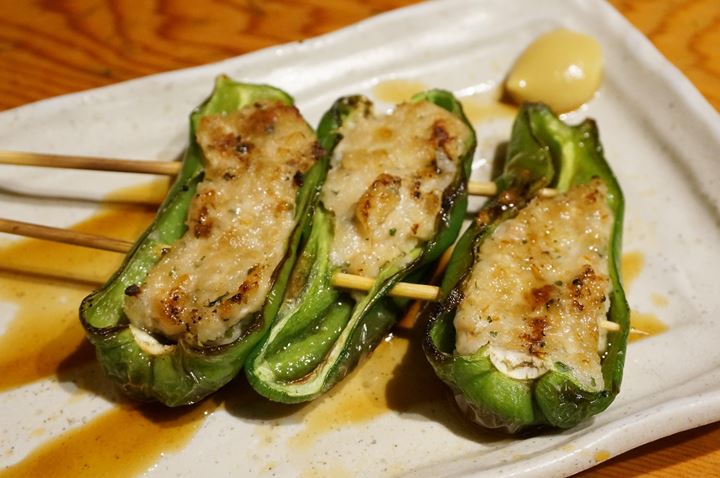 Piman Nikuzume Green Pepper (Ponzu Taste) ピーマン肉詰 ポン酢味
Bell Pepper Stuffed with Chicken (Ponzu Sauce)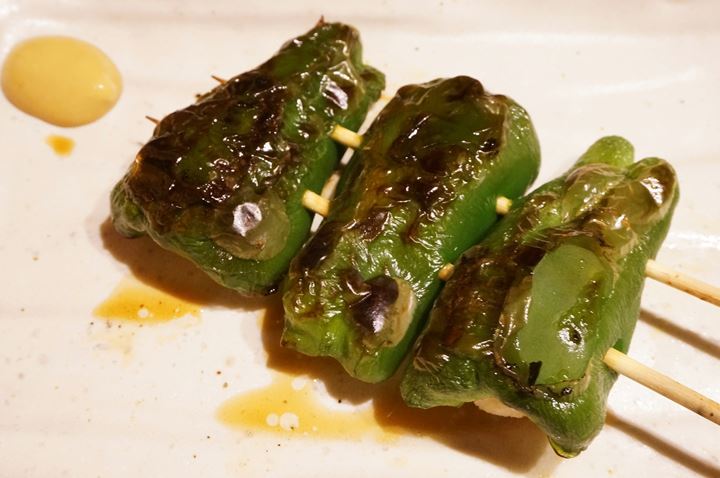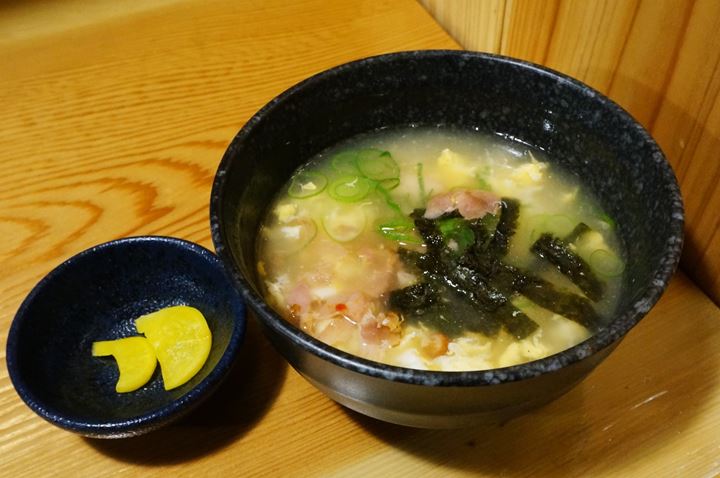 Tori Zosui とり雑炊
Porridge of Rice, Chicken Soup, Meat, Beaten Egg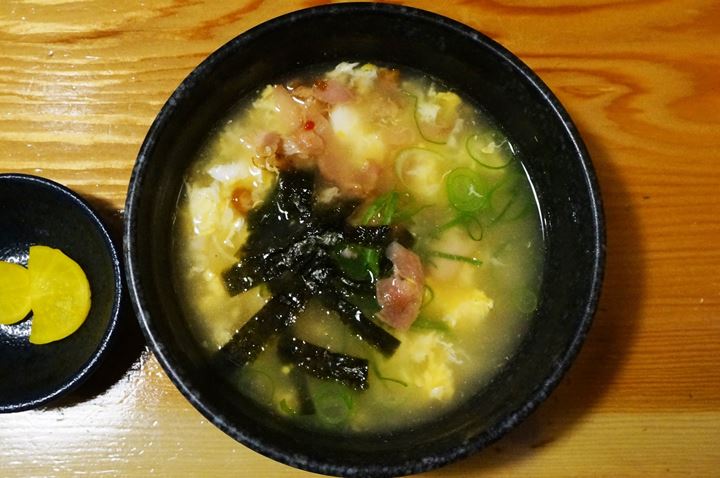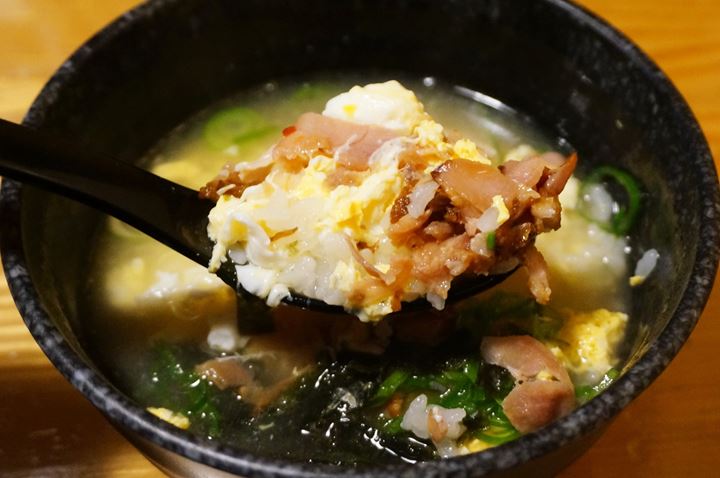 This meat is the sliced adult chicken as mentioned above.
This meat makes the soup scrumptious!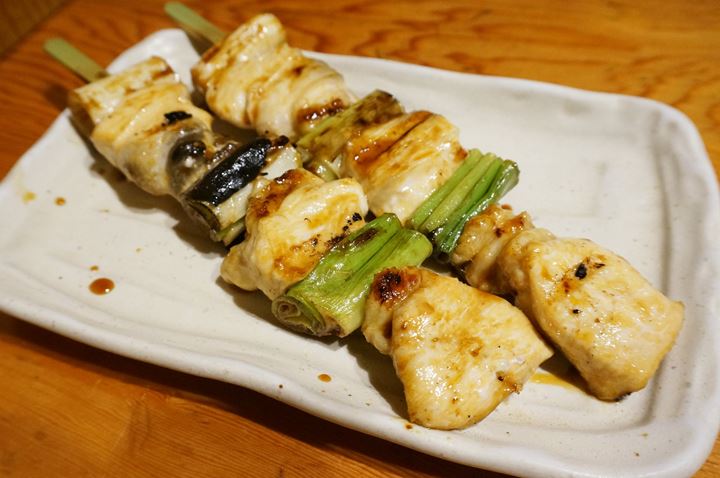 Mune Kizoku Yaki (Tare) むね貴族焼(たれ)
Grilled Chicken Breast and White Leek (Barbecue Sauce)
* I prefer chicken thigh to breast.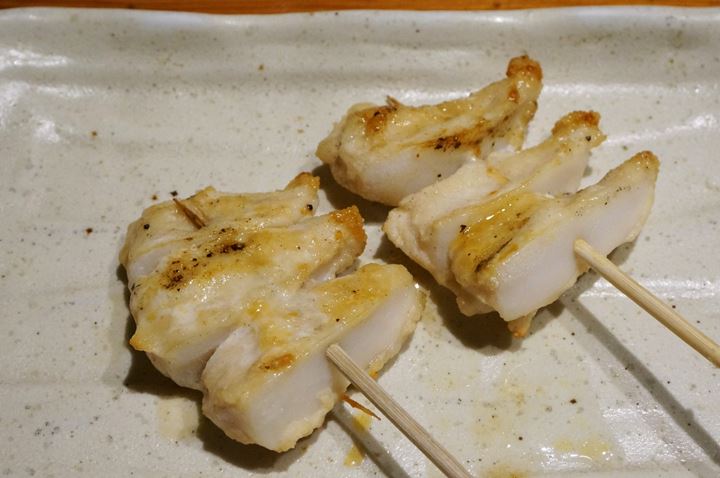 Yagen Nankotsu-Shio やげんなんこつ (塩)
Chicken Cartilage and Breast (Salt)
It is around sternum.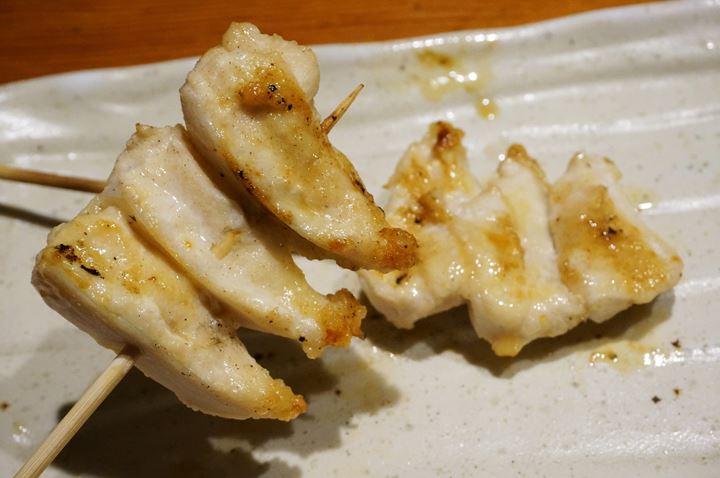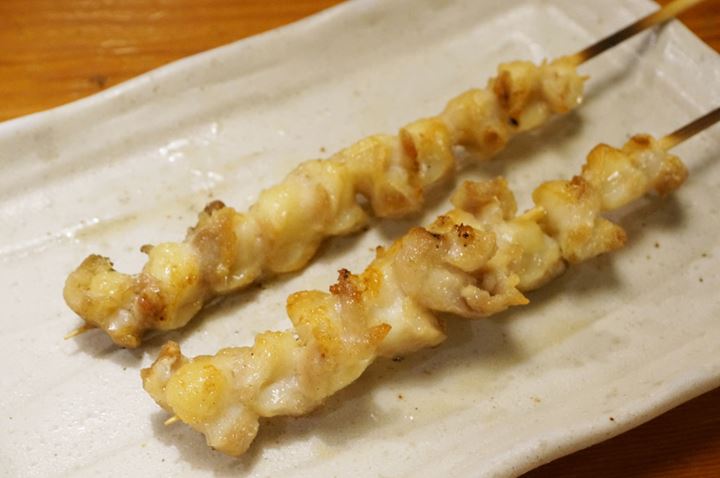 Hiza Nankotsu-Shio ひざなんこつ
Chicken Knee Cartilage

If you want to try the cartilage skewers for the first time, I recommend Yagen Nankotsu やげんなんこつ, because Hiza Nankotsu ひざなんこつ is much more crispy and fatty than the other cartilage skewer Yagen Nankotsu やげんなんこつ.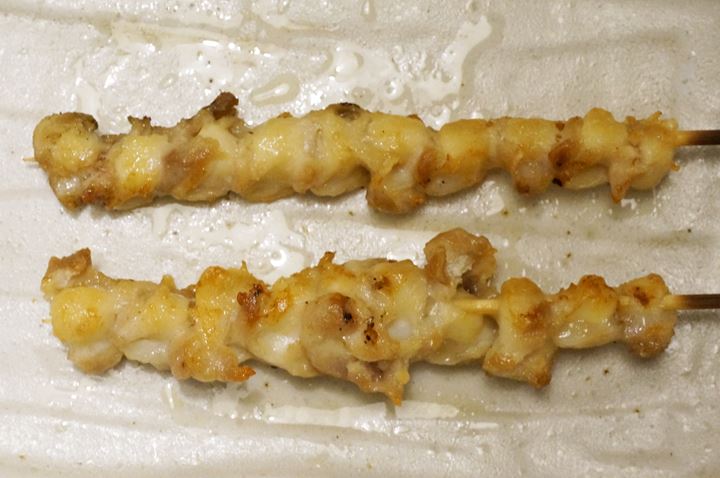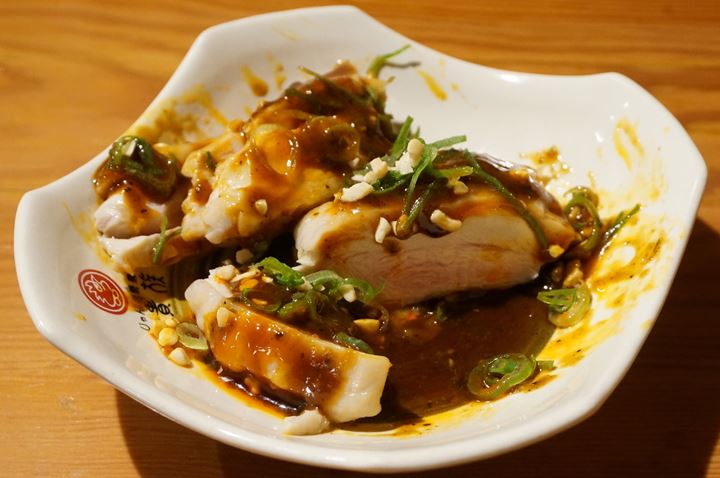 Yodare Dori よだれどり
Chicken with Spicy Sauce, Green Leak and Roasted Peanuts
I guess it is steamed or boiled chicken.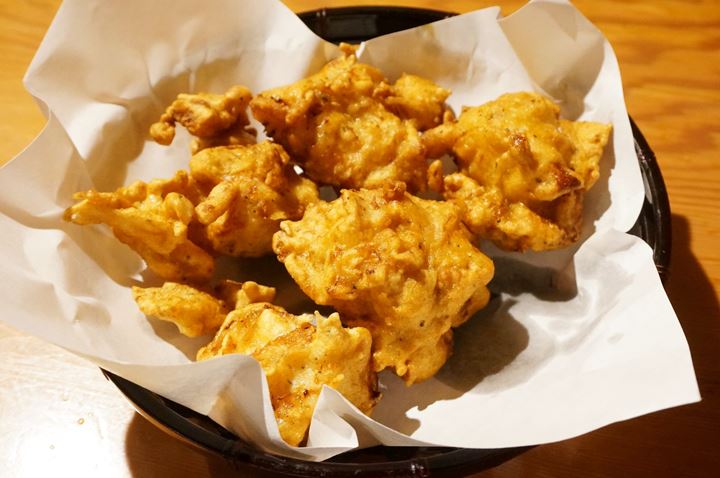 Toriki no Karaage トリキの唐揚
Deep Fried Chicken
I guess it is chicken breast.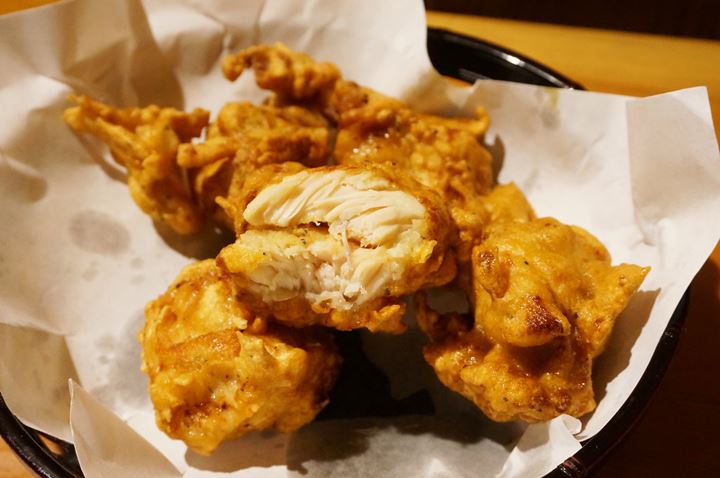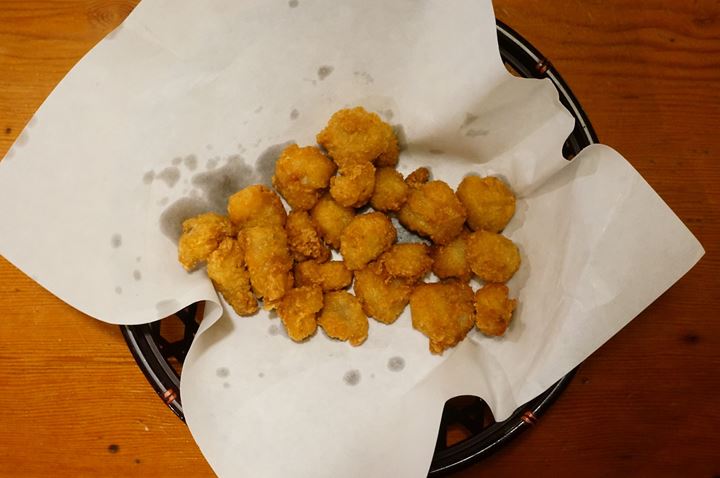 Hiza Nankotsu Karaage ひざなんこつ
Deep Fried Chicken Knee Cartilage with Salt

This is very crispy, fatty and salty.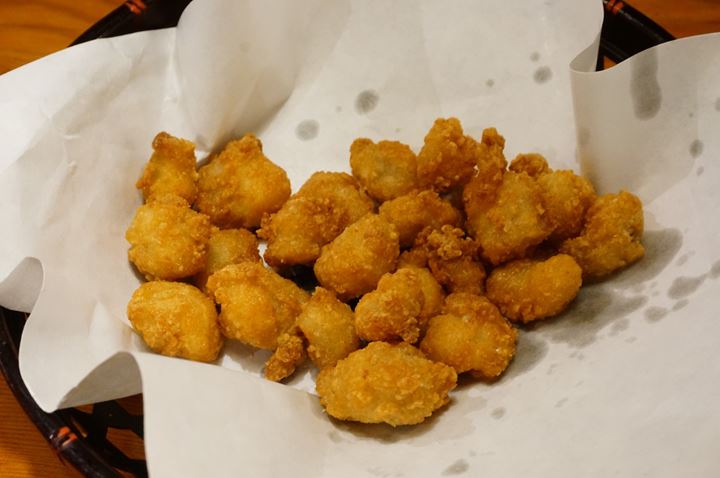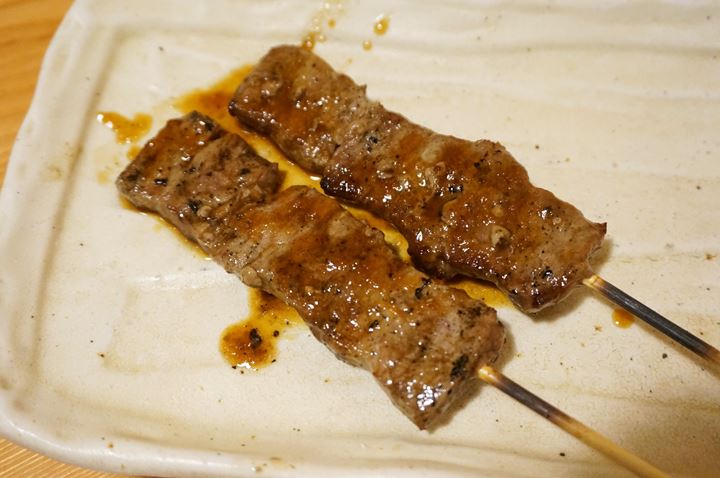 Gyu Kushi Yaki 牛串焼
Processed beef product (Deliciousness of Fruit and Garlic)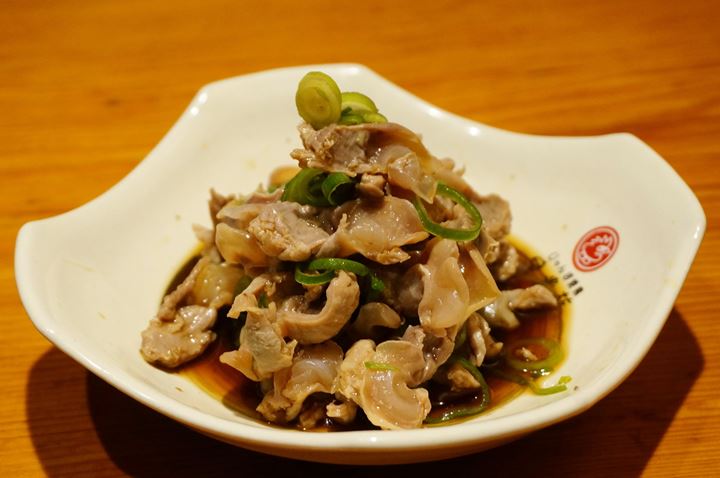 Horumon Negimori Ponzu ホルモンねぎ盛ポン酢
Chicken Organ Meat with Ponzu Sauce (ポン酢 Citrus-flavored soy sauce)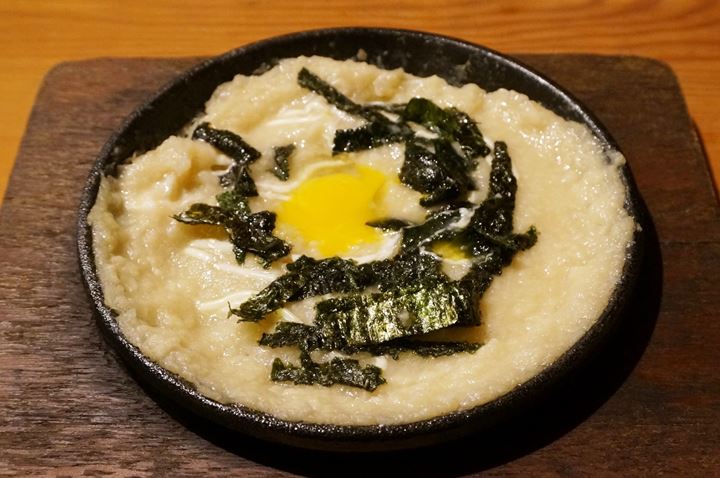 Funwari Yamaimo no Teppan Yaki ふんわり山芋の鉄板焼
Grated Japanese Yam Served with Hot Iron Plate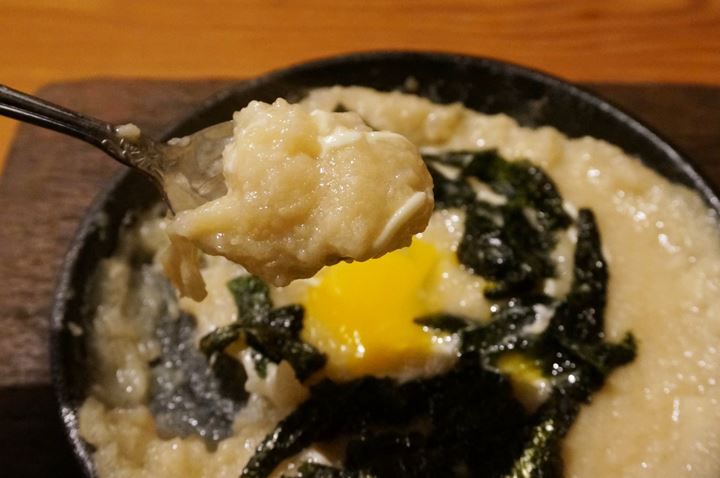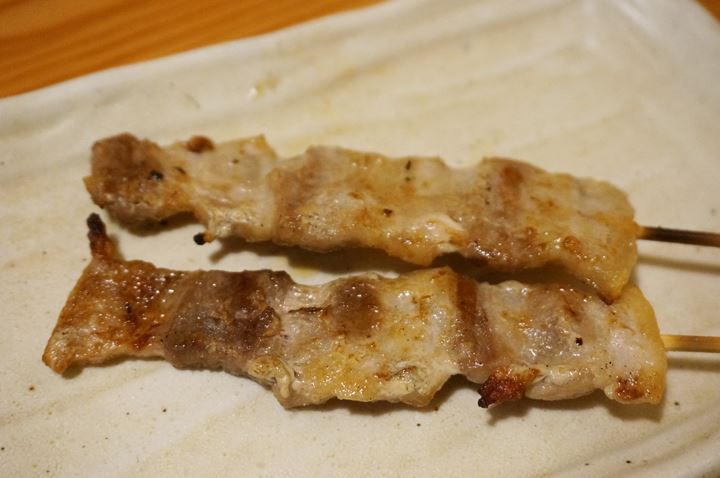 Butabara Kushi Yaki 豚バラ串焼
Pork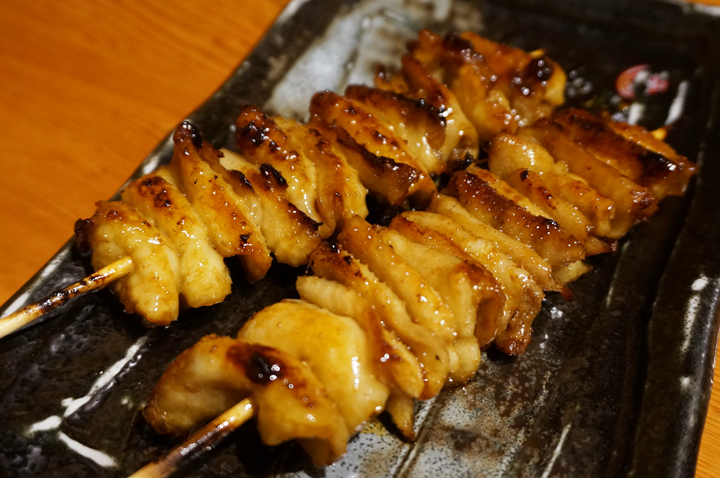 Kawa-tare かわたれ
Juicy Chicken Skin (Barbecue Sauce)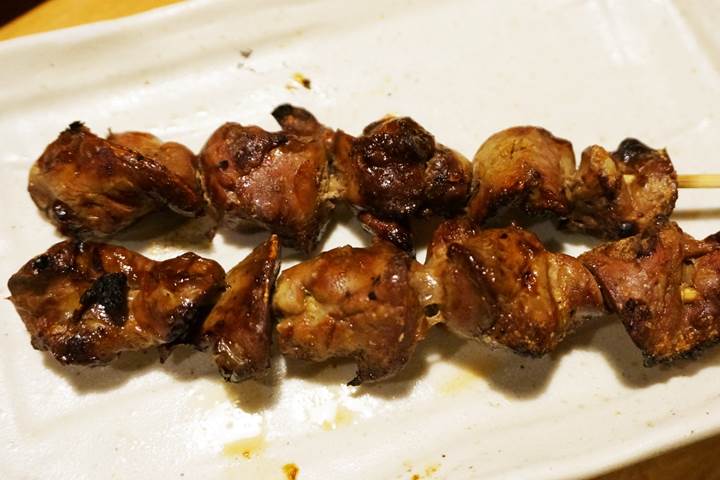 Kimo-tare きも(レバー)
Chicken Liver - Barbecue Sauce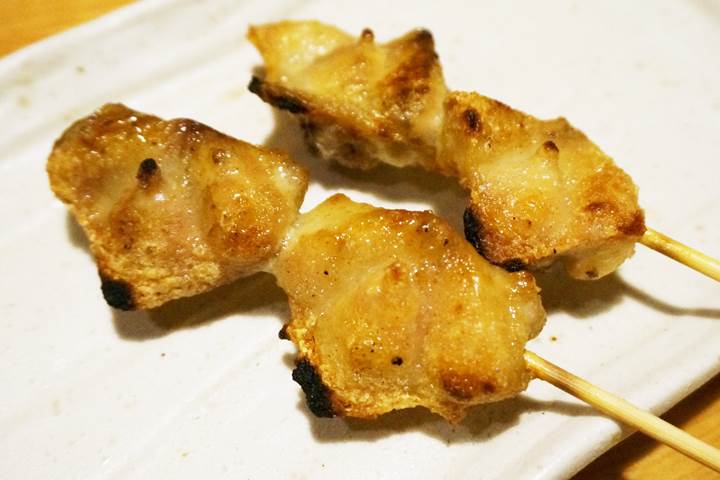 Sankaku-shio (Bonjiri) 三角(ぼんじり)
Chicken Tail with Salt
This is fatty meat.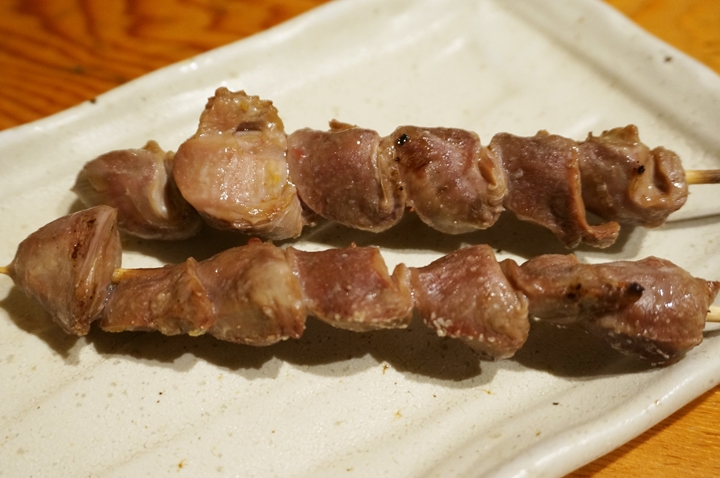 Sunazuri-shio (Sunagimo) 砂ずり (砂肝)
Chicken Gizzard with Salt
This chewiness is good. it is firm but has rich taste.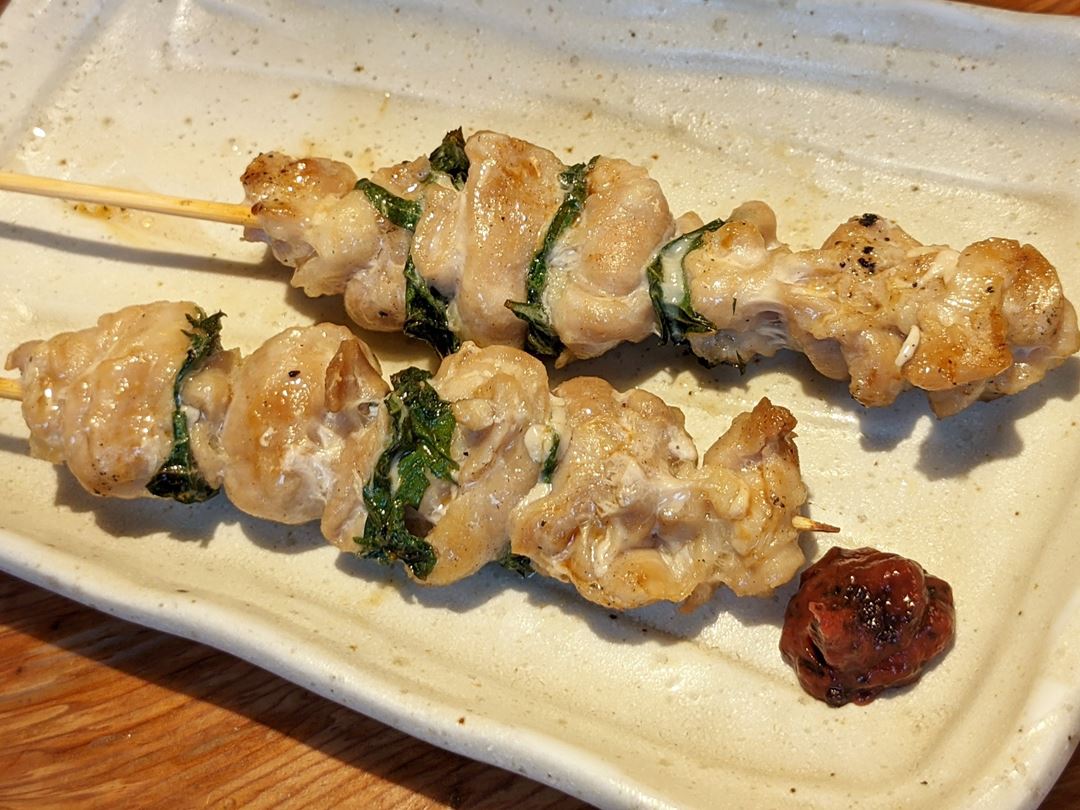 Diaphragm with Plum Pulp 鶏ハラミ梅肉添え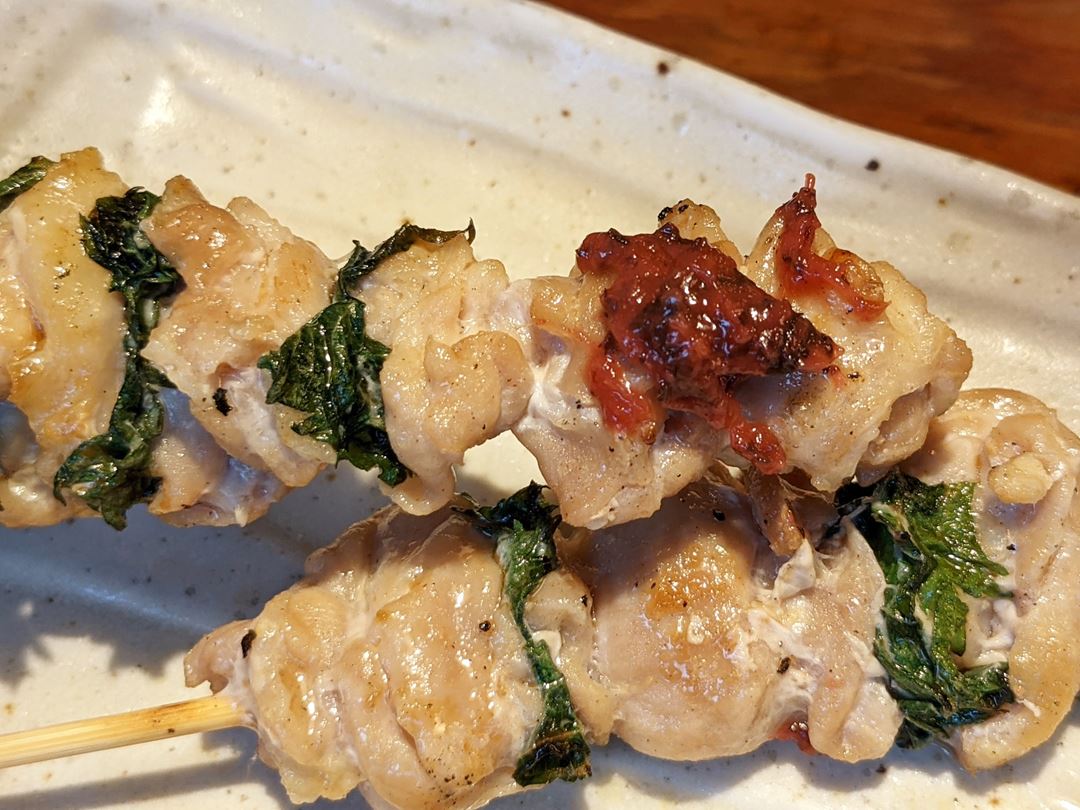 Green shiso leaf (Japanese basil) and ume plum are really refreshing taste, however this meat it is little chewy.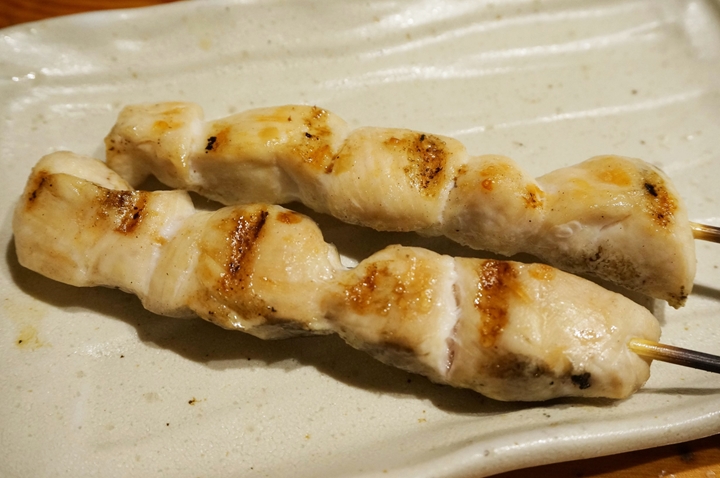 Sasami-shio ささみ 塩
Chicken Breast Fillet with Salt
This tender meat has a simple taste with salt.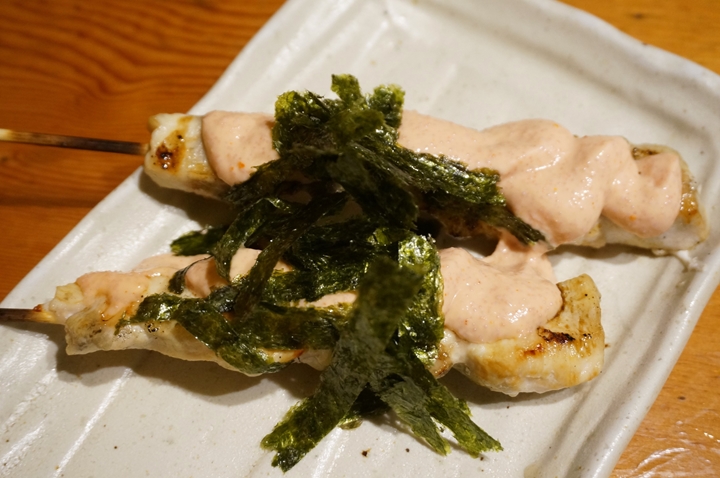 Mune Mentai Mayofu Yaki むね肉明太マヨネーズ風焼
Chicken Breast with Cod Row Mayonnaise and Nori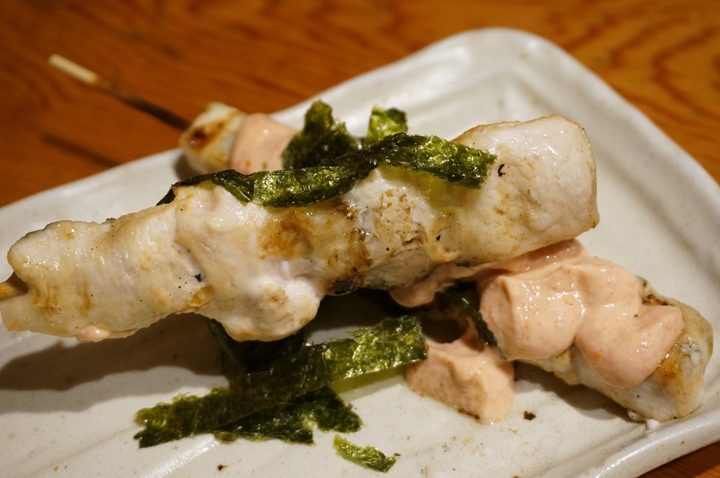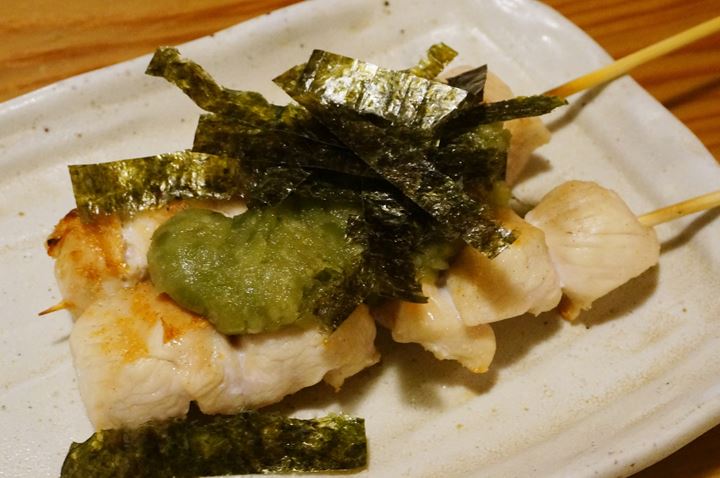 Sasami Wasabi Yaki ささみわさび焼
Chicken Breast Fillet with Wasabi (horseradish paste) and Nori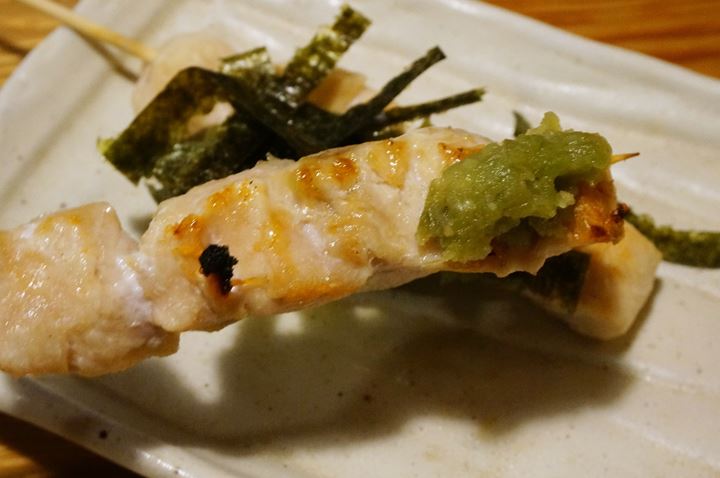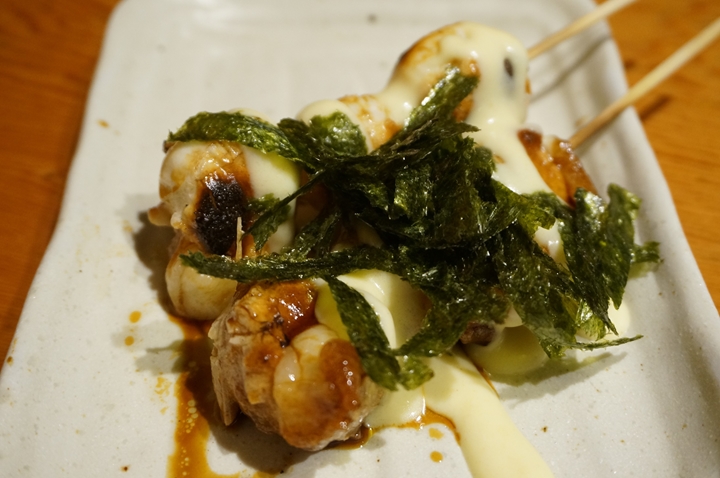 Mochi Cheese Yaki もちもちチーズ焼
Sticky Rice Cake MOCHI with Cheese and Nori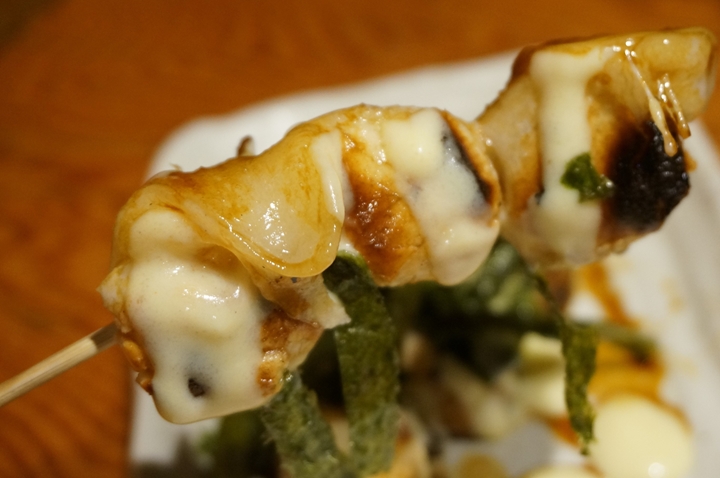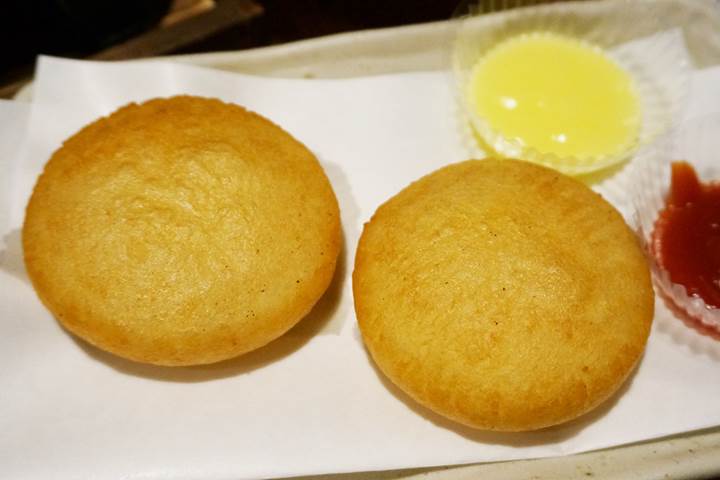 Camembert Croquette カマンベールコロッケ
Potato mixed with a few kinds of cheese such as Camembert and so on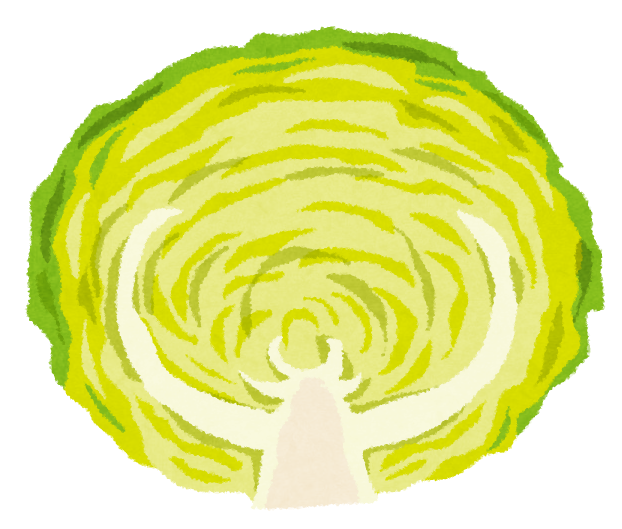 Kyabetsu キャベツ
Cabbage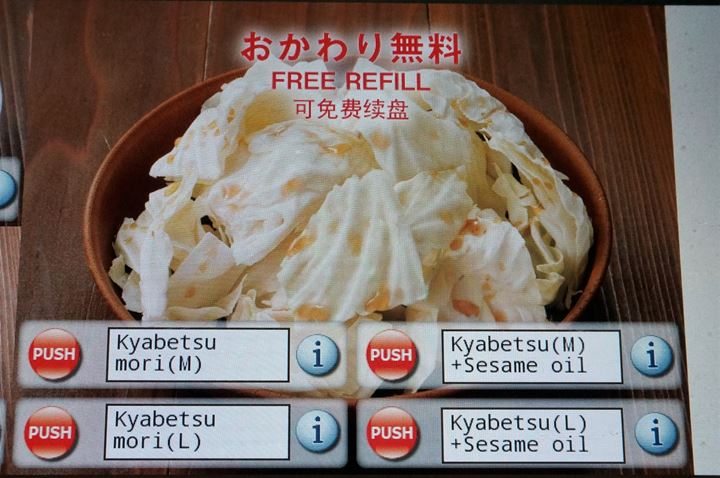 M or L size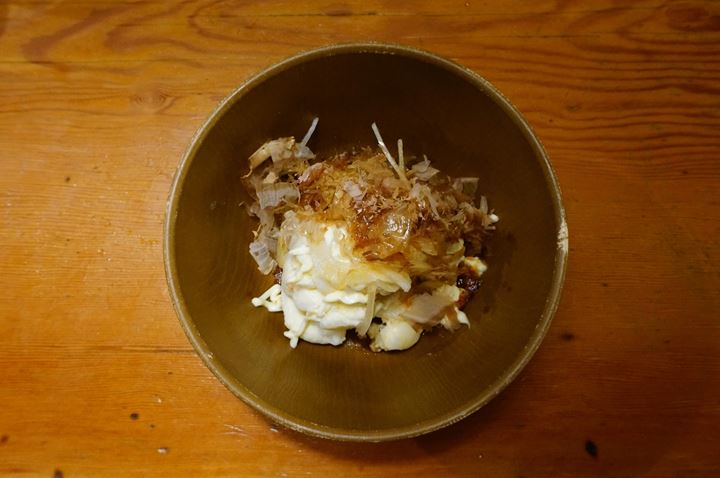 Wafu Potato Salad 北海道産和風ポテトさらだ
Potato Salad with Soy Sauce

I don't recommend this. It is brackish because there is too much soy sauce on the bottom of the cup.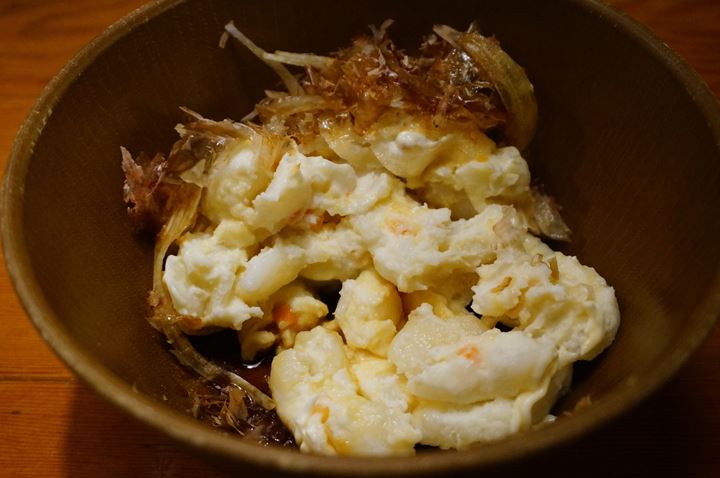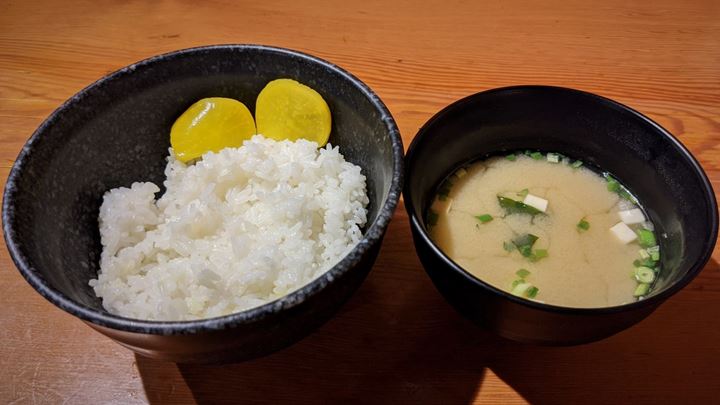 Rice and Miso Soup 白ごはん 味噌汁付
Only small amount of rice!
My Favorite Drinks
1st Kinmugi (Large) 金麦(大)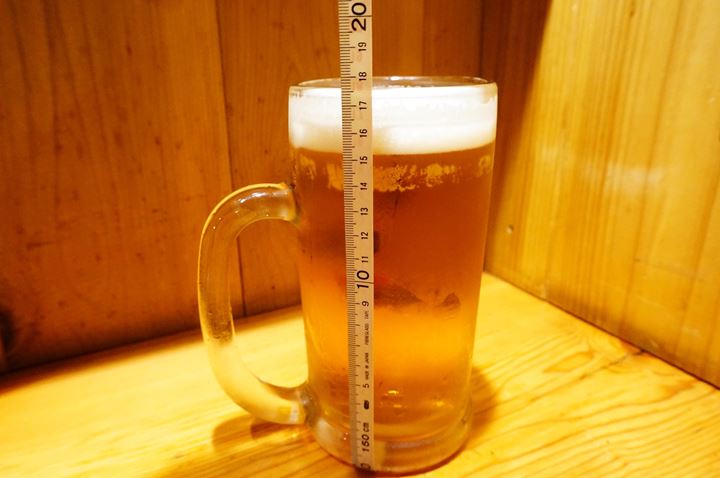 This jug is very large. Taste good with smooth and light flavor!
Kinmugi is alcoholic beverage tastes like beer.
(I am not sure if it is low-molt or molt-free beer.)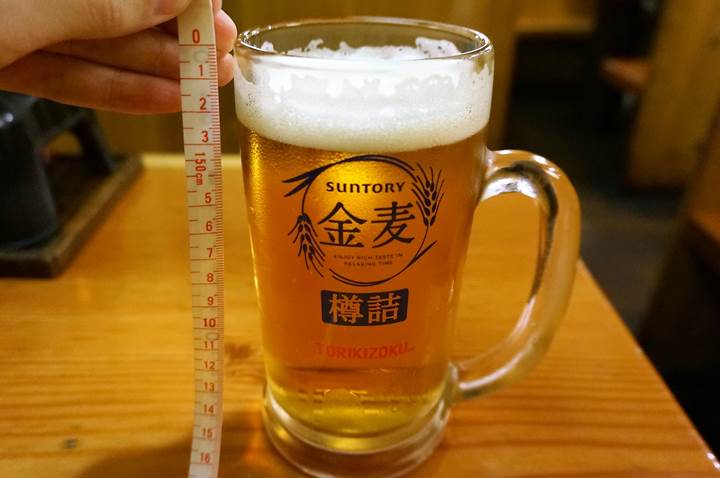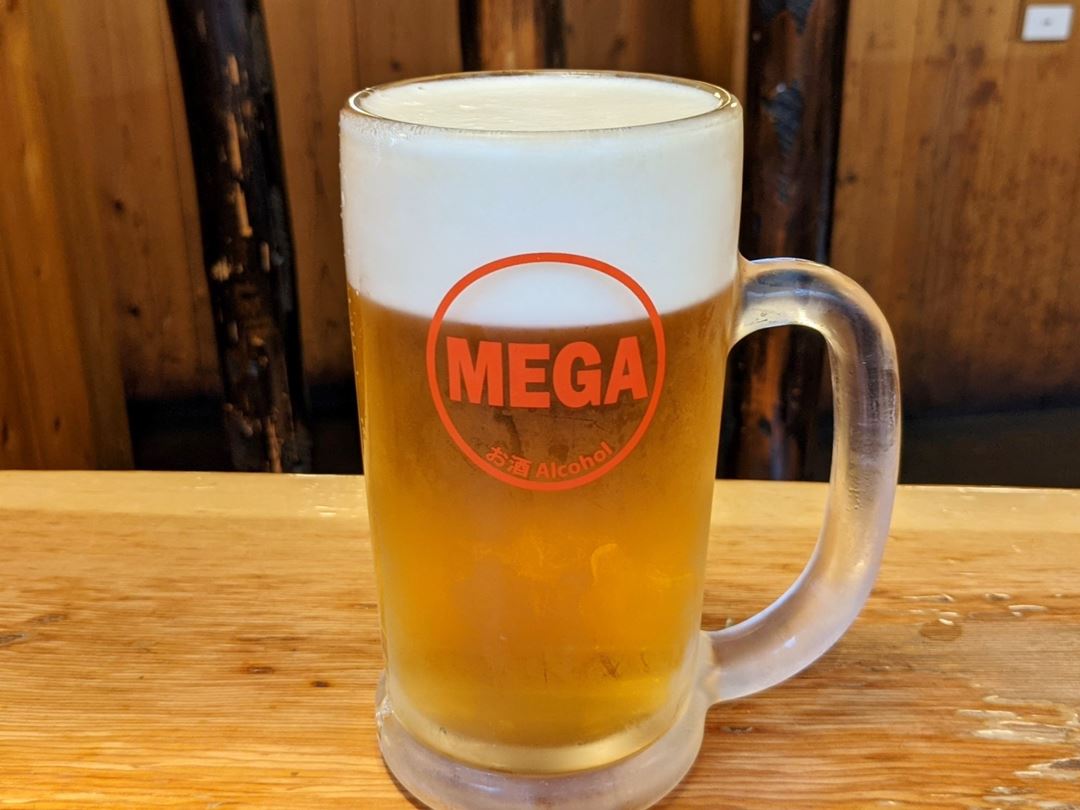 2nd PREMIUM MALT'S - Suntory Beer サントリービール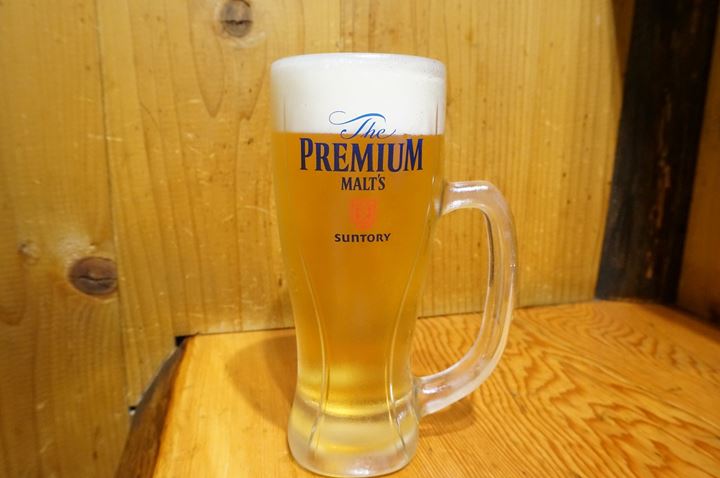 Premium Malt's is smaller than Kinmugi 金麦 beer at this bar, but much better flavor.
3rd MEGA Highball メガハイボール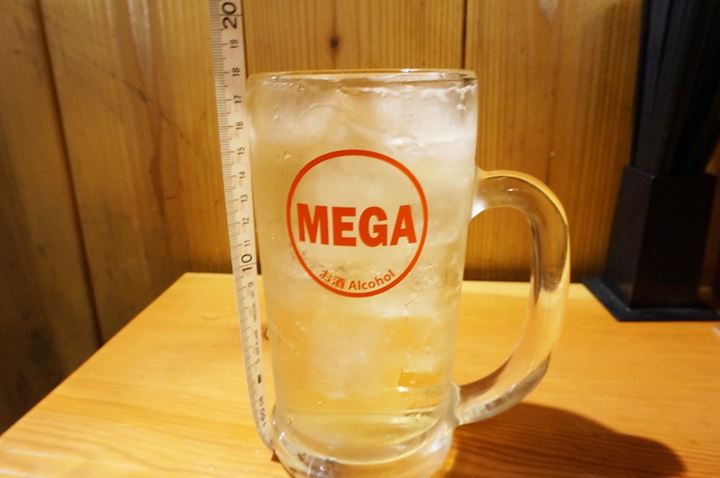 Whisky (Jim Beam) mixed with soda
There is a lot of ice in the glass, but enough alcohol in it.
Other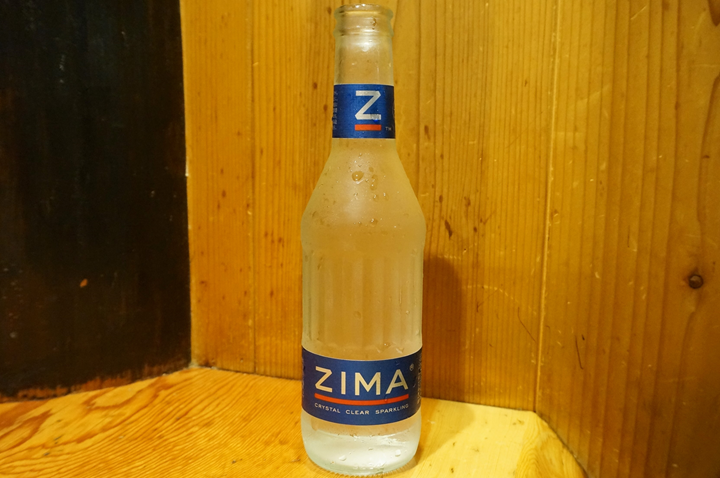 ZIMA
All-You-Can-Eat and Drink
Memo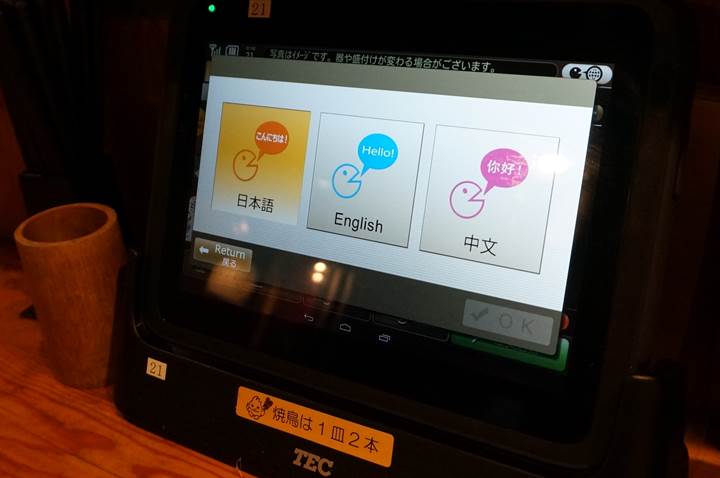 English picture menu is available. Some restaurants use menu book instead of tablet device.
焼鳥は1皿2本 One dish (298 yen) at this restaurant has 2 chicken skewers which are quite large when compared to what is served at other restaurants.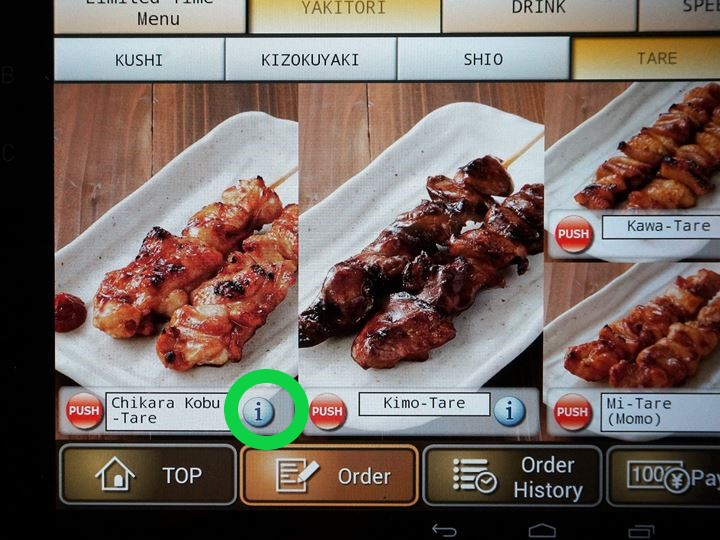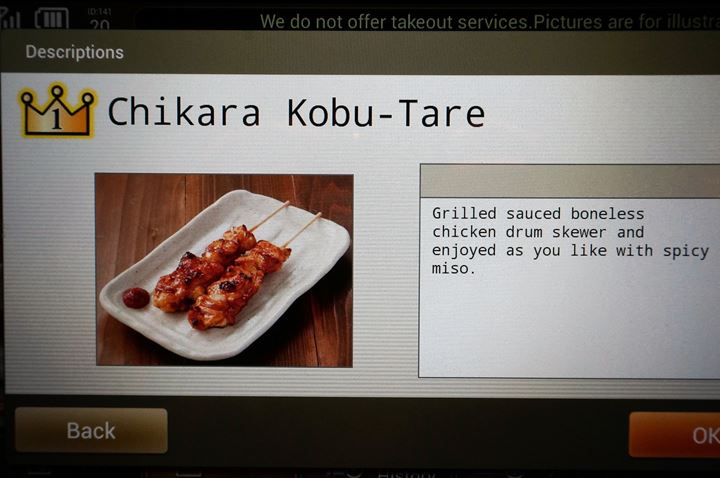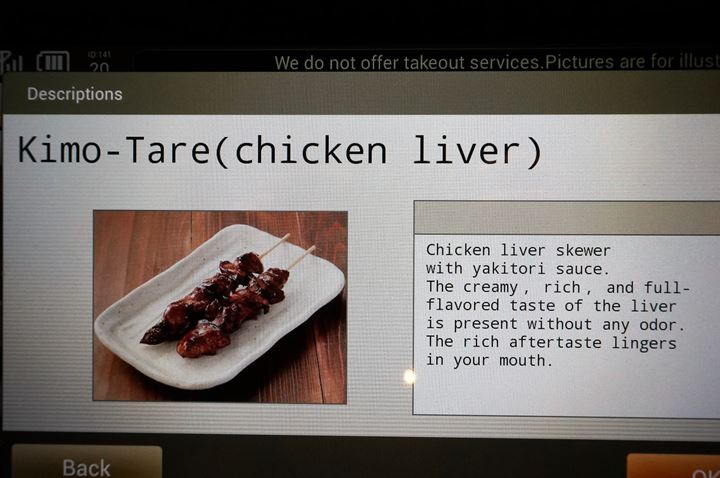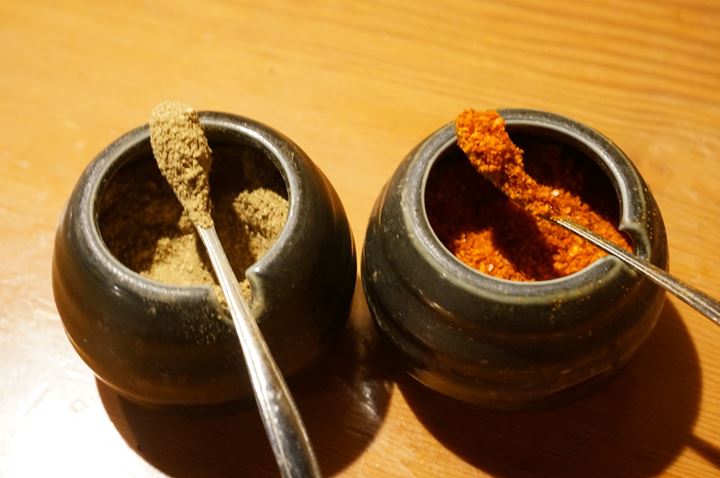 I often put Japanese pepper (山椒 Sansho) and cayenne pepper (一味 Ichimi) on the meat.
I recommend Japanese pepper that has unique flavor.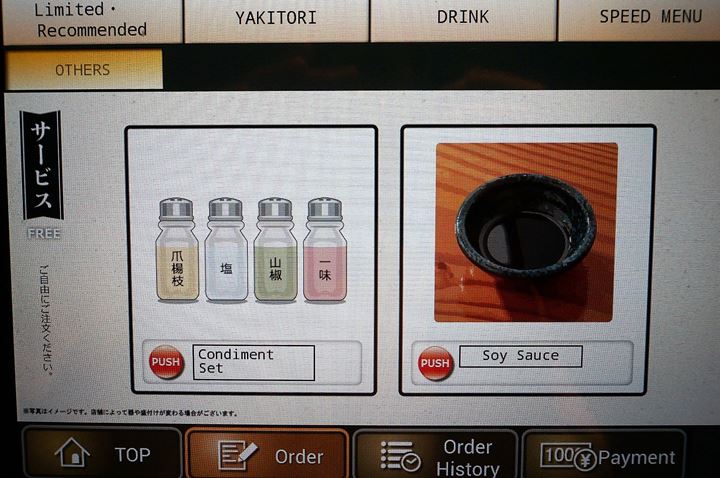 爪楊枝 Tumayoji
Toothpick
塩 Shio
Salt
山椒 Sansho
Japanese Pepper
一味 Ichimi
Cayenne Pepper
醤油 Shoyu
Soy Sauce
These are not prepared on the table. Please order if you want. They are free of charge.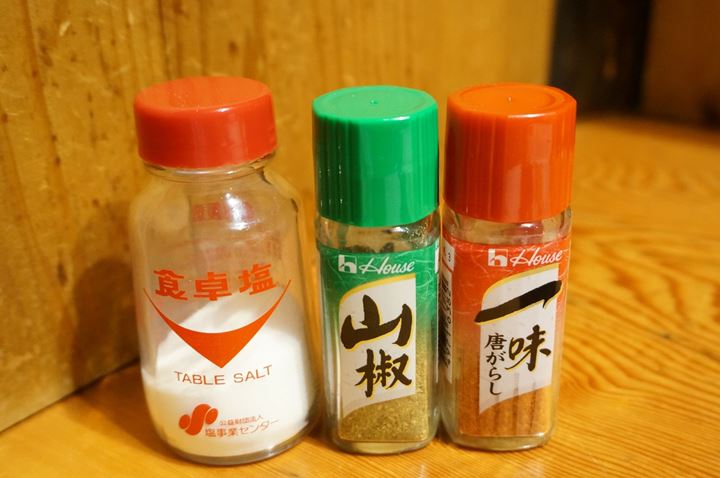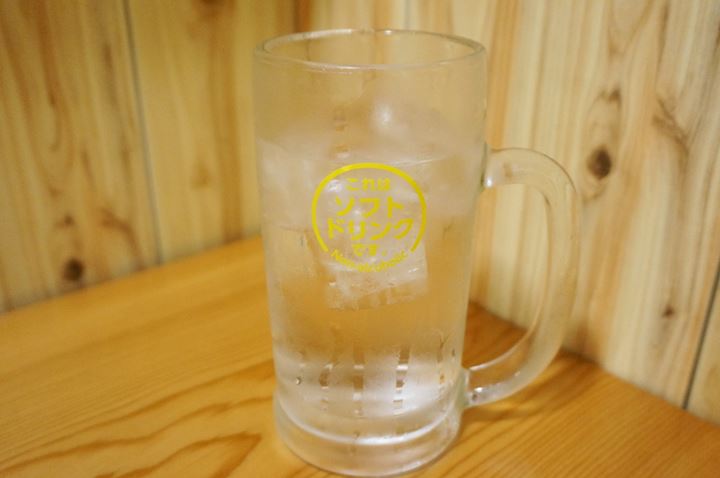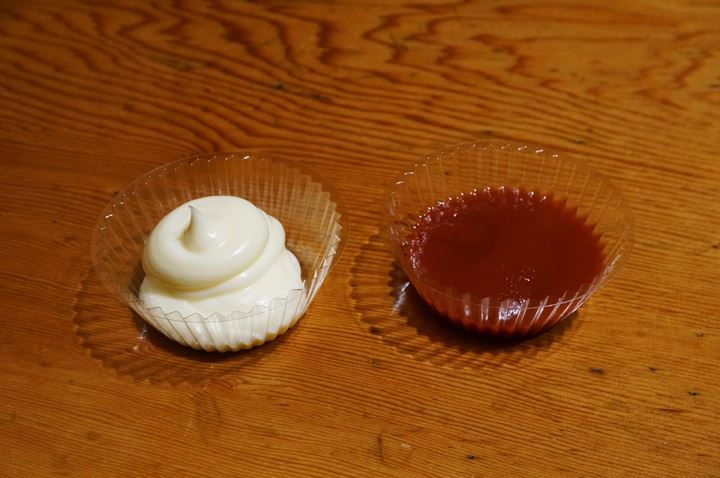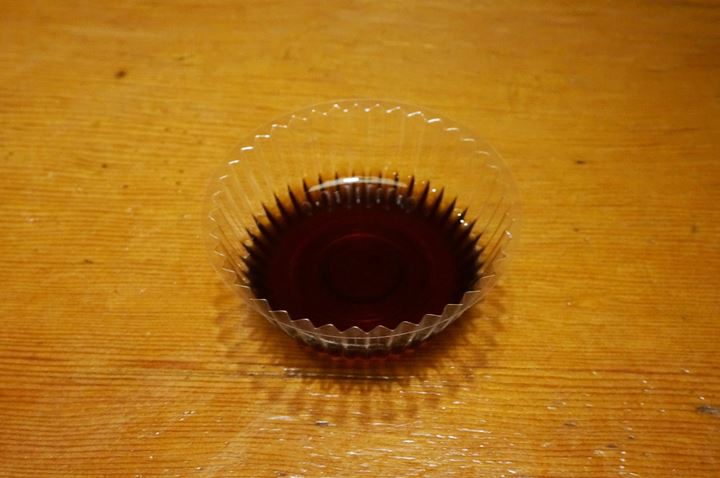 Ponzu Soy Sauce ポン酢 (ポン酢醤油)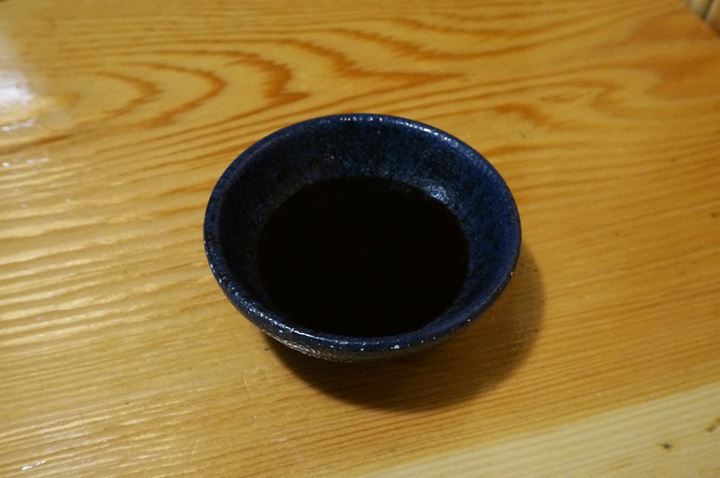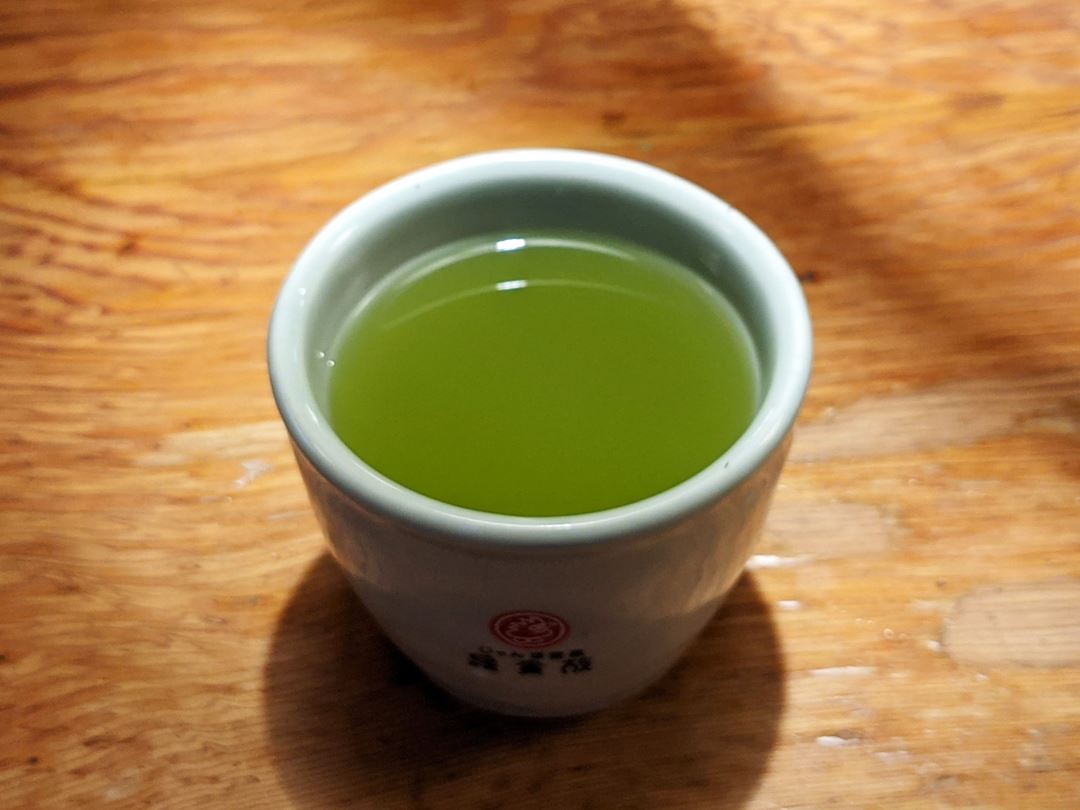 When you finish the meal you can get a cup of hot Japanese tea for free, if you ask the staff. It is not on the menu.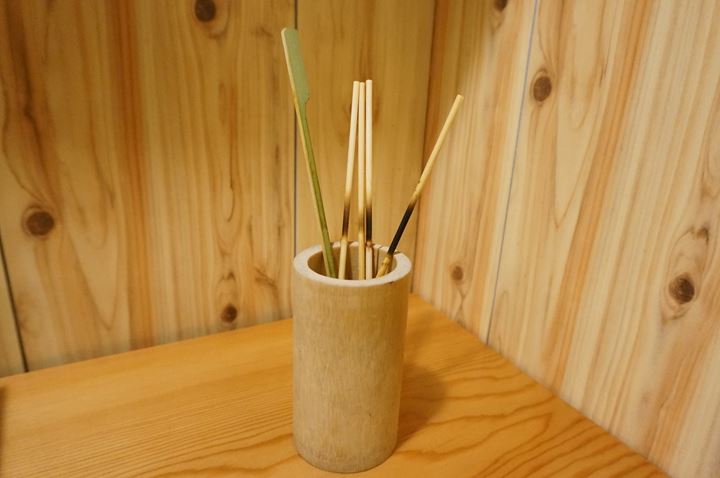 You can put the skewers in this cup.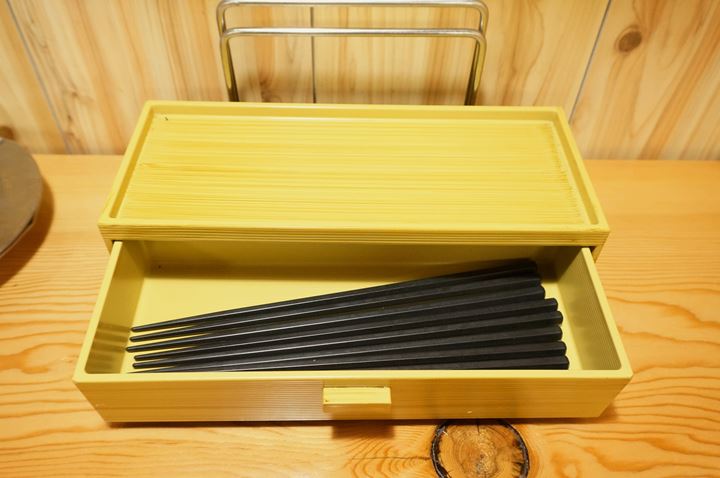 If chopsticks are not prepared on your table, open the drawer in the picture above.
---
Discontinued Dishes
Unfortunately, these items below have been discontinued at this time.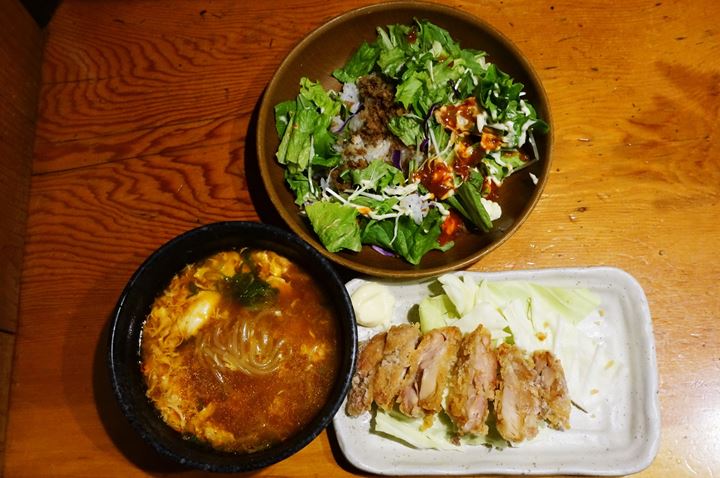 These 3 dishes cost 981 yen in total (including 10% tax).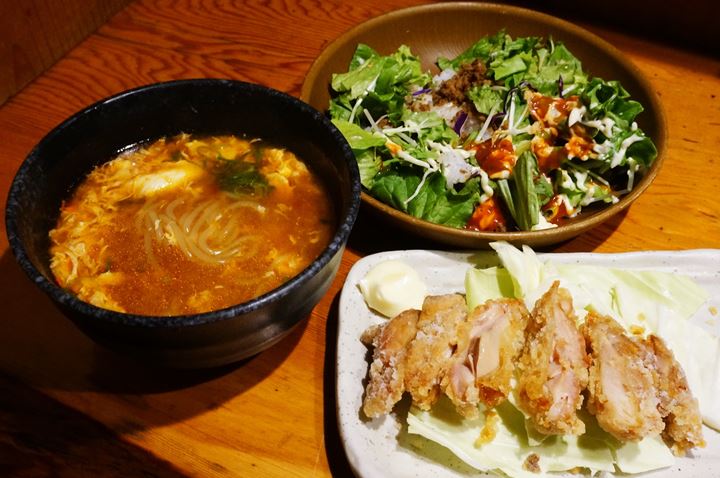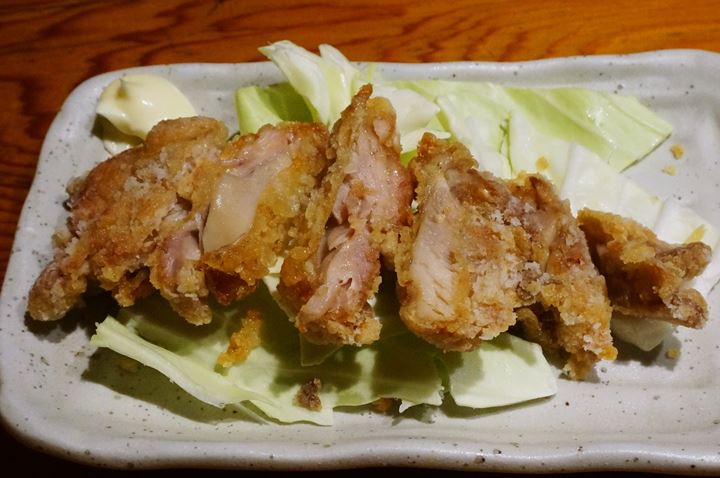 Matsumoto Sanzokuyaki 松本 山賊焼
Tatsuta Style Deep Fried Chicken
It is deep-fried marinated chicken thigh.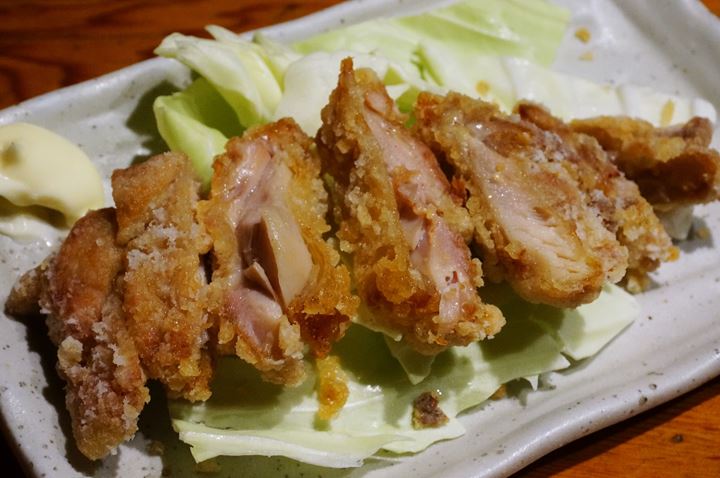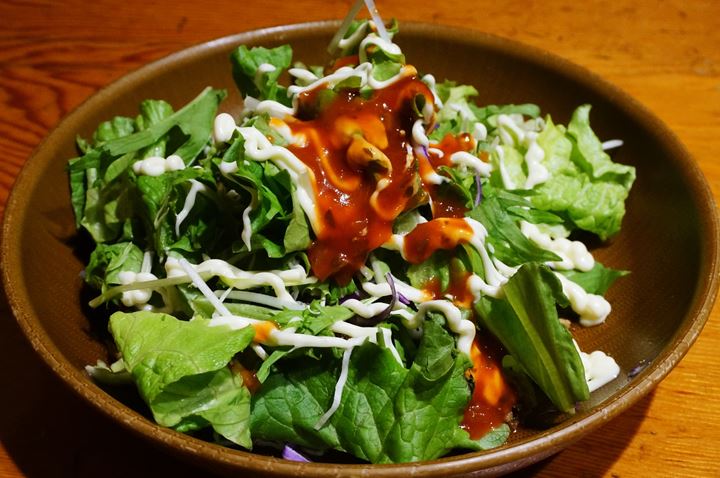 Saga Sicilian Rice 佐賀 シシリアンライス
This is topped with salad, ground meat over rice. It is served with salsa and mayonnaise. Mix them before eating.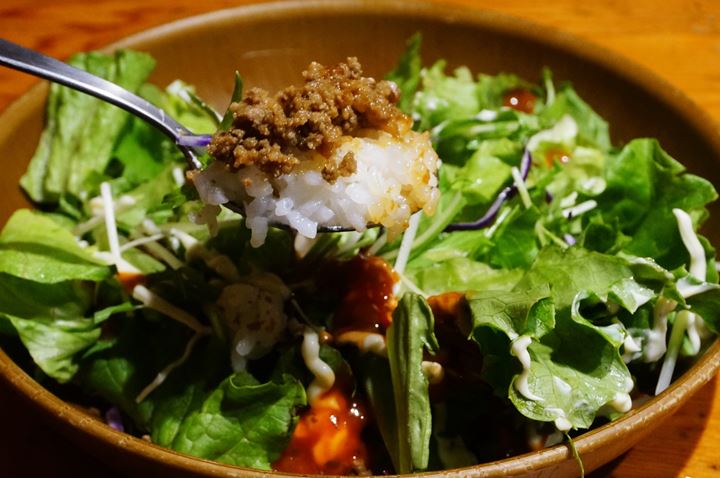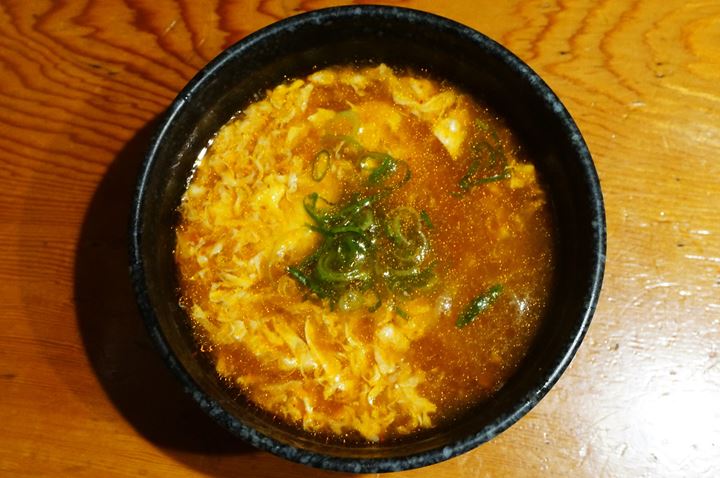 Miyazaki Karamen 宮崎 辛麺
A little Spicy Ramen
It is used chicken broth, garlic, chili pepper and beaten egg.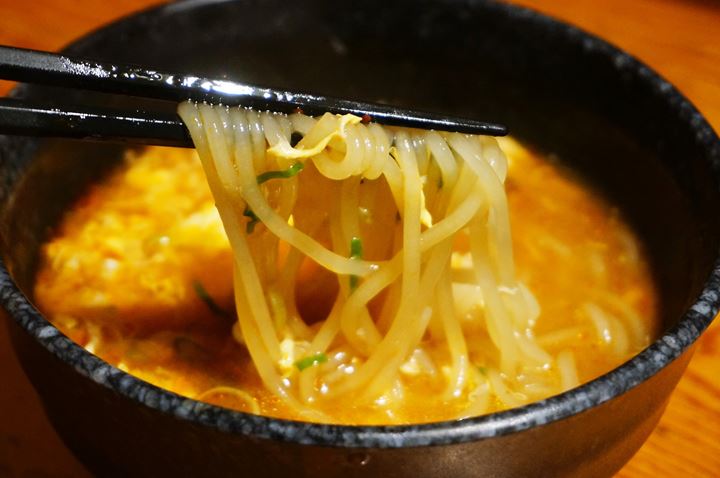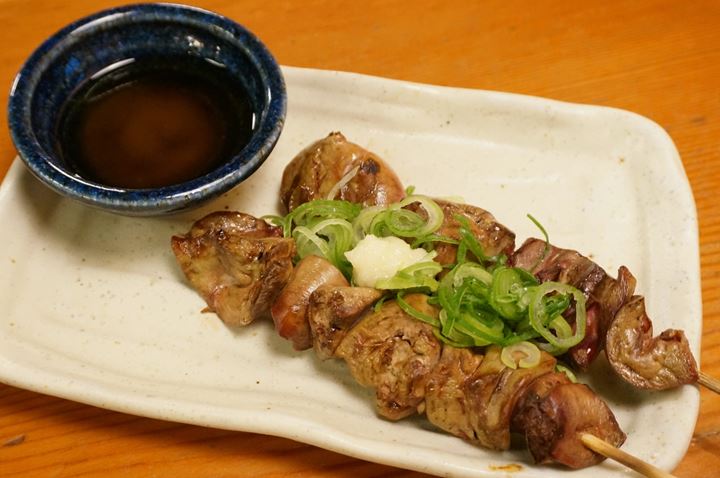 Kimo Yaki Served with Salty Sesame Oil きも焼 塩ごま油添え
Chicken Liver (Instead of the barbecue sauce, it is served with salty sesame oil, green leak and garlic.)
* It is seasonal food in spring and summer, 2019.
To be honest, I don't recommend this. Bad taste!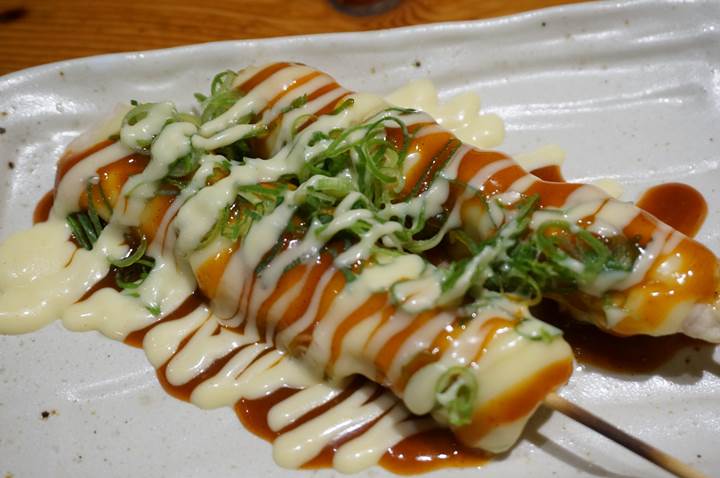 Cheese Dakkarubi Kushi むね肉チーズダッカルビ風串焼
Chicken breast skewer with dakkarubi sauce and cheese sauce
I think this is too much sauce. Taste so-so.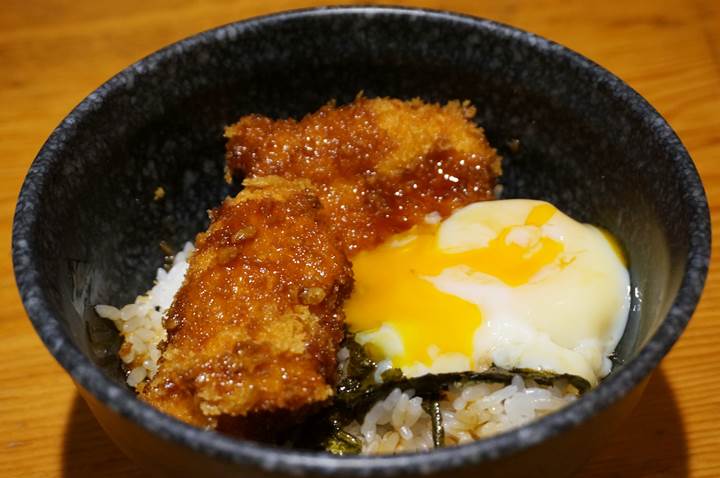 Chicken Tare Katsudon チキンタレかつ丼
Deep-fried chicken cutlet and half boiled egg on rice
I prefer chicken thigh to breast. It might be used chicken breast but this rice bowl is yummy!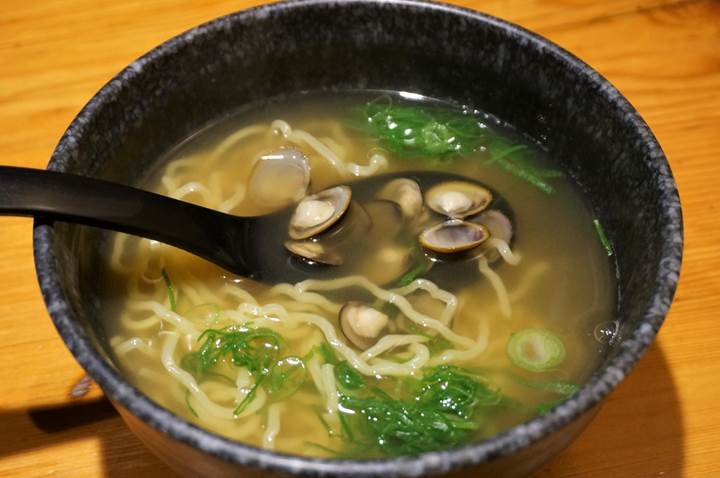 Shijimi Ramen しじみラーメン
Domestically produced freshwater clams Ramen
It has a slight taste of fresh water clams, but I like a stronger tasting freshwater clam soup.

Another shop's shijimi ramen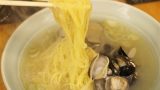 Shijimi Freshwater Clam Ramen in Kochi 高知 Shikoku 四国 - 呑兵衛屋台 しじみラーメン
Whenyouaredrunk,abowloffreshwaterclamramenwillsoberyouup.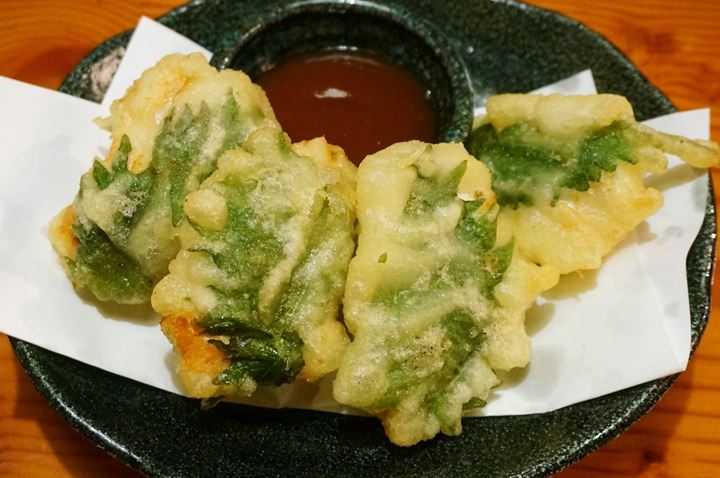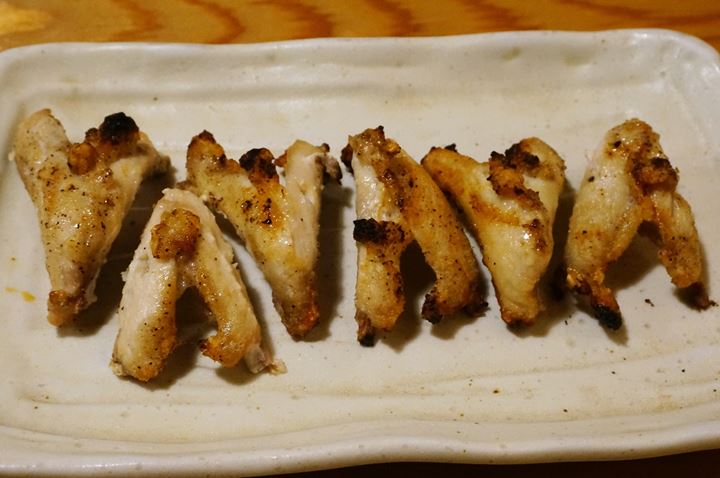 Matsuba no Spice Yaki 骨付まつばのスパイス焼き
Chicken Wishbone
It is grilled with their original spice.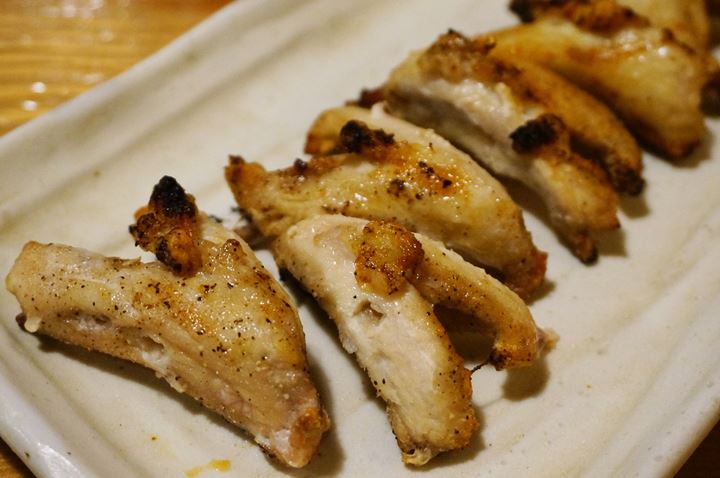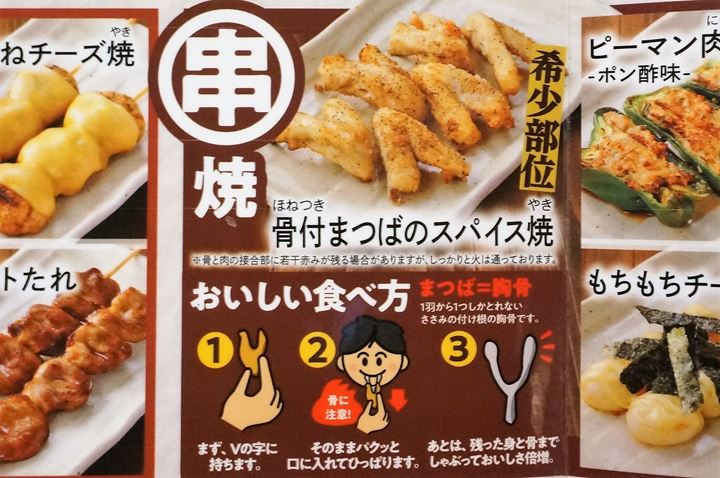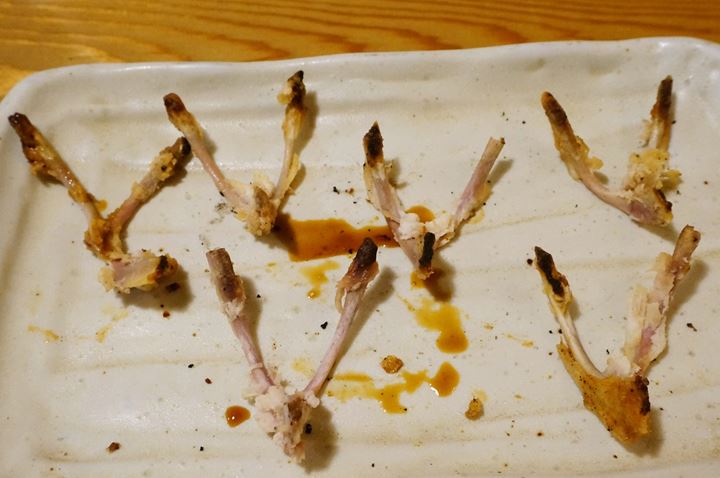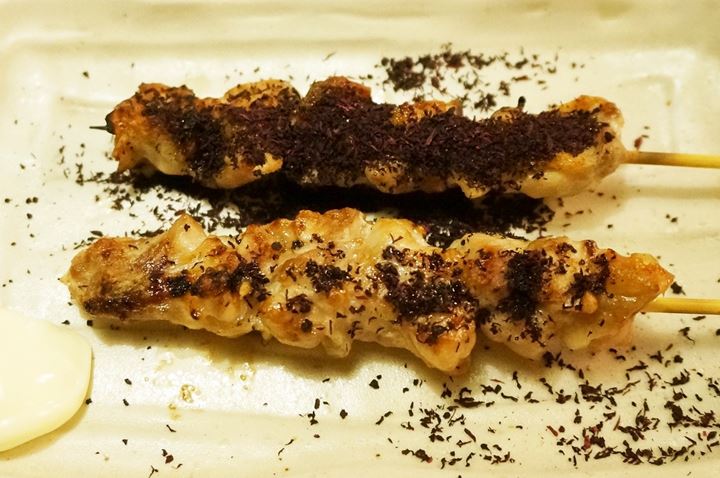 Information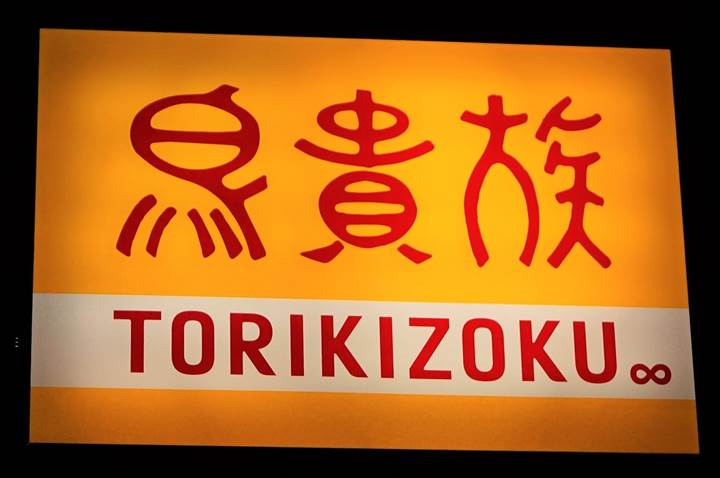 Bar restaurant name
TORIKIZOKU 鳥貴族
Website (in Japanese)
鳥貴族 | 全品均一価格の焼鳥屋
鳥貴族は、北海道から沖縄まで日本全国に店舗展開している焼鳥屋(居酒屋)です。国産食材にこだわり、1本1本丁寧に串打ちした焼鳥を、手作りのタレで焼き上げてご提供いたします。
10% consumption tax is not included in the prices.

No cover charge / No service fee
Open from evening through mid-night (No lunch)
Most of the branches accept smoking.
English picture menu is available.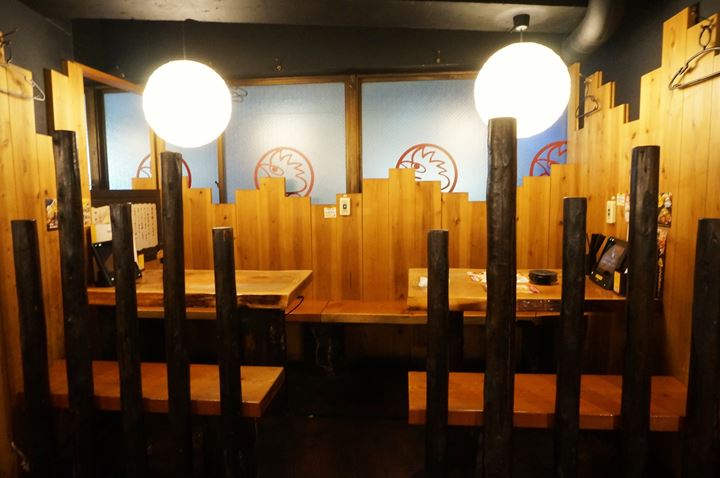 Non-smoking branches in downtown Tokyo area are below.

All of TORIKIZOKU restaurants in Tokyo are now NO SMOKING because of a local ordinance that became effective on April 1st, 2020.
Near Ikebukuro 池袋 Station
池袋グリーン大通り店
南池袋公園前店
Near Shibuya 渋谷 Station
渋谷宇田川町店
渋谷西口店
About all of the non-smoking branches (in Japanese)
I introduce some restaurants around popular sightseeing places in downtown Tokyo.
Check out Google Maps below!
---
Other bar restaurants that offers chicken skewer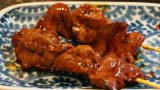 Grilled minced chicken skewer at TORINO-OUSAMA つくね専門 鳥の王様 in Nishiarai 西新井 Tokyo 東京 - Yakitori Izakaya 焼き鳥 居酒屋
ThisJapanesebarrestaurant(Izakaya)specializesingrilledchickenmincepattyonaskewer.Thereareovertendifferentvarietiesofgrilledmincedchickenskewerssuchasgarlic,cheese,fruit,basil,mayonnaiseandmanymore.(Theyare90yentomore.)Nama-tsukune生つくね90yen(Thephotoabove)is...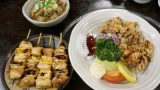 もつ焼き 稲垣本店 Grilled chicken on a skewer / Grilled organ meat Motsuyaki INAGAKI Honten near Asakusa 浅草 Tokyo
WillyougotopopularsightseeingplaceSensojiTemple浅草寺inAsakusa浅草Tokyo?ThereisahighlyrecommendJapanesestylebarrestaurantlocated10minuteswalkfromAsakusa浅草Stationofsubway.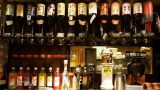 Self Service All-You-Can-Drink Alcoholic beverages at a Skewered Chicken Bar Restaurant YAKITORI MARUKIN in Tokyo やきとり〇金
InJapan,manybarrestaurantsofferall-you-can-drinkalcoholicbeverages.IknowagoodplaceinTokyoforthepeoplewhocan'treadandspeakJapanese.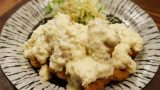 Delicious Chicken NAMBAN チキン南蛮 at a Restaurant KOSHITANTAN 虎視眈々 in Shibuya 渋谷 Tokyo 東京 Japan
AreyoulookingforarecommendedrestaurantinShibuya渋谷Tokyo?HaveyoueatenaJapanesechickendishcalledCHICKENNAMBAN?