They specializes in inexpensive grilled pork organ meat.
Food Photos
One skewer costs 90 yen. (as pictured on this blog)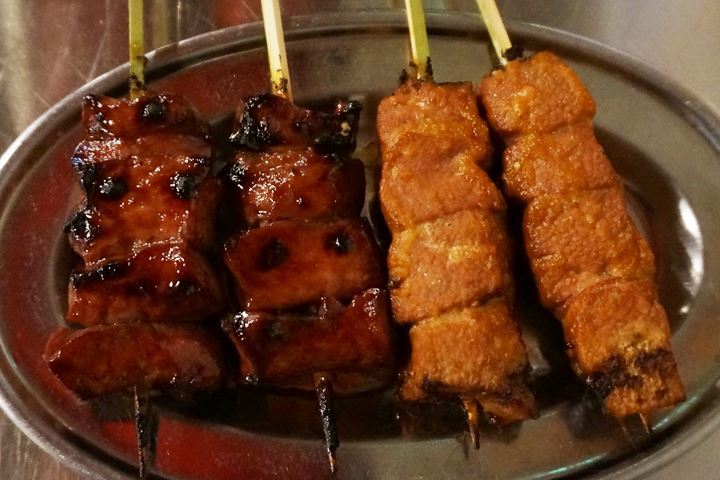 Pork Liver 90 yen
れば (肝臓) Reba

Pork Heart 90 yen
はつ (心臓) Hatsu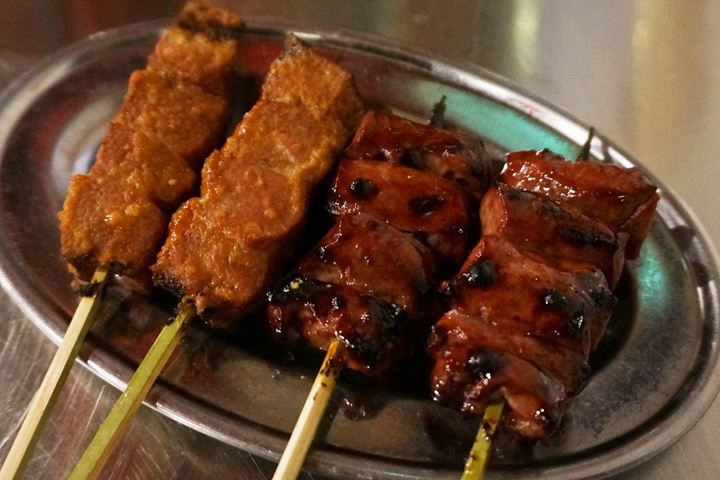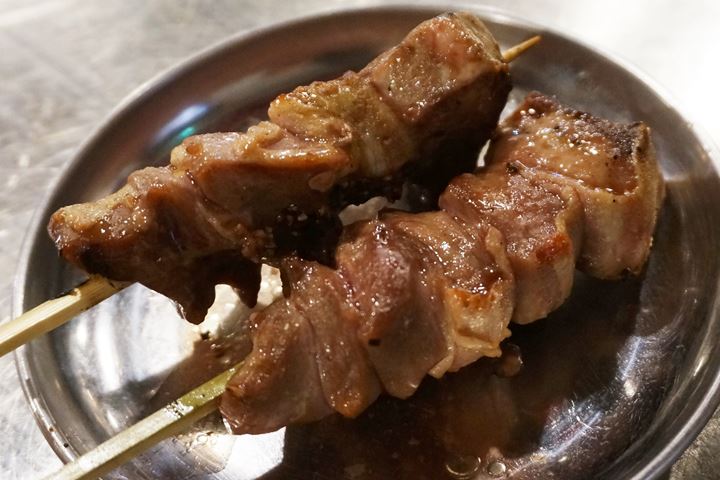 Pork Tongue 90 yen
たん (舌) Tan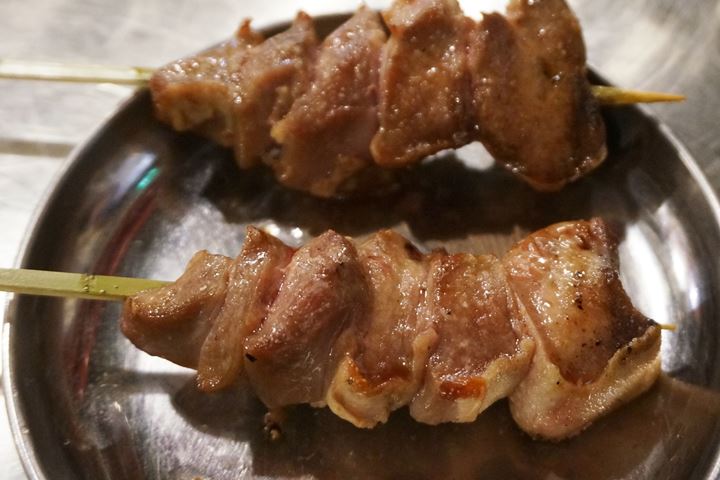 with salt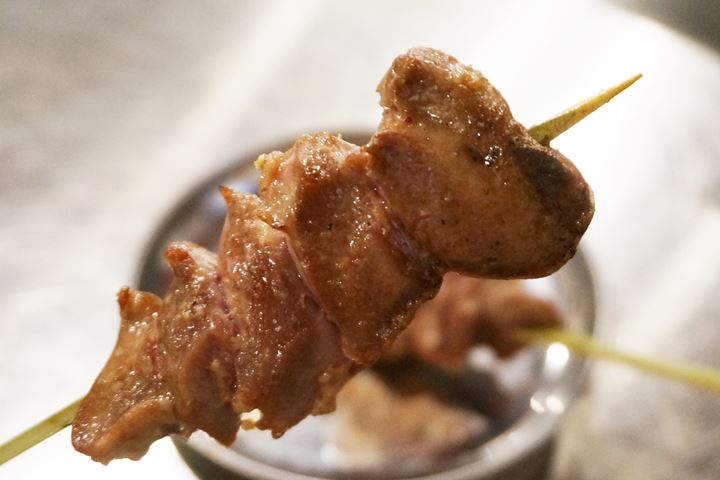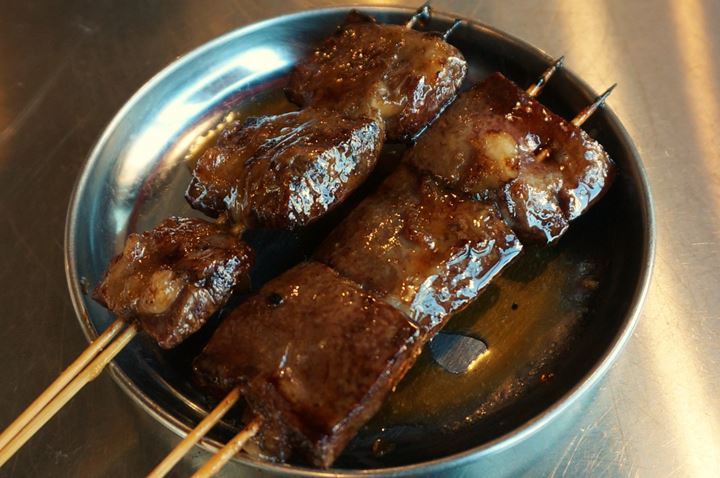 Pork Spleen 90 yen
ちれ (脾臓) Chire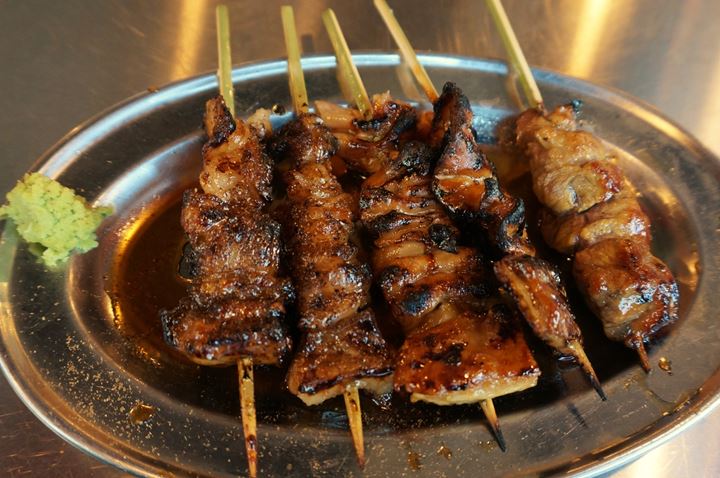 Pork - Fatty Meat around Small Intestine(2), Large Intestine(2), Head / Temples(1) 90 yen
きく(小腸付近脂) Kiku、しろ(直腸~大腸) Shiro、かしら(こめかみ) Kashira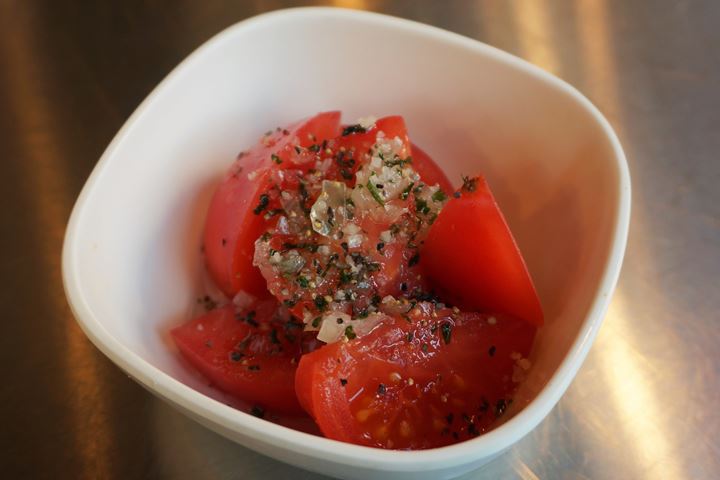 Chilled Marinated Tomato with Salt 280 yen
冷やしトマトマリネ Hiyashi-tomato-marine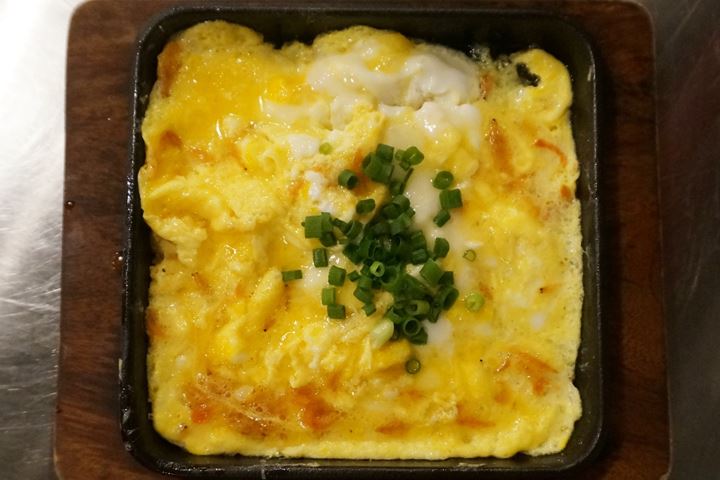 Japanese Dashi Broth Omelette 380 yen
だし焼きたまご Dashi-yaki-tamago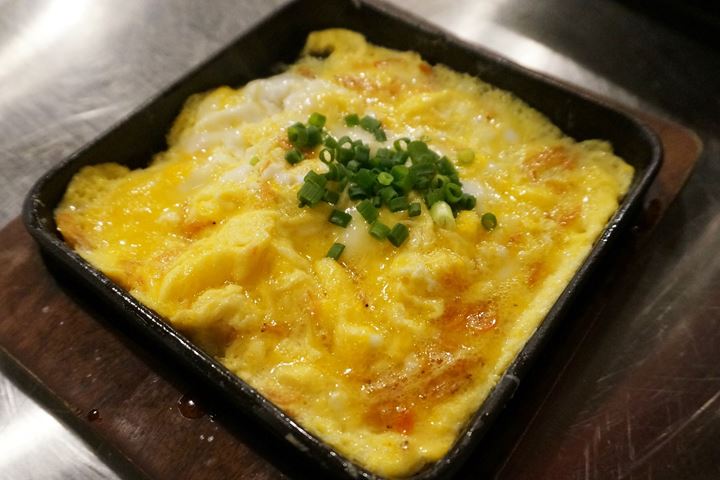 It includes some shrimps in it.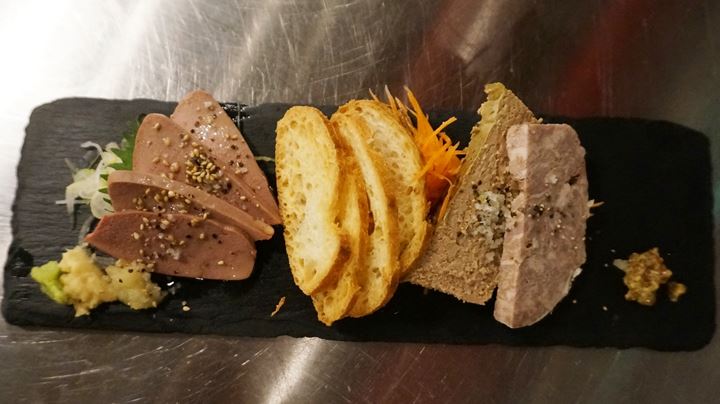 3 Types of Liver Items
れば三昧 Rebazanmai

Seasonings:
Wasabi, Ginger, Garlic, Masterd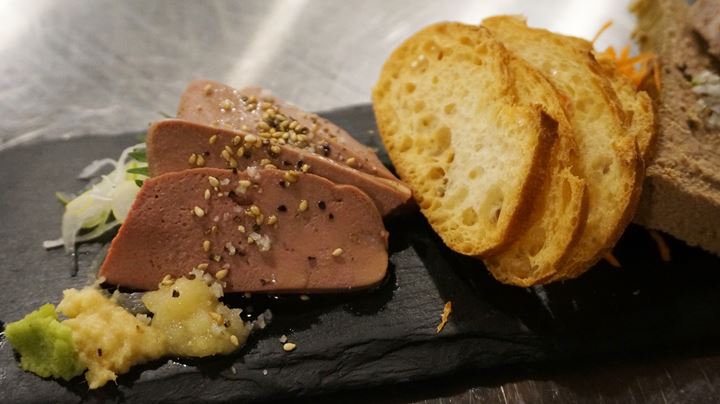 Liver Sashimi (It is cooked, not raw.)
れば刺し Reba-sashi

Baguette
バケット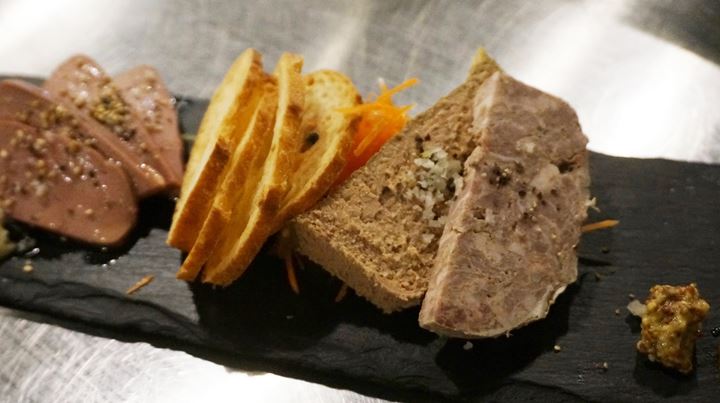 Liver Mousse
ムース

Liver Paste
パテ pâté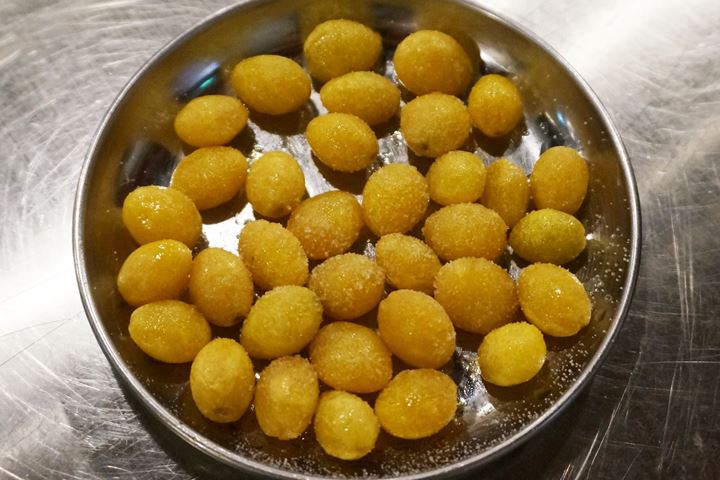 Deep Fried Ginkgo Nuts 280 yen
銀杏揚げ Ginnanage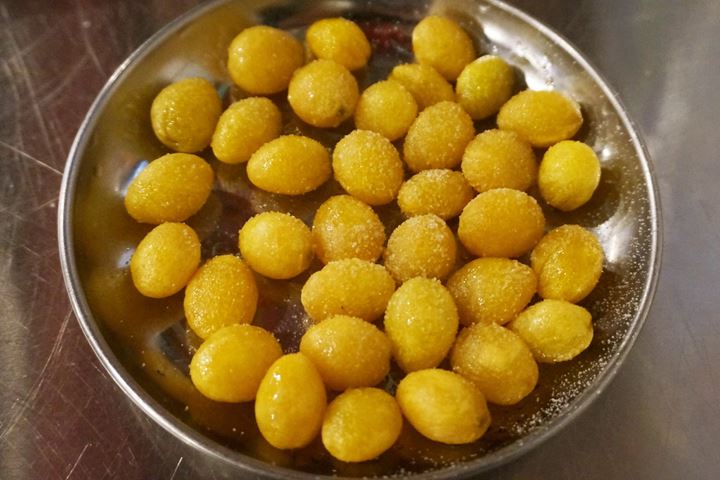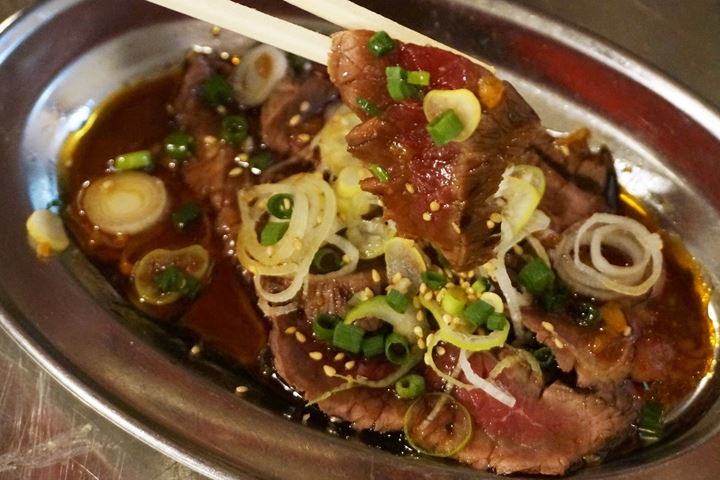 Flash Seared Beef 480 yen
牛肉たたき(肉のタタキ) Gyuniku-tataki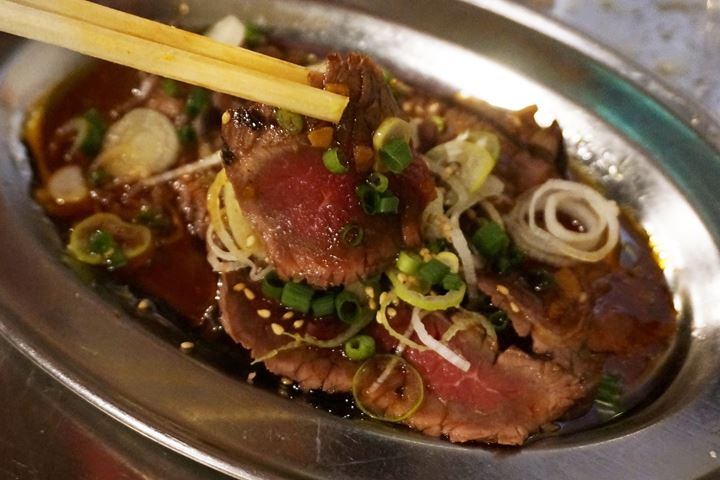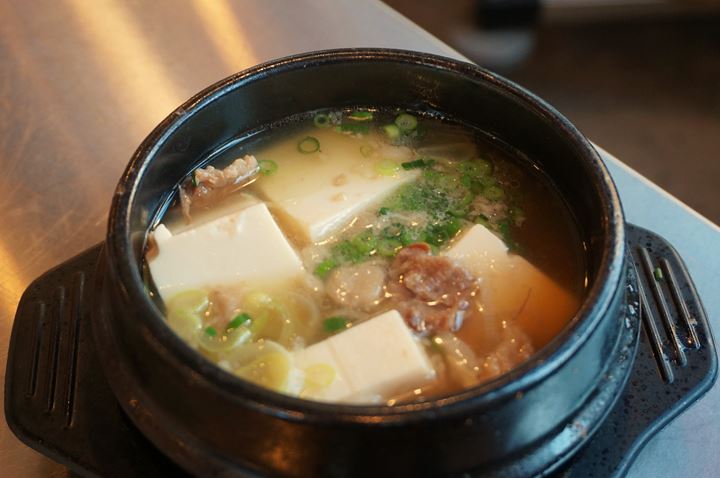 Stewed Beef Tendon and Tofu 380 yen
牛すじ豆腐 Gyusuji-dofu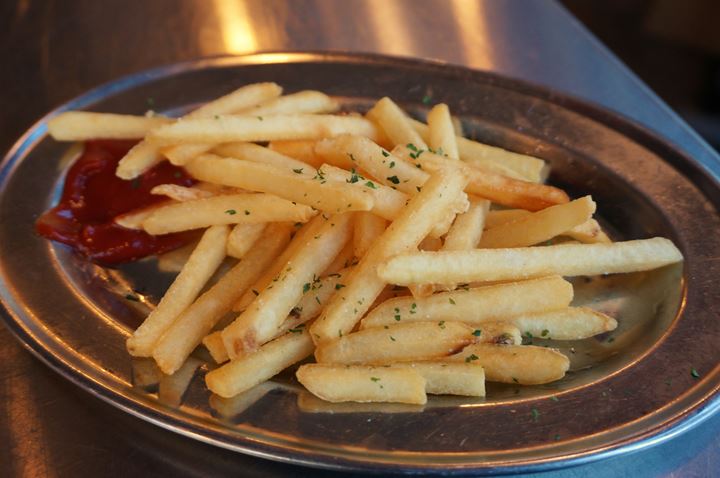 French Fries 380 yen
フライドポテト Fried Potato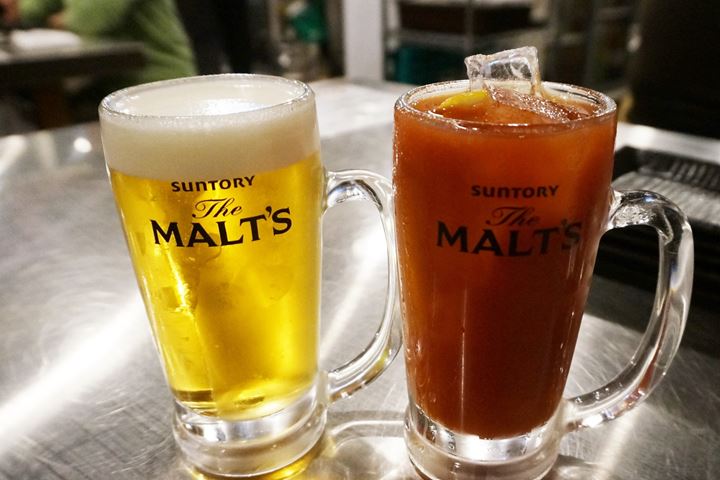 Draft Beer SUNTORY Malt's 430 yen
モルツ・ザ・ドラフト(生ビール) Nama-biru

Tomato Shochu 350 yen
トマトハイ Tomato-high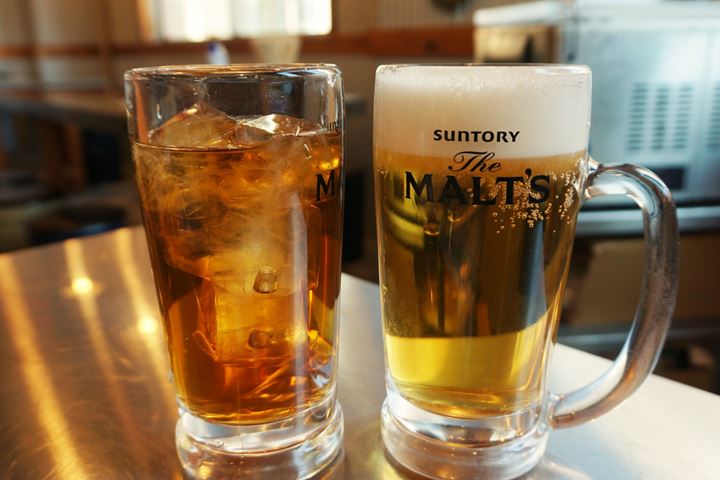 Oolong Tea (Non-alcoholic) 259 yen
ウーロン茶 Oolong Cha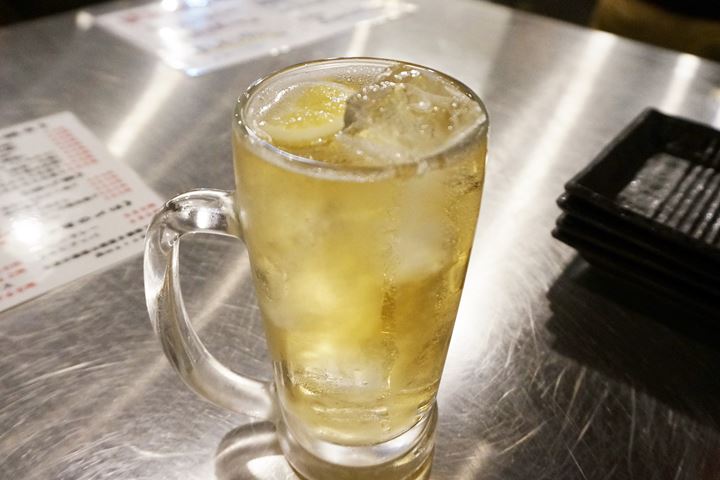 Strong Highball 440 yen
濃いめ角ハイボール Koime-kaku-highball
Japanese whisky KAKU 角 mixed with soda. I guess it has a double portion of whisky more than normal …
Highball 390 yen
角ハイボール Kaku-highball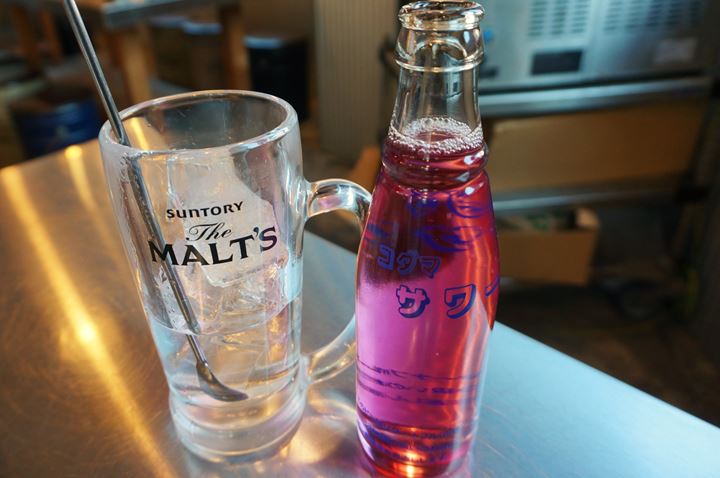 Japanese Red Basil Soda and Shochu 400 yen
しそバイスセット Shiso-baisu-set
This basil is red perilla.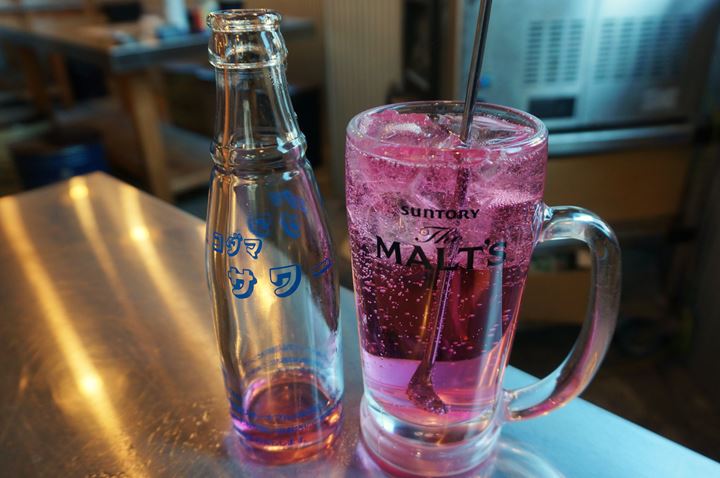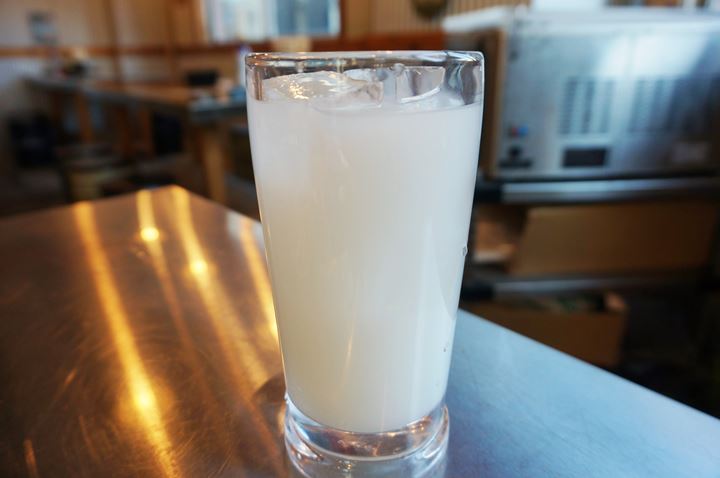 Calpico (Non-alcoholic) 250 yen
カルピス Karupisu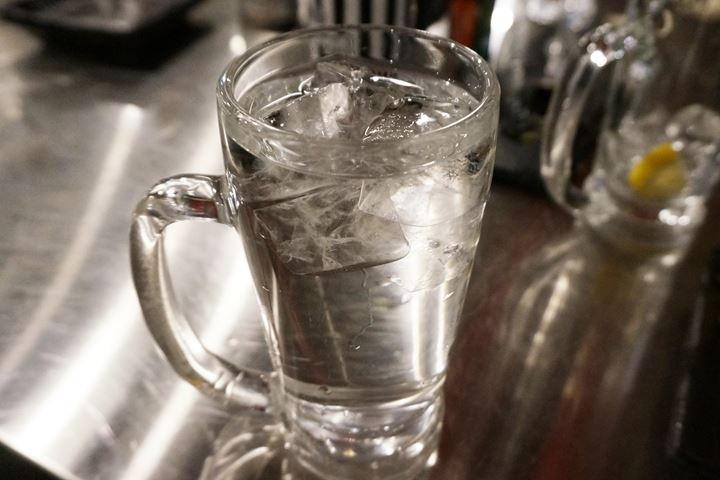 Iced Water 0 yen
お冷 Ohiya
You can get this for free if you order.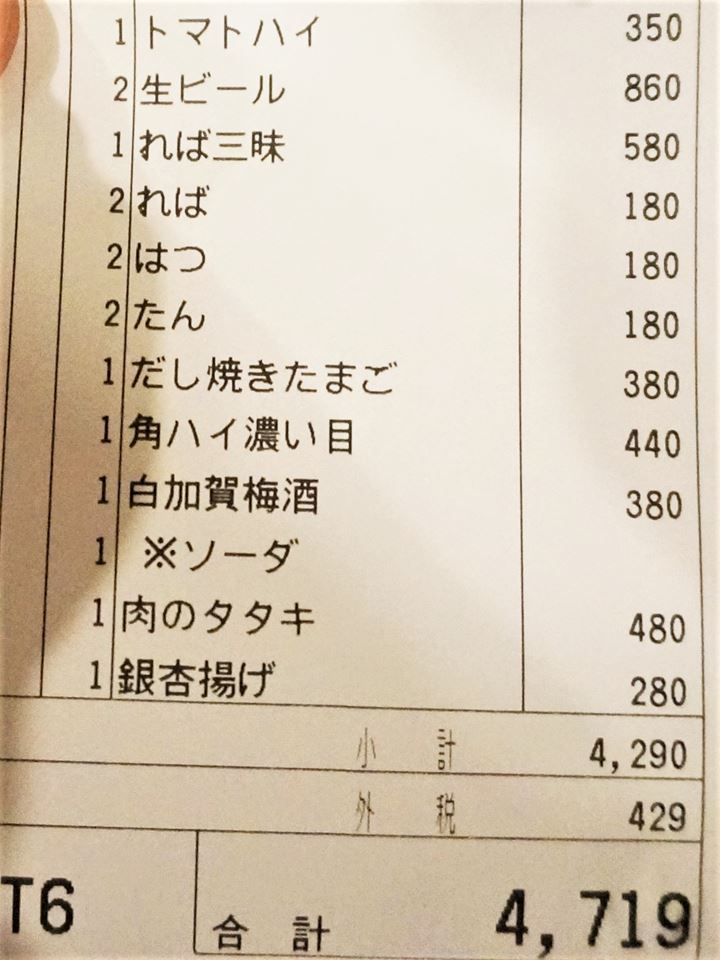 Memo

生ビール 860: Draft Beer 430 yen × 2

白加賀梅酒 Umeshu ※ソーダ: Plum Wine mixed with Soda 380 yen (There is no photo on this blog.)

2 people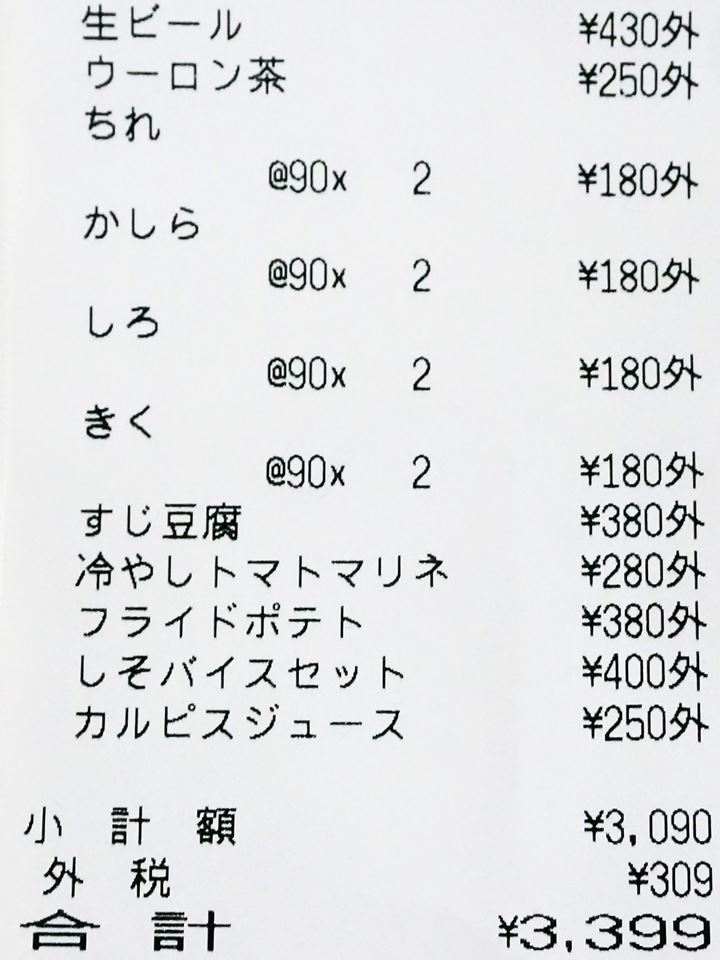 2 people
Information
Bar name
There are 2 bars of OTONBA おとんば around Ueno 上野 Station. This blog is about:

Niku-maro OTONBA
肉maro おとんば 東上野店
Higashi Ueno Branch (East Side of Ueno Station)

Business hours
12:00 pm - 11:00 pm
Open Every Day
No service fee / No cover charge
10% tax is not included in the prices.
Smoking is accepted. Unknown
There is no picture menu.
Credit card is not accepted.
Pay the bill at the table.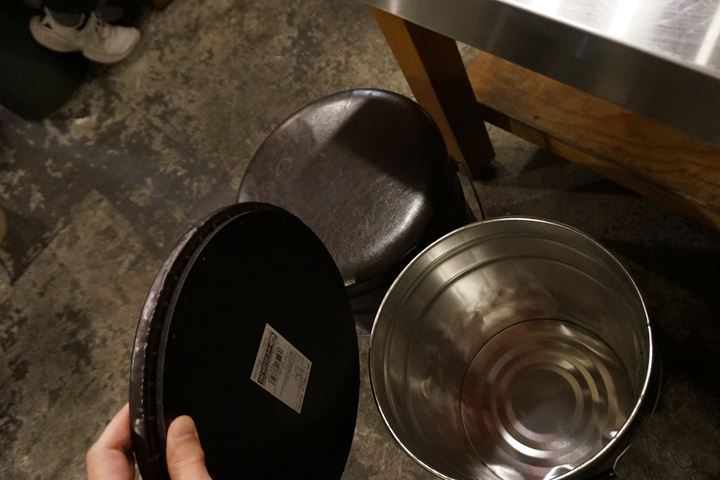 Beverage Menu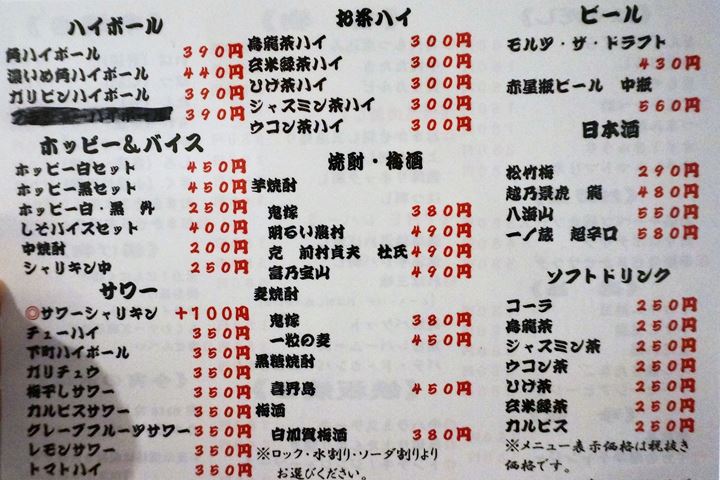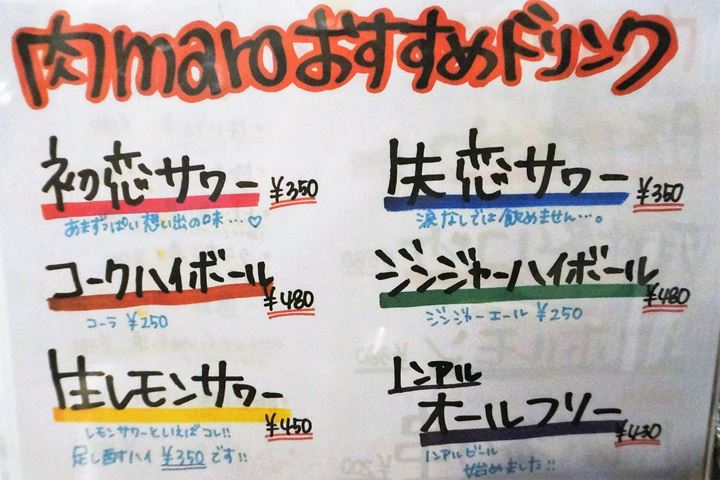 Food Menu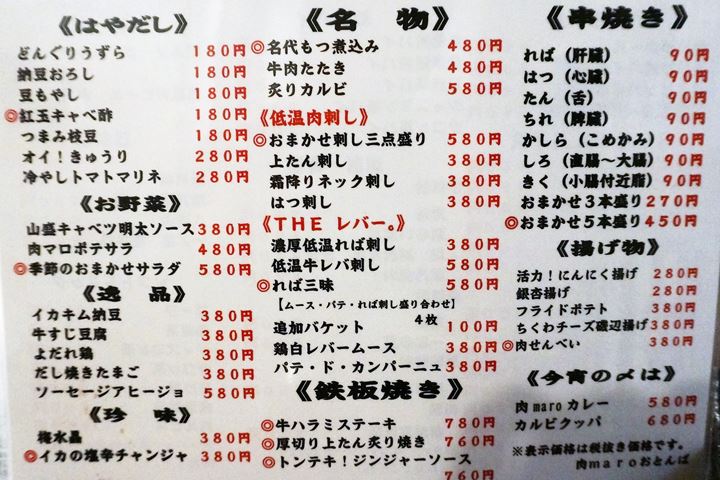 串焼き Grilled Various Cuts of Pork on a Skewer
All items cost 90 yen. You can choose salt (Shio) or barbecue sauce (Tare) upon ordering.
れば(肝臓) Reba
Liver
はつ(心臓) Hatsu
Heart
たん(舌) Tan
Tongue
ちれ(脾臓) Hizo
Spleen
かしら(こめかみ) Komekami
Head / Temples
しろ(直腸~大腸) Shiro
Large intestine
きく(小腸付近脂) Kiku
Fatty Meat around Small intestine
おまかせ3本盛り Omakase San-bon
Chef's choice 3 skewers
おまかせ5本盛り Omakase Go-hon
Chef's choice 5 skewers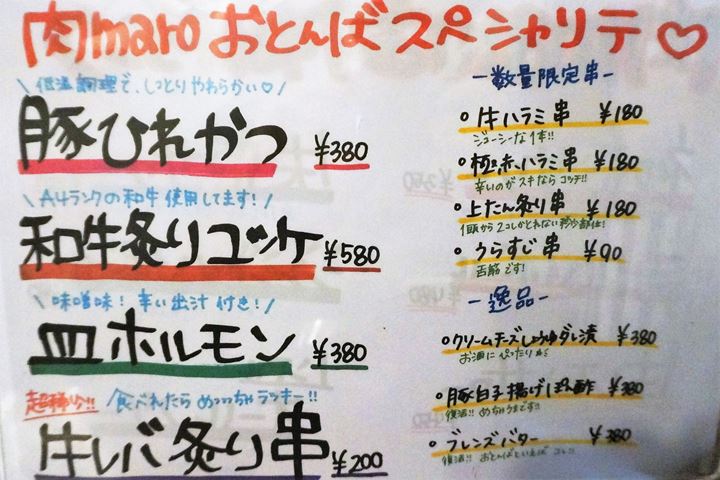 Map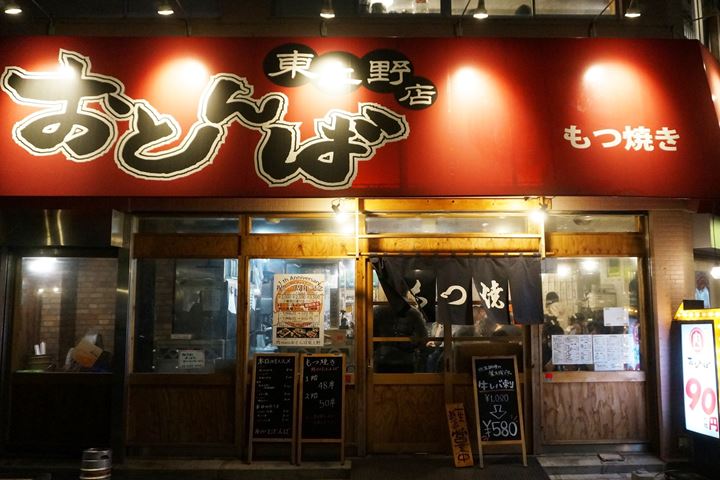 There are 2 floors.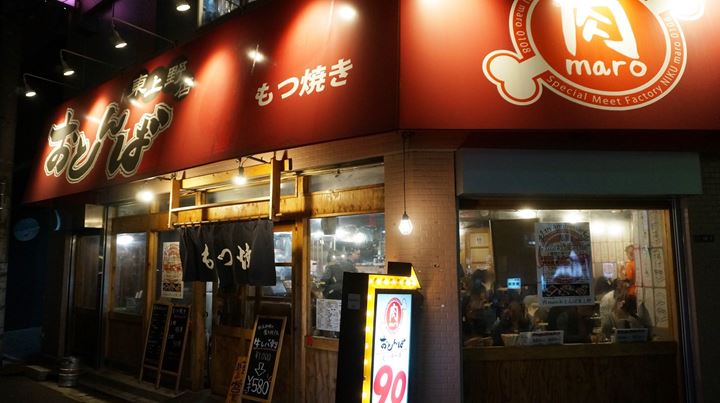 There are 2 bars of OTONBA おとんば around Ueno 上野 Station. Another one is below. It is located closer to Ueno Station but less capacity. I haven't been there, yet. The menu might be a little different.
---
There is another branch in Tokyo.
The nearest station is Kitasenju 北千住 Station in Tokyo.
Photos were taken in December 2019. Information and prices are as of December 2019.
---
Other similar type of bars in Ueno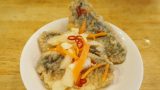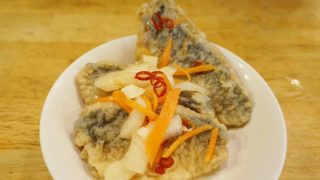 Grilled Pork Organ Meat / Chicken on a Skewer and Oden (Japanese Boiled Cuisine) at Izalaya Bar KABURAYA かぶら屋 in Tokyo やきとん おでん 串揚げ
Izakaya bar nameKABURAYA かぶら屋SpecialtyThey specializes in grilled pork organ meat, and Oden which is Japanese traditional boiled cuisine. These foods are tasty but I highly recommend another item. That is ...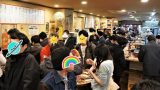 Standing Bar: Tachinomi-Takioka 立飲み-たきおか in Ueno 上野 Tokyo
I went to a standing bar with a friend in Ueno 上野 Tokyo. We had a good time and spent only 4100 yen for the both of us. l will write about the food and drinks that we had in this blog below.