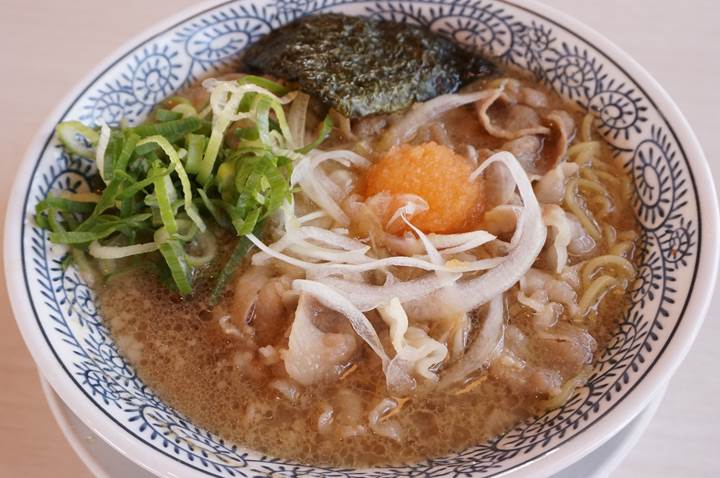 A ramen chain MARUGEN RAMEN 丸源ラーメン is worth trying.
My family and I like this restaurant's ramen. I will definitely visit their ramen restaurant again soon to enjoy their ramen.


The best choice is Niku-Soba 肉そば
It is a pork meat ramen with unique and delicious broth.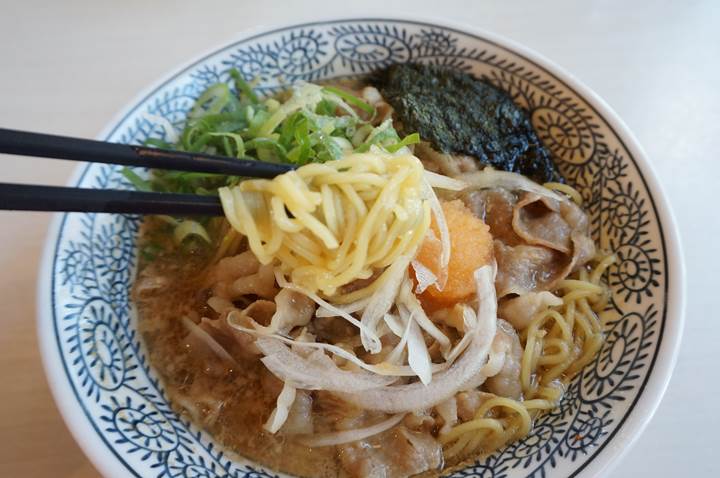 Niku-soba 肉そば has a little sweet soup and a lot of tasty pork. 715 yen (including tax)
Marugen Ramen offers several kinds of ramen.
One of them is Niku-soba 肉そば and it is my favorite one at the restaurant.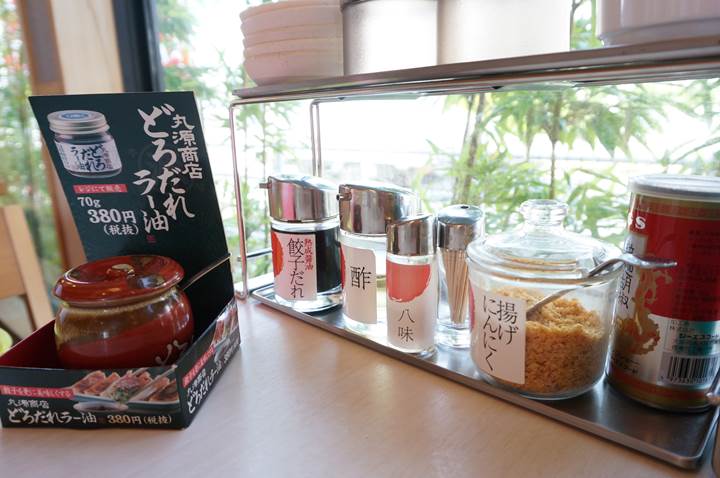 When you are eating Niku-soba 肉そば, this restaurant highly recommends you to enjoy eating 4 kinds of flavors using their special seasonings below.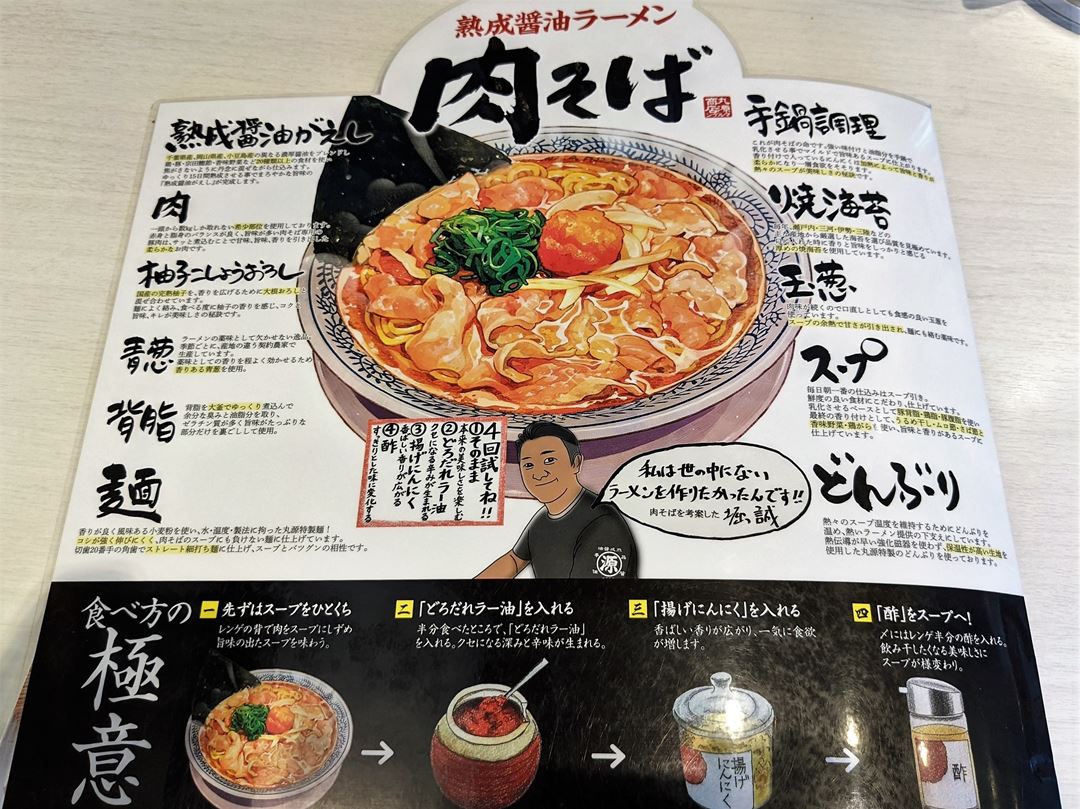 食べ方 How to eat
Let's Try 4 Steps!
1.

Enjoy the original taste.

2.

Very thick chili oil

どろだれラー油

(

Dorodare-rayu

)

You will be hooked on this spicy taste.

3.

Add fried garlic 揚げにんにく (Age-ninniku)

It is for the smoky aroma in your mouth.

4.

It makes the thick soup smooth.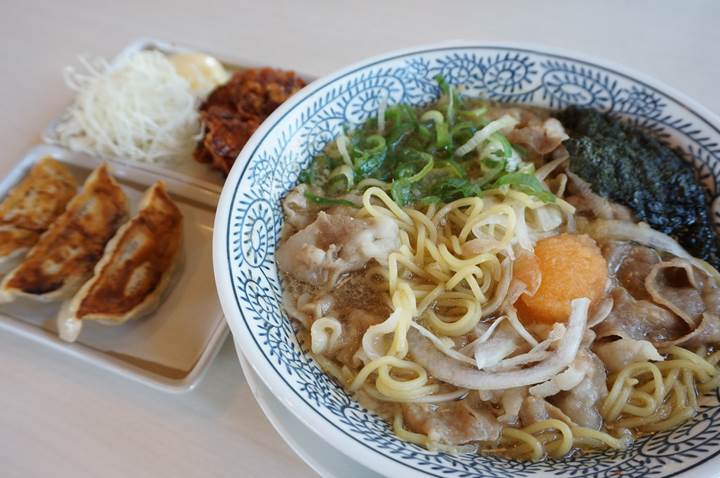 Gyoza Karaage Lunch 餃子・からあげランチ 1045 yen
This lunch set meal includs Niku-soba, dumplings (3p) and fried chicken (2p).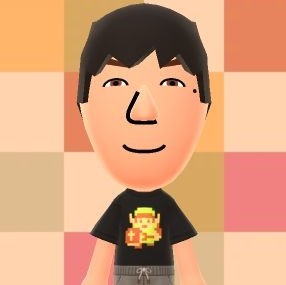 I have tried 5 kinds of ramen that are offered in Marugen Ramen.
I honestly recommend trying their delicious and reasonable Niku-soba 肉そば ramen as it is the best choice among the 5 different items.

Although the others are also tasty, they are not as surprisingly delicious compared to other typical ramen you can find in ramen shops.

I will definitely be eating the Niku-soba 肉そば again sometime.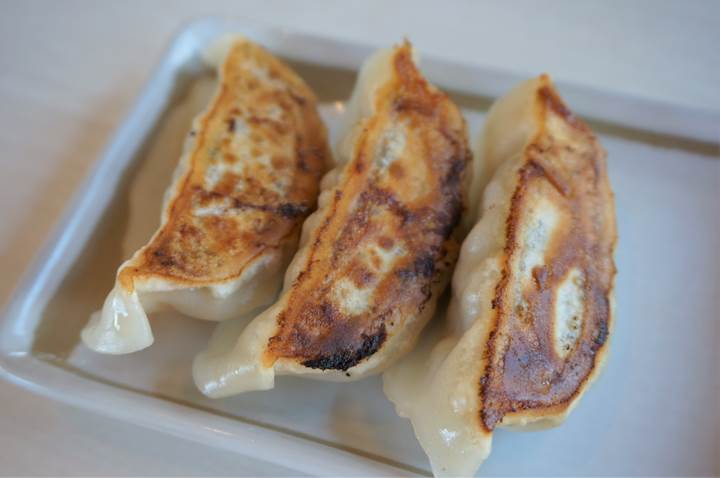 Dumplings 餃子:
When you order dumplings, you can decide whether you want garlic or not. Both items are the same price.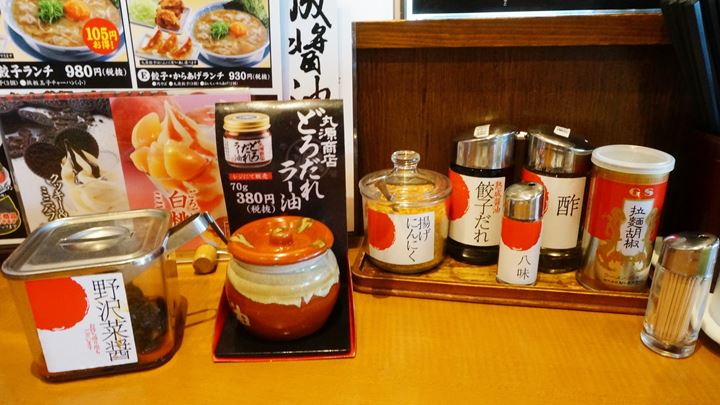 餃子だれ (Dumpling sauce) and どろだれラー油 (Very thick chili oil) are good for eating dumplings!

揚げにんにく (Fried garlic)
八味 (8 kinds of mixed peppers)
酢 (Vinegar)
拉麺胡椒 (Pepper for ramen)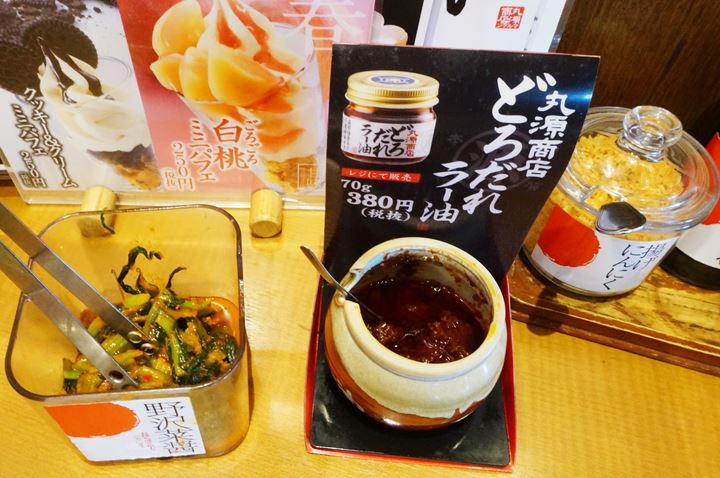 野沢菜醤 (Pickled Nozawana Vegetable)
It is spicy pickles, and goes well with white rice / fried rice.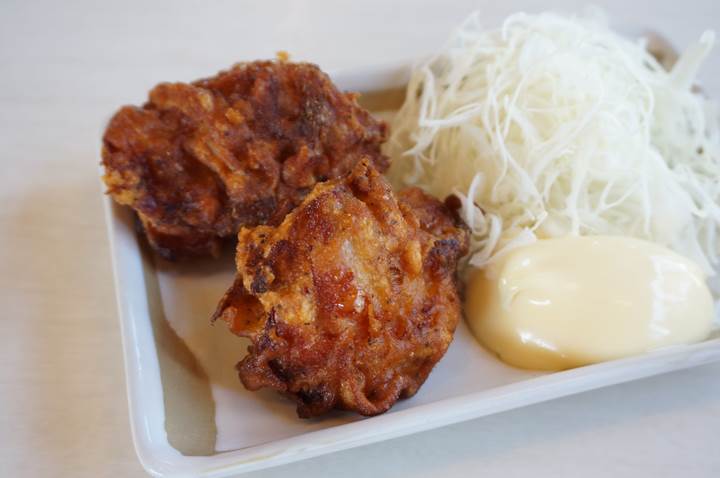 Deep fried Chicken
Other Ramen Items
Red Hot Niku-Soba 辛肉そば
Kara-niku-soba
869 yen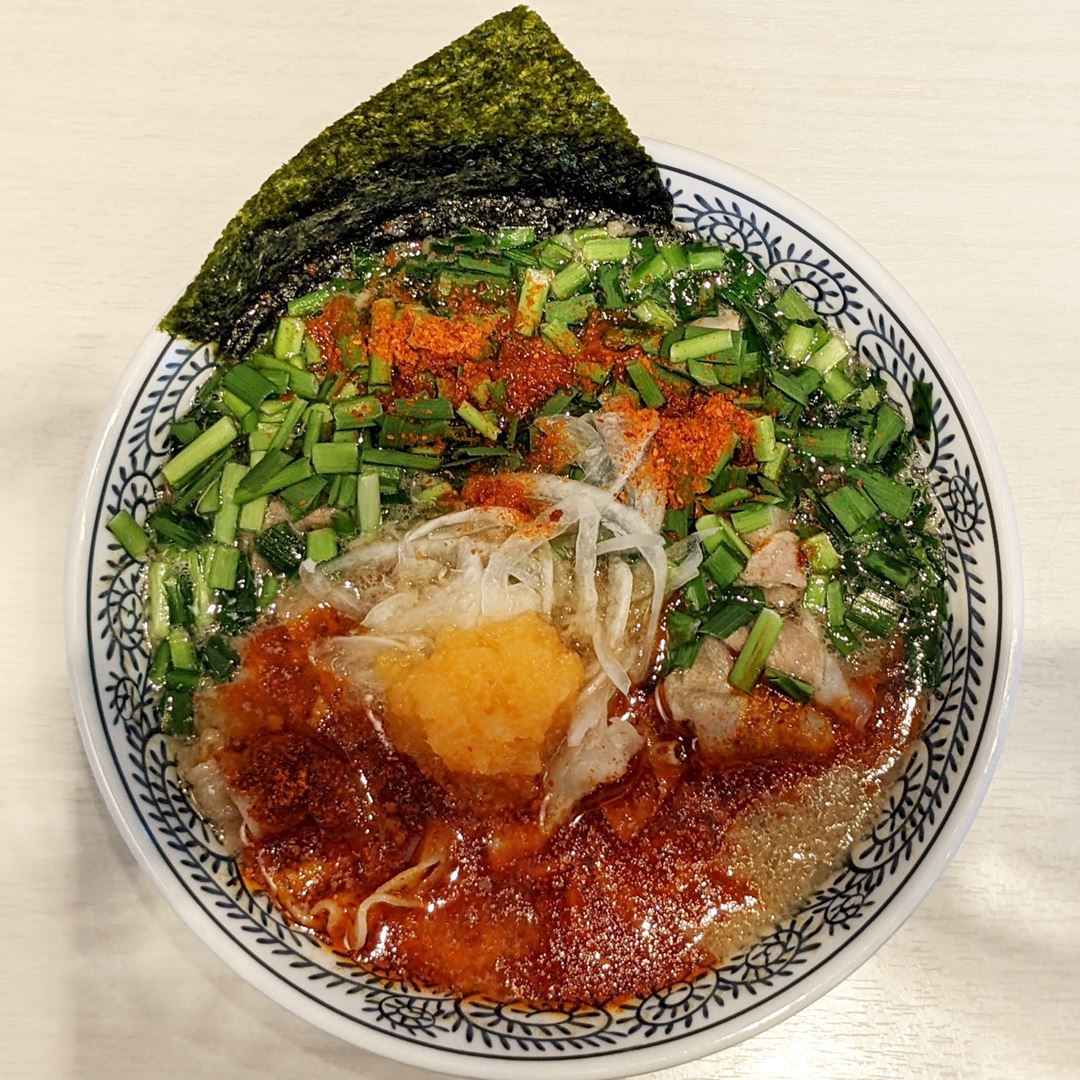 A lots of chive, chili pepper and oil are topped with their classic ramen Niku-Soba.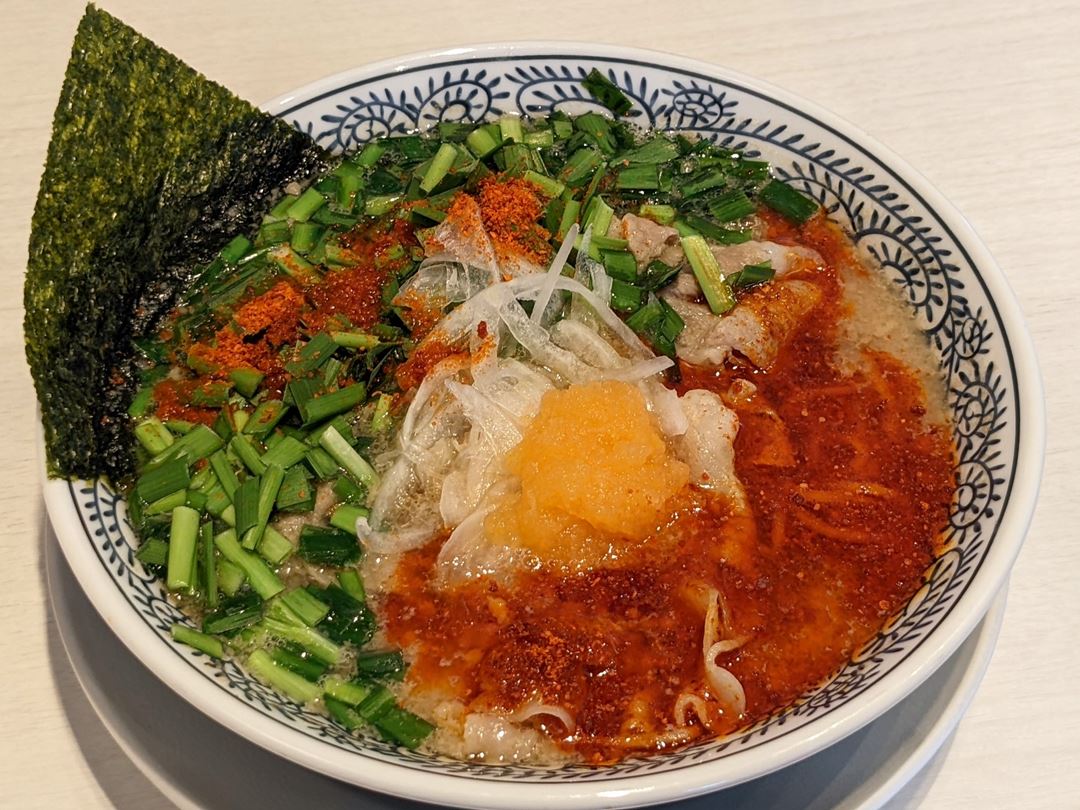 Spicy Level 3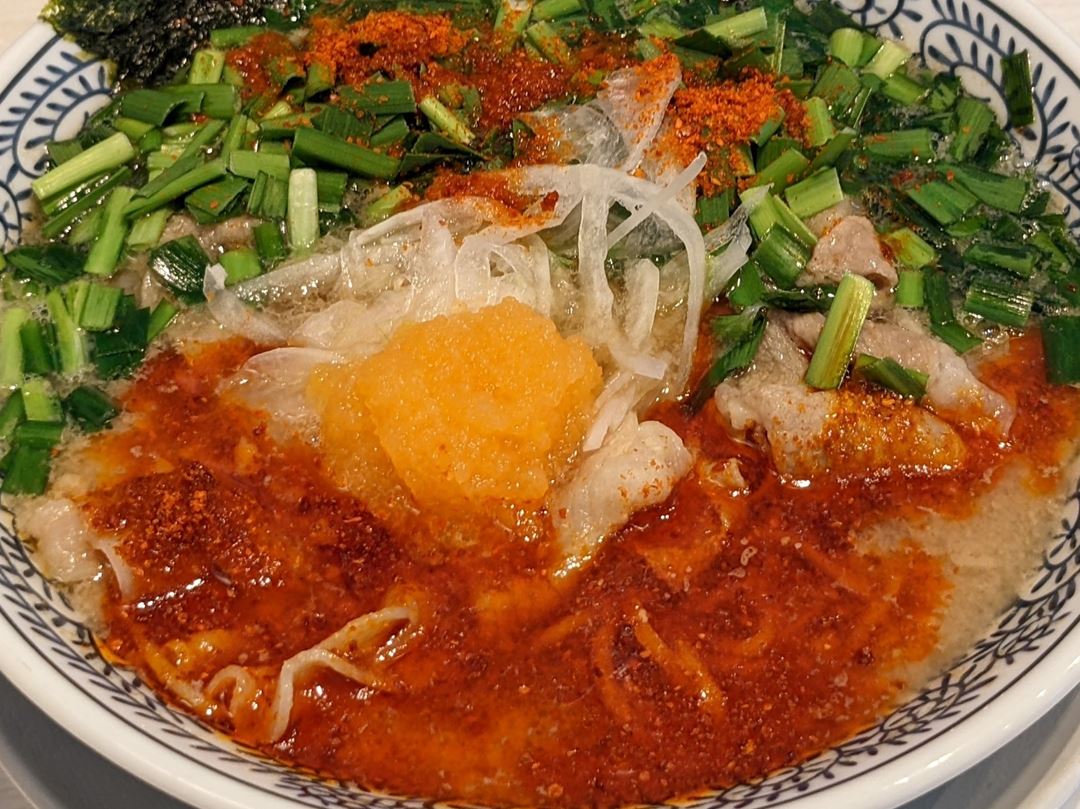 Their delicious broth is changed to spicy and also oily.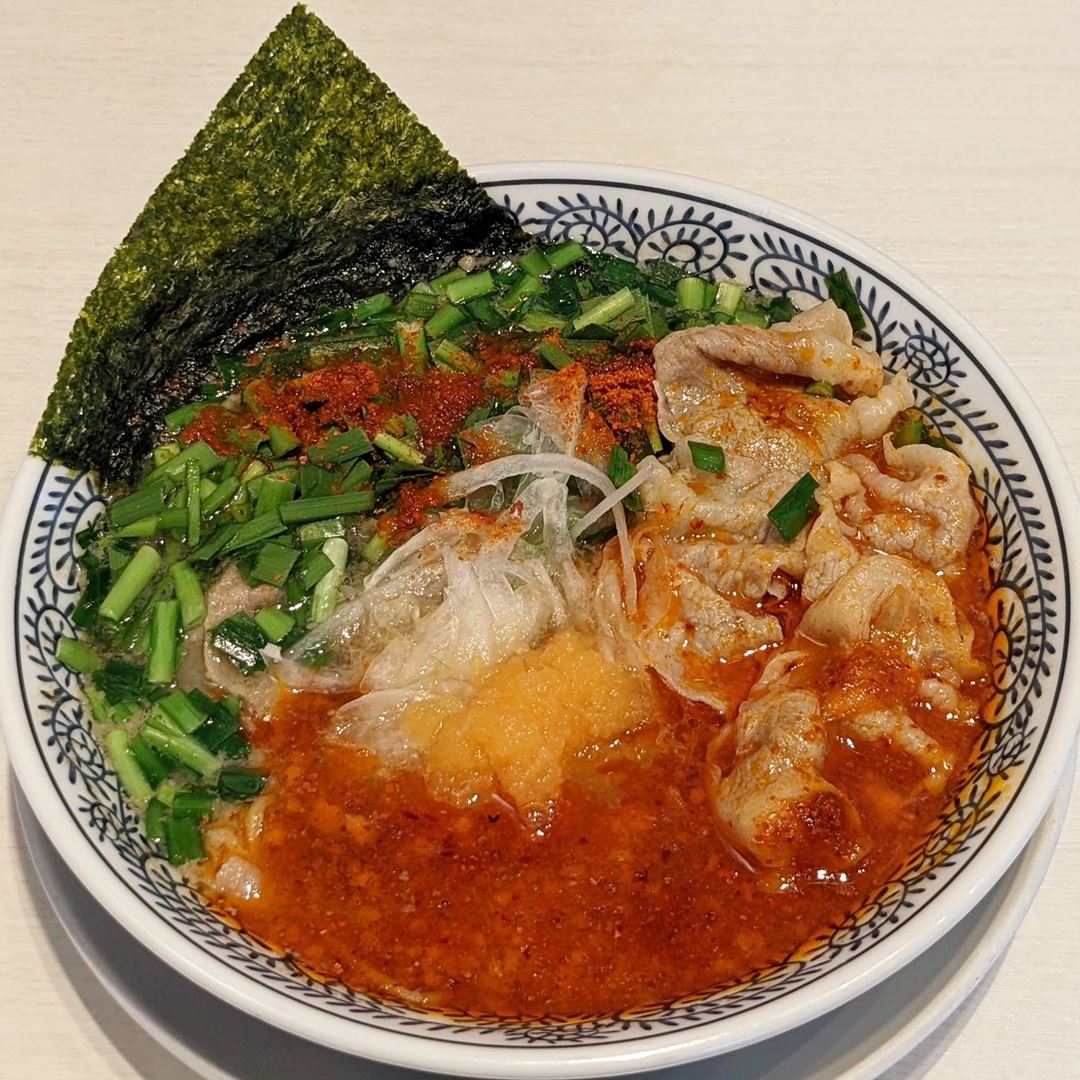 Some slices of pork are in the broth.
Champon Noodles (Vegetable Ramen) 青菜野菜ちゃんぽん
Probably this is discontinued. It was 680 yen (not including tax)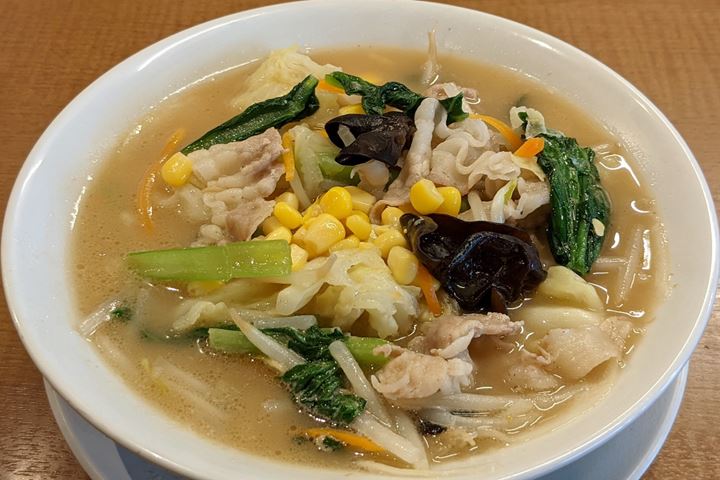 This is a healthy dish, because a lot of vegetables are in it such as greens, cabbage, wood ear mushroom, bean sprouts, carrot, onion and corn.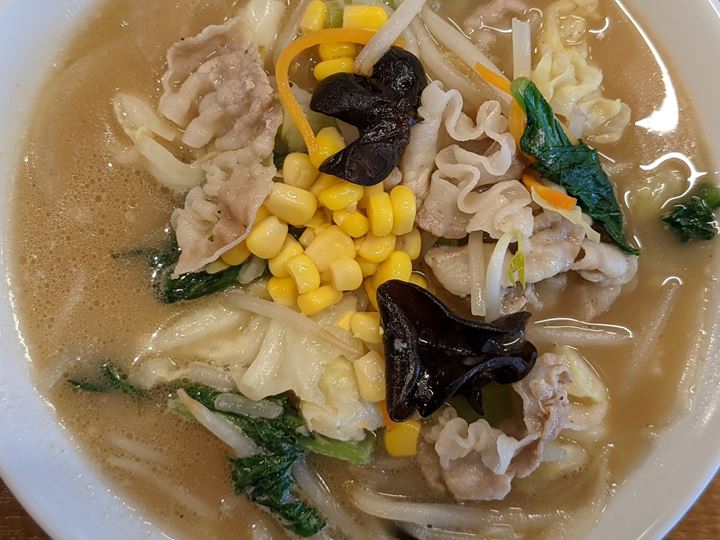 Thinly sliced pork makes the soup rich.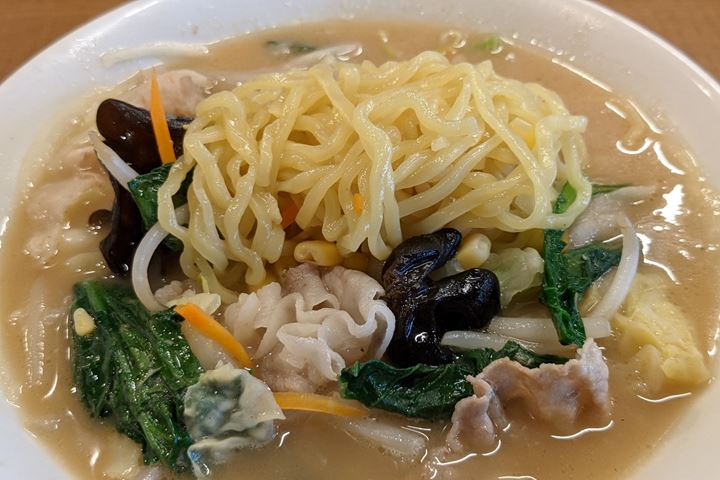 Are you interested in Champon?
There is a popular champon restaurant chain in Japan.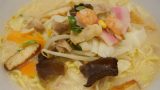 長崎ちゃんぽん、皿うどん【リンガーハット】おすすめ裏メニュー(裏技)・クーポン
いくつか役立ちそうな情報を載せてあるけど、【ちゃんぽんスープ多め】と【ピリカラちゃんぽん】以外は裏メニューでもなんでもない参考情報なのであしからず。
Shio Ramen with Nori 磯海苔塩ラーメン
Isouminori-shio ramen
759 yen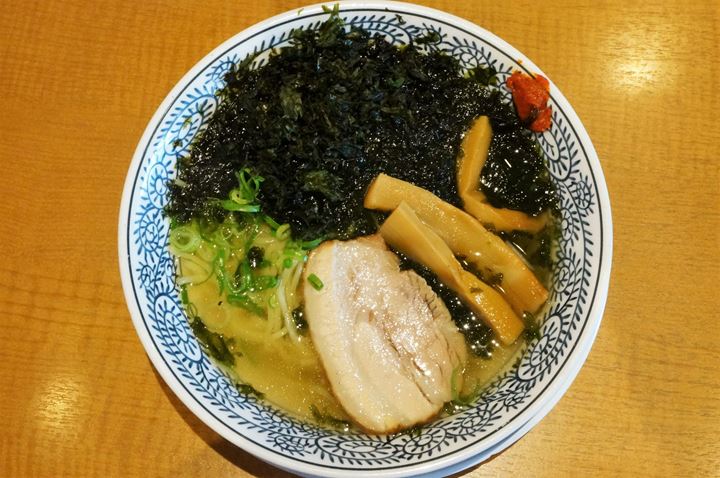 This is salt broth ramen topped with a lot of Nori (sea vegetable).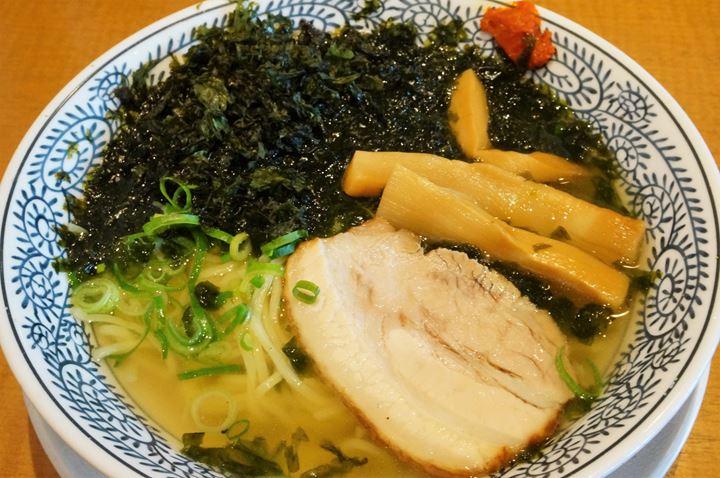 This red paste has unique flavor. I like it.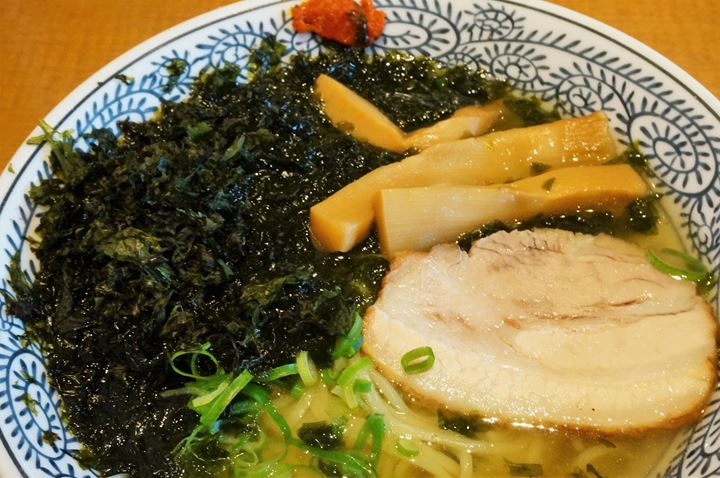 Aged Miso Ramen 熟成味噌ラーメン
Jukusei-miso ramen
869 yen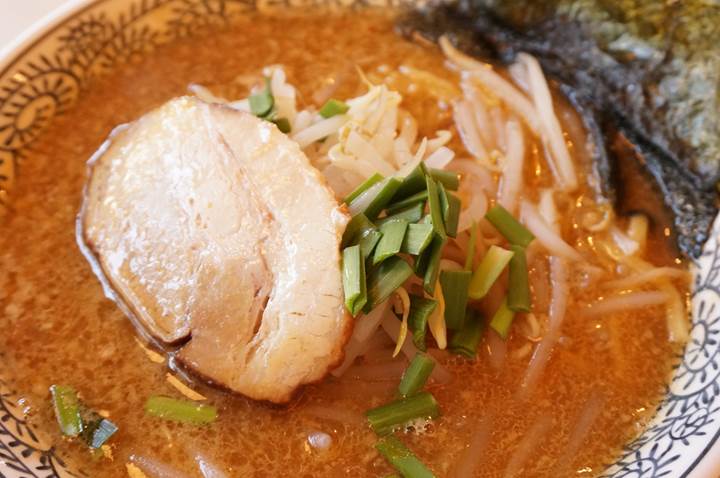 Miso ramen has thick noodles. The other ramen items on this blog have thin noodles.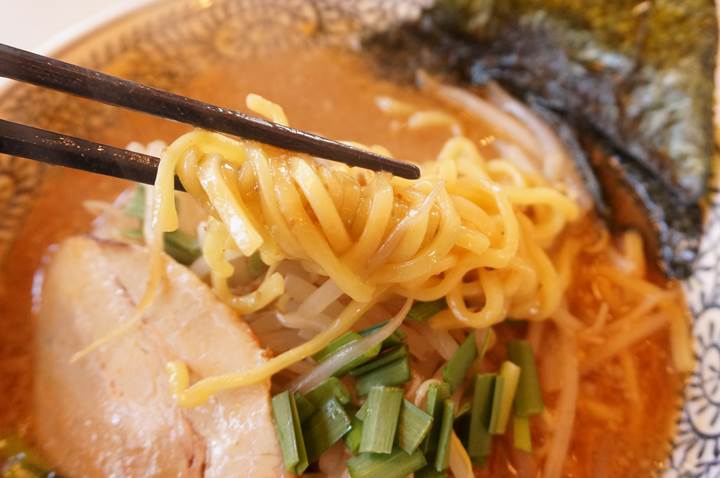 Soy Sauce Ramen 熟成醤油ラーメン
Shouyu ramen
715 yen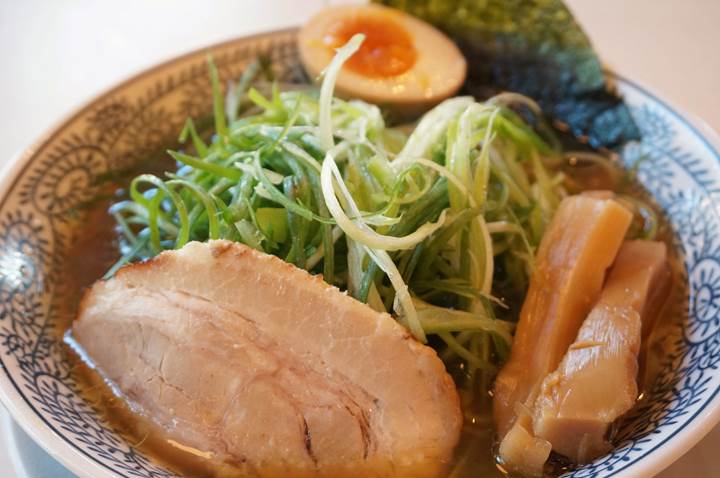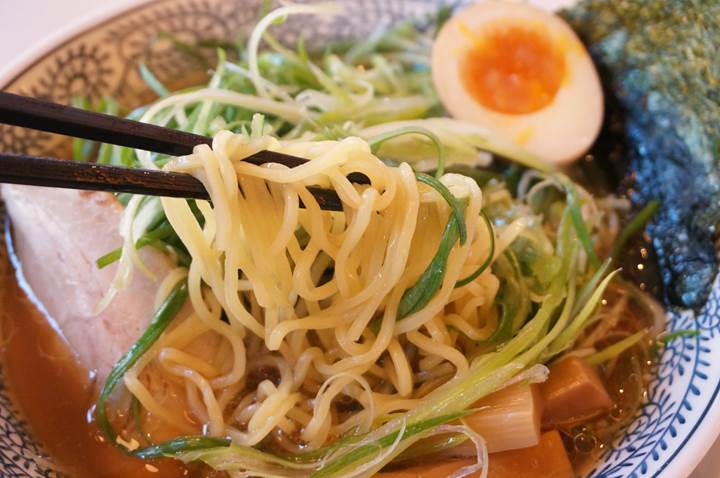 Shoyu (Soy Sauce) Ramen 醤油ラーメン is topped on a lot of shredded green onion.
Taiwan Ramen 台湾ラーメン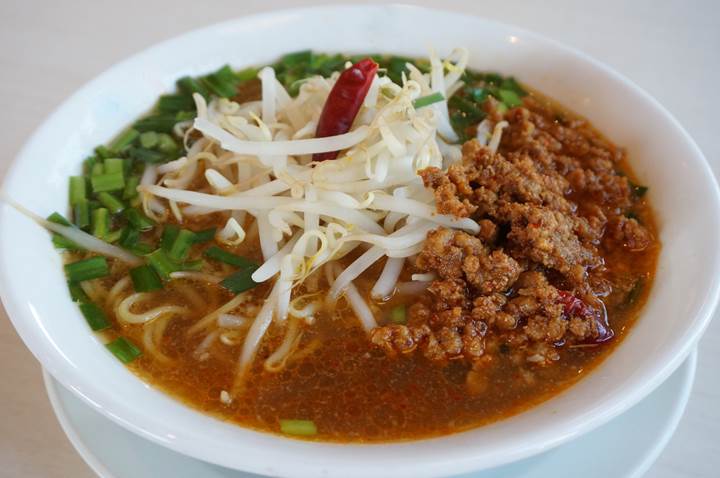 Taiwan Ramen 台湾ラーメン is spicy. 780 yen (not including tax)
* Seasonal ramen: In 2020, it is available from 17 September to 29 November.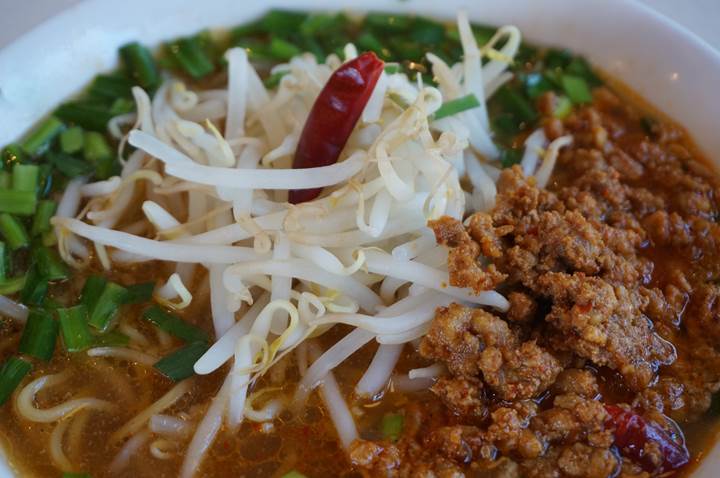 If you like extremely spicy ramen, check it out below.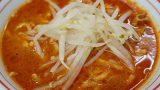 Super Spicy Ramen - MOUKO TANMEN NAKAMOTO 蒙古タンメン中本 in Tokyo 激辛ラーメン
If you really like spicy food, you should go to a ramen restaurant MOUKO TANMEN NAKAMOTO 蒙古タンメン中本.They specialize intasty and super spicy ramen.
Dessert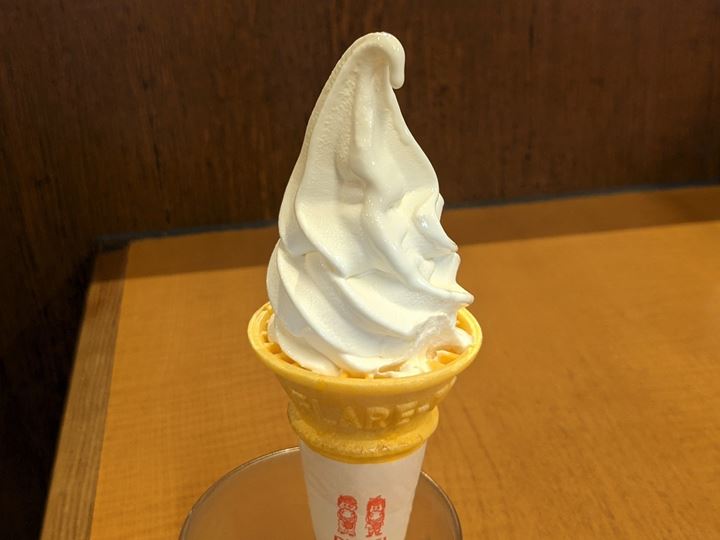 Vanilla Soft Serve Cone バニラソフトクリーム 107 yen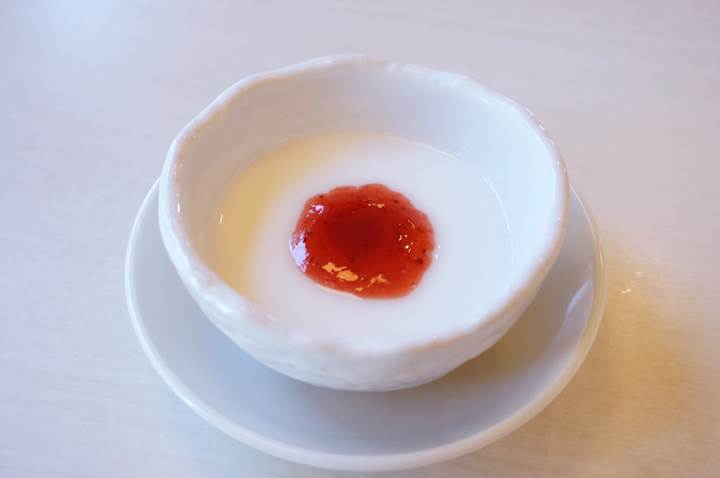 Almond Jelly 杏仁豆腐
End of sale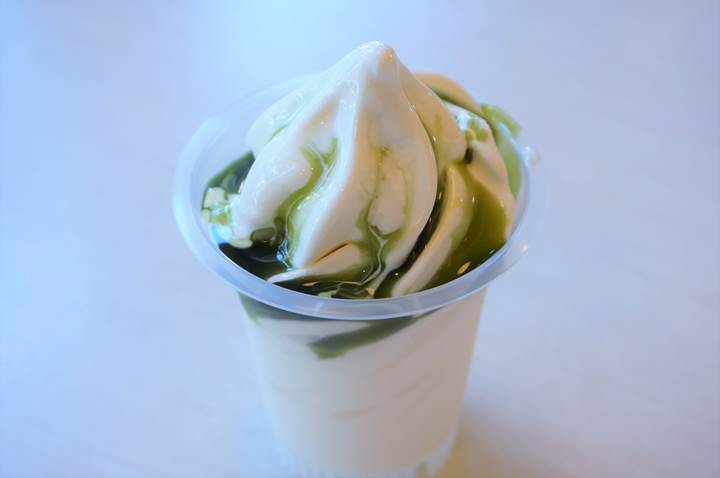 Soft Cup Cream - Matcha 抹茶カップソフト is discontinued.

* Vanilla, Strawberry, Mango, Chocolate are available.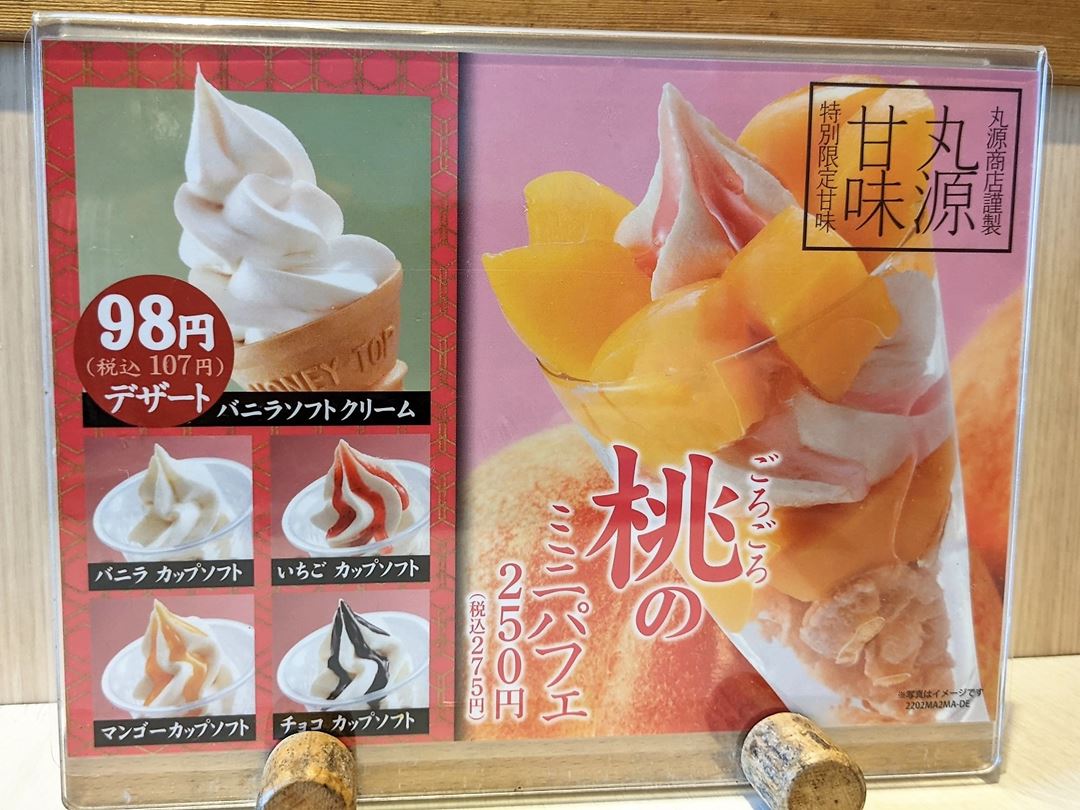 Menu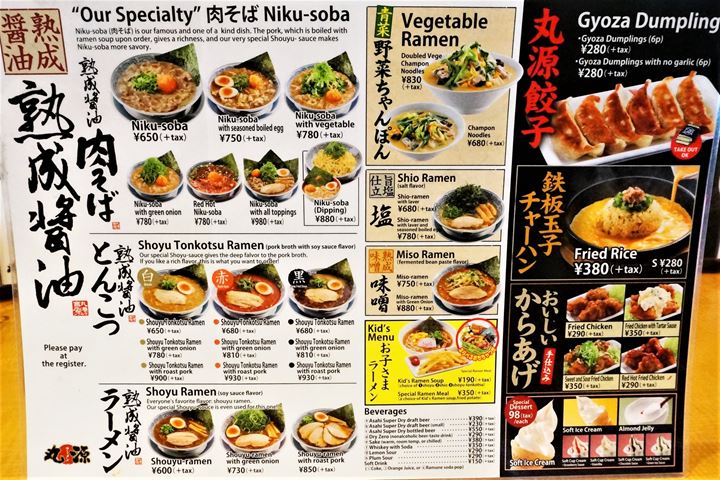 English picture menu above is available as of May 2020. However, there is no English information of lunch menu.
These menu phots below are as of May 2022.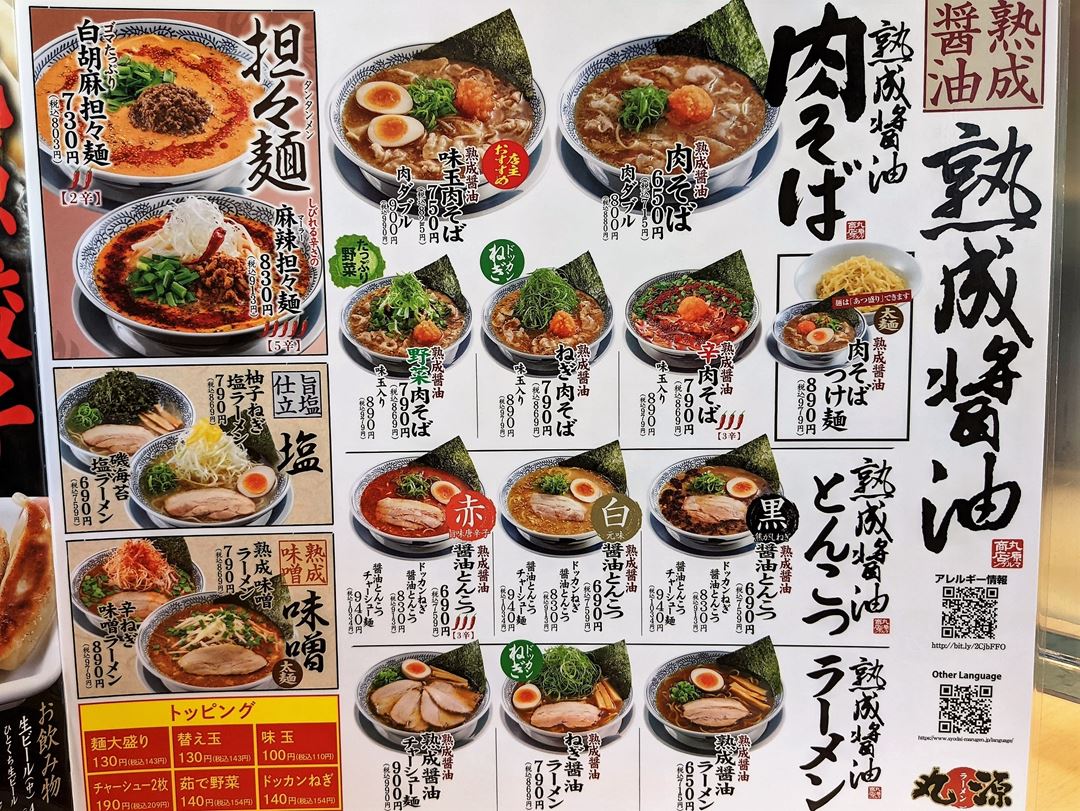 English menu on their official website below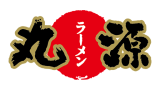 言語選択ページ|丸源ラーメン
丸源ラーメンの言語選択ページページ。丸源ラーメンは名物の熟成醤油ラーメン「肉そば」や丸源餃子などを堪能していただけるこだわりのラーメン店です!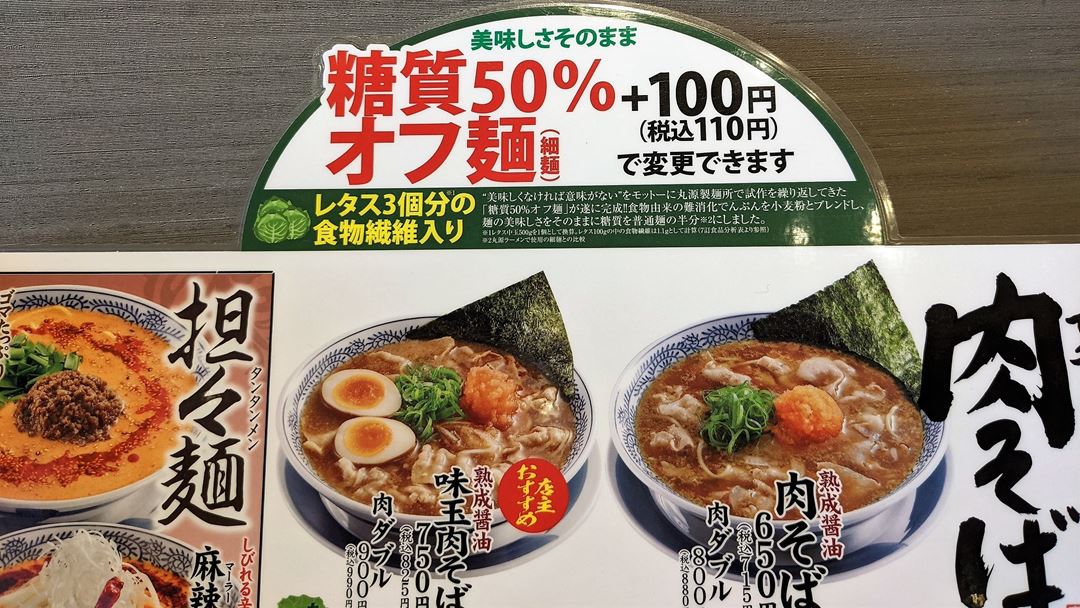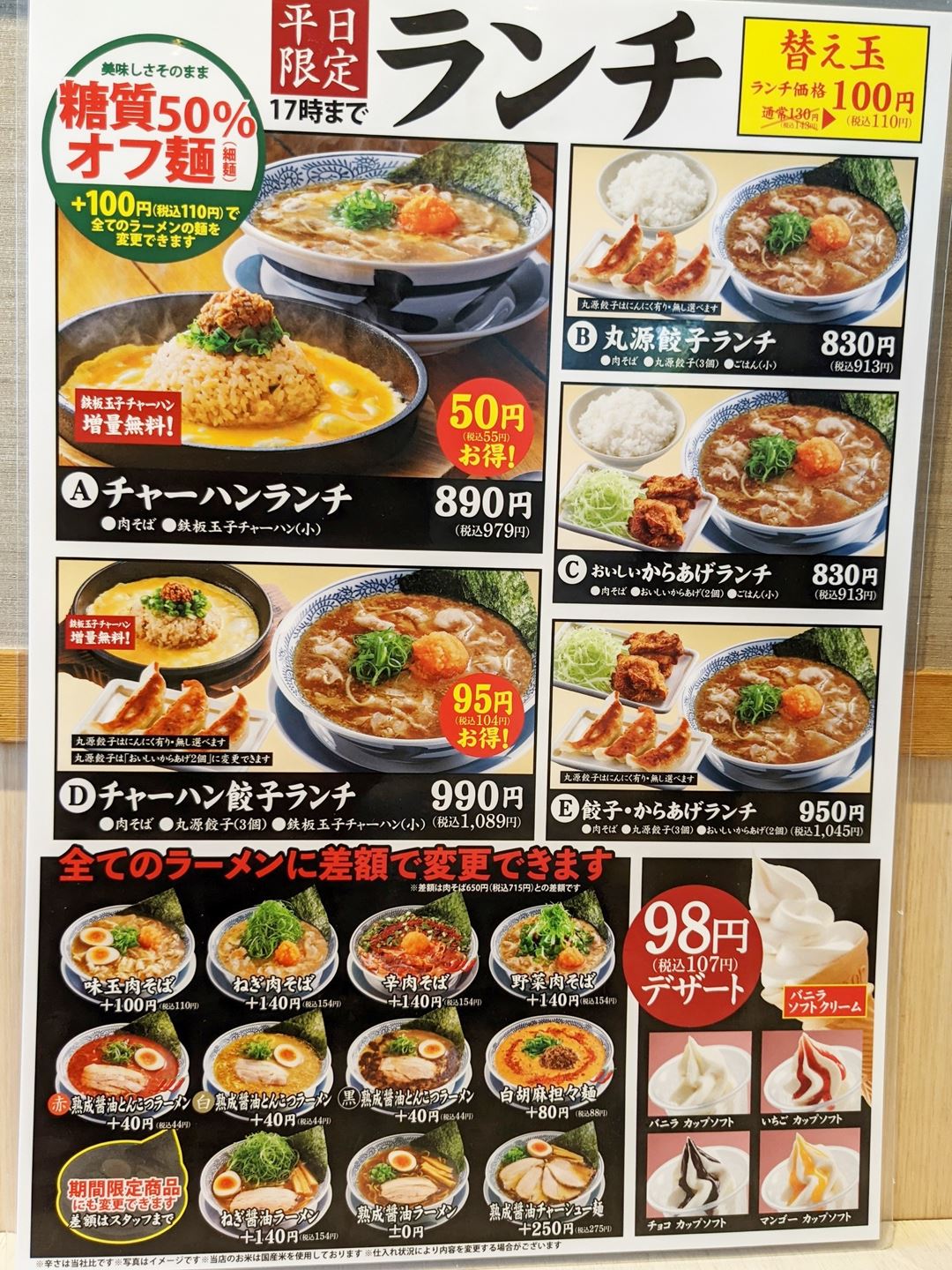 This is lunch combo menu (in Japanese). Choose from A to E.
Lunch time is until 17:00 on weekdays (except Saturday, Sunday and holiday).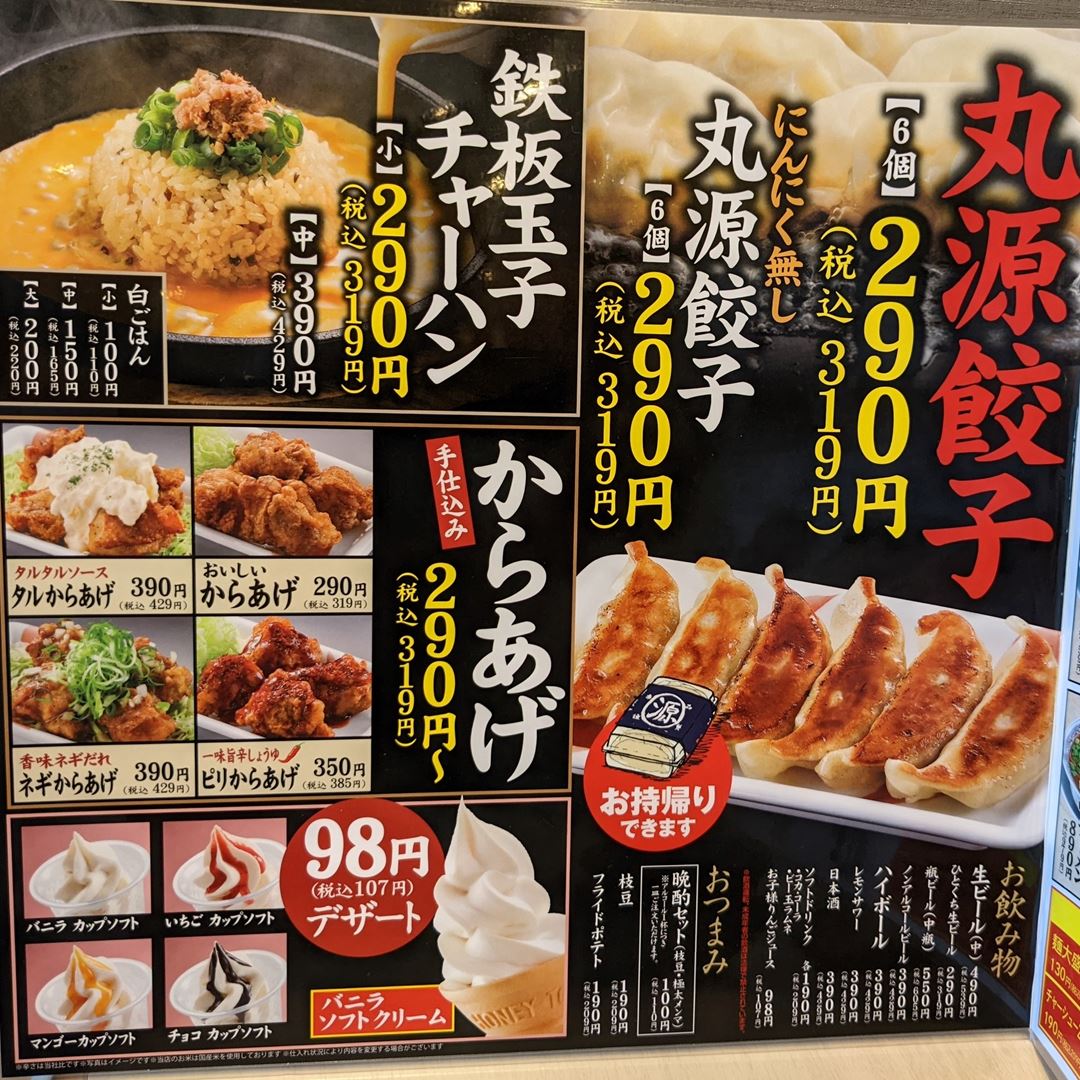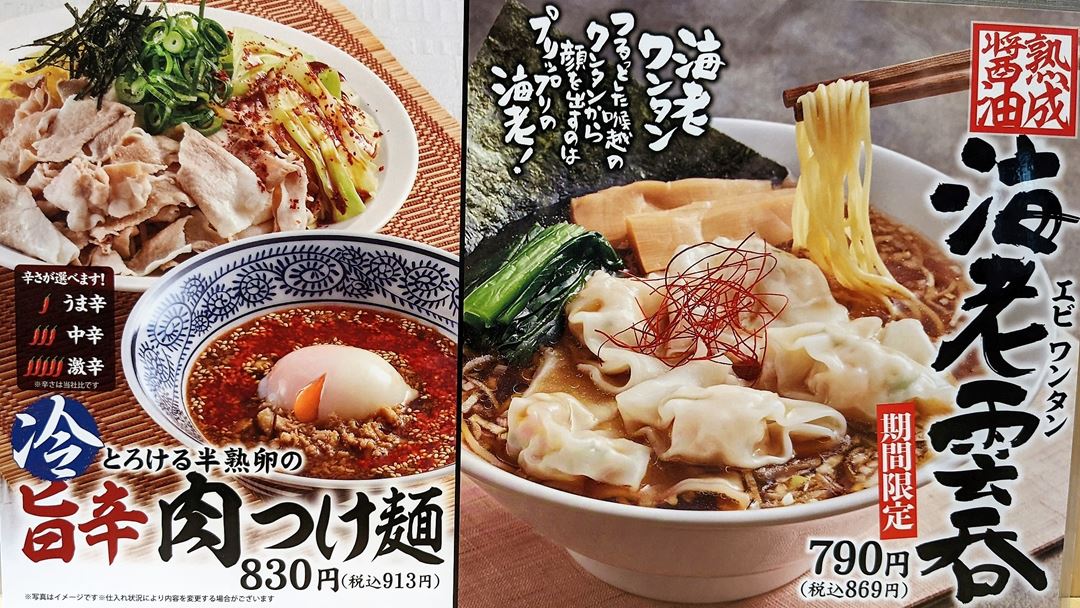 Seasonal menu
Takeout Menu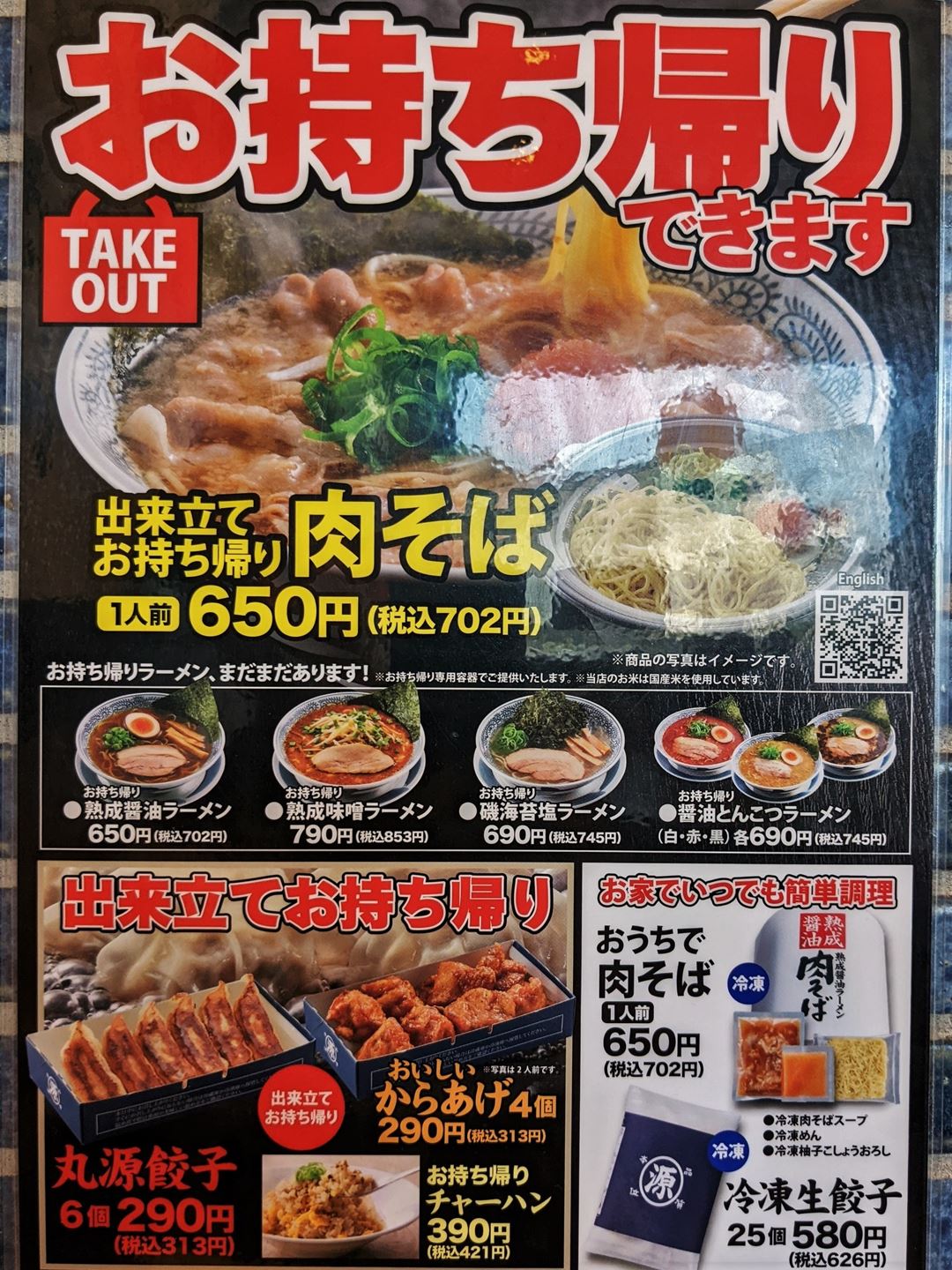 Cup Noodles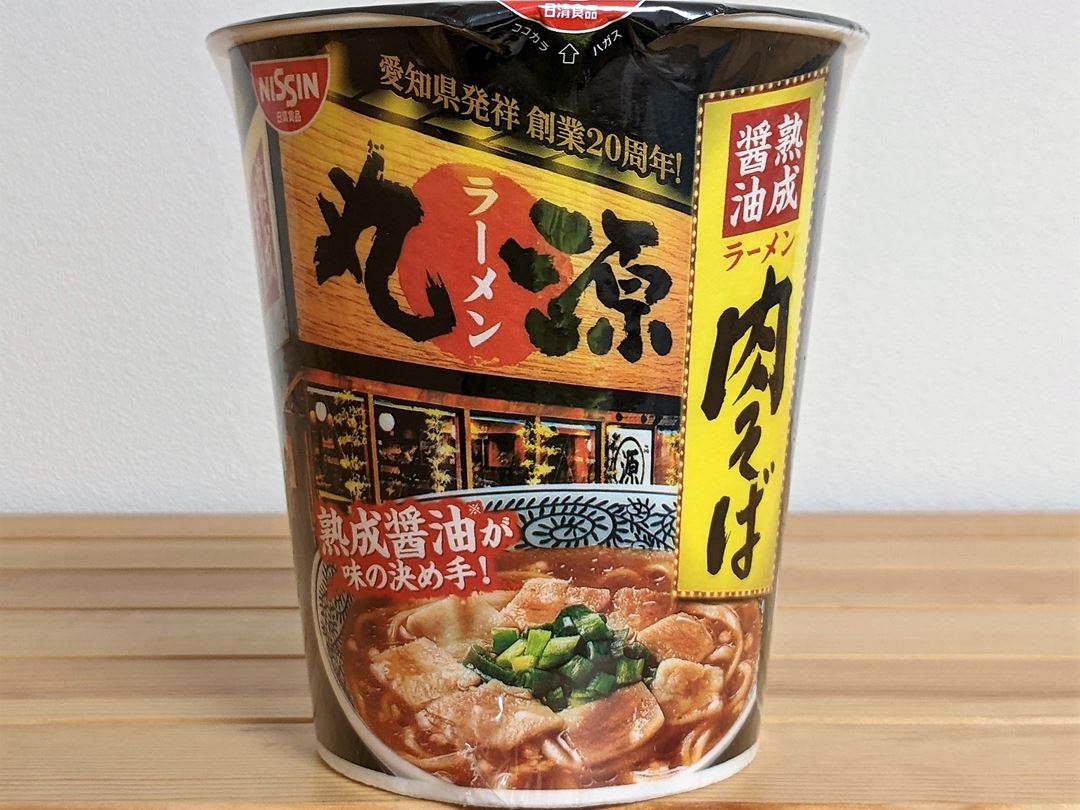 Instant type of Niku-Soba
246 yen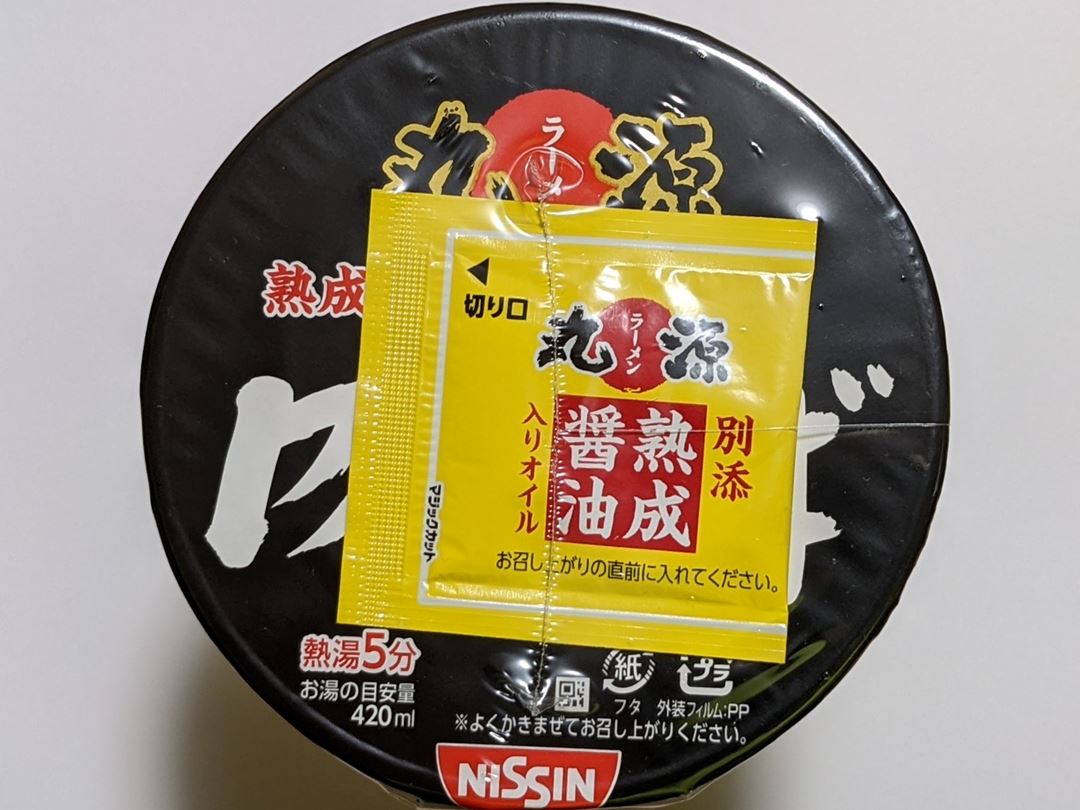 This is limited time offer from May 9, 2022 for 1 month at convenience stores across Japan.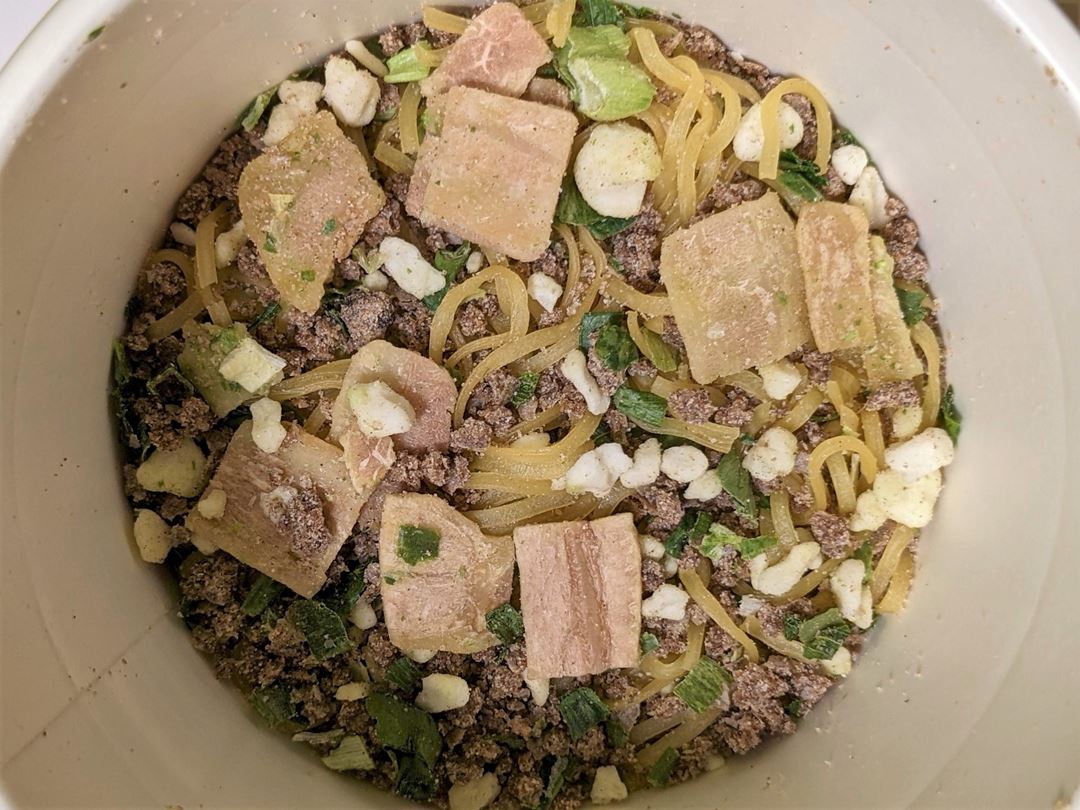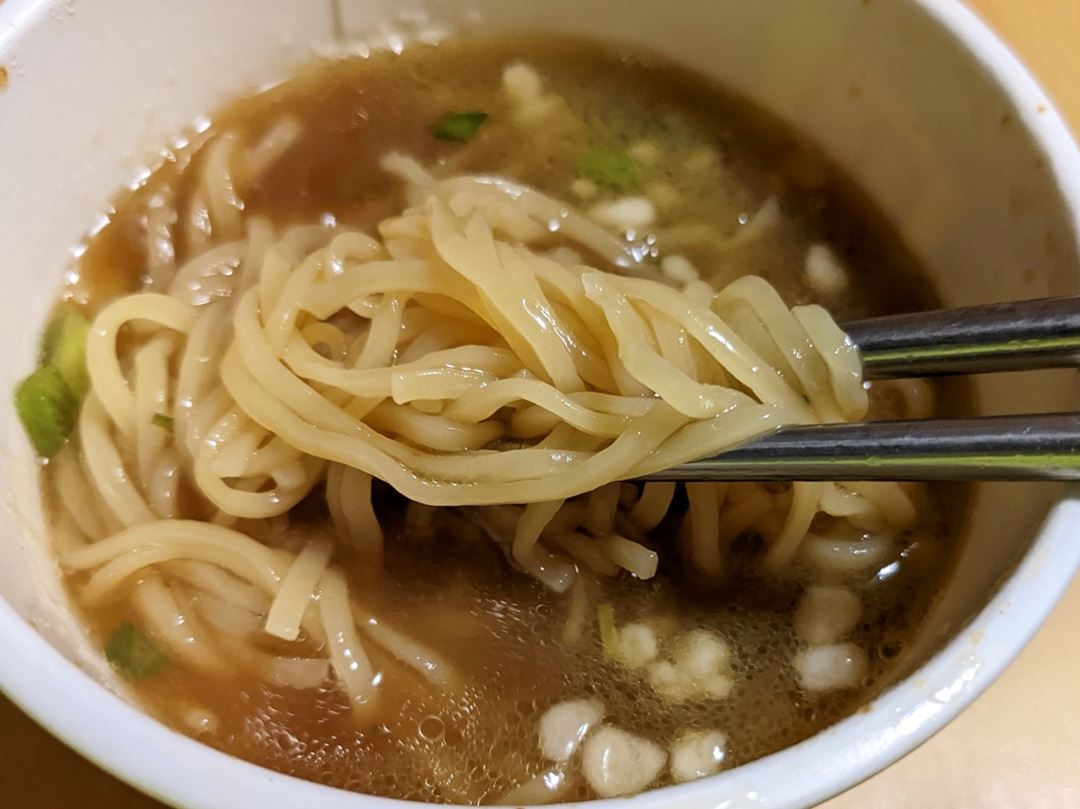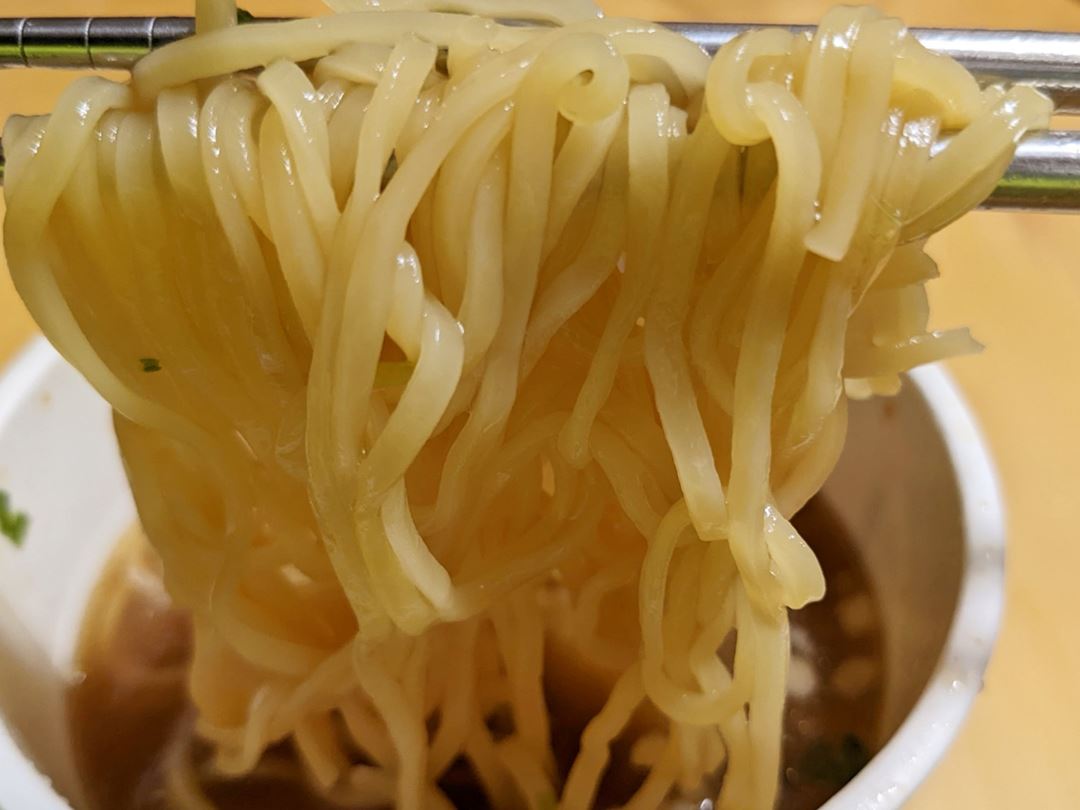 Information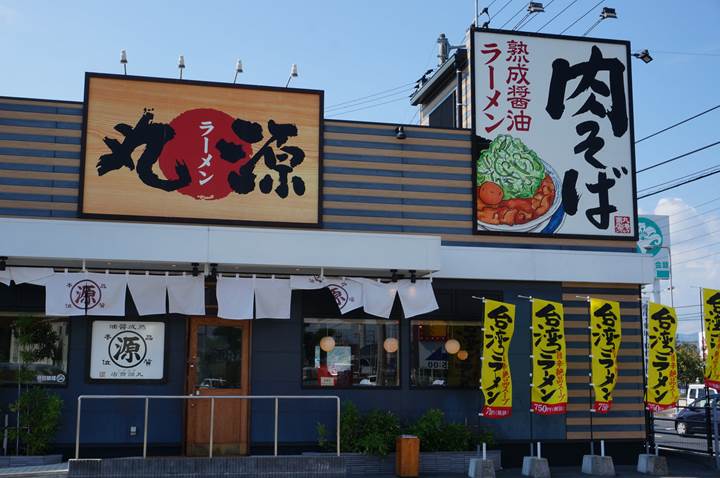 MARUGEN RAMEN 丸源ラーメン has many restaurants all over Japan but for some reason, they are still unknown by international tourists.
Most of their restaurants are located in the suburbs which can be spacious and comfortable inside and have convenient large parking lots. Because they are generally located in residential neighborhoods, they aren't close to train stations or tourist attractions, unfortunately.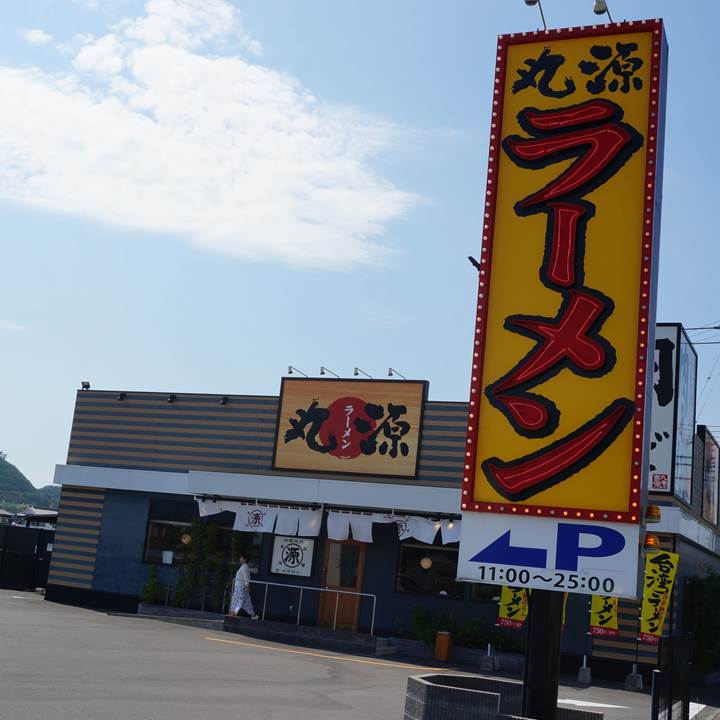 If you travel in Japan by car, a trip to one of these ramen restaurants is well worth the drive. Enjoy their delicious ramen!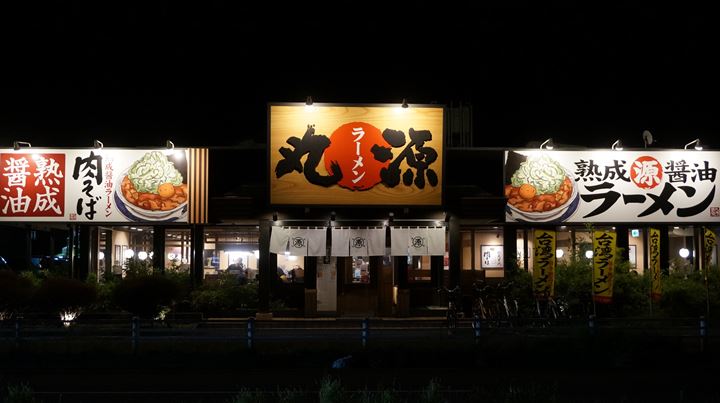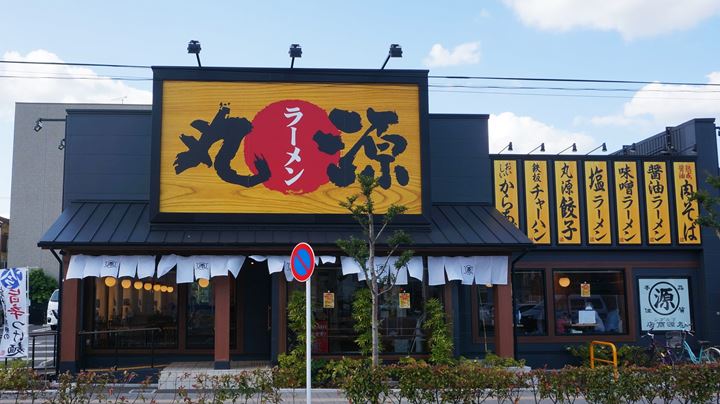 Restaurant name
MARUGEN RAMEN 丸源ラーメン

Website (in Japanese)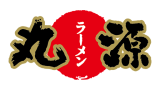 丸源ラーメン|熟成醤油ラーメン「肉そば」
丸源ラーメンは名物の熟成醤油ラーメン「肉そば」や丸源餃子などを堪能していただけるこだわりのラーメン店です!
Prices on the menu are included 10% tax.
No service fee / No cover charge
You can get a disposable apron free of charge if you ask when you order ramen. It is especially good for women who don't want their clothes to get dirty with ramen soup.
No smoking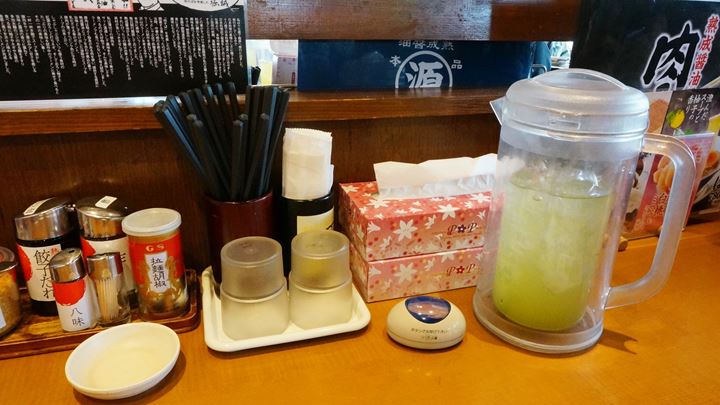 ボタンでお呼びください means
When you're ready to order, press the call button for assistance.
The information and prices for the ramen restaurant on this page are current as of May 2022.
---
Other ramen shops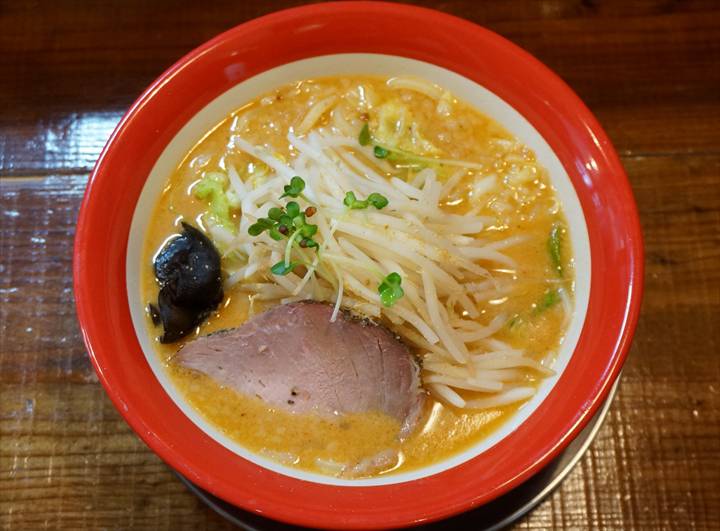 Ramen
Articles of "Ramen".